Back to 2010 Honda ATV Quad Models Index Page
Click photos to enlarge.
They make great desktop images.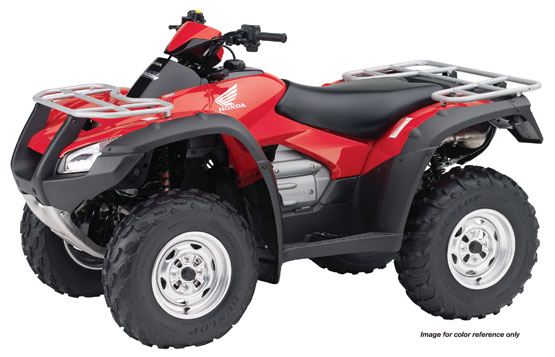 2010 Honda FourTrax Rincon TRX680FG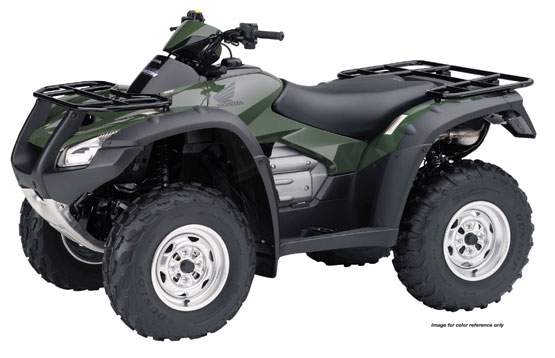 2010 Honda FourTrax Rincon TRX680FG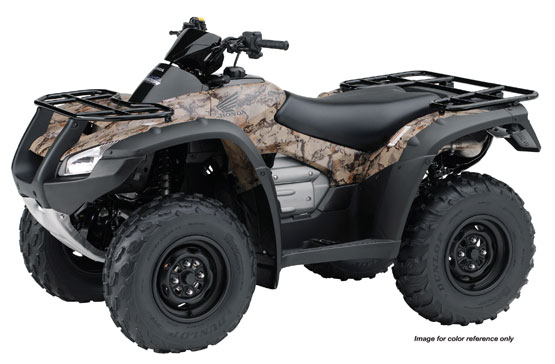 2010 Honda FourTrax Rincon TRX680FG
– 2010 Honda FourTrax Rincon TRX680FG

2010 Honda FourTrax Rincon TRX680FG
FourTrax Rincon
Some open-class ATVs are almost as big as your truck, and just about as heavy. But the Honda TRX680FG Rincon isn't your typical open-class machine. Not only is it as light as many 500 cc ATVs for great handling and easy loading and unloading, it's also packed with high-tech features. Fuel-injection gives the 675 cc liquid-cooled engine crisp throttle response, rapid warm-up and a stable idle, while also adjusting automatically for changes in temperature and altitude. Other good stuff includes a rugged automotive-style automatic transmission, front and rear disc brakes, and built-in GPScape® global positioning system.

The legendary FourTrax® Rincon® tops Honda's line of ATVs and comes with a powerful 675cc engine, an independent rear suspension, electronic fuel injection, a Hondamatic automatic transmission, four-wheel disc brakes and more, features that all work together to place this ATV in a class of one.
Categorizing the FourTrax® Rincon® as a "Utility ATV" almost doesn't do this machine justice. Don't get us wrong—the Rincon can work circles around the competition without breaking a sweat. Working, though, is just one of the things this legendary ATV does with equal, class-leading capability. Hunt, fish, explore, hill-climb, rock crawl or just simply ride—no ATV does it better than the Rincon, thanks to features like a colossal, liquid-cooled 675cc engine packing both huge low-end grunt and high-end power. Honda's Programmed Fuel Injection (PGM-FI) ensuring crisp throttle response and seamless performance, regardless of the conditions or altitude. Our exclusive automotive-style three-speed automatic transmission. Fully Independent Rear Suspension (IRS) for optimal traction. And sleek styling that includes Natural Gear Camouflage bodywork as a color option.
The 2010 FourTrax Rincon. It's big. It's bad. And it's beautiful.

Features/Benefits
Features
– Extensive weight-saving measures include the use of aluminum for the following components: forged front upper control arms, rear upper and lower control arms, rear knuckles, front and rear wheels.
– Multi-function LCD digital instrumentation is compact, tough and waterproof, featuring large readouts for gear-selector position, speedometer, odometer, resettable tripmeter and hourmeter/clock. Instrument housing includes LEDs for Drive, Neutral, Reverse, temperature warning and FI warning indicator. A fuel gauge and low-fuel warning light located within the instrument housing comes as standard equipment.
– Waterproof accessory socket provides 12-volt, 10-amp power with a built-in temperature-type fuse.
– Thickly padded seat uses dual-density foam to provide all-day riding comfort.
– Side-opening compartment has 4 liters of storage capacity and can be opened when the rider is seated.
– Stainless-steel exhaust system includes a USDA-qualified spark arrester/muffler designed for quiet operation without wool packing for long-lasting performance.
– Washable foam air filter for easy maintenance.
– Transferable one-year limited warranty; extended coverage available with a Honda Protection Plan.
Engine/Drivetrain
– Advanced-design Longitudinally Mounted Engine (see 2009 Technology Section).
– Four-valve cylinder head with two short pushrods provides a broad powerband for optimum performance and engine efficiency.
– Camshaft is located adjacent to the cylinder head, reducing engine height. Together with the unique, semi-dry sump, engine height is further reduced for a low center of gravity and excellent handling.
– Semi-dry-sump oiling system locates the oil tank inside the engine cases, lowering engine height and allowing optimum engine placement for excellent ground clearance and superb handling.
– Programmed Fuel Injection (PGM-FI)
– The automotive-style Honda automatic transmission features a hydraulic torque converter, three hydraulic clutches and an Electronic Control Module (ECM) to automatically select one of three forward gears and one Reverse gear. The ECM monitors throttle opening, vehicle speed, engine rpm, gear selector position, brake application and engine oil temperature.
– The compact and maintenance-free transmission design means there are no belts to wear out and replace. It also features a filtration system to protect against external contamination. By using this multi-filtered engine oil as hydraulic fluid, the design also simplifies maintenance and ensures an adequate oil supply in all operating conditions.
– TraxLok® selectable 2WD/4WD system (see 2009 Technology Section).
– Torque-Sensitive Front Differential (see 2009 Technology Section).
– Electric Shift Program (ESP) (see 2009 Technology Section).
– A handlebar-mounted control switches the automatic transmission between ESP mode and automatic operation.
– A convenient column-style shift lever permits the rider to easily select Drive, Neutral or Reverse.

Chassis/Suspension
– A rugged steel perimeter frame and four-wheel independent suspension provide an exceptional 10.0 inches of ground clearance.
– Honda's independent rear suspension uses a double-wishbone design and features forged-aluminum knuckles and upper/lower A-arms to substantially reduce unsprung weight. The rear knuckle pivots use lightweight metal bushings in place of conventional ball joints and radius arms, eliminating geometry variations as the rear suspension travels through its stroke. This simple design maintains rear wheel alignment and further reduces unsprung weight, contributing to responsive overall handling.
– Independent double-wishbone front suspension uses premium shock absorbers to provide 6.9 inches of suspension travel for a plush, comfortable ride.
– Lightweight single-tube gas-charged rear shocks and an anti-sway bar provide plush, well-controlled damping throughout the Rincon's exceptional 8.0 inches of wheel travel.
– Dual front disc-brake calipers feature a patented built-in scraper system. This helps prevent the buildup of debris between caliper and rim, ensuring consistent braking performance.
– A rear center hydraulic disc brake and self-adjusting mechanical rear parking brake are mounted on the rear driveshaft, further reducing unsprung weight and contributing to the Rincon's considerable ground clearance.
Honda Genuine Accessories
– Trailer Hitch Kit.
2010 Honda FourTrax Rincon TRX680FG – USA Specifications
US MSRP* $8,599 USD
Model: TRX680FA
Engine Type: 675cc liquid-cooled OHV semi-dry-sump longitudinally mounted single-cylinder four-stroke
Bore and Stroke: 102.0mm x 82.6mm
Induction: Electronic fuel injection (PGM-FI), 40mm throttle bodies
Ignition: Full-transistorized type with electronic advance
Starter: Electric with auxiliary recoil
Transmission: Automatic with hydraulic torque converter, three forward gears, Reverse and electronic controls
Driveline: Direct front and rear driveshafts with TraxLok and Torque-Sensitive Front Differential
Suspension
Front: Independent double-wishbone; 6.9 inches travel
Rear: Independent double-wishbone; 8.0 inches travel
Brakes
Front: Dual hydraulic 180mm disc
Rear: Single hydraulic disc
Tires
Front: 25 x 8-12 radial
Rear: 25 x 10-12 radial
Length: 83.2 inches
Width: 46.8 inches
Height: 47.5 inches
Seat Height: 34.5 inches
Ground Clearance: 10.0 inches
Wheelbase: 50.8 inches
Fuel Capacity: 4.3 gallons, including 1.2-gallon reserve
Colors: Red, Olive, Natural Gear® Camouflage
Curb Weight*: 648 pounds
*Includes all standard equipment, required fluids and full tank of fuel–ready to ride.
Meets current EPA and CARB off-road emissions standards.
Recommended for riders 16 years of age and older.
2010 Honda FourTrax Rincon TRX680FG – Canada Specifications
Canadian MSRP* $9,999 CDN
Engine Type Liquid-cooled longitudinally mounted single-cylinder four-stroke

Displacement 675 cc

Bore & Stroke 102 mm x 82.6 mm

Compression Ratio 9.2:1

Valve Train OHV, 4 valves

Fuel Delivery PGM-FI electronic fuel-injection

Transmission Fully automatic electronically controlled automotive-type three-speed with selectable ESP and reverse

Final Drive 2WD/4WD; direct front and rear driveshafts with switchable 2WD/4WD and torque-sensing front differential

Front Suspension Independent double-wishbone with hydraulic shocks; 175 mm (6.9 in.) travel

Rear Suspension Independent double-wishbone with hydraulic shocks; 203 mm (8 in.) travel

Tires 25×8 – 12 front; 25×10 – 12 rear

Brakes Front dual 180 mm hydraulic discs; rear single hydraulic disc

Length 2,113 mm (83.2 in.)

Width 1,189 mm (46.8 in.)

Ground Clearance 234 mm (9.2 in.)

Seat Height 875 mm (34.5 in.)

Wheelbase 1,289 mm (50.8 in.)

Curb Weight 294 kg (648 lb) including required fluids and full tank of gas – ready to ride

Fuel Capacity 16.3 litres, including 4.3-litre reserve

Colour Red

* Price shown is the manufacturer's suggested retail price (MSRP) and is subject to change.