Back to 2010 Suzuki ATV Quad Models Index Page
Click photos to enlarge.
They make great desktop images.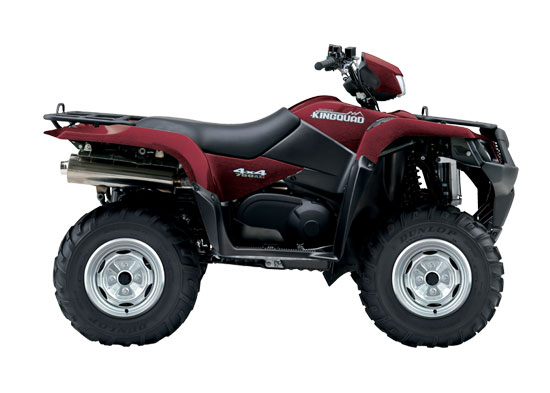 2010 Suzuki KingQuad 750AXi Power Steering Red Brush
– 2010 Suzuki KingQuad 750AXi Power Steering Red Brush

2010 Suzuki KingQuad 750AXi Power Steering Red Brush
Once again, Suzuki is breaking new ground – this time with the incredible KingQuad 750AXi Power Steering. Its new advanced Suzuki Electric Power Steering system gives it lighter steering and even more responsive handling than ever.


The Suzuki KingQuad 750 is an ATV like no other. Just like when it built the first four-wheeler, Suzuki bestowed upon its newest ATV both functional and sporting features. This KingQuad 750 is designed to be not only the best all-around sport/utility ATV currently made, but the best QuadRunner ATV Suzuki has ever manufactured. The Big KingQuad comes with available Electronic Power Steering.

The KingQuad 750 is powered by a single-cylinder liquid-cooled DOHC engine with a bore-and-stroke of 104mm x 85mm – displacing 722cc. The big bore helps this four-stroke develop abundant torque, especially in the low- to mid-rpm range. The fuel-air mixture is delivered efficiently via Suzuki's own fuel-injection system, featuring technology tested through years of development in high-performance motorcycles. Advantages of the KingQuad 750's fuel injection system include reduced fuel consumption overall. Also, there are no choke operations or carburetor settings to consider. Electronic fuel injection provides better throttle response and smoother engine power than a mechanical carburetor. Finally, the KingQuad 750 has the ultimate power-delivery drivetrain and transmission with three drive modes available: two-wheel drive, four-wheel drive, and front differential-locked four-wheel drive.

Built around an all-new high-tensile steel frame, the KingQuad's suspension is fully independent. It's designed to maintain the necessary rigidity of a hard-working utility ATV as well as the light weight of an easily manageable recreational four-wheeler. New front and rear brake systems help smoothly slow the KingQuad 750 — the front end features hydraulic brakes with 200mm discs at each wheel. The KingQuad 750 rides on newly designed, 25-inch, bias-ply Dunlop tires mounted on pressed-aluminum-alloy wheels.

With its high-arched fenders and sharp headlights, the Suzuki KingQuad 750 combines sporty appeal with utility strength.
Key Features

Distinctive Black Brush bodywork is combined with durable-coated silver finish cargo racks

Powerful KingQuad engine features a large 104mm bore for a displacement of 722cc providing maximum performance and throttle response

The new Suzuki Electric Power Steering system delivers a lighter steering effort in a variety of conditions to reduce rider fatigue

Ultra-efficient air filter features both paper and foam elements for optimum air filter performance
Engine Features

Plasma-spray cylinder coating (SPSC) allows lightweight cylinder construction without a sleeve for improved resistance to heat and friction

Compact 4-valve cylinder head with large 36mm intake valves and straight intake ports for increased cylinder charging efficiency' includes lightweight magnesium valve cover

Cylinder canted forward 48 degrees for lower center of gravity, reduced engine height and lower seat height, and is rubber mounted with two balancer shafts for smooth performance

QuadMatic CVT-type automatic transmission designed for maximum versatility and convenience ? fender-mounted gate-type shifter operation for high/low forward ranges, plus neutral and reverse

SCEM (Suzuki Composite Electrochemical Material) cylinder allows for improved heat transfer, lightweight and tighter piston clearance

Semi-gear driven valve system minimizes cam sprocket size allowing a short/narrow cylinder head design and reduced overall engine height

Suzuki fuel injection system provides excellent throttle response, fuel efficiency and quick engine starts

Transmission Features

Advanced engine brake system minimizes free-wheeling to reduce downhill speed

Electric 2WD, 4WD and differential-lock 4WD – convenient handlebar-mounted push-button controls allow the rider to easily select the right setting for any traction condition

Torque-sensing front differential offers powerful traction when needed and light steering when desired

Chassis Features

Independent double A-arm front suspension with 6.7 inches of wheel travel ? includes large diameter shock absorbers with 5-way spring preload adjustment

Fully independent, I-beam rear suspension with long suspension travel (7.7 inches) ? includes 5-way preload adjustable shock absorbers and large diameter rear sway-bar

Comfortable T-shaped seat with tapered design for rider mobility, plus thick padding for support

Large, 200mm diameter front disc brakes with single-piston calipers designed for strong, reliable braking performance

Polyethylene skid plate provides front-to-rear under carriage protection with minimal resistance over rocks and rough terrain

Pressed-aluminum wheels for reduced unsprung weight

Sealed, multi-plate rear brake system provides high durability, reduced unsprung weight and low-maintenance

Utility/Convenience Features

Distinctively-styled 30W multi-reflector halogen headlights, and compact 5/21W tail light and brake light additional 40W multi-reflector, handlebar-mounted auxiliary light

Easy-to-read LCD instrument display ? includes speedometer (mile/km selectable), odometer, twin-trip meters, hour meter, clock, fuel gauge, drive range (H,L,N,R) and drive mode (4WD, 4WD lock) LED indicators for neutral, reverse, 4WD lock, FI/water temp

Large 4.6 gallon fuel tank positioned below seat for a low center-of-gravity includes vacuum-operated petcock, ratchet-style fuel cap and convenient bar-type fuel gauge

Rugged steel-tube racks with attractive, high-quality wrinkle paint finish

Special

Minimum Age: 16 Years Old
2010 Suzuki KingQuad 750AXi Power Steering Red Brush – Specifications
Canadian MSRP $ See Dealer for Details

Chassis:
Brakes Front Disc brake, twin
Brakes Rear Sealed oil-bathed multi-disc
Colour Brushed Red
305 kg (672 lbs)

Curb Weight
Final Drive Shaft drive
Fuel Tank Capacity 17.5 L (4.6/3.8 US/Imp gal)
Ground Clearance 280 mm (11.0 in)
Overall Length 2115 mm (83.3 in)
Overall Width 1210 mm (47.6 in)
Seat Height 920 mm (36.2 in)
Suspension Front Independent, double wishbone, coil spring, oil damped
Suspension Rear Independent, double wishbone, coil spring, oil damped
Tires Front AT25 x 8-12, tubeless
Tires Rear AT25 x 10-12, tubeless
Transmission Automatic variable ratio (V-belt), with high-/low-range, and reverse
Wheelbase 1285 mm (50.6in)

Engine:
Bore Stroke 104.0 mm (4.094 in) x 85.0 mm (3.346 in)
Compression Ratio 10.0 : 1
Engine 722cc (44.1 cu. in), 4-stroke, liquid-cooled, DOHC
Fuel System Fuel injection
Ignition Electronic ignition (CDI)
Lubrication Wet Sump
Starter Electric starter

Warranty:
Warranty 12 month limited warranty.