Back to 2011 Honda ATV Quad Models Index Page
Click photos to enlarge.
They make great desktop images.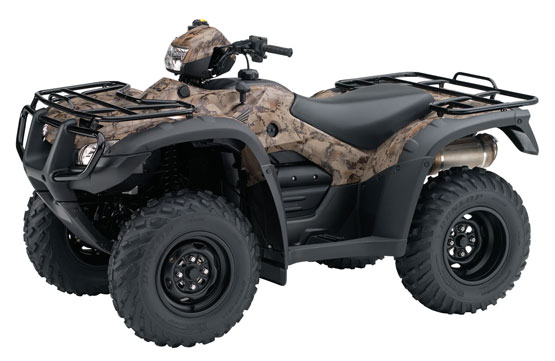 2011 Honda FourTrax Foreman Rubicon with EPS and GPS TRX500FGA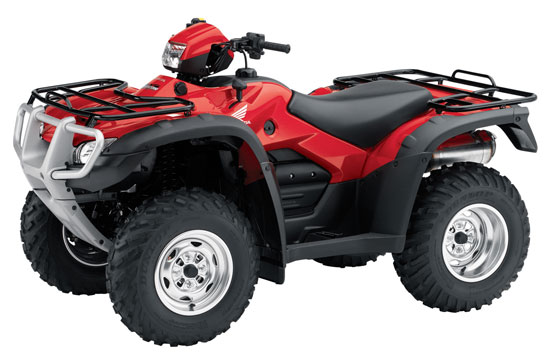 2011 Honda FourTrax Foreman Rubicon with EPS and GPS TRX500FGA
– 2011 Honda FourTrax Foreman Rubicon with EPS and GPS TRX500FGA

2011 Honda FourTrax Foreman Rubicon with EPS and GPS TRX500FGA
FourTrax Foreman Rubicon/FourTrax Foreman Rubicon with Electric Power Steering and GPScape
The FourTrax® Foreman® Rubicon™ has enjoyed a loyal and enthusiastic following for many years thanks to its Hondamatic transmission, a unique continuously variable, hydromechanical design that gives this ATV formidable off-road prowess. Add to that Honda's easy-to-use TraxLok® 2WD/4WD system, a Torque-Sensitive Front Differential and Electric Shift Program (ESP®), plus the option of Electric Power Steering and GPScape® navigation, and it's clear why the Rubicon has satisfied the wanderlust in so many off-road explorers.

Some smart guys aren't very strong. And some strong guys aren't exactly brain surgeons. Then there are those who break out of the stereotypes. And in the world of ATVs, that's the Honda FourTrax Foreman Rubicon. Its engine is a real powerhouse that delivers tons of torque. But the longitudinal layout and exclusive Hondamatic transmission makes smart use of that power and makes sure it all gets applied to the job at hand. From the tightest mountain trails to the wide-open desert, the Honda FourTrax Foreman Rubicon has what it takes, and you'll never have to work overtime at the controls.
2011 Honda FourTrax Foreman Rubicon with EPS and GPS TRX500FGA Features:

Electric Power Steering.
Honda's Electric Power Steering features sophisticated torque sensors that measure how much force you're applying and then tailor how much extra assist you need.
GPScape: GPS for ATVs.
There are lots of GPS units out there. But only Honda offers GPScape. It's built in, with rugged construction and a continuous power source.
The Amazing Hondamatic™.
There's no other automatic like it on any ATV. Even Hondas. You get an almost infinite choice of gear "ratios" thanks to its continuously variable design.
Accessories as tough as the ATVs they're on.
When you're riding the best ATV on the planet, only the best accessories will do—Honda Genuine Accessories. These accessories are designed specifically for your Honda vehicle and feature the same quality and durability you've come to expect from Honda.
Electric Power Steering (EPS) – Electric Power Steering (EPS) is both speed- and torque-sensitive. In addition to reducing steering effort, EPS also reduces kickback through the handlebar.
Electric Shift Program (ESP) – Upshifting or downshifting is easy and fast—just push one of two handlebar-mounted buttons. ESP is a huge advantage when riding in heavy boots, or if your boots are covered in mud or snow.
GPScape – Available GPScape is a great GPS-based navigation aid designed specifically for your ATV. Oversized buttons make GPScape easy to use while wearing gloves. Since it's hard wired into your ATV's electrical system, you never have to worry about dead batteries.
TraxLok® – TraxLok is a shift-on-the-fly system that lets you choose between two- and four-wheel drive. Two-wheel drive gives you lighter steering, while four-wheel drive maximizes traction.
Semi-Dry-Sump Engine Design – Our semi-dry sump design and overhead valve design give you an engine that's shorter from top to bottom. The compact engine both lowers the center of gravity and increases ground clearance.
Hondamatic Transmission – The Hondamatic is the smoothest ATV transmission you'll ever experience. Smooth power means better traction and control in tough conditions like mud and snow.
The Hondamatic: Honda Magic.

The Hondamatic unit at the heart of the Rubicon is a unique, continuously variable automatic transmission that does the shifting for you—or, at your option, lets you choose powertrain ratios with the flick of a thumb. The Rubicon's torque-tuned engine spins a sophisticated variable-ratio hydraulic pump, delivering power to the wheels in a seamless rush that'll have you wondering how—or why—you ever rode without it. Just one more example of how Honda's human engineering gives you just what you want—exactly the way you want it.
– Hondamatic transmission is a continuously variable, hydromechanical design that eliminates belts altogether. It is compact, quiet, maintenance-free and very rugged. The Hondamatic features true engine braking, unlike conventional belt-drive designs.
– Multi-function LCD digital instrumentation is compact, tough and waterproof, featuring large readouts for Hondamatic transmission modes, gear selector position, speedometer, fuel gauge, odometer, resettable tripmeter and hourmeter/clock. Instrument housing includes LEDs for Reverse, Neutral and temperature warning indicator.
– Large front and rear cargo racks are rated at 66 and 133 pounds, respectively.
– Unique rear-opening storage compartment allows access when rack is loaded.
– Waterproof accessory socket provides 12-volt, 10-amp power with a built-in temperature-type fuse.
– Uniquely designed floorboards allow the rider's feet to grip the footrests while keeping away mud and debris.
– Triple headlight system with single 45-watt upper light and dual 30-watt lower lights with multi-reflector lenses for optimal light distribution plus a 21-watt brakelight and taillight.
– Assembled in Timmonsville, South Carolina.
– Transferable one year limited warranty; extended coverage available with a Honda Protection Plan.
Engine/Drivetrain
– Liquid-cooled overhead-valve single-cylinder 499cc four-stroke engine is mounted longitudinally in the frame, allowing direct driveshaft alignment to front and rear wheels for improved drivetrain efficiency.
– Camshaft is located adjacent to the cylinder head, reducing engine height. Together with the external engine-oil tank, engine height is further reduced for a low center of gravity and excellent handling.
– Four-valve cylinder head utilizes two short pushrods to provide a broad powerband for optimum performance and engine efficiency.
– TraxLok selectable 2WD/4WD system.
– 20-watt integrated carburetor heater for reliable cold-weather starting.
– Torque-Sensitive Front Differential.
– Standard high-flow oil cooler ensures optimal engine lubrication under difficult operating conditions.
– Stainless-steel exhaust system provides superior corrosion resistance.
– Powerful 361-watt AC generator.
Hondamatic Automatic Transmission
– The Hondamatic transmission utilizes variable hydraulic pressure and mechanical torque amplification to provide seamless job-handling power and excellent acceleration. Engine power drives a hydraulic pump. The pump, in turn, drives a hydraulic motor with variable fluid capacity. Utilizing pump and motor pistons and a variable-pitch motor-side swash plate, hydraulic capacity and pressure are varied, producing continuously variable output speed. In addition, torque is increased as output-shaft speed is reduced.
– Electric Shift Program (ESP®) allows rider the option of push-button shifting.
– The Hondamatic is extremely efficient, with operating efficiencies ranging from 75-81 percent in full-reduction mode and from 87-92 percent when input and output speeds are the same (1:1 ratio).
Chassis/Suspension
– Dual Independent double-wishbone front suspension uses premium preload-adjustable shock absorbers to provide 6.7 inches of suspension travel for a plush, comfortable ride. Steel swingarm and dual preload-adjustable rear shock absorbers provide 6.7 inches of suspension travel for superb comfort and compliance.
– Dual front disc-brake calipers feature a patented built-in scraper system to remove mud and snow from inside the front wheel to help prevent buildup of debris between caliper and rim and ensure consistent braking performance.
– Dual Brake pads feature thick, long-wearing material with improved durability, feel and control. An internal scraper gives audible warning when pad life is low.
– Dual Powerful, single-piston caliper, front hydraulic 180mm disc brakes and sealed rear mechanical drum.
Honda Genuine Accessories
– Flag Kit
– Front 12-inch Alloy Wheel
– Rear 12-inch Alloy Wheel

2011 Honda FourTrax Foreman Rubicon with EPS and GPS TRX500FGA – Specifications
American MSRP $8,349 USD
Canadian MSRP: See Dealer for Details
Model: TRX500FGA (with EPS and GPS)
Engine Type: 499cc liquid-cooled OHV dry-sump longitudinally mounted single-cylinder four-stroke
Bore and Stroke: 92.0mm x 75.0mm
Induction: 36mm constant-velocity carburetor
Ignition: CD with electronic advance
Starter: Electric with auxiliary recoil
Transmission: Fully automatic hydro-mechanical, continuously variable with electronic controls
Driveline: Direct front and rear driveshafts with TraxLok and Torque-Sensitive Front Differential
Suspension
Front: Independent double-wishbone; 6.7 inches travel
Rear: Swingarm with dual shock absorbers; 6.7 inches travel
Brakes
Front: 180mm front discs with single-piston calipers
Rear: Sealed mechanical drum
Tires
Front: 25 x 8-12
Rear: 25 x 10-12
Length: 83.0 inches
Width: 46.8 inches
Height: 46.4 inches
Seat Height: 33.9 inches
Ground Clearance: 7.5 inches
Wheelbase: 50.6 inches
Turning Radius: 10.8 feet
Towing Capacity: 850 pounds
Fuel Capacity: 4.0 gallons, including 0.7-gallon reserve
Colors: Red, Olive, Natural Gear Camouflage
Curb Weight*: 648 pounds (TRX500FGA)
*Includes all standard equipment, required fluids and full tank of fuel–ready to ride.
Meets current CARB and EPA off-road emissions standards.
Recommended for riders 16 years of age and older.