Back to 2011 Kawasaki ATV Quad Models Index Page
Click photos to enlarge.
They make great desktop images.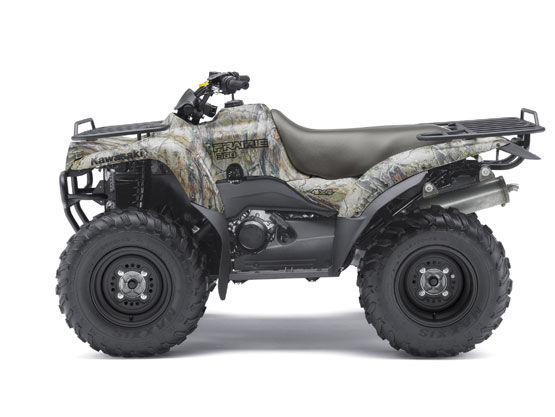 2011 Kawasaki Prairie 360 4×4 Camo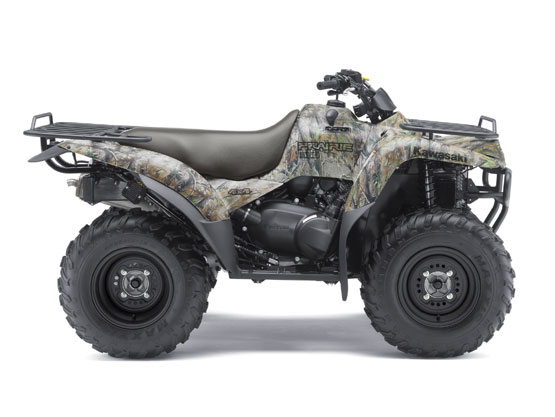 2011 Kawasaki Prairie 360 4×4 Camo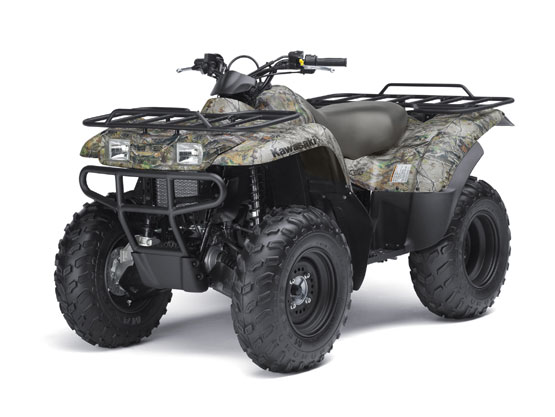 2011 Kawasaki Prairie 360 4×4 Camo
– 2011 Kawasaki Prairie 360 4×4 Camo

2011 Kawasaki Prairie 360 4×4 Camo
Rugged, reliable 4×4 performance for outdoor adventurers
The do-it-all characteristics of the Prairie® 360 4×4 ATV are improved even further with a stealthy coating of Realtree® APG™ HD® camouflage. This innovative pattern melts into the environment, helping outdoor enthusiasts get to their favorite hunting ground or riverbank without disturbing the locals.
The Prairie 360 4×4 features a reliable combination of a 362cc air-cooled, single cylinder, four-stroke engine, continuously variable transmission (CVT) and reliable shaft drive. The CVT enables the engine to operate in its optimal rpm range, providing maximum torque regardless of speed or riding conditions and offers high and low forward gears plus reverse.
If additional traction is needed, the rider can send power to all four wheels at the flip of a switch. A limited-slip front differential helps keep steering light and precise, even in four-wheel drive. In extreme conditions, the rider can use Kawasaki's Variable Front Differential Control lever send power to both front wheels. Once maximum traction is no longer needed, the rider simply releases the lever — a simple and effective system.
Stopping power on the Prairie 360 4×4 is provided by a combination of dual front disc brakes and Kawasaki's sealed, oil-bathed, multi-disc rear brake system. Further speed control is provided by the Kawasaki Engine Brake Control, which uses engine compression and CVT belt pressure to help slow the ATV under certain conditions.
The MacPherson strut front suspension and a single-shock aluminum swingarm rear suspension give the Prairie 360 4×4 a supple ride with 6.7 and 7.1 inches of travel front and rear, respectively. A large, comfortable saddle and full-sized floorboards with adjustable footpegs further maximize rider comfort.
Its steel front and rear cargo racks can carry a combined weight of 242 pounds. Other conveniences include powerful dual halogen headlights, and a hitch bracket that is standard, permitting the rider to tow 1,100 pounds — the highest towing capacity in its class. Owners can expand the versatility of their Prairie ATV via the extensive line of Authentic Kawasaki Accessories, available through Kawasaki dealers.
As with all off-highway vehicle recreation, Kawasaki encourages ATV riders to ride responsibly and to respect the environment. Kawasaki will pay first-time buyers of a new Kawasaki ATV $100 for completing an ATV rider safety course conducted by the ATV Safety Institute (ASI). Interested consumers can call ASI toll-free at 800-887-2887.
Key Features:

– Realtree® APG™ HD® camouflage
– Reliable air-cooled four-stroke and four-wheel drive
– Can tow up to 1,100 pounds
362cc Air-cooled, Four-stroke Engine
– Smooth and reliable powerplant delivers exceptional torque, providing the best combination of performance and simplicity
– Kawasaki Engine Brake Control uses the engine's compression to help slow the Prairie 360 4×4 under certain conditions
Transmission
– Continuously variable transmission (CVT) has high and low forward gears plus reverse, so no shifting is required
– Dependable shaft drive requires minimal maintenance
Four-wheel Drive
– Selectable four-wheel drive can be activated with the flip of a switch — simple and effective
– Kawasaki Variable Front Differential Control lets the rider manage how much torque is delivered to both front wheels
Tires
– MAXXIS AT 25×8-12 (front) and AT 25×10-12 tires (rear) for effective off-road traction
Chassis and Suspension
– Large saddle and full-sized floorboards with adjustable serrated footpegs provide superior comfort and help protect the rider's feet from mud and debris
– Smooth-riding MacPherson strut front suspension provides 6.7 inches of travel while the rear swingarm with adjustable shock provides 7.1 inches of travel
– Front and rear cargo racks can carry a combined weight of 242 pounds
Additional Features
– Dual front disc brakes provide superior stopping power to the front wheels
– Kawasaki's sealed, oil-bathed multi-disc rear brake system is protected from mud, dust, debris and water while providing superior rear braking power with practically no maintenance
– Standard hitch bracket makes installing a ball hitch quick and easy for towing up to 1,100 pounds
– 12-volt electric outlet provides power for your electronic accessories
– Bright dual 30W halogen headlights for chores and fun after sunset
2011 Kawasaki Prairie 360 4×4 Camo – Specifications
American MSRP $6,499 US
Canadian MSRP $NA CDN
Engine: Air-cooled, SOHC, four-stroke, single cylinder
Displacement: 362cc
Bore x Stroke: 80.0 x 72.0mm
Compression ratio: 8.3: 1
Carburetion: Keihin CVK34
Starting System: Electric with recoil backup
Transmission: Continuously variable transmission with Kawasaki Engine Brake Control, high and low range, plus reverse
Final drive: Selectable four-wheel drive with Variable Front Differential Control, shaft
Frame type: Double cradle steel
Front suspension / wheel travel: MacPherson strut / 6.7 in.
Rear suspension / wheel travel: Swingarm with single shock, preload adjustment / 7.1 in.
Front Tire Size: AT25x8-12 tubeless
Rear Tire Size: AT25x10-12 tubeless
Front brakes: Dual hydraulic discs
Rear Brakes: Sealed, oil-bathed, multi-disc
Overall length: 81.3 in.
Overall width: 47.4 in.
Overall height: 45.1 in.
Wheelbase: 49.4 in.
Ground clearance: At center of chassis, 9.3 / at rear axle, 7.3 in.
Seat height: 35.2 in.
Lighting: 30W x 2 halogen
Rack capacity, front / rear: 88 / 154 lbs.
Towing capacity: 1,100 lbs.
Curb weight: 643.9 lbs.
Fuel capacity: 3.6 gal.
Footpegs: Adjustable
Color Choices: Realtree® APG™ HD® camouflage
Good Times™ Protection Plan: 12, 24, 36 or 48 months
Warranty: 12 Months