Back to 2011 Yamaha ATV Quad Models Index Page
Click photos to enlarge.
They make great desktop images.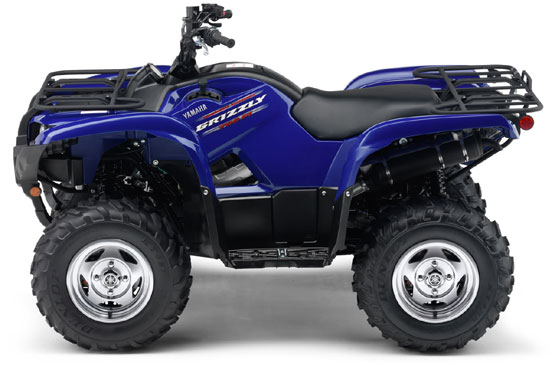 2011 Yamaha Grizzly 700 FI 4×4 SE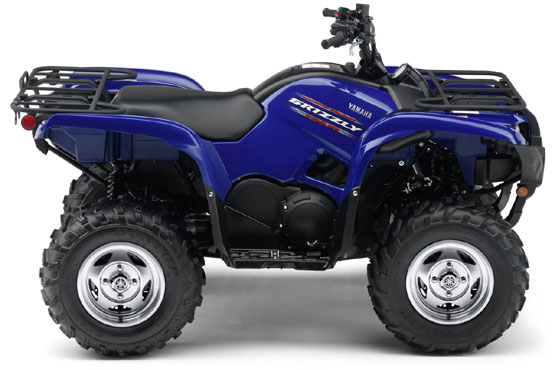 2011 Yamaha Grizzly 700 FI 4×4 SE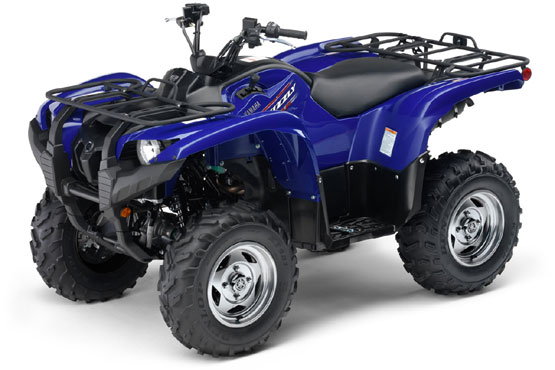 2011 Yamaha Grizzly 700 FI 4×4 SE
– 2011 Yamaha Grizzly 700 FI 4×4 SE

2011 Yamaha Grizzly 700 FI 4×4 SE
Most powerful Grizzly ever – class-leading off-road capability, comfort and industry-first EPS.
Yamaha's best selling ATV continues to dominate the ATV food chain, packed with features like EPS, Ultramatic Transmission and On-Command, it's no wonder this is the benchmark by which all others are measured.
It starts with a powerful full-bore, fuel injected 4-stroke engine.
Add industry exclusive fully automatic Ultramatic transmission with Diff Lock, an On-Command 2WD/4WD system, independent rear suspension, 4-wheel disc brakes and digital instrumentation and you've got one of Canada's best selling ATVs. Our SE model features cast aluminum wheels.
Highlights
Cast Aluminum Wheels
Raptor Based 686cc Fuel Injected Engine
4-Wheel Disc Brakes
Key Features:

Big Bore Power
Underneath its stylish exterior you'll find 686cc's of fuel injected 4-stroke power, delivering crisp throttle response and easy sure starting no matter the altitude.
Incredible Power to Weight Ratio
Our biggest Grizzly has the best power-to-weight ratio in its class. This Grizzly can be as much as 150 lbs lighter than the competitors 800's. Less weight has an effect on everything from handling and acceleration to hill climbing and mud prowess.
4-Wheel Disc Brakes
Slowing your big-bore ATV down shouldn't involve standing on the brake pedal while squeezing the lever with all your might. 4-wheel disc brakes combined with full-time engine braking means slowing this Grizzly down requires less effort. And since the front and rear brakes can be operated independently, you have more control over how you brake depending on the situation.
On-Command System
Push-button servo-controlled On-Command system allows you to switch between 2WD, limited-slip 4WD and fully locked differential 4WD – all with the simple push of a dash mounted button. With Diff-lock engaged traction is at all 4-wheels instantaneously putting you in total control. You decide when you need 4 wheel drive, the machine doesn't decide for you.
Ultramatic Transmission
Revolutionary Ultramatic™ fully automatic transmission is the first automatic transmission to feature true engine braking. All four wheels receive engine braking in 4WD mode. Dual-range transmission with reverse. Low range has approximately 1.5 times the pulling power of high range.
Mass Centralization
The weight of a full tank of fuel can throw off your centre of gravity, so we located the tank under the seat and positioned the air box up high. This lowers the centre of gravity improving handling, stability and hill climbing capability. The raised air box also reduces the chance of water and debris from getting into the engine.
V-Belt Ducting
High mounted air box, V-belt intake and exhaust ducts, reduce the opportunity for water and debris to enter the V-Belt housing.
Reverse Mounted Rear Suspension
The wheel center does not change but allows for a shorter frame which improves approach/departure angles, and allows the use of stronger ball joints (more clearance).
Additional Features
" Roller bearing rocker arms reduce friction and improve engine performance
" Carburized Chrome-Moly connecting rods improve durability
" Air box design featuring centrifugal debris trap improve air flow
" Flat type foam air filter for easy cleaning
" Straight drive shaft layout reduces vibration and improves durability
" Gull-wing front a-arms for improved ground clearance
" Air cushion seat provides awesome comfort on those long rides
" Large holes in the floorboard design for awesome mud evacuation, and special rugs avoid buildup from underneath
" Convenient water resistant storage
" Centralized wiring layout, for improved protection against the elements
" LCD Gauge includes Odometer, Trip 1, Trip 2, Clock, Fuel gauge and Gear position
" Warning indicators: Engine, Water Temperature, Reverse, Neutral, Parking, High Range, Low Range and LCD Drive / * Differential Lock map
" 35W Halogen headlight bulbs
" Neodymium hi-power magnet for improved output, charging capacity and light weight
" Forged Aluminum steering knuckle
" Gate type transmission shifter for improved shift feel
" Cartridge type oil filter located to the front of the engine for improved cooling and simplified maintenance
2011 Yamaha Grizzly 700 FI 4×4 SE – USA Specifications
MSRP* $NA
Model not available in the USA.
2011 Yamaha Grizzly 700 FI 4×4 SE – Canadian Specifications
Canadian MSRP* $11,849 CDN
Engine 4-stroke, SOHC, liquid cooled, 4-valve, single
Displacement 686 cc
Bore and Stroke 102 x 84 mm
Compression Ratio 9.2: 1
Carburetion Mikuni Electronic Fuel Injection w/44mm Big Bore throttle bodies and TPS
Ignition computerized DC-CDI
Starting electric w/auto-decompression
Transmission Ultramatic (sealed variable v-belt), w/ L-H-N-R and Park, 4-wheel full-time engine breaking
Final Drive On-command push button 2WD / 4WD / 4WD diff. lock, direct shaft drive
Suspension (Front) independent, dual A-arm, with gull-wing lower A-arm, and adjustable shocks
Suspension (Rear) independent, reverse mounted dual A-arm with sway bar, adjustable shocks
Brakes (Front) Hydraulic Discs
Brakes (Rear) Hydraulic Discs
Tires (Front) Dunlop KT421 tubeless, AT25 x 8-12
Tires (Rear) Dunlop KT425 tubeless, AT25 x 10-12
Length 2065 mm (81.3″)
Width 1180 mm (46.5″)
Height 1240 mm (48.8″)
Wheelbase 1250 mm (49.2″)
Ground Clearance 300 mm (11.8″)
Seat Height 905 mm (35.6″)
Dry Weight 272 kg (600 lb)
Wet Weight 294 kg (648 lb) – ready to ride full of fuel and oil
Fuel Capacity 20 litres (5.3 U.S. gal)
Towing Capacity 600 kg (1,322 lb)
Colour(s) Dark Blue
Specifications, appearance, and price of product are subject to change without notice.
* MSRP does not include freight, PDI (Pre Delivery Inspection), pre-rigging (boats), or taxes. Dealer may sell for less.