Back to 2011 Yamaha ATV Quad Models Index Page
Click photos to enlarge.
They make great desktop images.

2011 Yamaha Kodiak 450 4×4 EPS

2011 Yamaha Kodiak 450 4×4 EPS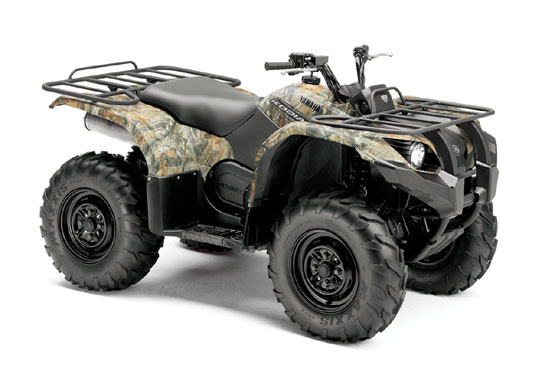 2011 Yamaha Kodiak 450 4×4 EPS
– 2011 Yamaha Kodiak 450 4×4 EPS

2011 Yamaha Kodiak 450 4×4 EPS
Need big-ATV capabilities without the big size? Take a look at our versatile 2011 Yamaha Kodiak 450. Designed with the same great features found on our larger Grizzly models, this midsize ATV is more manoeuvrable without sacrificing power and performance.
We engineer our Kodiak 450 every bit as rugged as our Grizzly's.
And for 2011, this tough mid-size ATV becomes even more manoeuvrable with the addition of Electronic Power Steering. Cradled within the steel frame you'll find a powerful 421cc, 4-stroke, SOHC, liquid-cooled engine complete with Yamaha's unbeatable reliability and durability. Pushing power through Yamaha's exclusive Ultramatic transmission – featuring both high and low range – with true engine braking to give you added control when descending steep hills. At the push of a handle-bar mounted button, you can select between 2WD, 4WD and Diff-Lock 4WD, using the On-Command system to suit the terrain under your wheels. The long-travel suspension 10.8 inches of ground clearance and high-traction tires round out the characteristics of this midsized ATV.
Highlights
Electric Power Steering (EPS)
Push button 4WD w/diff lock
5-way spring pre-load adjustment
Key Features:

Excellent Power to Weight Ratio
Power is nothing if it comes with a bunch of additional weight. Even with the addition of EPS, Yamaha's 2011 Kodiak 450 is almost 10 lbs lighter than the '09 Kodiak 450 making it one of the lightest in its class. With this improved power to weight ratio comes a hefty advantage over some of the bigger and bulkier ATVs. Less weight has an effect on everything from handling and acceleration to hill climbing.
Electronic Power Steering
The introduction of EPS dramatically reduces steering effort, especially in 4WD. It also helps isolate the rider from external forces acting on the front wheels, which means you can worry less about the terrain and focus more on enjoying the ride. This speed and torque sensitive EPS system could be the single most important improvement to your off road experience in decades!
* reduces steering effort in all situations, helping to reduce rider fatigue while enhancing rider confidence and ease of operation
* Variable assist is speed and torque sensitive
* Improves stability on virtually all types of terrain at a wide range of speeds
* Helps isolate the rider from external feedback from obstacles that come in contact with the front wheels
On-Command 4WD
Push-button servo-controlled On-Command system enable you to switch between 2WD, limited-slip 4WD and fully locked differential 4WD – all with the simple push of a dash mounted button. Real 4WD when you need it. With Diff-lock engaged, you have traction to all 4 wheels, immediately. You decide when you need 4WD, the machine doesn't decide for you.
Ultramatic Transmission
The fully automatic Ultramatic transmission is not only versatile and easy to use, it is also known to be one of the most reliable transimissions in the ATV business. That's because all Ultramtics are designed to maintain constant belt tension. This means the belt does not have to slip for the ATV to come to a stop, which dramatically improves belt reliability and durability. It also means that Ultramatic transmissions provide continuous and predictable off-throttle engine braking, which can really help when negotiating difficult terrain. The Kodiak 450 also comes with an automotive style transmission lever with a parking lock mechanism, so you don't have to worry about setting a separate parking brake every time to get off the ATV.
Cooling System
The high-capacity cooling system with high-mounted fan-cooled radiator delivers consistent engine performance, excellent durability and protection from sticks and rocks.
Independent Rear Suspension
Independent rear suspension with sway bar for limited chassis roll provides great terrainability.
Speed Override
Differential lock speed override switch (forward only) allows the rider to override the speed limiter for certain conditions.
Electric Start
Convenient electric starting from any gear.
Frame
The new computer-designed steel tube frame is now one piece, and comes with a new rear sway bar that is 20% stiffer for improved handling and cornering. This frame is 6 lbs lighter and retains the rubber engine mounts for a rugged, durable design and reduced vibration.
LCD/LED Information Centre
Digital information centre LCD display for speed, odometer and On-Command functions, as well as LED warning lamps.
DC Terminal
12-volt D.C. terminal provides a convenient power source for accessories such as cellular phones, handheld lights or GPS.
Rear Wet Brake
Rear wet brake uses friction plates immersed in an oil bath and is sealed to keep out water and debris. This provides consistent braking performance, regardless of riding conditions. And since the braking force is amplified through the gear ratio so less effort is required.
Additional Features
Internal engine counterbalancer minimizes engine vibration to rider
Spin-on oil filter simplifies oil changes
High-positioned carb air intake and clutch intake and exhaust vents prevent water from entering carb or V-belt cover
4WD front differential lock. Positive mechanical lock-up for maximum traction in 4WD.
Wide Grizzly type front fenders and new bumper design with excellent mud and splash protection
Dual 30-watt sealed headlights with replaceable bulbs provides excellent lighting, prevents water penetration and simplifies maintenance and reduces cost
25-inch tires with aggressive tire tread pattern for great traction and excellent durability
Sealed marine-style electrical connectors prevents water from entering electrical components and wiring
2011 Yamaha Kodiak 450 4×4 EPS – USA Specifications
MSRP* $NA
Model not available in the USA.
2011 Yamaha Kodiak 450 4×4 EPS – Canadian Specifications
Canadian MSRP* $9,699 CDN
Engine 4-stroke, liquid-cooled, single
Displacement 421cc
Bore and Stroke 84.5 x 75mm
Compression Ratio 10:1
Carburetion Mikuni BSR33
Ignition DC-CDI
Starting electric/recoil
Transmission Ultramatic (sealed variable v-belt), w/ L-H-N-R and Park, 4-wheel full-time engine breaking
Final Drive On-command push button 2WD / 4WD / 4WD diff. lock, shaft drive
Suspension (Front) Independent Double Wishbone, w/ 5-way Preload Adjustment.
Suspension (Rear) Independent Double Wishbone, w/ 5-way Preload Adjustment.
Brakes (Front) dual 180mm, hydraulic discs
Brakes (Rear) Fully Sealed , Oil Bath, Multi Disc
Tires (Front) AT25x8-12
Tires (Rear) AT25x10-12
Length 1,991mm (78.4")
Width 1,093mm (43.0")
Height 1,120mm (44.1")
Wheelbase 1,233mm (48.5")
Ground Clearance 275mm (10.8")
Seat Height 850mm (33.5")
Dry Weight 268kg (591 lb)
Wet Weight 286 kg (631 lb) – ready to ride full of fuel and oil
Fuel Capacity 15 litres
Towing Capacity 500 kg (1,100 lb)
Colour(s) Dark Green
Realtree® AP HD™ Camouflage
Specifications, appearance, and price of product are subject to change without notice.
* MSRP does not include freight, PDI (Pre Delivery Inspection), pre-rigging (boats), or taxes. Dealer may sell for less.