You are here: Home — 2012 ATV Models — 2012 Yamaha Kodiak 450 Auto 4×4 EPS
2012 Yamaha Kodiak 450 Auto 4×4 EPS
Back to 2012 Yamaha ATV Quad Models Index Page
Click photos to enlarge.
They make great desktop images.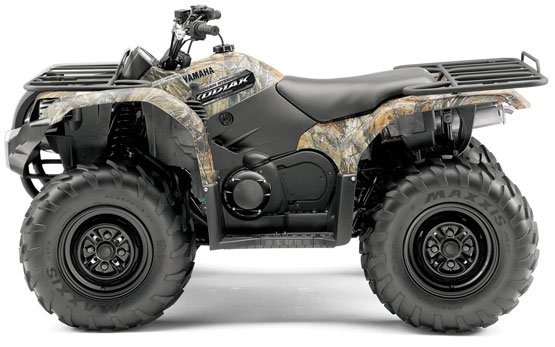 2012 Yamaha Kodiak 450 Auto 4×4 EPS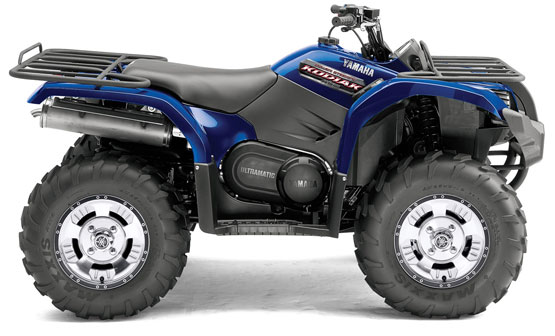 2012 Yamaha Kodiak 450 Auto 4×4 EPS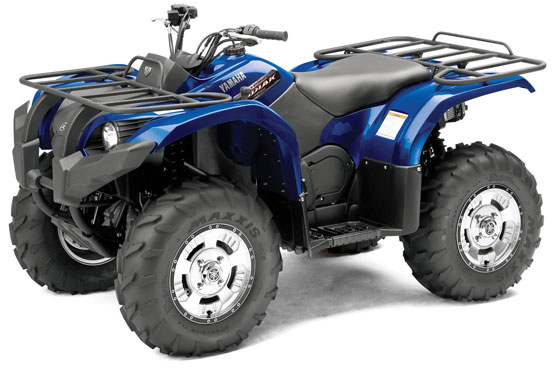 2012 Yamaha Kodiak 450 Auto 4×4 EPS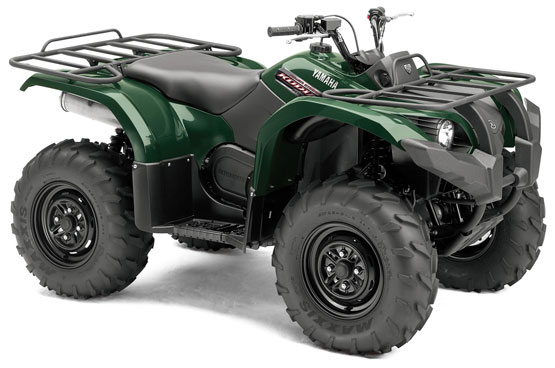 2012 Yamaha Kodiak 450 Auto 4×4 EPS
– 2012 Yamaha Kodiak 450 Auto 4×4 EPS

2012 Yamaha Kodiak 450 Auto 4×4 EPS Review
Big attitude small package…
The 2012 Yamaha Kodiak 450 with EPS combines Yamaha durability with reliablity with key features such as Ultramatic transmission and on-command 2WD/4WD with Diff Lock to excel in both trail riding and utility situations.
Rounding out our EPS trilogy is the Kodiak 450. We added Electric Power Steering to its extensive list of features.
From a high-tech sealed wet brake out back, to four-wheel independent suspension, 10.8 inches of ground clearance, On-Command push button drive with Diff Lock and Yamaha's exclusive Ultramatic transmission. The Kodiak 450 may be midsized, but it's ready to take on the big players.
2012 Yamaha Kodiak 450 Auto 4×4 EPS Highlights:
Electric Power Steering (EPS)
Push button 4WD w/diff lock
5-way spring pre-load adjustment

2012 Yamaha Kodiak 450 Auto 4×4 EPS Key Features:

421cc liquid-cooled, SOHC four-stroke single is rugged and powerful.
Almost 10 pounds lighter than our previous non-EPS Kodiak 450 models, even with the addition of Electric Power Steering, providing awesome power-to-weight ratio.
EPS dramatically reduces steering effort, especially in 4WD. It helps isolate the rider from external forces acting on the front wheels, which means you can worry less about the terrain and focus more on enjoying the ride. This speed and torque sensitive EPS system could be the single most important improvement to your off road experience in decades!
Reduces steering effort in all situations, helping to reduce rider fatigue while enhancing rider confidence and ease of operation
Variable assist is speed and torque sensitive
Improves stability on virtually all types of terrain at a wide range of speeds
Helps isolate the rider from external feedback from obstacles that come in contact with the front wheels
Push-button servo-controlled On-Command system enables you to switch between 2WD, limited-slip 4WD and fully locked differential 4WD – all with the simple push of a dash mounted button. Real 4WD when you need it. With Diff-lock engaged, you have traction to all 4 wheels, immediately. You decide when you need 4WD, the machine doesn't decide for you.
The fully automatic Ultramatic™ transmission is not only versatile and easy to use, it is also known to be one of the most reliable. This transmission is designed to maintain constant belt tension, meaning it does not have to slip for the ATV to come to a stop. This dramatically improves belt reliability and durability. It also provides continuous and predictable off-throttle engine braking, which can really help when negotiating difficult terrain. The Kodiak 450 also comes with an automotive style transmission lever with a parking lock mechanism, so you don't have to worry about setting a separate parking brake every time you get off the ATV.
The high-capacity cooling system with high-mounted fan-cooled radiator delivers consistent engine performance, excellent durability and protection from sticks and rocks.
Independent rear suspension with sway bar for limited chassis roll provides great terrainability.
Differential-lock speed override switch (forward only) allows the rider to override the speed limiter for certain conditions.
Convenient pushbutton electric start from any gear.
The one-piece steel tube frame and rear sway bar improve handling and cornering.
Rear wet brake is a multi-disc system running in hydraulic fluid inside a sealed unit. This keeps out the elements (such as mud and water) while providing powerful, consistent stopping power and greatly reduced maintenance.
Ground clearance of 10.8 inches and a high-impact plastic skidplate provide terrainability and undercarriage protection.
Trick digital instrument panel boasts a multifunction LCD display with speedometer, odometer, dual tripmeter, hour meter, 4WD status, transmission position and clock.
12-volt D.C. terminal provides a convenient power source for accessories such as cellular phones, handheld lights or GPS.
Fully independent long-travel four-wheel suspension features double-wishbone suspension front and rear.
Stainless steel muffler and header design provides superior power characteristics, exhaust sound and durability.
Tool-free air filter box for easy access and quick maintenance.
Light steering and a class-leading turning radius combine for increased comfort and incredible maneuverability—even in 4WD.
Large-diameter ventilated hydraulic front disc brakes deliver tremendous stopping power in a variety of conditions.
Steel cargo racks with special, extra-durable wrinkle paint finish.
Water-resistant, large-capacity underseat storage box provides added convenience.
Wide, fully integrated floorboards keep rider's feet dry and feature serrated footpegs for extra grip in wet conditions.
Large front and rear fenders with inner guards offer excellent mud/splash protection.
Easy-access, underseat marine-spec electrical components ensure maximum protection from the elements.
Dual, bright multi-reflector 30-watt Krypton bulb headlights with high and low beams; rear brake light.
---
2012 Yamaha Kodiak 450 Auto 4×4 EPS – USA Specifications
US MSRP* $NA

Model Not Available in the USA
2012 Yamaha Kodiak 450 Auto 4×4 EPS – Canadian Specifications
Canadian MSRP* $8,399 CDN
Engine
Engine 4-stroke, liquid-cooled, single
Displacement 421cc
Bore and Stroke 84.5 x 75mm
Compression Ratio 10:1
Carburetion Mikuni BSR33
Ignition DC-CDI
Starting electric
Transmission Ultramatic (sealed variable v-belt), w/ L-H-N-R and Park, 4-wheel full-time engine breaking
Final Drive On-command push button 2WD / 4WD / 4WD diff. lock, shaft drive

Chassis
Suspension (Front) Independent Double Wishbone, w/ 5-way Preload Adjustment.
Suspension (Rear) Independent Double Wishbone, w/ 5-way Preload Adjustment.
Brakes (Front) dual 180mm, hydraulic discs
Brakes (Rear) Fully Sealed , Oil Bath, Multi Disc
Tires (Front) AT25x8-12
Tires (Rear) AT25x10-12

Dimensions
Length 1,991mm (78.4")
Width 1,093mm (43.0")
Height 1,120mm (44.1")
Wheelbase 1,233mm (48.5")
Ground Clearance 275mm (10.8")
Seat Height 850mm (33.5")
Wet Weight 286 kg (631 lb) – ready to ride full of fuel and oil
Fuel Capacity 15 litres
Towing Capacity 500 kg (1,100 lb)
Colour(s) Dark Blue
Dark Green
Realtree® AP HD™ Camouflage