Click photos to enlarge. They make great desktop wallpaper.

2013 Yamaha Grizzly 550 FI Auto 4×4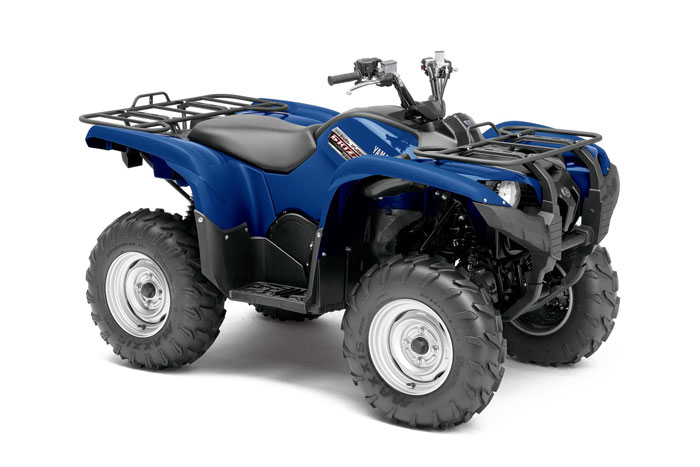 2013 Yamaha Grizzly 550 FI Auto 4×4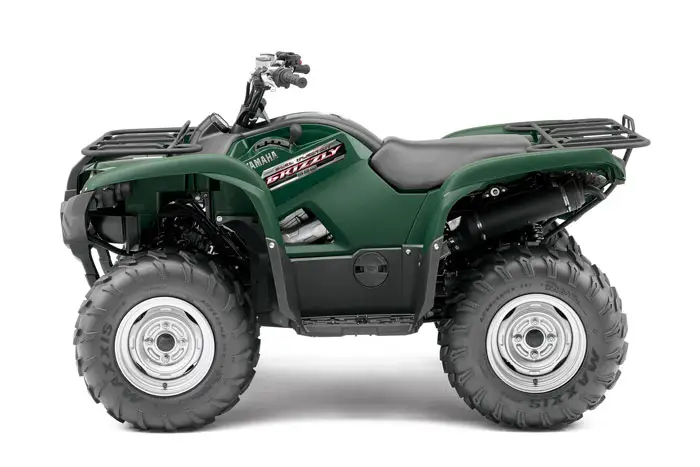 2013 Yamaha Grizzly 550 FI Auto 4×4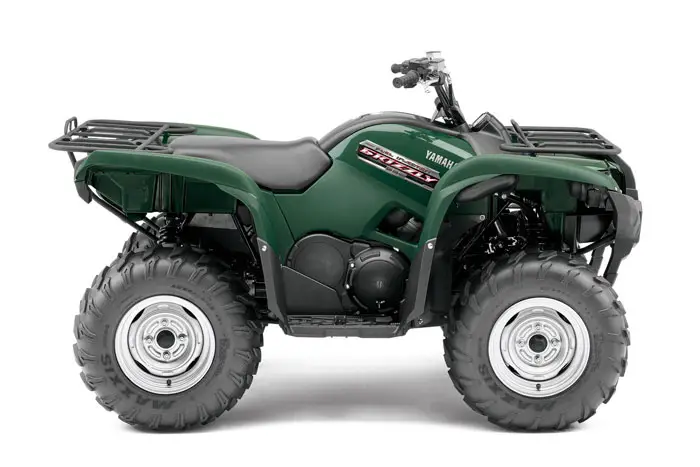 2013 Yamaha Grizzly 550 FI Auto 4×4
– 2013 Yamaha Grizzly 550 FI Auto 4×4 Review

2013 Yamaha Grizzly 550 FI Auto 4×4
Grizzly 550 gets it done.
All the reliability and durability of its bear brethren in a performance-laden, value-minded package.
The Ultimate trail machine or second set of "hands" around the farm, the 2013 Yamaha Grizzly 550 tackles the toughest chores and roughest terrain with On Command 2WD/4WD, Ultramatic automatic transmission and more.
Featuring a 558cc fuel injected 4 stroke engine, Yamaha's Ultramatic Transmission, On-Command 4WD, 4-disc brakes and Yamaha's unbeatable reliability and durability.
Our Grizzly 550 FI comes standard with a powerful fuel injected engine for easy cold starting, superior ground clearance to get you over any terrain, and 4-wheel disc brakes combined with full-time engine braking means slowing down requires less effort.

Throw in Yamaha's exclusive Ultramatic® transmission and On-Command drive selection and you've got an ultimate all terrain vehicle.


2013 Yamaha Grizzly 550 FI Auto 4×4 Key Features:
•The 550cc class leader, with a fully featured package based on its best-selling bigger brother, the Grizzly 700 FI. It boasts a largest-in-class 558cc powerplant, Electric Power Steering and more making it an excellent value.
•Yamaha Fuel Injection means instantaneous cold starts and optimal performance in nearly any condition, from sea level to 15,000 feet.
•Industry-exclusive, fully automatic Ultramatic® transmission is the most advanced drive system in ATVs. An automatic centrifugal clutch maintains constant belt tension for reduced belt wear and uses a sprag clutch for all-wheel downhill engine braking in 4WD mode.
•Three-position On-Command® In/Out 4WD feature lets you switch between 2WD, limited-slip 4WD and fully locked differential 4WD—all with a simple push of a button.
•Fully independent long-travel four-wheel suspension features double-wishbone suspension front and rear with five-way preload-adjustable shocks for maximum control and comfort over rough terrain. Smoothest-running and -riding Grizzly ever.
•Trick digital instrument panel boasts a multifunction LCD display with speedometer, odometer, dual tripmeter, hour meter that counts the engine's running hours, 4WD status, transmission position, clock and fuel gauge.
•The Grizzly 550 boasts the lightest weight in its class at only 648 pounds wet weight.

2013 Yamaha Grizzly 550 FI Auto 4×4 Features and Benefits:
•This 558cc 4-stroke SOHC 4-valve liquid-cooled engine is derived directly from the industry-leading Grizzly 700 powerplant.
•Ceramic-composite cylinder liner provides outstanding durability and heat dissipation; 92mm forged piston is light and strong and rides on a carburized chrome-moly connecting rod.
•Two-lobe overhead cam and a pair of needle-roller rocker arms reduce friction by 50 percent for increased fuel efficiency and torque.
•Gear-driven crankshaft balancer shaft and 4-position rubber engine mounts reduce vibration.
•Yamaha Fuel Injection uses a Mikuni® 40mm throttle body and idle speed control valve to provide easy cold starts and flawless fuel delivery in nearly any condition, from below sea level to 15,000 feet.
•Pushbutton electric start with seven-disc torque-limiting damper assembly to protect the starter motor.
•Stainless steel exhaust system features aluminum heat shields and a screen-type spark arrestor for great power with minimum noise output.
•High-capacity radiator with fan motor delivers maximum cooling efficiency and is positioned high in the frame for optimal protection.
•Five-position shift lever with L, H, N, R and P gates has a light shifting feel with easy engagement, providing positive Ultramatic transmission control.
•Sealed drive case keeps out water and debris to help increase durability.
•Oil access cover allows easy access to check oil level.


Chassis/Suspension:

•Full-size chassis provides the same high level of comfort enjoyed by Grizzly 700 riders.
•Front and rear lower A-arm guards offer excellent protection —and Grizzly 550 features WideArc™ front A-arms for outstanding ground clearance that's 5 inches wider than that provided by ordinary designs.
•Five-way preload-adjustable shocks provide a comfortable ride, whatever the load or trail conditions.
•Gas charged rear shocks offer a quality damping feel and excellent performance over a long period of time.
•CV boots are made of tough polyethylene for more durability than typical rubber boots.
•Four-wheel hydraulic disc brakes serve up consistent, long-lasting braking power.
•5.3-gallon fuel tank is located under the seat for excellent mass centralization and handling; there's a 4.8-liter water-resistant storage compartment under there, too.
•11.8 inches of ground clearance and full-length composite skidplate deliver maximum underbelly protection while enhancing terrainability.
•25×8-12 front and 25×10-12 rear Maxxis® tires provide responsive steering and handling and excellent comfort.
•Direct driveshaft design efficiently transfers power while providing outstanding durability with less vibration.


Additional Features:

•Trick digital instrument panel boasts a multifunction LCD display with speedometer, odometer, dual tripmeter, hour meter that counts the engine's running hours, 4WD status, transmission position, clock and fuel gauge.
•Rugged steel cargo racks with special, extra-durable wrinkle paint finish can pack a total of 286 pounds combined (99 front, 187 rear).
•Fenders have a textured finish that resist scratching and scuffing.
•Center-mounted, heavy-duty trailer hitch comes standard and can tow more than 1300 pounds.
•Dual 35-watt multireflector halogen bulb headlights with high/ low beams provide bright illumination for nighttime work or play.
•Assembled in Newnan, GA, U.S.A.

---
2013 Yamaha Grizzly 550 FI Auto 4×4 – Unitied States of America Specifications / Technical Details
USA MSRP: $7,999 (Hunter Green) Available from June 2012; $7,999 (Steel Blue) Available from June 2012; $8,449 (Realtree AP HD Camo) Available from June 2012
Engine
Type 558cc, 4-stroke, liquid-cooled single; SOHC, 4 valves
Bore x Stroke 92.0 x 84.0mm
Compression Ratio 9.3:1
Fuel Delivery Yamaha Fuel Injection (YFI), 40mm
Ignition TCI, 32-bit ECU
Starting System Electric
Transmission Yamaha Ultramatic® V-belt with all-wheel engine braking/H, L, N, R, P
Drive Train Yamaha On-Command® pushbutton; 3-way locking differential; 2WD, 4WD, locked 4WD; shaft drive
Chassis
Suspension / Front Independent double wishbone; 5-way preload adjustment, 7.1-in travel
Suspension / Rear Independent double wishbone; 5-way preload adjustment, 9.5-in travel
Brakes / Front Dual hydraulic disc
Brakes / Rear Dual hydraulic disc
Tires / Front AT25 x 8-12
Tires / Rear AT25 x 10-12
Dimensions
L x W x H 81.3 x 46.5 x 48.8 in
Seat Height 35.6 in
Wheelbase 49.2 in
Turning Radius 126 in
Ground Clearance 10.8 in
Fuel Capacity 5.3 gal
Wet Weight 648 lb
Rack Capacity 99 lb Fr./187 lb Rr.
Towing Capacity 1322 lb
Other
Instrumentation Digital LCD multifunction display; speedometer, odometer, dual tripmeter, hour meter, clock, fuel gauge and gear position
Lighting Dual 35W Halogen multireflector headlights & 21W/5W brakelight
Warranty 6 Month (Limited Factory Warranty)
---
2013 Yamaha Grizzly 550 FI Auto 4×4 – Canada Specifications / Technical Details
Canadian MSRP: $8,999 CDN
Engine 4-stroke, SOHC, liquid cooled, 4-valve, single
Displacement 558 cc
Bore and Stroke 92mm x 84 mm
Compression Ratio 9.3 : 1
Carburetion Mikuni Electronic Fuel Injection w/40mm Big Bore throttle bodies and TPS
Ignition computerized DC-CDI with 32 bit ECU
Starting electric w/auto-decompression
Transmission Ultramatic (sealed variable v-belt), w/ L-H-N-R and Park, 4-wheel full-time engine breaking
Final Drive On-command push button 2WD / 4WD / 4WD diff. lock, direct shaft drive

Suspension (Front) independent, dual A-arm, with gull-wing lower A-arm, and adjustable shocks
Suspension (Rear) independent, reverse mounted dual A-arm with sway bar, adjustable shocks
Brakes (Front) hydraulic discs
Brakes (Rear) hydraulic discs
Tires (Front) Dunlop KT421 tubeless, AT25 x 8-12
Tires (Rear) Dunlop KT425 tubeless, AT25 x 10-12

Length 2065 mm (81.3″)
Width 1180 mm (46.5″)
Height 1240 mm (48.8″)
Wheelbase 1250 mm (49.2″)
Ground Clearance 300 mm (11.8″)
Seat Height 905 mm (35.6″)
Wet Weight 294 kg (648 lb) – ready to ride full of fuel and oil
Fuel Capacity 20 litres (5.3 U.S. gal)
Towing Capacity 600 kg (1,322 lb)
Colour(s) Dark Blue
Warranty One year (unlimited mileage)

Specifications, appearance, and price of product are subject to change without notice.
* MSRP does not include freight, PDI (Pre Delivery Inspection), pre-rigging (boats), or taxes. Dealer may sell for less. See your local dealer for out the door pricing.
** Provincial regulations may require additional equipment for use on public trails.