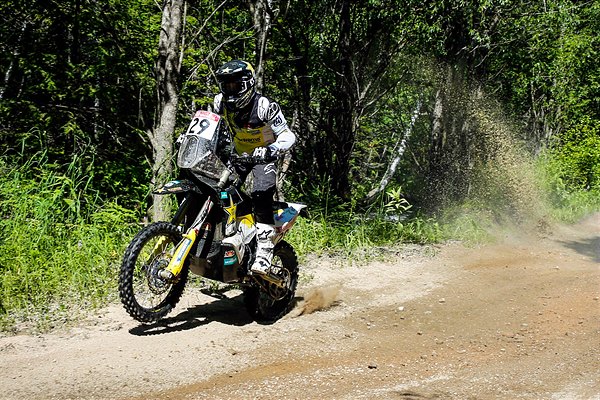 ROCKSTAR ENERGY HUSQVARNA FACTORY RACING RIDER DEFENDS TOP-10 POSITION OVERALL AFTER FAST AND CHALLENGING DAY TWO
Andrew Short has successfully completed the second day of racing at the 2019 Silk Way Rally. Posting the eighth-fastest time of the stage, the Rockstar Energy Husqvarna Factory Racing rider also lies eighth in the provisional overall standings.
Covering similar terrain to stage one of the event, the 413.63-kilometre stage included a 212.02-kilometre timed special that once again led riders through the water-logged forests of East Siberia. As the ninth rider to enter the stage, Andrew excelled through the twisting forest tracks and had made up a couple of places by the halfway point.
With the route opening up in the latter quarter of the stage, the American rider eased off a little to avoid making any mistakes on the faster, open mountain passes. Riding consistently, he brought his Husqvarna FR 450 Rally home safely, four minutes and 24 seconds behind the leader.
In the overall standings, Short's eighth place overall result sees him just over six minutes behind the provisional leader. With eight stages left to race there is still a long way to go and Andrew is confident of moving up the order as the rally progresses.
Totalling 691.35 kilometres, Tuesday's stage three of the Silk Way Rally is the second longest of the event. Leading riders from Ulan-Ude to Ulan-Bator in Mongolia, the stage includes a 243-kilometre timed special that will test the riders' navigation skills to the maximum.
Andrew Short: "The route today was really tricky – it was fast, rocky and not my favourite kind of stage at all. There wasn't too much in the way of navigation until the end, it was just about speed on the forest tracks and mountain roads. I know there is room for me to improve on stages like this, and I'm sure that will come with more experience. The scenery was beautiful, there is so much variety and interesting feature in the forests – it's not like your regular rallies at all. I'm happy with my result so far, I just need to work on being smooth on these challenging stages."
2019 Silk Way Rally – Stage 2 Provisional Classification
1. Sam Sunderland (KTM) 2:20:30
2. Oriol Mena (Hero) 2:21:09
3. Paulo Goncalves (Hero) 2:21:20
4. Kevin Benavides (Honda) 2:21:37
5. Joan Barreda (Honda) 2:23:10
6. Franco Caimi (Yamaha) 2:23:11
…
8. Andrew Short (Husqvarna) 2:24:54
2019 Silk Way Rally – Provisional Standings After Stage Two
1. Kevin Benavides (Honda) 2:52:28
2. Sam Sunderland (KTM) 2:52:36
3. Paulo Goncalves (Hero) 2:53:47
4. Luciano Benavides (KTM) 2:54:53
5. Joan Barreda (Honda) 2:55:07
6. Oriol Mena (Hero) 2:55:31
…
8. Andrew Short (Husqvarna) 2:58:46