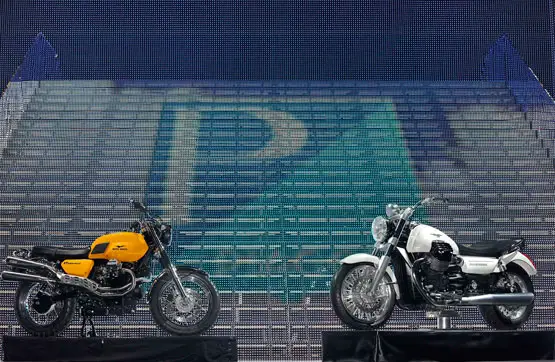 You Voted. You Debated. And now The Awards.

The Total Motorcycle Cool Wall Awards Show – Is your bike going?
New Bikes Every Friday – Vote Today
Total Motorcycle's Cool Wall Awards! Each year we will be awarding dozens of great prizes, trips, cash money, bikes and blingy accessories and of course our huge TMW trophy to the motorcycles who have come first that year in our Most Awesome, Top Cool, Highest Uncool and Total Fail categories! Plus winners will appear on YouTube TV! It's a great gala event, attended by some of the most famous motorcycles in the world where the stars rev among the stage headlights! Comp'd oil and filter changes at the door and don't forget free parking at every table. Limited parking spots available so RSVP today for this year's not-to-be-missed, BIGGEST, MOST FAMOUS motorcycle event anywhere!
Let the awards ceremony commence!
2017 Readers Choice Awards
#1: 2018 Kawaski Z900RS SE – Voted
#2: 2018 Honda Gold Wing Tour Automatic DCT – Voted
#3 TIE: 2017 Moto Guzzi V7 III Special – Voted
#3 TIE: 2017 Triumph Bonneville Bobber – Voted
and the runner ups:
#5: 2017 Ural Ambassador – Voted
#6 TIE: 2018 Kawasaki Z900 – Voted
#6 TIE: 2017 Suzuki GSX-R1000R – Voted
#8: 2018 Ducati 1299 Panigale R Final Edition – Voted
#9: 2017 BMW S1000RR – Voted
#10 (out of 50 bikes): 2018 Ducati Panigale V4 – Voted
Total Motorcycle's Take-a-Way: What a great two weeks of voting over the holidays. With over 50 bikes to vote from in 2017 it wasn't easy to see who the winner would be at the end of the year! Did anyone guess Kawasaki would smash it out of the park in the 9th inning with the surprise release of the Z900RS? What an amazing bike, just wow. How about that 2018 Honda Gold Wing Tour coming in at #2? Amazing; honestly, I didn't ever expect to see a Gold Wing in the Top 3 list! Way to go Honda. And the tie for 3rd place went to two really awesome retro motorcycles, 2017 Moto Guzzi V7 III Special and the 2017 Triumph Bonneville Bobber, you couldn't go wrong owning either, both are chock full of character, style and class!
Our runners up proved to be quiet and interesting mix. It is the first year (in 7) that we didn't have a cruiser finish in our top 10 and it wasn't like I didn't have cruisers up over the year. A few years ago I started to see the down-trend in cruisers, maybe we will see a cruiser resurgence again in the near future. Lots of sport and sportbikes in our runners up, the surprise for me was the #10 (out of 50 bikes): Ducati Panigale V4… I really thought that might have challenged first place from the media/rider hype on its launch, goes to show, hype is fickle.
Thanks again for everyone who voted (and will still vote) on the Cool wall and for supporting it. It's fun, let's keep it growing. – Mike
2014 Total Motorcycle Cool Wall Awards

1st Place
#1 – 2014 Moto Guzzi V7 Racer – Voted – 92.31% – September 26th – October 3rd, 2014

2nd Place
#2 – 2014 KTM 690 Duke – Voted – 90.8% – Jan 3rd – Jan 10th, 2014
3rd Place
#3 – 2015 Indian Scout – Voted – 85.4% – August 8th – August 15th, 2014
Honorable Mention
#5 – 2014 Royal Enfield Continental GT Cafe Racer – Voted – 82.41% – Feb 21st – Feb 28th, 2014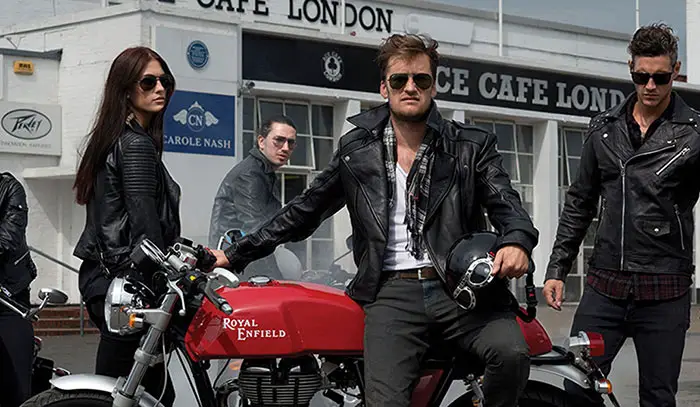 2014 Royal Enfield Continental GT Cafe Racer
#4 – 2014 KTM 1290 Super Duke R ABS – Voted – 84.1% – September 5th – September 12th, 2014
#6 – 2014 Triumph Daytona 675 ABS – Voted – 82.35% – March 1st – March 8th, 2014
#7 – 2015 EBR 1190SX – Voted – 81.2% July 11th – July 18th, 2014
#8 – 2014 Norton Commando 961SF – Voted – December 19th – December 26th, 2014
#9 – 2015 Yamaha SR400 – Voted – 80.5% – March 14th – March 21st, 2014
#10 – 2014 Ducati Streetfighter 848 – Voted – 79.4% – May 23rd – May 30th, 2014
---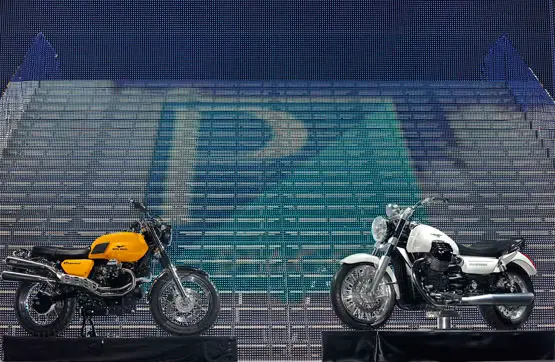 The Total Motorcycle Cool Wall Awards Show – Will your bike be getting any awards this year?


Links

– Cool Wall Discussion Forum – New Bike up Every Friday!
– Motorcycle Forum – Thousands of members, tens of thousands of posts
– Biker Photo Gallery – Huge motorcycle photo gallery
Thanks for making Total Motorcycle your virtual motorcycle destination!
Specifications, appearance, and price of product are subject to change without notice.
Total Motorcycle is official media/press for the following motorcycle manufacturers: Aprilia, Benelli, Beta, Bimota, BMW, Buell, Cagiva, Can-Am, Ducati, EBR (Erik Buell Racing), Harley-Davidson, Honda, Husaberg, Husqvarna, Hyosung, Indian, Kawasaki, KTM, KYMCO, Moto Guzzi, Moto Morini, MV Agusta, Norton, Phantom Manufacturing Co, Piaggio, Ridley, Roehr, Royal Enfield, Suzuki, Triumph, Ural, Vespa, Victory, Yamaha and Zero motorcycles.