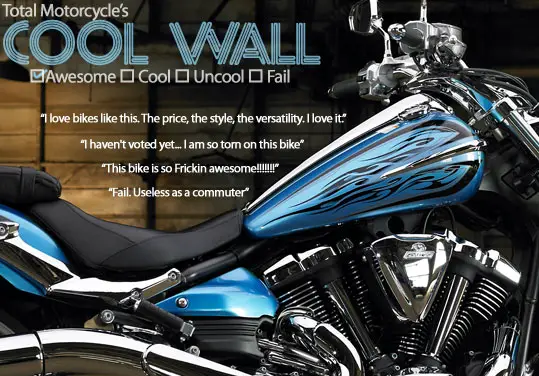 You Voted. You Debated. And now… The Results.
New models are up for voting and discussion Each and Every Friday!
Presenting the original and longest running motorcycle Cool Wall guide to what's Cool and what's a Fail for all bikers out there. No matter what you ride or where you ride, this guide is for you. Check out what has been voted Awesome, Cool, Uncool and Fail by an independent community voting poll and make sure you are on the right side of Cool. Also don't foget to check out the Motorcycle Cool Wall Awards presented every year by Total Motorcycle with prizes, trophies and TV time is given to the best (and worst) in each category… attented by millions of pistons and hundreds of tires, big and small!
So vote and discuss today, don't delay! Vote and make sure your ride isn't a FAIL!
---
Bikes voted on at the Total Motorcycle Cool Wall
---
The Totally Cool, Total Motorcycle Cool Wall

The final Total Motorcycle Cool Wall results are determined by public vote. Have YOUR say in the fate of a model on the Total Motorcycle Cool Wall: just VOTE and DEBATE in the discussion… Total Motorcycle's Cool Wall Results. Your Guide to Motorcycle Coolness.

Links

– Cool Wall Discussion Forum – New Bike up Every Friday!
– Motorcycle Forum – Thousands of members, tens of thousands of posts
– Biker Photo Gallery – Huge motorcycle photo gallery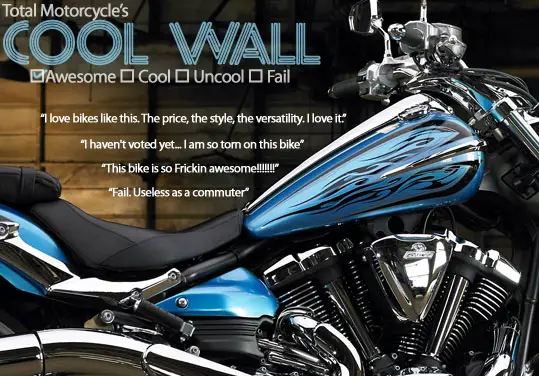 Total Motorcycle Cool Wall Forum – We put the Cool into the Wall… no, we put the Cool into Motorcycle?
Maybe we should stick with Your Total Guide to Coolness…