---

2004 to 2005 – 4th Generation Suzuki GSX-R600, new look, new updates
Page 4 of 7
<< Page Back – Page Forward >>
2004 Suzuki GSX-R600K4
The 2004 Suzuki GSX-R600 was completely redesigned from the ground up. Featuring titanium valves, 32 bit ECU, an all-new 15 mm narrower twin-spar black-coated frame, a 20mm narrower fuel tank, 100mm closer together foot pegs, new rear shock and fully adjustable inverted 43mm front forks and new 4-piston radial-mounted front brake calipers operated by a radial-piston master cylinder.
Introducing the all-new 2004 Suzuki GSX-R600 lighter, better-handling, stronger, it delivers the best power-to-weight ratio in its class. With performance features straight from our factory racing department, the newest GSX-R600 features titanium valves, inverted forks, and radial-mount brakes and master cylinder. Add to that an aggressive new aerodynamic package, a powerful new digital fuel-injection system and a state-of-the-art engine management system with even more power than before, and you've got a machine with one goal: Winning.
The all-new 2004 Suzuki GSX-R600 Own the Racetrack.
2004 Suzuki GSX-R600 Specifications
Engine: 599cc,4-stroke,four-cylinder, liquid-cooled, DOHC, 16-valve
Max power: 125 bhp @13,500 rpm
Max Torque: 67.7Nm @11,500 rpm
Bore Stroke: 67.0 x 42.5mm
Compression Ratio: 12.5:1
Fuel System: Fuel Injection
Lubrication: Wet Sump
Ignition: Digital/transistorized
Transmission: 6-speed, constant mesh
Final Drive: #525 chain
Overall Length: 2,075 mm (81.7 in.)
Overall Width: 715 mm (28.1 in.)
Overall Height: 1,145 mm (45.1 in.)
Seat Height: 825 mm (32.5 in.)
Ground Clearance: 128 mm (5.0 in.)
Wheelbase: 1,390 mm (54.7 in.)
Dry Weight: 161 kg (354.9 lbs.)
Suspension Front: Cartridge-type, coil spring, fully adjustable spring preload, rebound and compression damping
Suspension Rear: Link-type, gas/oil damped, fully adjustable spring preload, compression and rebound damping
Brakes Front: Dual hydraulic disc
Brakes Rear: Single hydraulic disc
Tires Front: 120/70-ZR-17
Tires Rear: 180/55-ZR-17
Fuel Tank Capacity: 17 liter (4.5 gal.)
Colors: Black/Red, Blue/White, Yellow.
---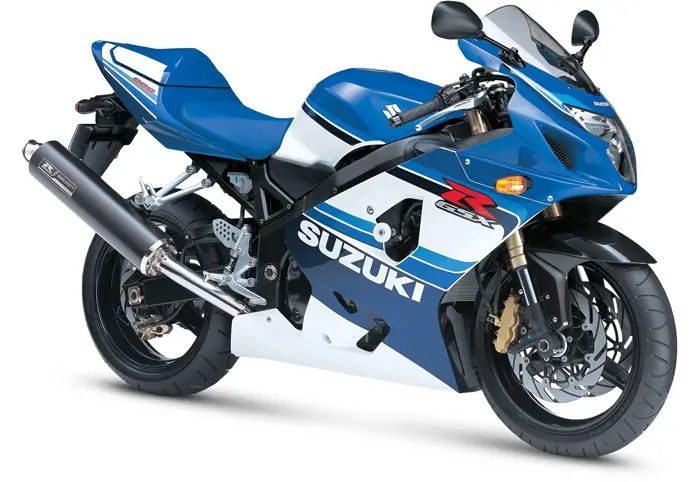 2005 Suzuki GSX-R600 20th Anniversary Model
2005 Suzuki GSX-R600K5

The 2005 GSX-R600 featured new headlight which switches off during startup to reduce load on battery and was also named "Best Middleweight Sportbike" by Cycle World Magazine.
To celebrate the 20th anniversary of the Suzuki GSX-R models a 20th Anniversary limited edition GSXR600X model was offered. With a 20th Anniversary numbered badging, special key, pecial designed brake discs, tinted windscreen, black muffler with racing style end cap and 20th Anniversary logo, racing-style sliders, Iridium spark plugs and blue colored chain, blue seat, GSX-R750-style trapezoidal radiator, and graphics package to appear simular to the 1990 GSX-R750 model.

Engine Features
Compact & lightweight 4-stroke, 4-cylinder, liquid-cooled engine with several features designed to reduce mechanical loss and increase power
Forged pistons with chrome-nitride-plated upper compression rings and oil control rings for a harder, more consistent ring finish and reduced friction
Narrow crankshaft main journals to reduce friction, plus lightweight chrome-moly steel connecting rods
Hydraulic cam chain tensioner fed by internal oil passageway system – eliminates external oil hose and reduces weight
Tapered, double-barrel throttle body design features Suzuki's SDTV throttle valve system, plus multi-hole-type injectors for optimum fuel atomization and throttle response
32-bit ECM with high ROM memory, plus 22 trigger-pole rpm sensor provide precise control of fuel and ignition systems – all housed in a small, lightweight control box
One-piece cylinder block and upper crankcase section is equipped ventilation holes between cylinders to reduce crankcase pressure and reduce mechanical loss
Lightweight stainless steel exhaust system featuring a high capacity muffler with titanium core pipes and aluminum outer sleeve
High capacity oil cooler, plus compact radiator and cooling fan assembly reduce weight while maintaining optimum cooling capacity
6-speed transmission with close ratio 5th & 6th gears and high capacity clutch

Chassis Features
Cylinder head with compact combustion chamber design, high compression ratio, large exhaust ports and narrow 22 degree included valve angle for increased power and acceleration
Lightweight titanium valves with steel alloy springs and aluminum spring retainers – operated by small and light bucket tappets and thin-wall hollow camshafts to reduce weight and inertia
Distinctive bodywork features a narrow front fairing with minimal frontal area, plus ram-air intakes positioned close to center for high airbox pressure and cylinder charging
Vertical-type multi-reflector headlight, plus compact LED taillight and aerodynamic turn signals
Compact instrument cluster features a step-motor-driven analog tach, digital LCD speedometer and programmable rpm-indicator light – also includes LED indicators for turn signals, high beam, neutral light, coolant temp., oil pressure, fuel level,
Aluminum frame with extruded main spar design similar to GSX-R750 for optimum width and rigidity
Aluminum swingarm with external brace for increased rigidity
Compact 17-liter fuel tank designed with narrow width at the rider's knees for easier movement and weight transition
Inverted Showa cartridge-type front fork with 43mm inner tubes and fully adjustable damping and spring preload
Fully adjustable Showa piggy-back shock absorber with large diameter shock piston rod for improved damping performance
Radial-mount 4-piston front brake calipers for maximum braking performance – system includes radial piston front master cylinder for precise brake lever feel
Dual-opposed-piston rear brake caliper indexed to the swingarm – eliminates conventional torque arm for further weight reduction
Lightweight cast aluminum wheels and high performance radial tires
2005 Suzuki GSX-R600 Specifications

Engine: 599cc,4-stroke,four-cylinder, liquid-cooled, DOHC, 16-valve
Bore Stroke: 67.0 x 42.5mm
Compression Ratio: 12.5:1
Engine type: Water-cooled 599 cc inline-4, DOHC, 16 valves.
126 hp (92,7 kW)/ 13,000 rpm, 69,6 Nm / 10,800 rpm
Fuel System: Fuel Injection
Lubrication: Wet Sump
Ignition: Digital/transistorized
Transmission: 6-speed, constant mesh
Final Drive: #525 chain
Overall Length: 2055mm (80.9 in.)
Overall Width: 715mm (28.1 in.)
Overall Height: 1150mm (45.3 in.)
Seat Height: 825mm (32.5 in.)
Ground Clearance: 135mm (5.3 in.)
Wheelbase: 1400mm (55.1 in.)
Dry Weight: 161kg (354.9 lbs.), 162kg (357 lbs.) Ca. model
Suspension Front: Cartridge-type, coil spring, fully adjustable spring preload, rebound and compression damping
Suspension Rear: Link-type, gas/oil damped, fully adjustable spring preload, compression and rebound damping
Brakes Front: Dual hydraulic disc
Brakes Rear: Single hydraulic disc
Tires Front: 120/70-ZR-17
Tires Rear: 180/55-ZR-17
Fuel Tank Capacity: 17 liter (4.5 gal.)
Color: Blue/White, Yellow, Black/Silver, Red/Black
---