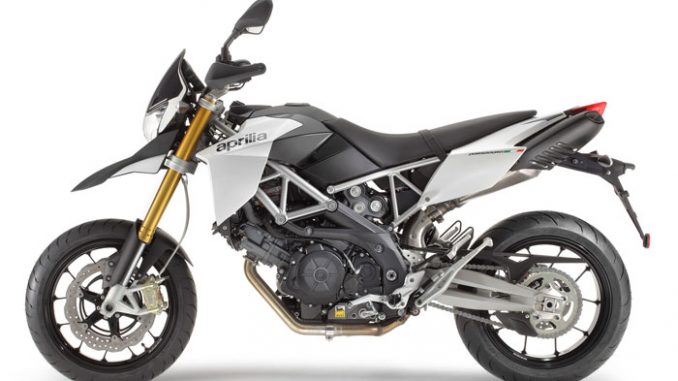 Click photos to enlarge. They make great desktop wallpaper.
2012 Aprilia Dorsoduro 750 Review

2012 Aprilia Dorsoduro 750
Developed in collaboration with the Aprilia Racing Division, Dorsoduro 750 has been created by fusing the best characteristics of a sports bike with the best that a racing super-motard has to offer. The result is the concentrated essence of performance and technology, a genuinely special, extreme and elite bike that can make any rider feel like a pro.

Light, agile and powerful, Dorsoduro 750 is powered by a latest generation engine and boasts the most advanced technology in its class. Through the use of state of art electronic engine management, Aprilia's compact 90° V-twin delivers blistering performance unmatched by any of its rivals, with an incredible specific power output of 122.6 hp/litre and a maximum torque of 82 Nm at just 4500 rpm.
True to Aprilia tradition, the chassis architecture is unparalleled in its class. After the acclaimed debut of the mixed trellis/aluminium frame on the ultra-specialised SXV, the application of the layout in the Dorsoduro establishes it a hallmark feature of Aprilia motards, offering levels of directional agility, reactivity and steering precision far beyond the reach of any rival.

The essentially designed Aprilia Dorsoduro boasts only the best in terms of componentry, technical specifications and finish. Four-piston radial callipers, wave discs, a hydraulic wet clutch, adjustable suspension front and rear, "Tri-Map" ride by wire and the Matrix instrument panel with on board computer all contribute to making the Dorsoduro a truly unique product.

2012 Aprilia Dorsoduro 750 Model Highlights

A UNIQUE MOTORCYCLE WITH AN UNMISTAKABLE CHARACTER, DEVELOPED FROM APRILIA'S RACING EXPERIENCE WITH A SINGLE-MINDED GOAL: TO OFFER TOTAL RIDER ENJOYMENT. 92 HORSEPOWER AND EXCLUSIVE TRI MAP RIDE BY WIRE TECHNOLOGY IN A LIGHTWEIGHT, HIGH PERFORMANCE BIKE CREATED TO COMPLEMENT THE SKILLS OF EVEN THE MOST DARING RIDERS AND ALSO AVAILABLE WITH ABS.
The unique characteristics of the Aprilia 750 Dorsoduro in detail:
– 90° V2 engine, four valves, double overhead camshaft, liquid cooling;
– second generation "Tri-Map" Ride by Wire technology;
– electronic fuel injection with state of the art injectors;
– Mixed gear/chain timing system;
– ultralight modular trellis/aluminium frame with superlative torsional stiffness;
– aluminium swingarm with lateral shock absorber;
– fully adjustable 43mm upside down fork;
– radial front brake callipers working in conjunction with 320 mm Wave discs;
– 25 kW version for newly qualified riders;
– latest generation 2-channel Continental ABS;
DESIGN: STYLE AT THE SERVICE OF FUN
On the Aprilia Dorsoduro 750, the minimal and aggressively styled top structure frames the visually spectacular mechanicals, which become an integral part of the design. The Aprilia Dorsoduro 750 has been designed around the rider to create a radical, outrageously agile and sporty bike, in which every individual element is geared precisely for maximum riding pleasure. All outer bodywork has been pared down to the absolute bare minimum; just like on a racing bike, anything that is not essential for performance has been stripped away, while the front race number panel has been retained to emphasise the bike's close ties with the racing world.

The narrow mid section of the bike – the area that interacts most with the movements of the rider's body when riding hard – emphasises the extreme compactness of the bike. Aprilia Dorsoduro 750 is incredibly slender and agile, allowing the rider to feel immediately at one with the machine. After a few short metres, you already feel as if the bike is an extension of your body. This result has been achieved by Aprilia's engineers by designing a long, flat saddle – a configuration borrowed straight from racing – that allows the rider to assume the most effective riding position at all times and allows ample freedom of movement for tackling tight turns.

The compact, curvy tail fairing also envelops the dual exhaust: a solution that not only creates a really aggressive design feel, but also excellent symmetry in the proportions and weight distribution. The hand guards, derived from the Supermoto SXV, display a sleek style and effectively protect the levers against any accidental contact.
ENGINE: A STATE OF THE ART TWIN
Aprilia's 750 cc 90° V-twin has been extensively revised to emphasise the fiery temperament of the Dorsoduro. This optimisation exercise has touched upon numerous aspects of the 749.9 cc engine (with bore and stroke of 92 and 56.4 mm respectively), and the resulting mechanical and electronic improvements make this twin cylinder engine a benchmark not only for its capacity class, but also for its larger engined rivals.

The advanced electronic engine management system establishes the Aprilia Dorsoduro 750 as the benchmark in terms of both technology and performance. Dorsoduro features second generation electronic throttle control, with "Tri-Map" management.

Selectable directly by the rider from a handlebar mounted control, even with the bike in motion (but with a closed throttle – for greater safety), the three options – Sport, Touring and Rain – radically alter the character of the Dorsoduro, with aggressive, immediate response in Sport mode, gentler power delivery in Touring mode, which is ideal for everyday use, and extremely safe power delivery, tailored for poor grip conditions, in Rain mode.

The "Tri-Map" Ride by Wire electronic throttle also ensures more fluid, more uniform power delivery as throttle valve aperture is controlled with more precision. Throttle valve aperture is determined on the basis of a number of parameters, including engine speed, gear selected, air flow, throttle grip aperture angle and aperture rate, and temperature.

Whatever the map selected, engine torque delivery is optimised for the best possible performance during acceleration and pickup, resulting in an extraordinarily rewarding and fun riding experience.

The exhaust is made entirely from stainless steel, with manifolds converging into a single undersaddle silencer with twin tailpipes. The generous volume of the silencer lets the engine breathe freely for optimum performance.

The advanced electronic and engineering technology used allow Aprilia's twin cylinder engine to pump out 92 hp at 8750 rpm, and a maximum torque of 82 Nm at 4500 rpm: values that put the Dorsoduro in direct competition with bikes of a much higher engine capacity.
As soon as it hits the showrooms, the Aprilia Dorsoduro 750 is also available as a detuned version for newly qualified riders, with power limited to 25 kW (or 35 kW in Spain). Ride By Wire throttle management means that power does not have to be cut over the entire rev range, as occurs with less advanced bikes, so the power delivery is exactly the same as it is on the full-power version, up until the maximum power limit is reached. As a result, the Dorsoduro 750 offers better acceleration than the equivalent 25 kW versions of its rivals, for a much more rewarding riding experience.

CHASSIS: TOTAL BALANCE
Aprilia bikes have always been considered as the benchmark for chassis excellence. And true to tradition, Dorsoduro 750 is one of the most effective, best balanced bikes in its class. The Aprilia Dorsoduro is easy and intuitive to ride, yet still delivers mind-bending performance. This machine is designed to be ridden at the limit in any conditions, allowing the rider to turn on a dime and blast out of bends with the throttle wide open. This is made possible by the incredibly responsive chassis architecture, which has been designed with particular focus on ergonomics, allowing the Dorsoduro 750 to adapt perfectly to any rider and letting all users access the extreme potential of this pure fun machine in any situation.

The chassis exploits the most of the notable expertise acquired by Aprilia during competitions, fully drawing on the experience gained on the mixed structures used in the Supermoto world championship. The upper narrow tubular steel trellis section is connected to the generously sized lateral aluminium plates by special high strength bolts. The result is an extremely stiff, light structure and the best solution possible for reigning in the exuberant power of the Aprilia V90, with looks that conveys lightness, ultra-advanced technology and Italian style.

Ongoing collaboration between the powertrain engineers and the chassis engineers has produced optimised solutions in terms of technical content and performance, and resulted in mechanicals that are integrated perfectly into the frame. The architecture chosen for the Aprilia twin, which is optimised for longitudinal compactness, made it possible to create a rational, effective frame and, as a result, a bike that is incredibly agile and reactive.

The lateral and substantially raked position of the shock absorber freed up lots of precious space for an optimised exhaust manifold geometry without influencing the length of the bike or exposing the shock absorber itself to thermal stress. The aluminium swingarm is sized to support the asymmetric stress caused by the lateral positioning of the shock absorber. This component has been specifically conceived for the needs of a super-motard like the Dorsoduro 750 and responds ideally to requisites for torsional stiffness and elasticity, which are indispensable for precise wheel placement and to ensure communicative feedback in transitory conditions.
SUSPENSION: EFFECTIVE ON ALL SURFACES
Defining the optimum suspension configuration has always been a point of pride for Aprilia's engineers and test team. The 43 mm upside down fork, with shell-cast brackets supporting radial callipers, features adjustable spring preload and hydraulic rebound damping. This is a highly sophisticated unit offering class-leading progressiveness and generous wheel travel (160 mm), in keeping with the philosophy of the motard genre. Both steering yokes are forged elements, while the upper yoke is also anodised, confirming the outstanding level of finish on the Dorsoduro.

The lateral shock absorber is pivoted directly onto the swingarm in a cantilever layout, and features adjustable spring preload and hydraulic rebound damping; rear wheel travel is 160mm – this is also in keeping with the philosophy of the motard, which demands suspension that is effective and controlled, but also offers ample wheel travel.
BRAKES: RACING TECHNOLOGY
The Aprilia Dorsoduro 750 boasts the best braking technology available today. The front brake system, with 4-piston radial callipers, is the most advanced of its kind in its segment. The lightweight 320 mm floating wave discs ensure shorter stopping times, while their extreme looks, which are in perfect keeping with the overall style of the Dorsoduro, visually express the aggressive power of the braking system.

The 240mm rear disc is also of the "Wave" type and is braked via a single piston calliper. Both the front and rear systems have metal braided braking pipes, derived from the aeronautic sector, which eliminate the undesirable pressure fluctuations of conventional pipes and guarantee maximum braking accuracy.

On the Dorsoduro 750, safety is further enhanced by a sophisticated 2-channel Continental ABS system. This ABS system is specifically calibrated to let the rider fully exploit the power of the brakes and the grip of the tyres in the dry, so as not to detract from the immense fun of this bike.
COMPONENTS
Supermotards are essential by definition – sometimes even spartan. But this doesn't mean sacrificing class-leading content and painstaking attention to detail. Aprilia stands apart from its rivals by offering superlative standard equipment:
– Matrix instrument panel: the mixed type (analogue/digital), it receives all the information from the CAN line and becomes an integral and crucial part of the self-diagnosis system as it is fitted with memory. Particularly compact, with a modern design and considerably reduced weight. All the functions are commutable and easily accessed through a command on the handlebar. The LED lighting (white in the analogue area and red in the digital one) can be adjusted to three levels.

– Anodised aluminium tapered handlebar: It brings quite clearly to mind those of the competitive superbikes. An incredibly light component, designed to guarantee top dynamic control of the bike.

– Hydraulically operated clutch: it allows precise braking every time, along with smooth exemplary control and handy self-adjustment (without the need for any maintenance).

---
2012 Aprilia Dorsoduro 750 – International Specifications/Technical Details
MSRP Price: TBA
Engine type
Aprilia V90 four-stroke longitudinal 90° V-twin engine, with liquid cooling, double overhead camshafts driven by mixed gear/chain timing system, four valves per cylinder and Ride by Wire throttle control.
Fuel Unleaded petrol
Bore and stroke 92 x 56.4 mm
Total engine capacity 749.9 cc
Compression ratio 11: 1
Maximum power at crankshaft 67.3 kW (92 hp) at 8,750 rpm
Maximum torque at crankshaft 8.4 kgm (82 Nm) at 4,500 rpm
Fuel system Integrated engine management system. Injection with Ride by Wire throttle valve opening management and 3 maps (Sport, Touring, Rain)
Ignition Digital electronic ignition integrated with injection system
Start up Electric
Exhaust system 2 into 1 exhaust system in 100% stainless steel with three-way catalytic converter and lambda probe
Alternator 450 W at 6,000 rpm
Lubrication Wet sump
Gearbox 6 speeds, drive ratio:
1st 14/36 (2.57) 2nd 17/32 (1.88) 3rd 20/30 (1.5) 4th 22/28 (1.27) 5th 23/26 (1.13) 6th 24/25 (1.04)
Clutch Multiplate wet clutch, hydraulically operated
Primary drive Straight cut gears, drive ratio: 38/71 (1.87)
Secondary drive Chain. Drive ratio: 16/46

Chassis
Modular tubular steel frame fastened to aluminium side plates by high strength bolts. Removable rear subframe
Front suspension Upside-down fork with 43 mm stanchions, with adjustable hydraulic rebound damping and spring preload. Wheel travel 160 mm.
Rear suspension Aluminium alloy swingarm
Hydraulic shock absorber with adjustable rebound and preload. Wheel travel 160 mm.

Brakes
Front: Dual 320 mm diam. stainless steel floating wave discs. Four piston radial callipers.
Metal braided brake pipe.
Rear: 240 mm stainless steel wave disc. Single piston calliper. Metal braided brake pipe.
Two-channel Continental ABS system (specific version)
Wheel rims Aluminium alloy
Front: 3.50 X 17″ Rear: 6.00 x 17″
Tyres Radial tubeless tyres;
front: 120/70 ZR 17
rear: 180/55 ZR 17

Dimensions
Max. length 2,216 mm
Max. width 905 mm (at handlebar)
Max. height 1,185 mm (at instrument panel)
Saddle height 870 mm
Wheelbase 1,505 mm
Trail 108 mm
Steering angle 26°
Tank 12 lt (range > 200 km)



---
2012 Aprilia Dorsoduro 750 – US Specifications/Technical Details
USA MSRP Price: $TBA USD
See international specifications listed above.
---
2012 Aprilia Dorsoduro 750 – Canada Specifications/Technical Details
Canadian MSRP Price: $TBA CDN
See international specifications listed above.