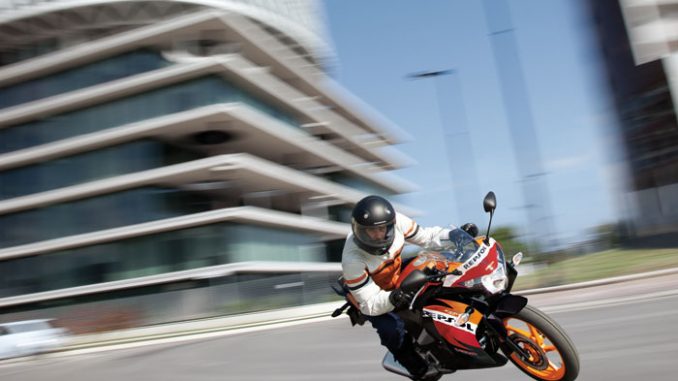 Click photos to enlarge.
They make great desktop images.
– 2012 Honda CB125R

2012 Honda CB125R Review
Thanks to its big-bike styling, small-bike agility, and easygoing personality, the CBR125R has been making tons of friends on streets and race tracks right across the country.
It's impossible. You simply can't look at the Honda CBR125R and not start imagining all the fun you could have. Inexpensive to own and easy to operate, the CBR125R was designed to give novice riders confidence while they learn, while also being fun and practical for more experienced riders. The lightweight chassis, low-effort controls, comfortable seat height that makes it easy for your feet to reach the ground at stoplights, and responsive, hard-to-stall engine with PGM-FI electronic fuel injection, all help make the CBR125R the perfect choice for all types of riders, and all types of riding.

Convenient electric start gets you going with the push of a button, and disc brakes front and rear help provide strong stopping power while also being easy to modulate. Add a close-ratio six-speed transmission that's super-smooth to shift and a fully featured instrument panel, and you've got a bike that's a blast to ride, whether you're heading downtown or way out of town with your riding friends.
The 125cc sportsbike class is where riding careers begin. For the vast majority of new riders, on the road and on the race circuit, these machines are the first step on a path that could lead anywhere, perhaps right to the top. For this reason 125cc sportsbikes have a huge responsibility. They must be just as rewarding to ride as bigger Supersports machines, particularly where engine power is less important, such as in town and on very twisty roads. They must be easy to ride too, patiently nurturing new riders and building their confidence on two wheels. If a 125cc sportsbike can put its rider at ease with the fundamentals of control then it has done its job.
Of course the perfect 125cc sportsbike is also huge fun to ride. Such machines are motorcycling's first chance to capture a rider's imagination; its opportunity to show just how exhilarating and rewarding riding can be, not to mention how much more practical it is as a means of travelling today's congested urban roads. This can only be achieved by offering a machine that's designed from the ground up as a sportsbike – delivering the crisp responses and thrilling performance young riders demand.

Reliability and low maintenance are all-important. Any rider's first bike is likely to be called upon to perform a huge range of tasks, from weekend leisure riding or track days to weekday commuting. Absolute reliability must be a given, while low running costs and hassle-free ownership are also critical. Ideally, it should also offer a comfortable pillion seat, allowing a young rider to share the fun with friends.
Since its introduction in 2004 the CBR125R has represented the ideal first sportsbike. Compact, lightweight and blessed with the refinement, ease of use and welcoming handling that have become synonymous with the CBR family, it has become a popular machine with young riders the world over. But the time has come for a more sophisticated 125cc sportsbike, a 125 with the quality feel associated with bigger machines. The CBR125R is ready to prove itself as the perfect first sportsbike for a new generation of riders.

Development concept
Supersport bikes are the ultimate road motorcycles – high performance machines boasting the very latest in chassis and engine development. To ride they are exhilarating in the extreme, offering a thrill no other type of bike can match. The 2012 CBR125R has been designed to offer similar riding dynamics, giving young riders the opportunity to develop sports riding skills from the very earliest days of their careers.
The existing CBR125R is an enormously popular motorcycle, one that has schooled a generation of riders in sports riding. But while its small size is a tremendous asset in many instances, guaranteeing easy handling, a low weight and the ability to slice through urban traffic, the demand has emerged for a 125cc machine that is in every way a full-sized sportsbike. Honda's response to this demand is a new small-capacity bike with big ambitions – the 2012 CBR125R.
The brief was simple: to create a 125cc sportsbike with the look and feel of a bigger and more expensive machine. The new sportsbike had to retain the current CBR125R's user-friendly handling characteristics and free-revving single-cylinder engine, but package them inside all-new bodywork with the sophisticated styling and full-size proportions demanded by the modern young sports rider. It was decided too that wider, more impressive wheel and tyre sizes should be specified, enhancing handling while also helping create the feel of a much bigger motorcycle. Finally, the latest advances in fuel injection and catalyser technology would make the 2012 CBR125R more efficient than its predecessor.

2012 Honda CB125R Key Features
Engine / Drivetrain
The 125 cc SOHC four-stroke engine delivers excellent low-end and midrange power that makes getting going from a stop super easy..

Liquid-cooling ensures consistent performance in hot or cold weather, or city or highway riding, while also improving reliability..

Honda's advanced PGM-FI electronic fuel-injection system delivers the precise amount of fuel for optimum performance. You get easy starting, accurate throttle response, better overall performance, and improved engine operating efficiency..

A balancer shaft inside the engine reduces vibration for a comfortable ride..

The close-ratio six-speed transmission shifts smoothly and helps keep the engine in the meat of its powerband..

The stainless-steel exhaust system incorporates an oxygen sensor and a tri-metal catalytic converter to keep performance high and help the CBR125R exceed the stringent Euro3 emissions standards..

The clutch and throttle have a light operation that makes them easy to use.



Chassis / Suspension
Wide race-style cast wheels and high-traction sport tires add to the CBR125R's sporty credentials..

Powerful front and rear disc brakes mean sure, predictable stopping power and light effort at the brake lever and pedal..

A slim yet sturdy pentagonal-section twin-spar steel frame and a box-section swingarm reduce unwanted flex for better control during spirited riding..

Sporty chassis geometry, including a short wheelbase, allow responsive, agile handling on twisty roads, but the CBR125R remains confidently stable on the open road..

Superb control and rider comfort are assured by the CBR125R's premium suspension components..

High-tech chassis components contribute to the CBR125R's easy-to-handle weight.





Additional Features
Eye-catching bodywork gives the CBR125R a imposing, big-bike look while also improving rider protection and comfort in all kinds of weather..

The fairing shows an unmistakable family resemblance to the big Honda sport bikes, including a bright single headlight..

The racing-style seat blends smoothly into the tank and side panels, providing a secure perch for sporty riding plus superb comfort for when you're just cruising..

Flip up the lockable passenger seat and you'll find a spacious storage area for a spare pair of gloves, a light rain suit, or even your lunch..

Grab handles on either side of the rear seat provide the sense of security so crucial to passenger comfort, leaving rider and pillion free to enjoy the ride..

A large 13-litre fuel tank gives the CBR125R impressive range..

Advanced multi-function digital instrument display includes a speedometer, tachometer, fuel gauge and temperature gauge tucked neatly behind the CBR125R's windscreen, and all visible at a quick glance..

The CBR125R comes with Honda's renowned quality and reliability built right in..

1 year, unlimited mileage, freely transferable warranty.



2012 Honda CB125R Features and Benefits
Powerful, reliable and fuel-efficient 124.7cm3 liquid-cooled, single-cylinder engine with PGM-FI fuel injection.
Lightweight diamond twin-spar steel frame with sporty geometry for intuitive and exciting handling.
Comfortable yet involving riding position and low kerb weight (137kg) make for a very manageable and easy to handle 125cc sportsbike.
Wide 130/70-17M/C rear tyre for a thrilling riding experience and Supersports style.
Advanced multi-function digital instrument display.
Striking full fairing cowl.

Ergonomic design
Outstanding manoeuvrability
The CBR name is synonymous with superb handling at any speed, and the new CBR125R is no exception. Despite its slightly larger overall dimensions, the 2011 machine remains extraordinarily easy to handle, immediately giving new riders the confidence they need. Key to the CBR's manoeuvrability is its riding position, which is designed around the low 795mm seat. The location of the handlebars and footpegs has been revised for improved control while maintaining outstanding rider comfort. Together with the contoured new fuel tank, which is bigger on the new machine for improved range, the result is an unmistakably sporty but easygoing riding position. The rider's weight is distributed evenly, creating a posture that isn't tiring to maintain and that doesn't in any way restrict movement.
Superb chassis balance
The 2011 CBR125R boasts a competitively low kerb weight of just 137kg. This mass is distributed perfectly between the front and rear wheels in a 48:52 weight distribution, while the compact single-cylinder engine helps keep the centre of gravity low. The result is a machine that feels instantly manageable, regardless of a rider's height or stature, so the rider feels completely in control.
Full fairing cowl
The CBR125R's dramatic new full fairing is more than a mere styling exercise. By providing protection from windblast, the fairing makes the rider more comfortable, particularly over long-distance journeys that can punish riders of Naked machines. The fairing also features a powerful one-piece headlight and bright taillight for superb visibility at night.
New digital instruments
Digital instrumentation is now commonplace on large-capacity machines. For 2011 the CBR125R underlines its big-bike credentials by adopting this technology. The result is a thoroughly modern rider's eye-view, with speed, engine revs and engine temperature all visible at a glance. The display also includes a six-segment fuel gauge, a clock and an odometer/trip meter.
Passenger comfort
Grab handles on either side of the rear seat provide the sense of security so crucial to passenger comfort, leaving rider and pillion free to enjoy the ride.

Styling
As you'd expect of a machine with aspirations well beyond its modest engine size, the 2011 CBR125R has an all-new full fairing cowl. The aggressive yet sophisticated new look is typically CBR, with clean lines inspired by 600cc and 1000cc Supersports machines but developed into a unique style. The new single headlight design sets the tone for the rest of the fairing, being both original in shape and suggestive of much more expensive motorcycles. From there the fairing quickly tapers rearward to a slim and sporty tail unit.
Since the compact new exhaust system finishes ahead of the rear axle, the back of the machine appears to float above the purposefully wide new rear tyre, creating a dynamic forward-biased silhouette.
Colouring concept
Terra Silver Metallic SE
Perfect for fooling bystanders into thinking they're looking at a middleweight motorcycle and not a 125, the silver metallic colour option works brilliantly with the new CBR125R's sophisticated lines.
Ross White Tricolour
This bold colour concept is pure CBR, at once calling to mind both great CBRs of the past and Honda's glorious racing heritage.
Asteroid Black Metallic
Another classy metallic paint option, this menacing colour sits perfectly with the CBR125R's new, more mature feel – a serious colour for a machine that means business.

Engine
Like the previous CBR125R, the 2011 model uses a powerful single-cylinder liquid-cooled engine. The single-cylinder configuration boasts many advantages over a twin-cylinder engine of the same capacity, most noticeably lighter weight, smaller dimensions, improved fuel economy and mechanical simplicity.
Responsive single-cylinder configuration
Developing a peak power figure of 9.8kW at 10,000rpm and a peak torque figure of 10.4Nm at just 8000rpm, the CBR125R has the performance to make every ride a joy, whether it's commuting to work or college or riding open roads for the sheer thrill of it.
PGM-FI
Honda's advanced PGM-FI system is key to the CBR125R's clean-revving and manageable performance. The system's Electronic Control Unit works with the electronic ignition to provide exactly the right fuel/air mix to the cylinder for any given combination of throttle position and engine revs. The result is a smooth power curve delivered with the accuracy and predictability needed to breed rider confidence. New FI settings also make the engine more fuel efficient.
Slick six-speed transmission
The CBR125R uses a mechanically actuated clutch for fine control and a light feel at the clutch lever. The transmission's six ratios complement the engine's flexible power delivery perfectly, giving the CBR125R the performance young riders demand.
Easy to live with
Few engines in motorcycling are more rugged or affordable to run than the CBR125R's liquid-cooled single. The electric start means the machine is ready to go at the push of a button, while its outstanding efficiency means superb fuel economy, delivering an impressive range from the slim and compact 13-litre fuel tank. Because the fuel tank can be smaller for a given range, in turn this helps create a lighter and more compact motorcycle. The superb fuel economy betters the previous model thanks to a revised final drive ratio and new fuel injection settings. The new bike is also easier to look after – for 2011 the filter that supplies clean fuel to the fuel injection system has been moved outside the fuel tank to make maintenance simpler.
New ultra-clean exhaust
The 2011 CBR125R features a new exhaust system incorporating an oxygen sensor and a Tri-metal catalytic converter. The catalyser all but eliminates the emission of polluting hydrocarbons, carbon monoxide and nitrous oxides, ensuring the CBR125R easily complies with emissions legislation. Emissions are further reduced at source by the PGM-FI system, which analyses the exhaust gases via the oxygen sensor to maintain the air/fuel ratio at the ideal for clean combustion.


Chassis
Lightweight frame
The CBR125R uses a lightweight pentagonal-section steel twin-spar frame. The design is a proven one, linking the critical areas of the headstock and the swingarm pivot point using a straight and unbroken spar on both sides of the engine. The design delivers the rigidity required of a sportsbike frame while also being light and compact.
Sporty, user-friendly geometry
The chassis feel of the CBR125R treads a line between the swift responses required of a Supersports machine and the reassuring predictability that develops rider confidence. The wheelbase is one of the shortest in its class at just 1310mm, ensuring the CBR125R flicks through bends with a fluidity and grace none of its rivals can match. However a trail figure of 90mm means this thrilling agility never threatens to cause instability. In short the CBR125R is ready for anything, from super-smooth open roads to the traffic-packed and bumpy challenge of the city.
Sophisticated suspension
Control and a superb ride feel are guaranteed by the CBR125R's premium suspension components. The front wheel is controlled by a 31mm hydraulic telescopic fork, while the rear tubular steel swingarm mounts to a Monoshock for sporty control and exceptional comfort. While in its element on the kind of smooth and twisting roads Supersports machines of all sizes revel in, the CBR125R also has the chassis sophistication to remain stable and comfortable on the roughest back roads.
Big-bike wheels, tyres and brakes
In line with the new brief, the 2011 CBR125R uses tyres and wheels of a size more commonly associated with the 250cc class. The lightweight new 100/80-17 front and 130/70-17 rear cast wheels use a striking five-spoke design and bring both stability and increased grip. They also underline the CBR125R's full-sized credentials – this is a serious motorcycle. They are slowed by equally impressive braking systems, with powerful disc brakes front and rear. The front brake uses a 276mm disc gripped by a twin-piston caliper, while at the rear a 220mm disc and single-piston caliper offer the accuracy and feel that make low-speed manoeuvres easy.

Optional equipment
Personalise your CBR125R with genuine Honda Accessories
Carbon Print Accessories
Replacement bodywork with carbon fibre look will give your CBR125R a more purposeful and focused look and really separate it from the crowd. Honda Accessories has developed carbon fibre print replacement sets for top and centre fairing panels, tank panels, rear cowl and front mudguard. A carbon fibre look rear seat cowl, meanwhile, can also be installed quickly and easily over the pillion seat, whilst retaining full access to the storage area beneath.
Carbon Print Accessories:
– Fairing Panel Set
– Rear Cowl Set
– Front Mudguard
– Rear Seat Cowl
– Fairing And Tank Panel Set
New Tailpack Set
A new Tailpack Set fits over the pillion seat and allows the rider to take extra luggage without compromising comfort or the riding performance of the CBR125R. The streamlined design matches the bike's sporting lines and the Tailpack Set features a four-point preset fixing system, making it quick and easy to fit and remove. The Honda Racing logo serves as an additional reminder of the CBR125R's racing pedigree. The Tailpack comes with an integrated rain cover.

Aesthetic Protection
Tank Pads – Four Types
Honda Accessories has developed no fewer than four types of tank pad for the CBR125R, not only helping to protect the fuel tank from scratches but allowing for the individuality of each owner.
Types 1 and 2
A three- or four-piece carbon-fibre look adhesive-backed tank pad featuring the iconic Honda wing.

Type 3 and 4
A one-piece herring-bone shaped or three-piece tulip-shaped tank pad featuring the Honda logo with a lens coating and carbon-fibre look finish.
Fuel Filler Cover Set
A lens-coated carbon-patterned fuel filler cover with the Honda logo, which can be combined with two options of tank pad.

Other CBR125R accessories
– Wheel sticker set
– Cargo net
– Rear maintenance stand
– Outdoor cover
---
2012 Honda CB125R – American Specifications
USD MSRP Price – $NA USD
Model not available in the USA
---
2012 Honda CB125R – Canada Specifications
Candian MSRP Price – $3,499 – $3,599 CDN
Engine Type Liquid-cooled single-cylinder four-stroke
Displacement 124.7 cc
Bore & Stroke 58 mm x 47.2 mm
Compression Ratio 11:1
Valve Train Chain-driven SOHC, 2 valves per cylinder
Fuel Delivery PGM-FI fuel injection
Transmission Six-speed
Final Drive O-ring-sealed chain
Front Suspension 31 mm telescopic fork; 120 mm (4.7 in.) travel
Rear Suspension Single shock; 126 mm (5 in.) travel
Tires 100/80 – 17 front; 130/70 – 17 rear
Brakes Front 276 mm disc with dual-piston caliper; rear 220 mm disc with single-piston caliper
Ground Clearance n/a
Seat Height 793 mm (31.2 in.)
Wheelbase 1,313 mm (51.7 in.)
Curb Weight 136.9 kg (302 lb) including required fluids and full tank of gas – ready to ride
Fuel Capacity 13 litres
Colour Asteroid Black Metallic, Repsol (optional)
Warranty 1 year, unlimited mileage, freely transferable warranty; extended coverage available with Honda Plus
---
2012 Honda CB125R – European Specifications
EU MSRP Price – See dealer for country pricing.
Engine

Type Liquid-cooled 4-stroke 2-valve SOHC single
Displacement 124.7cm3
Bore x Stroke 58 x 47.2mm
Compression Ratio 11: 1
Max. Power Output 9.8kW/10,000min-1 (95/1/EC)
Max. Torque 10.4Nm/8,000min-1 (95/1/EC)

Fuel System

Carburation PGM-FI electronic fuel injection
Throttle Bore 30mm
Fuel Tank Capacity 13litres (including LCD-indicated reserve)

Electrical System

Ignition System Computer-controlled digital transistorised with electronic advance
Starter Electric
Battery Capacity 12V
Headlight 55W x 1 (low)

Drivetrain

Clutch Wet, multiplate with coil springs
Clutch Operation Mechanical; cable-actuated
Transmission Type 6-speed
Final Drive O-ring sealed chain

Frame

Type Pentagonal; steel twin-spar

Chassis

Dimensions (LxWxH) 1,946 x 704 x 1,089mm
Wheelbase 1,310mm
Caster Angle 35°
Trail 90mm
Seat Height 795mm
Ground Clearance 185mm
Kerb Weight 137kg

Suspension

Type Front 31mm telescopic fork, 120mm axle travel
Rear Monoshock damper, 126mm axle travel


Wheels

Rim Size Front 17M/C x MT2.5
Rear 17M/C x MT3.5
Tyre Size Front 100/80-17M/C ()
Rear 130/70-17M/C ()

Brakes

Type Front 276 x 4mm dual hydraulic disc with dual-piston caliper and sintered metal pads
Rear 220 x 4mm hydraulic disc with single-piston caliper and sintered metal pads


All specifications are provisional and subject to change without notice.

All specifications are provisional and subject to change without notice.