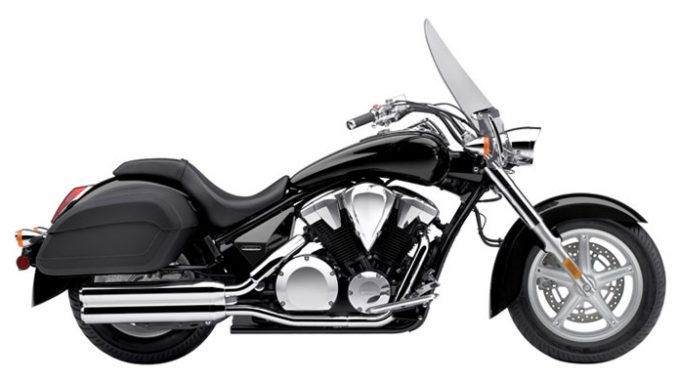 Click photos to enlarge.
They make great desktop images.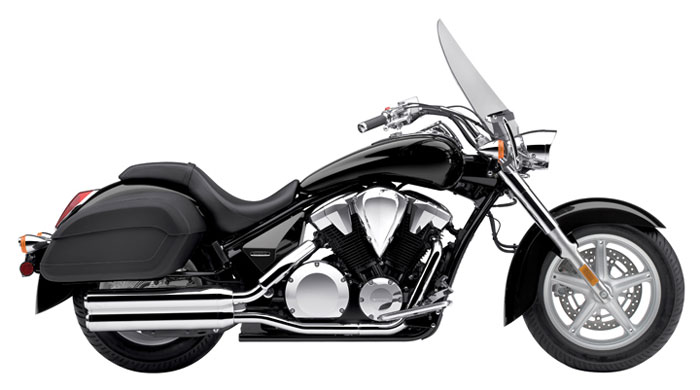 2012 Honda Interstate ABS (VT1300CTABS)
– 2012 Honda Interstate ABS (VT1300CTABS)

2012 Honda Interstate ABS (VT1300CTABS) Review
High Style Plus Traveling Credentials including ABS
Interstate
Sure it's fun to have a stylin' ride, but it can be even better yet when high style merges with the ability to rack up big miles-and that's what the 2012 Honda Interstate™ ABS is all about. Check out those stylish hard leather bags that offer ample storage space and that big, traditional windscreen; we're talking all-day riding comfort and convenience that will carry you through that long, long getaway. Because when you're aboard one of the coolest rides around, sometimes you just don't want the ride to end.

Availability: January 2012
2012 Honda Interstate ABS (VT1300CTABS) Features and Benefits
Honda Genuine Accessories†
– Custom Grips, Boulevard Screen (smoke), 24L Saddlebag (plain/studded), 18L Saddlebag (plain/studded), Saddlebag Bracket (18L/24L), Touring Bag (plain/studded/fringed), Front Pouch (plain/studded/fringed), Tank Belt (plain/studded), Backrest & Pad (low/tall), Rear Carrier Mounting Bracket, Rear Carrier, Passenger Floorboard, Engine Guard, Foot pegs, Custom Rider Seat, Chrome Side Cover, PIAA Driving Light, Braided Lines (Throttle Cable/Clutch Cable/Front Brake Hose/Rear Brake Hose), Digital Audio System, Audio Attach Kit, Master Cylinder Caps (fluted/"V" design/neo-retro), Billet Dipstick, Fork Nut Covers, Side Cover, Billet License Plate Frame (fluted/"V" design/neo-retro)
† WARRANTY: Because we're so confident in the quality of each of our Honda Genuine accessories, we're pleased to offer one of the best warranties in the industry. One-year warranty begins on the day accessories are purchased by the customer.
---
2012 Honda Interstate ABS (VT1300CTABS) – US Specifications
USA MSRP Price – $14,240 (ABS model) USD
Model: VT1300CT ABS
Engine Type: 1312cc liquid-cooled 52° V-twin
Bore and Stroke: 89.5mm x 104.3mm
Compression ratio: 9.2:1
Valve Train: SOHC; three valves per cylinder
Induction: PGM-FI with automatic enrichment circuit, one 38mm throttle body
Ignition: Digital with 3-D mapping, two spark plugs per cylinder
Transmission: Five-speed
Final Drive: Shaft
Suspension
Front: 41mm fork; 4.0 inches travel
Rear: Single shock; 3.9 inches travel
Brakes
Front: Single 336mm disc with twin-piston caliper
Rear: 296mm disc with single-piston caliper
ABS and CBS
Tires
Front: 140/80-17
Rear: 170/80-15
Wheelbase: 70.3 inches
Rake (Caster Angle): 33.0°
Trail: 118.0mm (4.6 inches)
Seat Height: 26.8 inches
Fuel Capacity: 4.4 gallons
Estimated Fuel Economy: 46 mpg
Colors: Black
Curb Weight*: 728 pounds (VT1300CT ABS)
*Includes all standard equipment, required fluids and full tank of fuel-ready to ride.
Honda's fuel-economy estimates are based on EPA exhaust emission measurement test procedures and are intended for comparison purposes only. Your actual mileage will vary depending on how you ride; how you maintain your vehicle; weather; road conditions; tire pressure; installation of accessories; cargo, rider and passenger weight; and other factors.
Meets current EPA standards.
Models sold in California meet current CARB standards and may differ slightly due to emissions equipment.
---
2012 Honda Interstate ABS (VT1300CTABS) – Canada Specifications
Candian MSRP Price – TBA CDN
Details to be announced.
---
2012 Honda Interstate ABS (VT1300CTABS) – Press Release
2012 Honda Street Models Arrive
09/23/2011 – Torrance, CA
The list of Honda models for 2012 keeps growing as a dozen new additions expand the upcoming season lineup. This latest release includes the substantially revamped CBR1000RR—the essential superbike—offering the perfect balance of power and handling designed to work together as one complete package. Sportbike aficionados will also be glad to see the CBR600RR in 2012, and riders partial to cruisers will have plenty to talk about. Honda's line of V-twin cruisers includes eight different models: the Sabre®, Stateline®, Interstate™ and Fury, plus Honda's 750cc line of V-twins—the most popular metric cruisers in history—the Shadow Phantom®, Shadow® RS, Shadow Spirit and Shadow Aero®. For sport touring fans, the highly regarded ST1300® also returns in 2012.

"Our broad range of street bikes demonstrates again why the Honda brand remains so popular with riding enthusiasts," said Powersports Press Manager Bill Savino. "Whether they gravitate towards sport riding, cruising or touring, this latest model release offers riders distinctly different options, all with Honda's renowned dependability, quality and reliability."


– CBR1000RR: The Essential Superbike
Honda's CBR1000RR is the essential superbike—the perfect balance of power and handling designed to work together as one complete package. The CBR900RR set the bar for liter-bike performance when it was introduced 20 years ago, and the new 2012 CBR1000RR sets that bar even higher. For 2012, the CBR1000RR boasts even better handling via a patented Balance-Free Rear Shock, Big Piston Fork and new wheels. Add to that a 999.8cc engine pumping out huge midrange horsepower and torque for class-leading real-world muscle, and you have a high-performance package unmatched in its overall balance by the competition. In addition, new aggressive bodywork aids aerodynamic flow and high-speed handling, and new LCD instrumentation, including a lap timer, five-level shift indicator and more, redefine the pure essence of liter-class sportbikes. Availability: December 2011; MSRP: $13,800 (standard model), $14,800 (C-ABS model)

– CBR600RR: Leading the Way Among Middleweights
The CBR600RR melds a light and compact chassis with impeccable power delivery to create a balanced combination that remains a favorite among sport riders. In racing, no other 600cc machine has won more AMA and World Supersport championships than Honda's CBR600. Also available with Honda's unique Combined ABS for the pinnacle of sportbike braking performance, the CBR600RR continues to lead the way in the middleweight class. Availability: December 2011; MSRP: $11,540 (Black, standard model), $11,690 (Red, standard model), $12,540 (C-ABS model)

– Fury/Fury ABS: Chopper Essence, Honda Quality
The radical Fury appears to be something from the farthest fringes of the two-wheeled world. Yet it's a Honda, through and through. Here we have the rolling incarnation of the pure, undiluted chopper essence, a machine that simply looks right, sounds right and goes straight to the heart of radical enthusiasts. Yet despite the extreme lines and head-turning looks, the Fury is a radical chopper that has all the functionality, quality and reliability built into every Honda. Availability: January 2012; MSRP: $13,390 (standard model), $14,390 (ABS model)

– Sabre: Pro-Street Style in a Classic Ride
Sometimes you just want to wear your aggression on your sleeve, and that's why the Sabre is ready to do your talking for you. The Sabre's muscular pro-street style provides a classic ride, with ergonomics to match. Add an impressive V-twin engine complete with Honda's sophisticated Programmed Fuel Injection, and you'll be rolling down the meanest streets with a bike that's as tough as it looks: the 2012 Sabre. Availability: January 2012; MSRP: $12,250 (standard model), $13,250 (ABS model)

– Stateline: Power and Style for Cruising
Featuring long, low lines that embody what cruising is all about, the Stateline blends two worlds of motorcycling style: traditional looks plus progressive elements. The deeply valanced fenders arc downward in classic retro style, yet the all-new rolling chassis and overall lines bring a fresh look to the class. Add to that the deep throaty rumble of a big V-twin engine and that classic big Vee power pulse, and you have a machine that's the perfect choice for cruising—anytime you want. Availability: January 2012; MSRP: $12,150 (standard model), $13,150 (ABS model)

– Interstate: High Style Plus Traveling Credentials
Sure it's fun to have a stylish ride, but it can be even better when high style merges with the ability to rack up big miles—and that's what the Interstate is all about. Check out those stylish hard leather bags that offer ample storage space and that big, traditional windscreen; we're talking all-day riding comfort and convenience that will carry you through that long, long getaway. Because when you're aboard one of the coolest rides around, sometimes you just don't want the ride to end. Availability: January 2012; MSRP: $13,240 (standard model), $14,240 (ABS model)

– Shadow Phantom: Minimalist Looks, Maximum Cool
The Shadow Phantom celebrates the joy of back-to-basics motorcycling by delivering a V-twin ride packing a uniquely clean and uncluttered appearance. Check out the minimalist look and extensive blackout treatment that bring your eyeballs back to that muscular V-twin engine featuring the convenience and sophistication of Programmed Fuel Injection. By staking out the low-profile approach to cool, the Shadow Phantom reinforces the idea that bling ain't everything in a cruiser. Availability: December 2011; MSRP: $8240

– Shadow RS: Because Classic Ideas Never Go Out of Style
The Honda Shadow RS serves as rolling proof that classic ideas never go out of style. By combining agile and responsive handling, V-twin power, clean, crisp lines and standard-style riding ergonomics, the RS is perfectly poised for whatever the journey may bring. The Shadow RS's higher footpegs enhance ground clearance, and its thoroughly modern liquid-cooled 745cc V-twin engine boasts Honda's sophisticated Programmed Fuel Injection to enhance your riding pleasure. Climb aboard the Honda Shadow RS, and the open road is all yours. Availability: December 2011; MSRP: $8240

– Shadow Spirit 750 C2: Big-Bike Looks, Distinctive Styling
Here's a machine that's perfect for cruising city streets as well as exploring back-country roads—the Shadow Spirit 750 C2. Honda has brought together a big-bike look, distinctive street-rod styling and a muscular V-twin engine—now including the sophistication and metering precision of Programmed Fuel Injection. And it all comes wrapped up in a surprisingly affordable package. Availability: December 2011; MSRP: $8240 (Black), $8540 (Candy Orange Flame)

– Shadow Aero: A Proven Winner
As a proven favorite, the Shadow Aero serves as a most satisfying ride for a wide range of enthusiasts. Factor in the Shadow Aero's classic retro styling, low seat height, power-packed V-twin engine now with sophisticated Programmed Fuel Injection and fine handling—all at a price that's just right for today's budgets—and you understand why the Aero is so popular with riding enthusiasts. Availability: December 2011; MSRP: $8240 (Candy Dark Red, standard model), $8540 (Pearl Black/Silver, standard model), $9240 (ABS model)

– ST1300: The Favored Long-Haul Ride
Long-distance adventure is best experienced aboard a machine that's keenly in tune with your riding senses. For years, the Honda ST1300 has answered the call of the open road by setting the standard for power and handling in a package that's ideal for crisscrossing the USA or just enjoying a long weekend on the road. Equipped with a powerful 1261cc V-4 engine and Honda's sophisticated Programmed Fuel Injection, plus full-coverage bodywork, a three-way-adjustable rider's seat, a motor-driven adjustable windscreen, dual saddlebags and more, the ST1300 remains the choice of dedicated long-haul riders. Availability: December 2011; MSRP: TBD

– ST1300P ABS: Law-Enforcement Special
Law enforcement agencies can also experience what other Honda riders have known for years: Nothing matches Honda's legendary performance, quality and reliability. Availability: December 2011; MSRP: TBD