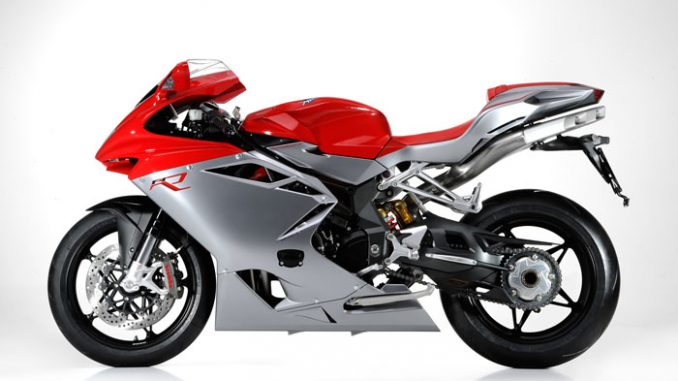 Click photos to enlarge.
They make great desktop images.
– 2012 MV Agusta F4R

2012 MV Agusta F4R Review
Beauty and power without compromise.
THE MV AGUSTA F4 R CORSA CORTA HAS ARRIVED
The new MV Agusta F4 R 2012 has been designed to offer clients a superbike with extreme performance. The key feature of the F4 R is, in fact, the new "Corsa Corta" engine capable of extraordinary performance and already employed on the F4 RR, the top of the MV Agusta superbike range.
The new 4 cylinder inline with radial valves is the pulsing heart of the MV Agusta F4 R. The thermodynamics have been completely redesigned, starting from the new low inertia crankshaft which makes it possible to use a super over-square bore and stroke ratio. In this way, the MV F4 R is capable of reaching rpm worthy of a pure racing motorcycle. The engine capacity of 998cc has been obtained by using a bore of 79 mm and a stroke of only 50.9 mm. In this way it is possible to achieve an extremely high 13700 rpm rev limit while at the same time lowering the linear velocity of the piston from 24.9 m/s to 23 m/s improving reliability.
In order to reach the stratospheric homologated power of 195.2 hp (against the 201 hp of the super powerful RR version) at 13000 rpm, every component was thoroughly engineered. The cylinder head uses completely new ports and employs larger valves both on the inlet and exhaust. For the first time on a mass production motorcycle, all the valves are made of titanium, allowing the weight of these to be reduced regardless of the increase in diameter (from 28.6 to 31.8 mm for exhaust and from 24.6 to 26 mm for the exhaust). The engine "breathes" in a more efficient way thanks to the use of a new 4-2-1-4 primary section of the exhaust system. In addition to assuring optimized engine efficiency, this new exhaust system offers an absolutely unique sound that is even more captivating then in previous versions. The fuel system employs 4 throttle bodies with a 49mm diameter and double fuel injectors per cylinder coupled with the unique MV Agusta TSS (Torque Shift System) variable intake runners.
The new F4 R, already on sale at official dealers, is available in 2 colours: red/grey and white/medium grey, at a price of 18,800 € including tax in Italy
2012 MV Agusta F4R Features and Benefits
The new engine of the MV Agusta F4 R was designed with the scope of reducing the internal friction to a minimum: the transmission's new primary gear ratio allowed a drastic reduction in rpm of both generator and water pump, thereby limiting the absorbed power. This extraordinary engine utilizes the unique features that have become trademarks to MV Agusta including a removable 6-speed gearbox and a slipper clutch which assures precise control even during the most violent braking manoeuvres. The electronic management system has been continuously evolved, the traction control employs a new algorithm and maintains the two rider selectable engine maps, all of which are now comfortably adjustable by means of the new control situated on the left handlebar.
The new MV Agusta F4 R remains, naturally, faithful to the structural tradition of mixing a steel tubular trellis to cast aluminium side-plates. The steering head angle is set at 23.5°, perfect for providing control, manoeuvrability, and stability. Also confirmed is the exceptional rear single-sided swingarm, a real engineering jewel that weighs only 5 kg, a record for this type of element.
The MV F4 R retains its notoriety for excellence in the area of suspension. The Marzocchi upside down forks, with 50 mm stanchions, is derived directly from the units used in competition, they are adjustable in spring preload as well as the hydraulic extension and compression. The forged ultra-light front axle carrier is also especially made for the F4 R and uses a rapid release system for the wheel, reminiscent of the first F4, the legendary Serie Oro that adopted this same technical solution. The rear Sachs shock absorber is equipped with a nitrogen reservoir (separated and integrated within the body) and is adjustable in extension, compression and spring preload. The shock linkage allows the ride height to be adjusted depending on the desired setup, rider preferences to further tune the bike to specific riding conditions and tracks.
The Brembo front brake system, with "monoblock" radial calipers is, without a doubt, the best system for motorcycles currently on the market, coupled to a master cylinder with integrated reservoir made specifically to demanding MV specifications.
The 320 mm diameter floating double front discs use an ultra light flange which are 5 mm thick to reduce inertia forces and non suspended masses. The rear brake system is made exclusively for MV with a stainless steel 220 mm diameter disc and 4 piston calliper.
---
2012 MV Agusta F4R – International Specifications
MSRP Price – The suggested retail price in Italy is €18,890 euros
Every country could have a price variation due to local import duties and taxes.

TYPE
Four cylinder, 4 stroke, 16 valve

TIMING SYSTEM
"D.O.H.C", radial valve

TOTAL DISPLACEMENT
998 cm3 (60.9 cu. in.)

COMPRESSION RATIO
13.4:1

STARTING
Electric

BORE X STROKE
79 mm x 50.9 mm (3.1 in. x 2.0 in.)

MAX. HORSE POWER-R.P.M. (AT THE CRANKSHAFT)
Full power version: 143.5 kW (195 HP) at 13000 r.p.m. Lim. 13700 r.p.m. – Restricted power version: 73 kW (100 HP) at 9000 r.p.m. Lim. 10500 r.p.m.

MAX. TORQUE-R.P.M.
Full power version: 112 Nm (11.4 kgm) at 9100 r.p.m. – Restricted power version: 85 Nm (8.7 kgm) at 6000 r.p.m.

COOLING SYSTEM
Cooling with separated liquid and oil radiators

ENGINE MANAGEMENT SYSTEM
Magneti Marelli IAW 7BM ignition – injection integrated system with Mikuni throttle body; Induction discharge electronic ignition; Sequential timed "Multipoint" electronic injection;
Variable height intake ducts with Torque Shift System (TSS)
CLUTCH
Wet, multi-disc with back torque limiting device
GEAR BOX
Cassette gearbox; six speed, constant mesh
PRIMARY DRIVE
48/82
GEAR RATIO
First gear: Speed* 14/37 134.1 km/h (83.3 mph) at 13700 r.p.m.
Second gear: Speed* 16/33 171.8 km/h (106.7 mph) at 13700 r.p.m
Third gear: Speed* 18/31 205.8 km/h (127.9 mph) at 13700 r.p.m
Fourth gear: Speed* 20/30 236.3 km/h (146.8 mph) at 13700 r.p.m.
Fifth gear: Speed* 22/29 268.9 km/h (167.1 mph) at 13700 r.p.m
Sixth gear: Speed* 21/25 297.6 km/h (184.9 mph) at 13700 r.p.m

FINAL VELOCITY RATIO
15×41
ELECTRICAL EQUIPMENT
Voltage 12 V
Alternator 350 W at 5000 r.p.m.
Battery 12 V – 8.6 Ah

DIMENSIONS AND WEIGHT
Wheelbase 1430 mm (56.27 in.)
Overall length 2100 mm (82.63 in.)
Overall width 750 mm (29.51 in.)
Saddle height 830 mm (32.66 in.)
Min. ground clearance 115 mm (4.52 in.)
Trail 100,4 mm (3.93 in.)
Dry weight 192 Kg (423 lbs.)
Fuel tank capacity 17 l (4.49 U.S. gal.)

PERFORMANCE
Maximum speed* Full power version 297.6 km/h (184.9 mph)
Restricted power version 249.0 km/h (154.6 mph)

FRAME
Type CrMo Steel tubular trellis (MAG welded)
Rear swing arm pivot plates: material Aluminium alloy

FRONT SUSPENSION
Type "UPSIDE – DOWN" telescopic hydraulic fork with rebound-compression damping and spring preload external and separate adjustment
Rod dia. 50 mm (1.97 in.)
Travel on leg axis 120 mm (4.72 in.)

REAR SUSPENSION
Type Progressive, single shock absorber with rebound and compression (High speed/
Low Speed) damping and spring preload adjustment
Single sided swing arm: material Aluminium alloy
Wheel travel 120 mm (4.72 in.)

BRAKES
Front brake Double floating disc with Ø 320 mm (Ø 12.6 in.) diameter, with steel braking band and aluminium flange
Front brake caliper Radial-type, single-piece with 4 pistons Ø 34 mm (Ø 1.34 in.)
Rear brake Single steel disc with Ø 210 mm (Ø 8.27 in.) diameter
Rear brake caliper With 4 pistons – Ø 25.4 mm (Ø 1.00 in.)

WHEELS
Front: Material / size Aluminium alloy 3,50 " x 17 "
Rear: Material / size Aluminium alloy 6,00 " x 17 "

TYRES
Front 120/70 – ZR 17 M/C (58 W)
Rear 190/55 – ZR 17 M/C (75 W)

FAIRING
Material Thermoplastic

* Top speed attained on closed course.
---
2012 MV Agusta F4R – USA/Canada Specifications
MSRP Price – TBA
TBA