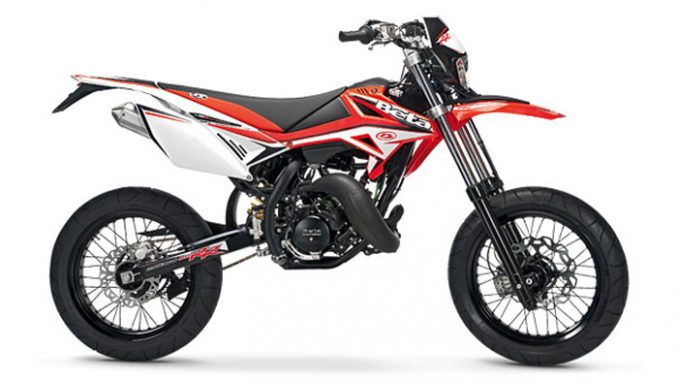 Click photos to enlarge. Our big, clean bike pics make great desktop wallpaper.
2013 Beta RR50 Motard Review

2013 Beta RR50 Motard
A revolution in the 50 cc: new range and real bike feeling.

It is difficult to keep calling them just "fifties". In fact, the displacement is the same, according to Highways Codes, but all the rest underwent to a true revolution. The new Beta 50 cc has a completely renewed design, as well as technical features and finishing, which makes it closer to a motor than to a motorbike. A real cure based on hormones that of Tuscan technicians, who heavily intervened on geometry, chassis and finishing. The result is an excellent mix of manoeuvrability, stability, great feeling when driving and a gorgeous look. With a wide and diverse range, it presents a series of models suitable for any requirements and wallets.
Premium and Entry Level versions join both classic versions – Enduro and Supermotard, featured by precious finishing and accurate performances. RR Enduro Factory and RR Motard Track top range have special components and top performances for those who love speed and a way to distinguish. Smart instead the Standard versions, both Enduro and Supermotard, thanks to more traditional components. They will be offered with a very interesting quality/price balance.
2013 Beta RR50 Motard – Features
New features and benefits

– Ø 40 mm Fork

– New aluminium steering plates, of which the lower one is forged.

– Black anodised aluminium rims with spokes.

– New wave brake disks (Ø 260 mm front and Ø 220 mm rear) together with floating brake pliers, at the front with dual piston, ensure high braking capacity and stable performances. The front brake lever with adjustment register for an accurate tune-up completes the package.

– New aluminium forged rear brake lever, with reduced weight and excellent stiffness features.

– New steel swingarm. The new design ensures great robustness features and stability when driving.

– New high-resistant steel chassis with elliptical uprights, square tubes and box structure on the steerer. The frame of the new RR Enduro 50 allowed the new bike to improve the already existing manoeuvrability and stability skills when driving.

– New exhaust system with passage on the right side.

– Aluminium ring gear with 50 teeth.

– Unified system with a single ignition key, steering lock and access to the tank.

– New design of the gear lever, created for aluminium moulding. Improves its activation function and accuracy.

– Black motor crankcase: a further aggressive touch to a bike, which is already "racing" in its contents.

– New design of the tank, plastic superstructures and seats. Aesthetic impact is not the only feature that improved. Handling and functionality of the bike facilitate movements on the driving seat, so you can feel all the advantages when driving.

– Modifications applied on the steerer geometry together with the pitch increase and height seat decrease allowed designers to meet the proverbial manoeuvrability of RR "fifties" with a higher stability. Today the feeling is to drive a real motor, in every aspect!

– New great impact graphics and bicolour driving seat.

– 3D texture stickers for an exclusive look and simplified cleaning.

– Integrated pillion handle to provide a "clean" design.

– Tank with greater capacity (6.5 l) to ensure a higher autonomy (about 180 km).
---
2013 Beta RR50 Motard – International Specifications/Technical Details
MSRP Price: See dealer for pricing
CHA SSIS
Frame steel double cradle frame
Wheel base 1390 mm
Max length 2000 mm
Max width 805 mm
Max height 1155 mm
Seat height 900 mm
Ground clearance 315 mm
Footrest height 365 mm
Dry weight 85 kg
Fuel tank capacity 6,5 l.
Reserv e 1 l.
C ooling sy stem capacity 620 cc
F ront suspension Hy draulic fork with ø40 mm shaft
Rear suspension Monoshock
Shock absorber stroke 55 mm
F ront wheel trav el 210 mm
Rear wheel trav el 200 mm
F ront brake disc ø260 mm
Rear brake disc ø220 mm
F ront rim 2,50 x 17 – 36 holes
Rear rim 3,50 x 17 – 36 holes
F ront ty re 110/80 – 17
Rear ty re 130/70 – 17

ENGINE
Type
Single-cy linder, 2-stroke, liquid cooled, lamellar induction in the crankcase
Bore 40,3 mm
Stroke 39 mm
Displacement 49,7cc
Compression ratio 12:1
Ignition Electronic A ET 12V – 85W
Spark plug NGK BR9 ES
Lubrication
Mixing with mechanical pump, fuel 1,5% (with
synthetic oil)
Feeding with carburettor
Carburettor Dell'O rto PHBN 16 HS
Clutch wet multi-disc clutch
Primary trasmission Z. 20/71
Transmission 6 speed
Secondary Trasmission Z. 11/50
Engine oil SA E 20W/30 (820c)


*specifications subject to change without notice.