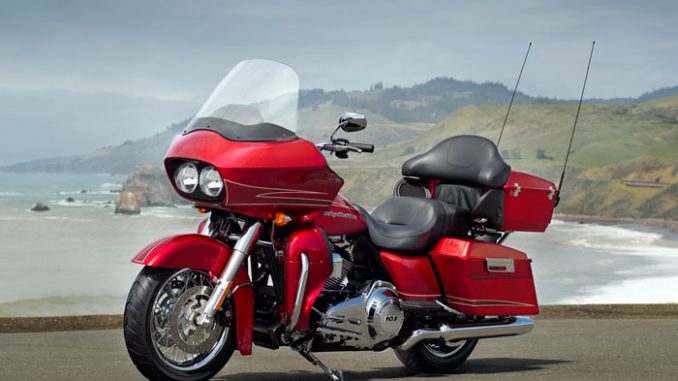 Click photos to enlarge. Our big, clean bike pics make great desktop wallpaper.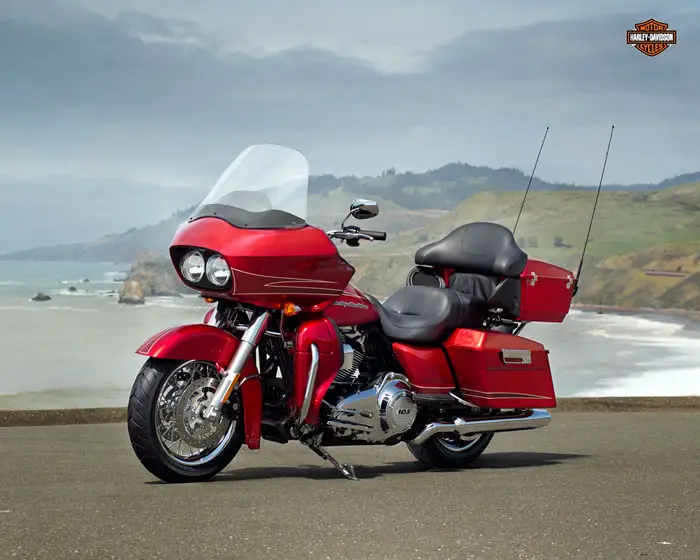 2013 Harley-Davidson FLTRU Road Glide Ultra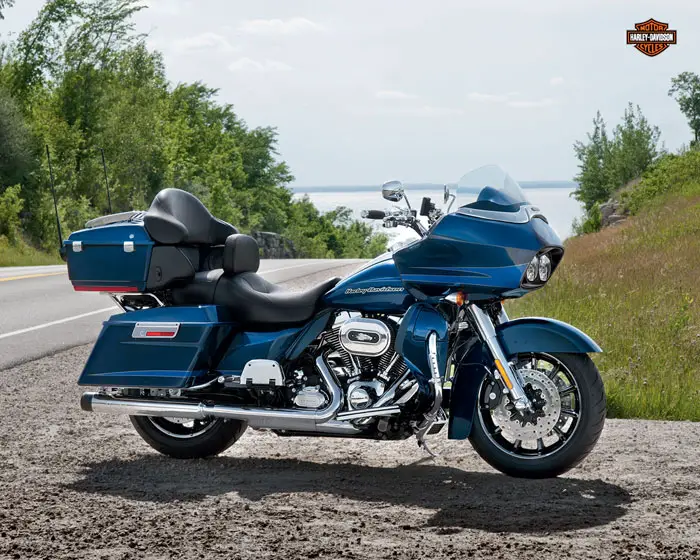 2013 Harley-Davidson FLTRU Road Glide Ultra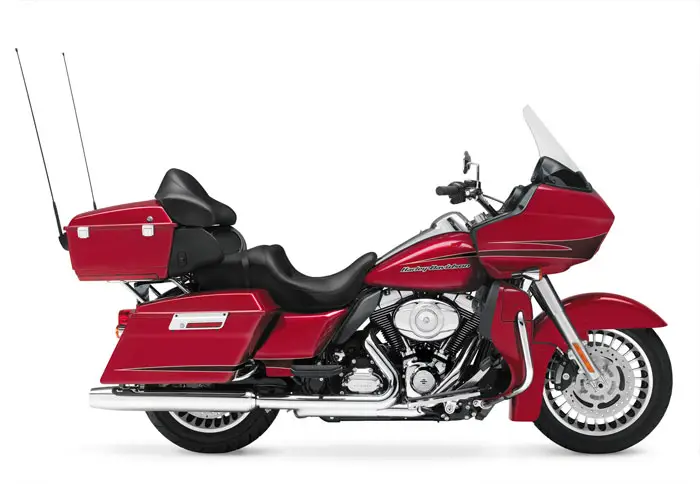 2013 Harley-Davidson FLTRU Road Glide Ultra



2013 Harley-Davidson FLTRU Road Glide Ultra Review

2013 Harley-Davidson FLTRU Road Glide Ultra
Long-range comfort. Long-haul features. Unique Harley® styling. Turn heads as you eat up the road, solo or sharing the journey…
The Road Glide® Ultra combines the light handling and wind-splitting aerodynamics of a frame-mounted fairing with a full complement of touring appointments for the devoted long distance rider and passenger. The innovative Harley-Davidson® Touring chassis is based on a single-spar, rigid backbone frame and a stout swingarm developed to withstand the demands of long-haul touring riders and today's powerful engines.
Once again setting the standard as the "tourer's touring bike," the Road Glide® Ultra takes comfort, convenience and functionality to the next level. All the outstanding handling properties of the unique "shark nose," framemounted fairing are combined with the added convenience of a deluxe King Tour-Pak™ carrier, fairing lowers with integral glove boxes, a huge 1690 cc Twin Cam 103™ engine, Anti-lock Brakes and a Smart Security System all standard.

The Road Glide® Ultra doesn't stop at functionality. This modern beauty showcases all the attention to detail that Harley-Davidson is known for. A clean, sleek profile. A unique Road Glide® Ultra medallion on the Tour-Pak® carrier. Woven-nylon, soft luggage liners. Deep rich paint and chrome. There's no mistaking this bike for anything but true, authentic Harley-Davidson.
2013 Harley-Davidson FLTRU Road Glide Ultra Key Features

NEW Paint color options

• Injection-molded King Tour-Pak® with soft luggage liners, storage pockets and wrap-around rear tail/brake lights; 2.26 cu. ft. volume
• Vented lower fairings with integral storage compartments
• 80-watt, four-speaker Harmon/Kardon® Advanced Audio with CD/MP3 player, and CB/Intercom
• One-piece, two-up Electra Glide® classic comfort stitch seat shaped to improve rider leg reach to the ground, and to provide better lower back support
• Aerodynamic, frame-mounted fairing incorporates clear windshield, dual headlamps and a cockpit-style instrument display
• Black powder-coated powertrain with chrome covers
• Chrome, 2-1-2 dual exhaust with tapered mufflers
• Black, 28-spoke Cast Aluminum wheels
• Tubeless Chrome Aluminum Profile Laced wheel option
• Mid-frame air deflectors
• Chrome, low-profile fuel tank console
• Deep FL front fender
• Stainless steel, classic touring handlebar
• Passenger backrest with wrap-around armrests
• Injection-molded GTX saddlebags; 2.26 cu. ft. volume
• Electronic speedometer and tachometer plus fuel, voltage, oil pressure and ambient air temperature gauges
• Combination stop/turn/tail lights
• Clean rear fender with low mount license plate module and LED illumination




2013 Harley-Davidson FLTRU Road Glide Ultra Features and Benefits
• Frame-mounted Twin Cam™ 103 V-Twin engine with Electronic Sequential Port Fuel Injection (ESPFI) and Electronic Throttle
Control (ETC)
• 6-speed Cruise Drive® transmission with integrated Isolated Drive System (IDS)
• Anti-lock braking system (ABS)
• Dunlop® "Multi-Tread" rear tire construction extends tire life by 25 percent
• Brembo® 4-piston front and rear caliper with dual front rotor brake system
• Air-adjustable rear shocks
• Full-length rider footboards
• Height-adjustable passenger footboards
• Six-gallon fuel tank
• Harley-Davidson® Smart Security System with hands-free security fob
• Electronic cruise control
• Optional Chrome, Aluminum Profile laced wheels

Classic Fuel Tank

Part of the unmistakable style of the Harley-Davidson® Road Glide® Ultra motorcycle is plenty of room for showing off your paint. This classically styled, bold six-gallon fuel tank doesn't just give you a bigger canvas for premium or custom paint; it holds six gallons of go so you can eat up a lot more road between pit stops. We know fuel economy is important—but so is style. Sharp, eye-catching colors and crisp pinstripes that run the length of the bike from the Shark-Nose fairing to the premium GTX® saddlebags—a one-of-a-kind look for any individual soul.

Shark-Nose Fairing

The frame-mounted Shark-Nose fairing always leads you in the direction of the open road. With its twin headlamps, iconic style and unique attitude, it's absolutely distinct on the streets, while its integrated storage gives you a resting place for valuables you need to access easily during your journey. The headlamp shroud and windscreen trim add style to the fairing without straying from its legendary look.

GTX® Saddlebags

These injection-molded hard bags have room for 2.26 cu. ft. volume of long-haul luxuries and a perfect surface for showing off some premium paint. Even better, these saddlebags open from the top, so your gear won't end up spilled all over the highway. They keep your fancy unmentionables dry, and the chrome latches won't corrode in bad weather. And when you're off the road, one common key starts the bike and gives you access to your saddlebags, keeping your pockets as uncluttered as your bike's classic design.

Custom Rear Taillight and Fascia

We keep the back end clean and no-nonsense with tri-line fender lights—a brilliant, unique taillight as the centerpiece—plus ground effects and a low mounted license plate with incandescent lighting for crisp visibility and style. This completes the custom, one-of-a-kind look.

Large 17-Inch Front Wheel

If you crave long-haul agility on rides of all distances, you're going to love this. We beefed things up by adding a big, mighty wheel with a low aspect ratio. That means the bike maintains its legendary tight turning radius, balanced feel and superior low-speed maneuverability.

Premium Paint

Up to two times thicker than the competition, custom quality paint comes standard on all Harley-Davidson® motorcycles. Clearcoat layering up to five mils deep. Bigger metal flakes. Unique effects in the sunglo and pearl colors. Skimping simply is not in our vocabulary.

Hand Finished Fuel Tank

All Harley-Davidson® fuel tanks are finished by hand—that's what makes them stand out from the competition. Their seamless design and unmatched style are unique among all motorcycles on the road. The tanks are one of the first and last things people notice when they lay their eyes on a Harley-Davidson® motorcycle—so we make it worth their time.

Twin Cam 103™ Engine Heritage

The knowledge of what makes an engine truly move a rider runs deep at The Motor Company, and it was put to good use when we created the Twin Cam 103™ engine. We painstakingly perfected every cubic inch, pushing design and technology forward—all without compromising one bit of Harley-Davidson's unique styling. Evolved, yet carrying on the legacy of the Flathead, Knucklehead, Panhead, Shovelhead, Evolution®, Twin Cam 88® and Twin Cam 96™ engines that came before. The performance and durability are a direct result of the untold miles logged on the V-Twin since 1909, and the proud heritage that comes from a century's worth of commitment to life on two wheels.

Twin Cam 103™ Engine Innovation

Fire up the Twin Cam 103™ engine and feel the low-end torque unleashed. Thanks to the lightweight piston design, delivery of the added power is more refined than ever. Then put your foot on the shifter and feel how the engine and Six-Speed Cruise Drive® transmission were designed to work together. Six speeds. A strong driveline and strong internal parts. Low routine maintenance. And a low cruising rpm couldn't feel better. Together with the H-D® Smart Security System and Anti-Lock Brakes, the Twin Cam 103™ engine comes standard on the Road Glide® Ultra.

Pure Harley-Davidson Styling

Feast your eyes on the Twin Cam 103™ engine and there's no mistaking its roots. This is authentic Harley-Davidson style through and through with an attention to detail you won't find from any other motorcycle company. Black powder-coated heads and cylinders are highlighted by machined cooling fin tips and chrome rocker covers. It's a jewel machined out of metal. Pure. Dripping with power. From the classic edge of the cooling fins to the clean lines of cases and covers—the Twin Cam 103™ engine makes an ironclad statement to holding on to what's right and staying true to what satisfies the rider.

Six-Speed Cruise Drive®
You want a ride that rumbles—not begs for mercy—when you lean on it a little. The Six-Speed Cruise Drive® transmission provides smooth, quiet shifting and reduces engine speed on the highway, so you get a better match between engine turnover and road speed. And the Isolated Drive System makes acceleration flow in a smooth, steady stream from your wrist right down to the pavement. It's a rare ride when a bike responds like this, and a low growl goes a long way when you're opening up the road ahead.

Four-Point Engine Isolation System

Just get that Big Twin idling and feel the difference—there's almost nothing to feel. Our four-point rubber engine isolation system perfects the delicate balance of shake, rattle and ride, keeping the powerful engine's vibrations from getting to you, for a smooth, comfortable ride mile after mile.

Twin Cam 103™ Engine Power

Live your ride to the power of Twin Cam 103™. The air cooled Twin Cam 103™ Harley Davidson® engine delivers more stump pulling torque, while its Electronic Sequential Port Fuel Injection jetting gives crisp, lively throttle reaction. It's a performance punch that you'll appreciate when passing, climbing hills, or rolling with luggage packed or a passenger in back—all under that signature Motor Company rumble. And it comes at lower cruising rpm, so you ride more smoothly, with less engine vibration and better highway fuel economy.

Harman/Kardon® Advanced Audio System

Naturally, the king of the road gets some royal extras. The premium four-speaker, 20-watt per channel Harman/Kardon®audio system boasts great sound for booming down the boulevard and highway, and, yeah, it might as well go to 11. It's loud, proud and comes with AM/FM receiver and accommodates a CD or MP3 player. Riding free just wouldn't be the same without the right soundtrack.

High Output Accessory Connector

Harley-Davidson® touring means maximum comfort in all conditions and the capacity to add whatever enhances and personalizes your ride. The high output charging system provides an electrical capacity robust enough for your add-ons: heated vests, heated seats, heated handgrips, lights to showcase the engine, you name it. So if you're hell-bent on two-wheeling it, we make sure you've got the juice to do it your way.

Anti-Lock Brakes

When it comes to the Road Glide® Ultra with standard ABS, 'stopping power' has a double meaning. The components of our ABS are tastefully hidden within the wheel hub, so you'll still turn heads with a clean, streamlined design. More importantly, though, you get certainty in the saddle knowing your bike's going to behave when you need it.

H-D® Smart Security System

The factory installed next-generation security system features a hands-free fob that automatically arms and disarms the vehicle electronic security functions as you approach and walk away from the bike. Stick the fob on your ignition key ring and let it do all the work. It's this attention to details and security that make Harley-Davidson® motorcycles unique.

Cruise Control

If you're ready to take touring to the next level, the standard cruise feature will help you settle in for the long haul. Get the comfort of the cruise without the cables cluttering up your handlebar. Our electronic throttle control technology makes it possible to have the best of both worlds.

Artfully Hidden Technology

Harley-Davidson leverages the latest in technology without compromising style and function. That means we hide electronics. The whole wiring harness is skillfully routed behind the jewels of the bike—the tank, engine and all the other eye-popping features you want to see. It's just another way The Motor Company goes the extra mile to give its bikes that premium, top-of-the-line fit and finish.

Intuitive Controls

Hand controls on a Harley-Davidson® motorcycle are incredibly intuitive. The turn signals are self-canceling and, based on the speed and angle of the motorcycle, they know how long to stay on. Engaging the controls quickly becomes second nature so you can focus less on turning off your signal and more on basking in the freedom of the ride.

Frame-Mounted Fairing

The iconic Shark-Nose fairing on the Road Glide® Ultra is bolted to the motorcycle frame so it stays put and cuts down the wind with all its might in order to make your ride smooth and easy going. Reputed for extreme performance and a highly distinct style, this fairing is an original in motorcycling history, and stands firm as a defining element of the legendary Harley-Davidson® Road Glides.

Dunlop® Multi-Tread™ Tires

This 180mm back tire is engineered to do more than fill out the rear fender and put a bigger patch of rubber on the road. Dunlop® Multi-Tread™ technology uses harder compounds at the center and softer on the sides for a tire that still knows how to knuckle-down on corners. Perfect for making this bike agile on every curvy stretch of road. And the way it feels going through an abrupt off-camber turn will put a grin on your face that'll last to the next state line.

Brembo® Brakes

Confidence. Control. High-performance dual disc Brembo® brakes offer consistent stopping power at all speeds. The 4-piston front and rear caliper with dual front rotor brake system is state of the art and top of the line. It's just another way The Motor Company puts a high level of detail into their bikes to give you peace of mind throughout your journey.

Air-Adjustable Suspension

With air-adjustable suspension that comes standard, you can dial in your ride to accommodate heavier or lighter payloads, battle unexpected road conditions or simply set it to how you like to roll. The lighter the load, the softer you can go by decreasing the air pressure a bit, or increase the air pressure for a more firm ride. A convenient air valve is located between the saddlebag and rear fender for quick adjusting. It's all about rider and passenger comfort and setting your bike to fit your taste—the easy way.

Frame and Swingarm

Change everything. Lose nothing. Our complete redesign of the frame and swingarm has only been around since 2009, and it's already changing the game entirely. Stamped and welded parts and bent tubing were ditched for strong castings and forgings—just like the legendary Harley-Davidson frames of years past. The result is a frame that rides rigid and owns the corners. The acceleration is strong. The ride is tight and responsive. And the feel on the road is confidence inspiring.

Legendary Low Speed Maneuverability

At The Motor Company, we believe you don't make innovative, next-generation Touring motorcycles without shedding a little blood, sweat and tears. And when you get it right—like with the low speed maneuverability on our Touring models—all the other upgrades in the ride just combine to create a big-boned bike that is light and nimble while carving up tight turns or if you find yourself riding in a parade or group ride.

Tuned to Be Ridden

Harley-Davidson® motorcycles are different than any other bike out on the road. There's a balance to them. The steering, the maneuverability—it's all in concert. And each Harley-Davidson® model is tuned differently to create a unique riding experience for each individual no matter which bike they swing their leg over. Let's face it, we didn't get to where we are by being like everyone else.

Vented Fairing Lowers

Don't be a prisoner to the elements outside—take control of your ride with the vented lower fairings on the Road Glide® Ultra model. Pop them off for a cooler ride or leave them fixed to fight the wind tooth and nail. When it comes to touring, Harley-Davidson is all about optimal comfort every time you hunt down a horizon.

Mid-Frame Air Deflectors

The mid-frame air deflectors are low profile, black deflectors that attach to the frame of this bike just below the seat, and help redirect the engine heat for additional comfort on all of your two-wheeled adventures. So sit back, stay cool and enjoy the scenery from where you ride.

Two-Up Seating

Modern styling and comfort that doesn't sacrifice an ounce of nostalgic style: This ultimate Touring saddle features a sculpted seat with a deeper contoured bucket and narrower neck, to relieve pressure on your thighs, while providing more back support and comfort for a wide variety of rider sizes. And the lower seat height—26.1 inches to be exact—puts your feet closer to the road to enhance your confidence. Additionally, the leather trim and premium stitching accentuate the advanced ergonomics while giving the seat that sharp detail you only find on a Harley-Davidson® motorcycle. It's science in service of comfort, and your way to beat fatigue over the long haul.

Full-Length Footboards

Your boots were made for riding, in any way you see fit. Our full-length footboards boast a tried and true design that's stood the test of time. Rubber vibration isolation for a comfortable ride. Traditional toe shifting is familiar to seasoned riders and intuitive for those just starting out. Heel shifting makes getting through the gears even easier and more convenient. Plus, height adjustable passenger boards add another level of comfort for your riding partner.

Wide Set Handlebar

Classic style and maximum comfort. That's the perfect balance of the wide set handlebars that come standard on the Road Glide® Ultra model. They're designed to keep you comfortably propped in a commanding position while making sure your neck muscles stay calm and relaxed mile after mile, state after state. Durable stainless steel insures the structural rigidity you expect from a Harley-Davidson® motorcycle with the deep, lustrous finish you desire.

2-1-2 Exhaust

Welcome to the crossroads of pure Harley-Davidson style and smart engineering. The 2-1-2 exhaust helps direct heat away from the rider and passenger, while providing ample performance, signature Harley-Davidson rumble, and big style.

Augmented Wind Deflection

For long two-lane or interstate hauls, comfort against the wind can dictate whether you make the next state or pull off at the next exit. Wind deflectors under the fairing cut down the effects of wind and reduce helmet buffeting, so you can ride more comfortably, for more miles, with the only thing in your face the sunset on the horizon.

Engine Idle Temperature Management Strategy

Our motorcycles are built to be ridden. A lot. So that means that rider comfort is top of mind. Always. With the Engine Idle Temperature Management Strategy (EITMS) feature, the motorcycle automatically cuts fuel and fire from the rear cylinder when idling, which helps reduce engine heat felt by rider and passenger. Best part, you can easily turn this feature on or off yourself whenever the bike is stopped.

Seat Engineering and Design

The seat is home for Harley-Davidson® motorcycle riders. They want a seat that has unique style without sacrificing comfort. Because of that, Harley-Davidson invests a lot of time in researching, designing and testing seats so that every bike has just the right saddle.

---
2013 Harley-Davidson FLTRU Road Glide Ultra – USA Specifications/Technical Details
US MSRP Price: Custom Color Option $22,799 USD
DIMENSIONS
Length 98.7 in. (2507 mm)
Overall Width 36.2 in. (919 mm)
Overall Height 55 in. (1397 mm)

Seat Height:
o Laden2 27.3 in. (693 mm)
o Unladen 29.1 in. (739 mm)
Ground Clearance 5.1 in. (130 mm)
Rake (steering head) 26°
Fork Angle 29.2°
Trail 6.7 in. (170 mm)
Wheelbase 63.5 in. (1613 mm)

Tires (Dunlop® Harley-Davidson® Series, bias blackwall front and rear):
o Front – D408F BW 130/80B17 65H
o Rear – D407 BW 180/65B16 81H
Fuel Capacity 6 gal. (22.7 L) (warning light at approximately 1.0 gal.)
Oil Capacity (w/filter) 4 qts. (3.8 L)
Transmission Capacity 1 qt. (1 L)
Primary Chain Case Capacity 1.4 qts. (1.3 L)

Weight:
o As Shipped 882 lbs. (400 kg)
o In Running Order 911 lbs. (413 kg)
o Gross Vehicle Weight Rating
o Gross Axle Weight Rating 1360 lbs. (617 kg)
o Front 500 lbs. (227 kg)
o Rear 927 lbs. (420 kg)
Luggage Capacity
o Volume 4.52 cu. ft. (0.1266 m3)

ENGINE
Engine Air-cooled Twin Cam 103™ with Integrated Oil-Cooler
Valves Pushrod-operated, overhead valves with hydraulic, self-adjusting lifters; two valves per cylinder
Bore x Stroke 3.875 in. x 4.38 in. (98.4 mm x 111.3 mm)
Displacement 103 cu. in. (1690 cc)
Compression Ratio 9.6:1
Fuel System3 Electronic Sequential Port Fuel Injection (ESPFI)
Air Cleaner Fiberglass, washable
Lubrication System Pressurized, dry-sump with oil cooler

DRIVETRAIN
Primary Drive Chain, 34/46 ratio
Final Drive Belt, 32/68 ratio
Clutch Multi-plate, wet
Transmission 6-speed Cruise Drive®

Gear Ratios (overall): U.S.
o 1st 9.593
o 2nd 6.65
o 3rd 4.938
o 4th 4
o 5th 3.407
o 6th 2.875

CHASSIS
Frame Mild steel; tubular frame; two-piece stamped and welded backbone; cast and forged junctions; twin downtubes; bolt-on rear frame with forged fender supports; MIG welded
Swingarm Mild steel; two-piece drawn and welded section; forged junctions; MIG welded
Front Forks 41.3 mm telescopic, triple-circuit damping
Rear Shocks Air-adjustable

Wheels4 (TTubeless Chrome Aluminum Profile Laced option): Black, 28-spoke Cast Aluminum
o Front 17 in. x 3 in. (432 mm x 76 mm)
o Rear 16 in. x 5 in. (406 mm x 127 mm)
Brakes:
o Caliper Type 32 mm, 4-piston fixed front and rear
o Rotor Type (diameter x width): Patented, fixed rotors
o Front (dual) 11.81 in. x .2 in. (300 mm x 5.1 mm)
o Rear 11.81 in. x .28 in. (300 mm x 7.1 mm)
o Anti-lock Braking System Standard
Suspension Travel:
o Front Wheel 4.6 in. (117 mm)
o Rear Wheel 3 in. (76 mm)
Engineered for Sidecar Use Available

PERFORMANCE
Engine Torque5 (per J1349):
o North America 100 ft. lbs. @ 3250 RPM (135 Nm @ 3250 RPM)
Lean Angle (per J1168):
o Right 33°
o Left 31°

Fuel Economy6
(EPA urban/highway test) 42 mpg (5.6 L/100 km)

ELECTRIC
Battery (per Battery Council International Rating) Sealed, maintenance-free, 12V, 28-amp/hour, 270 cca
Charging Three-phase, 50-amp system (585W @ 13V, 2000 RPM, 650W max power @13V)
Starting 1.2 kW electric with solenoid shift starter motor engagement

Lights (as per country regulation):
o Headlamp (quartz halogen) 55-watt low beam, 60-watt high beam
o Tail/Stop Lights 8W/28W (5W/21W)
o Turn Signal Lights 28W (21W) self-canceling
o Indicator Lamps: High beam, running lights, directional light bar, neutral, low oil pressure, engine diagnostics, turn signals, security system,7 6-speed, low fuel warning, cruise control, ABS

WARRANTY
Warranty8 24 months (unlimited mileage)
Service Interval9 First 1000 miles (1600 km), every 5000 miles (8000 km) thereafter
1 Vehicles depicted may differ from vehicles manufactured and delivered. Specifications and prices listed may differ from specifications and prices of vehicles manufactured and delivered. All product descriptions (including depictions, specifications, dimensions, measurements, ratings and competitive comparisons) are based on available information at the time of publication. Although such descriptions are believed correct, errors and changes can occur and complete accuracy cannot be guaranteed. Harley-Davidson may make changes at any time to prices and specifications, and may change or discontinue models, without notice and without incurring any obligation. Attention: Vehicles in the configurations shown and many of the accessories described in this catalog may not be available for sale or use in some locations. Please check with your dealer for complete product details and the latest information. All models feature 6-speed transmission (V-Rod® models and Sportster® models are 5-speed) and carbon fiber belt final drive; multi-plate clutch with diaphragm spring in oil bath; and 2-year unlimited mileage warranty.
2 Measurement reflects 180 lb. (81.7 kg) operator weight.
3 Recommended 91 octane or higher fuel (R+M)/2.
4 Standard and optional wheels may vary by country and region.
5 Values shown are nominal. Performance may vary by country and region.
6 The combined fuel economy numbers were derived using a combination of estimated city and highway values. Fuel economy estimates are derived from US EPA exhaust emission certification data on a sample motorcycle from the corresponding family under ideal laboratory conditions. Your actual fuel economy will vary depending on your personal riding habits, road and driving conditions, vehicle condition and maintenance, tire pressure, vehicle configuration (parts and accessories), and vehicle loading (cargo, rider and passenger weight). Break-in mileage may vary.
7 North America security system includes immobilizer; outside North America the security system includes immobilizer and siren.
8 See motorcycle owner's manual for complete details.
9 Inspections of certain systems and components are required at 2,500 mile (4,000 km) intervals. See Owner's Manual for full details.

---
2013 Harley-Davidson FLTRU Road Glide Ultra – Canadian Specifications/Technical Details
Canada MSRP Price: Vivid Black $25,889; Color Option $26,559 CDN

DIMENSIONS
Length2,525 mm
Seat Height, Unladen 6740 mm
Ground Clearance125 mm
Rake (steering head) (deg)26
Trail170 mm
Wheelbase1,630 mm
Tires, Front SpecificationBW 130/80B17 65H
Tires, Rear SpecificationBW 180/65B16 81H
Fuel Capacity22.7 l
Oil Capacity (w/filter)3.8 l
Weight, As Shipped400 kg
Weight, In Running Order413 kg
Luggage Capacity -Volume0.127 m3
Luggage Capacity -WeightN/A

ENGINE
Engine 1Air-cooled Twin Cam 103™ with Integrated Oil-Cooler
Bore98.4 mm
Stroke111.1 mm
Displacement1,690 cc
Compression Ratio9.6:1
Fuel System 3Electronic Sequential Port Fuel Injection (ESPFI)

DRIVETRAIN
Primary DriveChain, 34/46 ratio
Gear Ratios (overall) 1st9.593
Gear Ratios (overall) 2nd6.65
Gear Ratios (overall) 3rd4.938
Gear Ratios (overall) 4th4.0
Gear Ratios (overall) 5th3.407
Gear Ratios (overall) 6th2.875

CHASSIS
ExhaustChrome, 2-1-2 dual exhaust with tapered mufflers
Wheels, Optional Style Type 8Tubeless Chrome Aluminum Profile Laced
Wheels, Front Type 8Black, 28-spoke Cast Aluminum
Wheels, Rear Type 8Black, 28-spoke Cast Aluminum
Brakes, Caliper Type32 mm, 4-piston fixed front and rear
Parking BrakeN/A

PERFORMANCE
Engine Torque Testing MethodJ1349
Engine Torque 2135 Nm
Engine Torque (rpm)3,250
Lean Angle, Right (deg.)33
Lean Angle, Left (deg.)31
Fuel Economy: Combined City/Hwy 55.6 l/100 km
PRICING
Vivid Black $25,889
Color Option $26,559
Wheel Option $530

ELECTRIC
Lights (as per country regulation), Indicator Lamps 7High beam, running lights, directional light bar, neutral, low oil pressure, engine diagnostics, turn signals, security system, 6-speed, low fuel warning, cruise control, ABS
GaugesFairing-mounted electronic speedometer with odometer; time-of-day clock on CD player/stereo; dual trip meter; low fuel indicator light and mileage countdown feature; low oil pressure indicator light; engine diagnostics readout; LED indicator lights; 6-speed indicator light; cruise control indicator light Tachometer with fuel, voltage, oil pressure and ambient air temperature gauges

1Recommended 91 octane or higher fuel (R+M)/2.
2Values shown are nominal. Performance may vary by country and region.
3Standard and optional fuel systems may vary by country.
4See motorcycle owner's manual for complete details.
5Estimated from fuel economy tests on a sample motorcycle from the corresponding family conducted by Harley-Davidson under ideal laboratory conditions. Not all motorcycle models undergo fuel economy testing. Fuel economy and mileage may vary among motorcycle models within a family. Your mileage may vary depending on your personal riding habits, weather conditions, trip length, vehicle condition and vehicle configuration and other conditions. Break-in mileage may vary.
6Measurement reflects 180 lb. (81.7 kg) operator weight.
7North America security system includes immobilizer; outside North America the security system includes immobilizer and siren.
8Standard and optional wheels may vary by country and region.
---
2013 Harley-Davidson FLTRU Road Glide Ultra – UK/Europe Specifications/Technical Details
UK/European MSRP Price: NA GBP

Model Not Available in the UK
---
2013 Harley-Davidson FLTRU Road Glide Ultra – Australia Specifications/Technical Details
Australian MSRP Price: $TBA AUD

More information to follow shortly
Specifications, features and prices to change by manufacturer without notice. All information correct as of posted date.
---
2013 Harley-Davidson FLTRU Road Glide Ultra – Press Release
NEW MODELS AND NEW OPTIONS FROM HARLEY-DAVIDSON FOR 2013
110th Anniversary Editions, Hard Candy Custom Styling, and a Restyled Street Bob
MILWAUKEE (August 20, 2011) – Harley-Davidson rolls into its 110th model year with a line of authentic American motorcycles that includes 110th Anniversary Editions of select Harley-Davidson® motorcycle models and a restyled Dyna® Street Bob® model. Harley-Davidson Custom Vehicle Operations (CVO) offers two new models, the CVO Breakout , a high-performance Softail® model with exciting new finish options, and the CVO Road King®, fitted with an innovative vented windshield and high-output audio system.
Also new for 2013, Harley-Davidson launches Hard Candy Custom , a styling movement rooted in themes first seen in the chopper era of the late 1960s that embraces dazzling metal flake paint, brilliant chrome, and styling details in accessories, gear and apparel. Hard Candy Custom elements include "big flake" paint finishes, three of which will be selectively offered as a solid-color option on five Harley-Davidson production motorcycles for 2013.
H-D1 Factory Customization expands with the Street Bob joining the 1200 Custom as Harley-Davidson models in the web-based program that allows customers to select factory-installed options in more than 2,000 combinations, build a bike on the screen, and then order it through an authorized Harley-Davidson dealer.
More than a century of experience, knowledge and riding passion lies behind each 2013 Harley-Davidson.
Highlights of the 2012 Harley-Davidson line include:
Ten Harley-Davidson models are offered as 110th Anniversary Editions, each serialized and featuring exclusive paint and commemorative solid bronze fuel tank badges. Production will vary by model and will be strictly limited to ensure exclusivity. These models come with all available factory-installed options as standard equipment. (See separate release for more details on the 110th Anniversary Editions.)

The Harley-Davidson® Street Bob® gets a tougher profile for 2013 with new blacked-out triple clamps and powertrain, and a chopped rear fender with side-mounted license plate and stop/turn/tail lights. This rowdy Dyna bobber features a solo seat and mini-ape handlebar mounted on new risers that make it easier to customize the Street Bob. New paint options include Hard Candy Custom metalflake and a scalloped two-tone option. (See separate release for more details on the 2013 Street Bob.)

The Street Bob serves as a great starting point for customization, and now along with the 1200 Custom it can be personalized through H-D1 Factory Customization with options selected by the customer using the online Bike Builder on Harley-Davidson.com, and installed as the motorcycle is assembled by the Harley-Davidson Motor Company. By choosing from different wheels, paint and engine finishes, the customer can dramatically alter the look of the motorcycle. Different combinations of foot-control location, seat choices and handlebar can be selected to adjust the fit of the motorcycle to rider stature.

Hard Candy Custom embraces a trend that's reemerged from garages around the globe. Now the sparkle of Hard Candy Big Red Flake, Hard Candy Lucky Green Flake and Hard Candy Coloma Gold Flake can be ordered as Original Equipment paint and serve as the foundation for personal customization. At least one Hard Candy Custom color will be offered on these Harley-Davidson motorcycle models: Seventy-Two , Street Bob®, Blackline®, Softail® Deluxe, and Forty-Eight . New and recently introduced Genuine Motor Accessory and Harley-Davidson® MotorClothes® items extend the Hard Candy Custom theme. (See separate release for more details on Hard Candy Custom.)

The 2013 CVO series of limited-production premium custom motorcycles features the new CVO Breakout®, a bold Softail® model that takes production motorcycle finishes to a new level with two paint schemes that feature hand-polished steel sections on the fuel tank and fenders. The CVO Road King® offers the first factory-installed Road King® audio system, and the new detachable Vented Wind Splitter windshield. The super-premium touring CVO Ultra Classic® Electra Glide® and shark-nose CVO Road Glide® Custom bagger return with new features for 2013. (See separate release for more details on the 2013 CVO line.)

The versatile Harley-Davidson® Sportster® line includes five models, plus the Sportster® 1200 Custom Anniversary Edition. New colors and graphics are offered on all Sportster® models.

The traditional "hard tail" lines of the Harley-Davidson Softail® platform are offered on six models, including the Softail® Slim , a back-to-basics 1950's-style bobber introduce mid-year 2012. The 2013 Fat Boy® now features Mirror Chrome Aluminum Bullet Hole Disc wheels as standard equipment. The Softail® line also includes Heritage Softail® Classic Anniversary Edition and the Fat Boy® Lo Anniversary Edition.

Eight Harley-Davidson® Touring models, from the slammed-and-trimmed Street Glide® to the fully equipped Electra Glide® Ultra Limited, are ready to tackle the long road with fresh color and graphics options. The Road King® Anniversary Edition and Electra Glide® Ultra Limited Anniversary Edition are available in limited quantities for 2013.
The smooth-handling 2013 Dyna® line includes the re-styled Street Bob and four more models, plus the Super Glide® Custom Anniversary Edition.

The aggressive Harley-Davidson® V-Rod® power-cruiser line features the Night Rod® Special and V-Rod Muscle®, each available in new colors for 2013.

Riders looking for a Trike option with Harley-Davidson quality can turn to the Tri Glide® Ultra Classic®, also available Tri Glide® Ultra Classic® Anniversary Edition to celebrate a milestone.