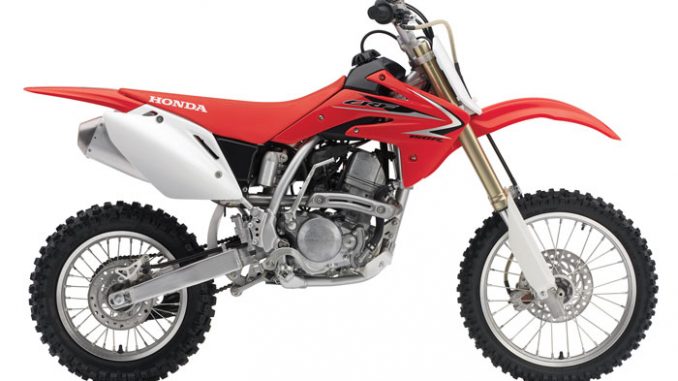 Click photos to enlarge. Our big, clean bike pics make great desktop wallpaper.
2013 Honda CRF150R Review

2013 Honda CRF150R
The CRF150R may be Honda's smallest MX machine, but it has everything it needs to be a big winner.

Consider the Honda CRF150R's high-performance Unicam® engine with lightweight counterbalancer shaft and drive gears. Or its fully adjustable Showa® suspension to smooth out bumps while maintaining a high level of wheel control. And a Pro-Link® rear suspension just like the big boys. In short, even though it's designed for smaller racers, it's big on the features you expect from a Honda.

The CRF150R. For aspiring racers it's just what every motocrosser wants. A great start.

High Tech = High Performance.

Thanks to the Unicam® cylinder head, this four-stroke engine is more powerful yet more compact. And that helps improve handling, power and efficiency.


Winning Is Everything.

With its powerful and responsive Unicam four-stroke engine, race-ready suspension and track-designed chassis components, the CRF150B has revolutionised the small-displacement class and become a familiar face on winner's podiums around the world. The CRF150RB is the ideal tool for inspiring fun-filled exhilaration, confidence and a lifelong taste for winning!

Younger racers may be smaller in stature, but that doesn't mean they can't have a giant-sized heart for racing-and winning. So for these younger racers, Honda designed the CRF150R/RB as an integral part of the CRF® racing lineup. This is the full-on racing machine, with a high-output 149cc liquid-cooled four-valve four-stroke engine with exceptional torque and drivability throughout the powerband. The championship-caliber chassis includes race-tuned suspension components with plenty of travel front and rear, all set to take on the toughest tracks around. Over the years and all around the country, the CRF150R/RB has won tons of championships at the highest levels of amateur racing. And that makes it the proven choice for younger competitors who are ready to take their racing up to the next level.
2013 Honda CRF150R Features and Benefits
New for 2013
– New Dunlop Geomax MX71 tires.
2013 Honda CRF150R Key Features

Unicam® Engine – The CRF150R uses a Unicam engine based on our championship-winning CRF450R and CRF250R. Designed to give you excellent rideability and more power and torque across the rev band, the engine runs consistently at different tracks and varying elevations and temperatures—it's an all-around winner.
Track-Designed Chassis – Lightweight, high-tensile steel frame with large-diameter frame tubing and cross-member delivers excellent turning performance and straight-line tracking.
Accelerator Pump – The CRF150R uses a carburetor featuring a "direct push" accelerator pump. Based on the design we used on our carbureted versions of the CRF450R and CRF250R, it gives you better, more immediate throttle response.
Pro-Link® Rear Suspension – The CRF150R's Pro-Link® rear-suspension system features a fully adjustable Showa shock for superb bump absorption and wheel control.
Disc Brakes – Front and rear disc brakes provide powerful, precise braking.
Showa Suspension – Adjustable 37mm leading-axle inverted Showa cartridge fork features specially tuned valving for small bumps and a friction-reducing design to improve compression and rebound control.
Disc Brakes – Front and rear disc brakes provide powerful, precise braking.
Lightweight Wheels – Strong, lightweight wheels are durable and minimize unsprung weight.
---
2013 Honda CRF150R – USA Specifications/Technical Details
US MSRP Price: $TBD USD
Model: CRF150RB-Expert / CRF150R
Engine Type: 149cc liquid-cooled single-cylinder four-stroke
Bore and Stroke: 66mm x 43.7mm
Compression ratio: 11.7:1
Valve Train: Unicam®, four-valve; 26mm intake, steel; 22.5mm exhaust, steel
Induction: Keihin 32mm flat-slide carburetor with Throttle Position Sensor (TPS)
Ignition: CD with electronic advance
Transmission: Close-ratio five-speed
Final Drive: #420 chain; 15T/56T (CRF150RB) /
#420 chain; 15T/50T (CRF150R)
Suspension
Front: 37mm fully adjustable leading-axle inverted Showa cartridge fork; 10.8 inches travel
Rear: Pro-Link fully adjustable Showa single shock; 11.1 inches travel (CRF150RB) / 10.7 inches travel (CRF150R)
Brakes
Front: Single 220mm disc
Rear: Single 190mm disc
Tires
Front: 70/100-19 (CRF150RB) / 70/100-17 (CRF150R)
Rear: 90/100-16 (CRF150RB) / 90/100-14 (CRF150R)
Wheelbase: 50.6 inches (CRF150RB) / 49.6 inches (CRF150R)
Rake (Caster angle): 27°48′ (CRF150RB) / 27°02′ (CRF150R)
Trail: 96mm (3.78 inches) (CRF150RB) / 78mm (3.07 inches) (CRF150R)
Seat Height: 34.1 inches (CRF150RB) / 32.8 inches (CRF150R)
Ground Clearance: 13.2 inches (CRF150RB) / 11.9 inches (CRF150R)
Fuel Capacity: 1.14 gallons
Color: Red
Curb Weight*: 187 pounds (CRF150RB) / 185 pounds (CRF150R)
*Includes all standard equipment, required fluids and full tank of fuel-ready to ride.
Consult owner's manual for optional racing parts.

---
2013 Honda CRF150R – Canadian Specifications/Technical Details
Canada MSRP Price: TBA CDN
TBA
---
2013 Honda CRF150R – Europe/UK Specifications/Technical Details
European MSRP Price: See dealer for Pricing.
UK RRP: £TBA (Prices are recommended and inclusive of VAT @ 20% and delivery)
ENGINE
Type Liquid-cooled 4-stroke 4-valve SOHC
Displacement 149.7cc
Bore x Stroke 66 x 43.8mm
Compression Ratio 11.7
Max. Power Output 17.5kW / 12,500min-1
Max. Torque 14.1Nm / 11,000min-1
FUEL SYSTEM
Carburation 32mm Keihin FCR flat slide carburettor with throttle position sensor (TPS)
Fuel Tank Capacity 4.3 litres
ELECTRICAL SYSTEM
Ignition System Solid-state Capacitor Discharge (CDI) with electronic advance
Starter Kick
DRIVETRAIN
Clutch Wet, multiplate
Transmission 5-speed
Primary Reduction 4.117 (70/17)
Gear Ratios 1 2.214 (31/14)
2 1.647 (28/17)
3 1.318 (29/22)
4 1.105 (21/19)
5 0.956 (22/23)
Final Reduction 3.733 (56/15)
Final Drive #420 roller chain
FRAME
Type Semi-double; steel tube
CHASSIS
Dimensions (LxWxH) 1,900 x 770 x 1,171mm
Wheelbase 1,285mm
Caster Angle 27?48′
Trail 96.0mm
Seat Height 866mm
Ground Clearance 336mm
Kerb Weight 84.4kg
SUSPENSION
Type Front: 37mm inverted Showa leading-axle telescopic fork with adjustable compression and rebound damping; 275mm axle travel
Rear: Pro-Link with single Showa damper, adjustable compression and rebound damping; 282mm axle travel

WHEELS
Type Front Aluminium rim/wire spoke
Rear Aluminium rim/wire spoke
Rim size Front 19 x 1.40
Rear 16 x 1.85
Tyre size Front 70/100-19 42M
Rear 90/100-16 52M
BRAKES
Type Front: 220mm x 3mm hydraulic disc with single-piston caliper and sintered metal pads
Rear: 190mm x 3.5mm hydraulic disc with single-piston caliper and sintered metal pads

All specifications are provisional and subject to change without notice.

---
2013 Honda CRF150R – Australia Specifications/Technical Details
Australia MSRP Price: $TBA AU
TBA