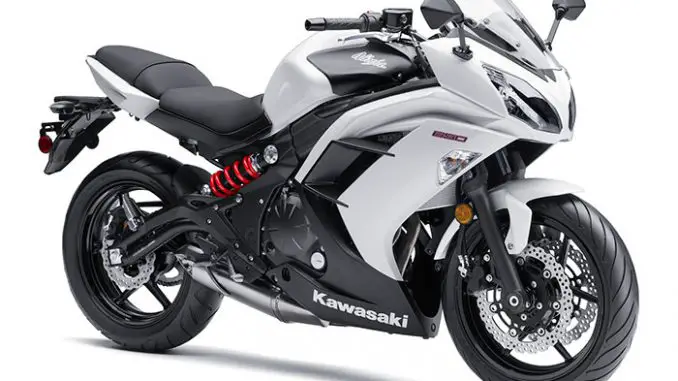 Click photos to enlarge. Our big, clean bike pics make great desktop wallpaper.
2013 Kawasaki Ninja ER-6f Review

2013 Kawasaki Ninja ER-6f
This Mid-Sized Sportbike Touches All the Bases
Finding a two-wheeled streetbike that is skilled in every on-road task, and does them all with passion and practicality, is very rare. Motorcycles achieving this level of accomplishment are few in numbers, but greatly appreciated as stylish rides wrapped around an exciting core. Since its debut back in 2006, the multi-talented Ninja® 650R sportbike has been a bona fide member of this elite group, winning accolades from owners and media alike.
This practical sportbike features a great looking perimeter-style frame, and angular bodywork to help set it apart from the crowd. The easy to read analog and digital instrumentation, responsive engine performance, and a comfortable seat that isn't too tall for shorter riders, allow the Ninja ER-6f to shine in almost any role, from track days to commuting to sport touring.
It all starts in the engine bay, where an advanced, highly compact, liquid-cooled 649cc parallel twin works its magic with help from a digital fuel injection (DFI®) system featuring 38mm throttle bodies with sub-throttles for precise fueling and optimum response. This ultra-narrow engine produces substantial power with plenty of character – especially down low and in the mid-range – from an impressive array of technology, including double overhead camshafts acting on eight lightweight valves. Lightweight pistons run in plated, linerless cylinders, while a 180-degree crank assembly – coupled with a balancer shaft – maintains a surprising level of smoothness.

This has always been a brilliant streetbike engine – torquey, smooth, and happy to rev, with enough satisfying low- and mid-range oomph to please novices and experts alike. Figure in the Ninja ER-6f's estimated 50-mpg* fuel economy, precise fuel injection and its pleasing twin-cylinder throb, and you're looking at what just might be the most flexible and satisfying streetbike engine on the planet.
Wrapping around that wonderfully usable engine is a twin-pipe perimeter frame that offers balanced rigidity, and a narrow-waisted design for a comfortable reach to the ground. The frame is slim, light, compact and aesthetically pleasing, while a swingarm with forged axle holders lets the rear wheel arc through its suspension travel in style. A backbone-type subframe offers excellent carrying capacity.
Combined with the front and rear suspension settings, the overall chassis setup – which includes Dunlop's Roadsmart II tires – amplifies the "sporty-yet-comfortable" ethos that's won so many fans for the Ninja ER-6f over the years.
Both the handlebar and saddle are rubber-mounted, along with the footpegs, for even more vibration-free comfort. And while enjoying all that ergonomic goodness, you'll gaze upon an instrument panel featuring an analog tachometer situated above an LCD info-center that displays speed, fuel consumption, remaining range, trip meters, etc., plus a swath of info-lights to the right.
Folks watching you ride by will see a sleek and aggressively styled motorcycle, as well. The bodywork is sharply defined and similar to our race-winning supersport machines, with flowing lines and a tapered brow that blends nicely with the rest of the bike. The body parts add to its aerodynamic tendencies, while an adjustable, 3-position windscreen allows riders to tailor the cockpit's still-air cocoon for maximum riding comfort. Engine heat is routed rearward, further adding to the comfort level.

It all adds up to one sweet mid-sized sportbike, one that works superbly for novices and vets – not an easy feat. Pull away from a light and the 650's torquey engine, light-pull clutch and perfect throttle response make quick work of the job. Crisp, linear brakes make slowing down a simple affair, while the low seat height gives riders max confidence once stopped. And light steering and maneuverability keep novices grinning all day long. Experts will love the Ninja's powerful yet flexible engine, modern suspension, disc brakes and nimble handling. And the aggressive styling looks like it's going 100 mph, even when sitting still.
The 2013 Ninja ER-6f really can do it all – whether it's commuting, cruising, touring or apex-strafing.

2013 Kawasaki Ninja ER-6f Key Features
Key Features • Twin-pipe perimeter frame offers balanced rigidity and a low seat height
• Twin-pipe swingarm assembly offers excellent rigidity and maximum style
• Sharp, stylish sportbike bodywork features excellent engine-heat dissipation and looks that identify with Kawasaki's flagship Ninja® ZX™-14R
• Front and rear suspension settings and wheel travel are tuned to offer ride comfort with excellent compliance in varying situations
• Instrument cluster features an analog tachometer and a digital readout module for easy information at-a-glance
• Two-piece seat assembly features thick and wide foam for optimum rider and passenger comfort but does not interfere with the rider's reach to the ground
• Easy-pull clutch design reduces fatigue and provides smooth engagement
• Dunlop Roadsmart II tires are grippy yet durable

2013 Kawasaki Ninja ER-6f Features and Benefits

Smooth, Torquey, Quick-Revving, 649cc Parallel-Twin Engine
• Liquid-cooled, DOHC, eight-valve fuel-injected twin cylinder engine delivers smooth, responsive performance, especially in the low to medium-rpm range
• Strong mid-range power produces exceptional roll-on response and impressive passing performance, to help make even commuter traffic more enjoyable
• A 180-degree crankshaft-driven balancer shaft minimizes vibration and pulls double-duty as the water pump drive
• Oil jets on the connecting rod big ends spray oil on the underside of the pistons to aid cooling
• Lightweight plug-mounted ignition coils deliver a hot spark and save space
• High-capacity radiator for optimum cooling efficiency
• Engine coolant travels directly to the engine cases, then follows internal passages to the cylinder and head for minimum external plumbing and a simplified cooling system

Digital Fuel Injection
• Fuel injection settings boost the engine's bottom-end power while still letting it rev freely
• Sub-throttle valve equipped 38mm Keihin throttle bodies offer optimum performance and rideability
• Located behind the main throttle valves, the sub-throttles are controlled by the DFI® system's ECU for precise throttle response
• Auto fast-idle system simplifies starting and helps ensure that the catalyzer reaches optimum temperature quickly
• Lightweight fuel pump is mounted inside the fuel tank

Compact Engine Design
• Powerful twin-cylinder engine is the most compact in its category, which helps reduce the dimensions of the entire motorcycle and allows use of a slim twin-pipe perimeter frame
• Triangular setup of the crankshaft and transmission shafts makes the engine dimensionally short front-to-back
• Transmission input shaft, output shaft and gear-change drum are contained in a cassette-style package that allows a compact layout and eases transmission maintenance
• Semi-dry sump design reduces engine height
• Plated, linerless aluminum cylinders with a narrow cylinder pitch keep the engine light and slim

Low Emissions
• Efficient fuel injection and a three-way catalyzer inside the exhaust produce very low emissions, able to pass stringent Euro III emissions regulations
• 300-cell catalyzer is compact and light

Vibration Control
• Rubber-mounted seat, handlebar and footpegs (rider's and passenger's) keep vibration low and comfort as high as possible
• A 180-degree crankshaft-driven balancer shaft minimizes vibration and pulls double-duty as the water pump drive

Rigid Twin-pipe Perimeter Frame
• Slim, low, lightweight, rigid and compact frame design is narrow at the knees and footpegs for optimum rider comfort and control
• The strong steel perimeter frame wraps around the engine for optimum rigidity, rivaling that of all-aluminum designs
• Optimal frame rigidity is achieved through extensive computer analysis, which translates to superb handling
• The frame and swingarm designs flow together aesthetically, and work with the suspension components to offer maximum wheel control
• Short front-to-back engine dimensions allow for a longer swingarm and a shorter wheelbase, which contributes to the Ninja's light and nimble handling
• Under-engine muffler placement aids mass centralization and yields a low center of gravity
• Clean frame joint welds highlight the bike's overall quality and attention to detail

Stylish Twin-Pipe Swingarm
• Swingarm is tuned to complement the frame's flex and rigidity characteristics
• Swingarm's upper right tube has a D-shaped cross section for strength and light weight
• Swingarm shape and design contributes to the Ninja ER-6f's high-quality appearance

Suspension
• Settings on the 41mm conventional fork and preload-adjustable laydown shock offer optimum ride comfort without sacrificing wheel control during sport riding
• Fork lowers wrap-around the axle shaft adding to the bike's high-quality image

Comfortable, Confidence-inspiring Ergonomics
• A wide handlebar, two-piece seat and optimal footpeg placement result in a comfortable and natural seating position which suits a wide range of riders
• Backbone-type subframe offers a low seat height and a narrow footpeg placement for precise feel and excellent comfort, the narrowness also makes it easier for riders to reach to the ground
• The offset single-shock rear suspension layout along with a smaller battery also contribute to the low seat height
• This low seat height and slim overall design make it easy to plant both feet firmly on the ground when stopped – a bonus for newer riders

Triple Disc Brakes
• Dual 300mm front petal-shaped disc brakes with twin-piston calipers and a single 220mm rear petal-shaped disc deliver plenty of braking power
• Front brake master cylinder features a 14mm piston for smooth actuation

Sleek, Supersport-inspired Bodywork
• A dual headlight design within the fairing's angular upper section features multi-reflector bulb hoods and twin position lights – like its Ninja supersport brethren
• A 3-way adjustable windscreen deflects air away from the rider, creating a still-air envelope and reducing wind buffeting at higher speeds
• Large capacity fuel tank meshes perfectly with the radically shaped fairing
• Distinctive Ninja supersport design elements enhance the Ninja ER-6f's sporty image and compact appearance
• Integrated front turn signals feature clear lenses and amber bulbs
• A sleek tail cowl featuring a thin LED taillight accentuates the bodywork's radical appearance
• Inner rear fender helps keep the underside of the tail cowl clean
• Turn signals also function as flashing hazard lights
• A front fender minimizes water splash, while its shape matches the Ninja ER-6f's bodywork styling
• Supersport-type mirrors – like those on Kawasaki's ZX-10R and 6R – accentuate the bike's aggressive styling

6-Spoke Aluminum Wheels
• Attractive six-spoke supersport-style wheels augment the bike's lightweight look and reduce unsprung weight for superb suspension action

Instruments/Controls
• Multi-function instrumentation includes a fuel gauge, digital speedometer, clock, odometer, dual trip meters, economical riding (ECO) indicator, and an analog tachometer above the LCD info-pod
• Clock and trip meter can be viewed simultaneously
• Easy-to-read LCD screen offers riders quick, at-a-glance information on a variety of systems
• Ignition switch is located at the top of the tank assembly, which gives a clearer view to the Ninja ER-6f's instruments


---
2013 Kawasaki Ninja ER-6f – USA Specifications/Technical Details
US MSRP Price: $NA USD
See Ninja 650R

---
2013 Kawasaki Ninja ER-6f – Canadian Specifications/Technical Details
Canada MSRP Price: NA CDN
See Ninja 650R

** The amount indicated as "Your price" may include an optional instant Mega Cash credit that is deducted from the manufacturer's suggested retail price before taxes. This promotion is time limited and certain conditions will apply. See your dealer for complete details. Offer not available on financed purchases and cannot be combined with any other special offers. The final price is at the discretion of the dealer. Prices and Specifications are subject to change without prior notice.
The specifications mentioned here apply to and have been achieved by production models under standard operating conditions. We intend only to give a fair description of the vehicle and its performance capabilities but these specifications may not apply to every machine supplied for sale. Kawasaki Heavy Industries, Ltd. reserves the right to alter specifications without prior notice. Equipment illustrated and specifications may vary to meet individual markets. Available colours may vary by market.
---
2013 Kawasaki Ninja ER-6f – United Kingdom Specifications/Technical Details
UK MSRP Price: £6099 (Prices are recommended and inclusive of VAT @ 20% and delivery)
Engine
"
Engine type
Liquid-cooled, 4-stroke Parallel Twin
"
Displacement
649 cm3
"
Bore x stroke
83.0 x 60.0 mm
"
Compression ratio
10.8:1
"
Valve/Induction system
DOHC, 8 valves
"
Fuel system
Fuel injection: ø38 mm x 2 (Keihin)
"
Ignition
Digital
"
Starting
Electric
"
Lubrication
Forced lubrication, semi-dry sump
Transmission
"
Transmission
6-speed, return
"
Final Drive
Sealed Chain
" Primary reduction ratio
2.095 (88/42)
" Gear ratios: 1st
2.438 (39/16)
" Gear ratios: 2nd
1.714 (36/21)
" Gear ratios: 3rd
1.333 (32/24)
" Gear ratios: 4th
1.111 (30/27)
" Gear ratios: 5th
0.966 (28/29)
" Gear ratios: 6th
0.852 (23/27)
" Final reduction ratio
3.067 (46/15)
"
Clutch
Wet multi-disc, manual
Frame
"
Frame type
Perimeter, high-tensile steel
"
Rake/Trail
25o / 110 mm
"
Wheel travel, front
125 mm
"
Wheel travel, rear
130 mm
"
Tyre, front
120/70ZR17M/C (58W)
"
Tyre, rear
160/60ZR17M/C (69W)
"
Steering angle, left / right
35o / 35o
Suspension
"
Suspension, front
41 mm telescopic fork
"
Suspension, rear
Offset laydown single-shock with adjustable preload
Brakes
"
Brakes, front
Type: Dual semi-floating 300 mm petal discs Caliper: Dual piston
"
Brakes, rear
Type: Single 220 mm petal disc Caliper: Single-piston
Dimensions
"
Dimensions (L x W x H)
2,110 mm x 770 mm x 1,180 mm
"
Wheelbase
1,410 mm
"
Ground Clearance
130 mm
"
Seat height
805 mm
" Fuel capacity
16 litres
"
Curb Mass
209 kg / 211 kg (ABS)
Performance
"
Maximum power
53 kW {72.1 PS} / 8,500 rpm
"
Maximum torque
64 N.m {6.5 kgf.m} / 7,000 rpm
---
2013 Kawasaki Ninja ER-6f – Australia Specifications/Technical Details
Australia MSRP Price: NA
See Ninja ER-6f ABS