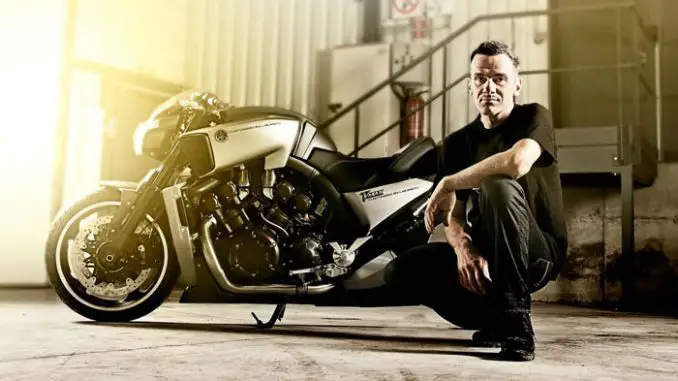 Click photos to enlarge. Our big, clean bike pics make great desktop wallpaper.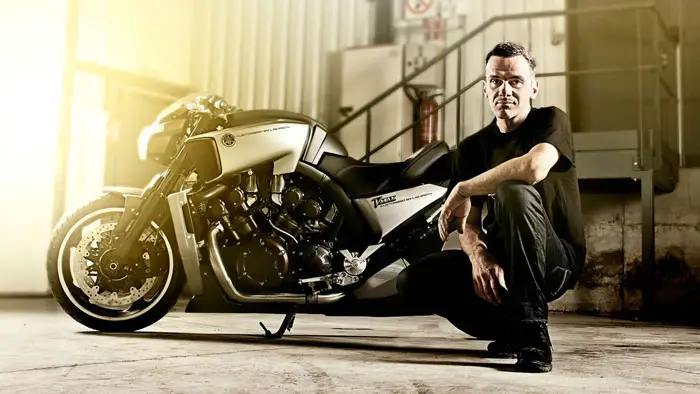 2013 Yamaha VMAX Hyper Modified Ludovic Lazareth

2013 Yamaha VMAX Hyper Modified Ludovic Lazareth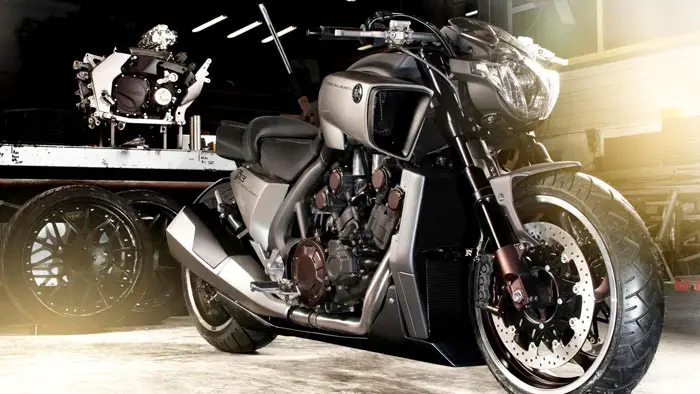 2013 Yamaha VMAX Hyper Modified Ludovic Lazareth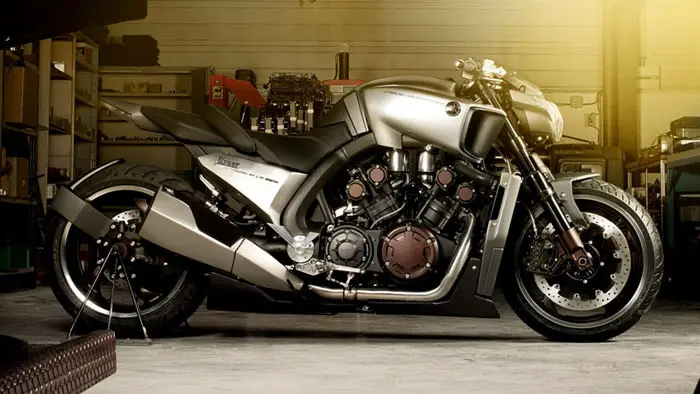 2013 Yamaha VMAX Hyper Modified Ludovic Lazareth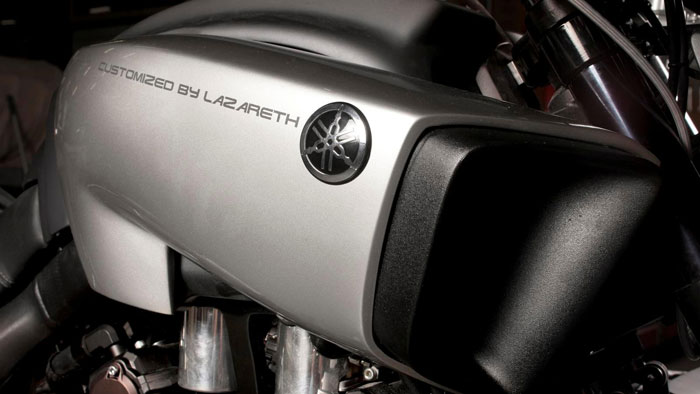 2013 Yamaha VMAX Hyper Modified Ludovic Lazareth
2013 Yamaha VMAX Hyper Modified Ludovic Lazareth Review

2013 Yamaha VMAX Hyper Modified Ludovic Lazareth
Brain and Brawn – Supercharged
Frenchman Ludovic has a factory in Annecy-le-Vieux, near the Swiss border, where he turns out two, three and four-wheel creations – including unique car/bike hybrids such as R1-engined bespoke quads and a supercharged 84bhp Yamaha TMax.
Ludovic combines his background as a design graduate and passion for muscle machines. It's a mix of brain and brawn that results in mad modifications that could come straight out of movie – Mad VMAX. He's famous for his silhouette style and for his first iconic VMAX customization: taking a wrecked 1991 model, fitting special parts and an LCD screen with a rear-view video link to create a unique hyper-modified VMAX

How do you make the best even better?
From its launch in 1985 to its rebirth in 2008, the Yamaha VMAX has become a biking icon through its unique bodywork, awesome acceleration and sharp handling.
So, you don't mess with an icon, right? How do you enhance a class act that already delivers an unbeatable ride? By building on the style and road presence of the VMAX, using the best people to create individual machines forged from the highest quality materials. This is hyper modification.
Designed for visual stimulation, balancing aggression and aesthetics, these are exclusive muscle bikes.
Meet the heroes of hyper modification who take customisation to the max. They're the big-gun bike builders with the tenacity to tackle the big beast of the road and their latest VMAX creations.
The HYPER modified class is born.
Take the world's best biking brains, those with the imagination, tools, mettle and metal to transform an iconic machine into something even more individual. Lock them in a workshop and set them loose on the VMAX.
All Muscle. All Brains.
Unlike any other motorcycle available today, the 2013 Yamaha VMAX is truly in a class of its own. The awesome acceleration and muscular beauty combines with sporty handling and Yamaha's latest electronic engine management technologies to offer an incredibly exhilarating riding experience.
The 2013 Yamaha VMAX is the ultimate fusion of brawn and brains. The unique features of this iconic beast are richly blended with advanced sportbike technology and forward thinking style. It all adds up to a machine with immense performance and visual power. The 2013 V-Max truly is in a class by itself.
You ride muscle bikes for very visceral reasons – the dominating growl of the engine, the knowledge that vast power is yours to easily control, the quiet awe of passers-by. The VMAX delivers all of these and more.

This radically-styled muscle bike became an instant legend when the first versions rolled onto the streets and drag strips in 1985, and the current incarnation continues those traditions of brawn and beauty, with massive, muscular design to match the vast power of the engine.
Ride one today to experience astonishing power in a domineering frame, and the simple pleasure of riding one of the most iconic muscle bikes around.
The legend continues.
In '85 the original V-Max turned the motorcycle world on its ear. Our engineers took a big dose of the original "Mad Max" DNA then added a bunch of Yamaha's latest sport bike technologies like our chip controlled variable intake stacks, a high tech fuel injection system and our famous fly by wire throttle. The result is the next generation VMAX. The legendary sound, engine character and amazing acceleration are all part of the latest design but there is a twist. The VMAX offers truly sporty handling, thanks to its lightweight aluminium chassis and fully adjustable suspension. Scorched any pavement lately?

VMAX, Power, Performance, Adrenaline
This fast and monstrously powerful machine continues in the traditions of the original VMAX from 1985, with head-turning looks and a distinctive growl.
The current incarnation puts a bigger engine in a more compact chassis to give awesome acceleration and precise handling. It comes with a 1,679cc liquid-cooled 4-stroke V4 engine that delivers huge torque and gives the rider previously unimaginable levels of power.
And that power is all contained within a dramatic, black, low-profile aluminium frame with giant front forks and massive, aggressively-styled aluminium air intakes. This is a muscle bike for the 21st century

A legend reborn

Ever thought how hard it would be to make a sequel to a legend? Your design would have to reiterate the original mission statement, then forge a bold and captivating new personality (while still respecting certain styling expectations the market will have). You'd have to eclipse all previous parameters of performance, and finally, get these goals to crystallise into a single design so expertly as to create a motorcycle the likes of which the world has never seen – like the 200ps, 166 Nm Intelligent Monster you see here. A musclebike of immense presence and value, with awesome acceleration and incredible control, VMAX will provide a select few riders with sensations and emotions that others can merely dream about.



2013 Yamaha VMAX Key Features

US MPG Fuel Consumption: 27 mpg; Fuel Consumption ± 11.4kpl 32mpg(Imp)

Super-powerful 1,679cc 4-stroke V4 engine with YCC-I & YCC-T

Aluminium chassis with fully adjustable suspension
Low-profile aluminium frame

Big, muscular designHearty exhaust growl

Great performance through rpm range

Short powerplant centres mass for better handling

The ultimate power cruiser delivers unmatched performance from its 65-degree, four-valvesper- cylinder, 1679cc V4—plenty of eye-opening, controllable acceleration from a compact engine that looks as powerful as it is.

Downdraft four-bore fuel injection with YCC-I® intake technology and YCC-T® fly-by-wire throttle provide awesome acceleration throughout the broad powerband.

Lightweight aluminum chassis puts the engine low and forward for mass centralization, resulting in a machine designed to handle curves as well as straightaways.

Borrowing liberally from advanced sportbike technology, VMAX features a slipper clutch, wave-style brake discs, ABS, and complete suspension adjustability front and rear.

Functionality and forward-thinking style uniquely combine with features like oxidized-titanium-coated 52mm front fork tubes, magnesium engine side covers, fluorinated polyethylene fuel tank and the organic electroluminescence multifunction display.
Full power – The 1,679cc liquid-cooled 4-stroke V4 engine offers huge torque from a visually intimidating powerplant. Iridium spark plugs ensure extremely efficient combustion at all engine speeds – and for the rider, this means previously unimaginable levels of power, whether from a standing-start or roll-on acceleration.

Low-profile frame – The VMAX is a dramatic machine. Its black, low-profile aluminium frame spars arc forcefully across the top, while the giant tubes on the front forks are like nothing else seen on any other bike. Its unique character is further emphasised by four massive, aggressively-styled, hand-finished aluminium air intakes.

Mighty mufflers – The four single-expansion mufflers are short and upswept, and emit a strong and pleasing exhaust sound with a hearty pulsing sensation that announces your presence. The high quality silencers are manufactured from lightweight titanium, and finished in shot blast to complement the mean and moody look of the black frame and engine.

Rigid forks – The massive tubes on the front forks are perfectly in keeping with this bike's unique character. They also offer excellent rigidity and the front suspension delivers a smooth ride, great handling, and is fully adjustable for preload, to suit the riders own requirements.

Strong grip – A big bike needs big wheels, and the VMAX doesn't disappoint. The 1,700 mm wheelbase gives outstanding straight line stability, and the handling is further enhanced by 18 inch front and rear wheels that have specially-developed tyres to optimise grip, shock absorption and road holding.

Iridium sparks – As well as advanced chip-controlled technology, the VMAX also runs with Iridium spark plugs. These special plugs are used on the majority of high performance motorcycles, and are designed to ensure extremely efficient combustion at all engine speeds.
2013 Yamaha VMAX Features and Benefits
Engine:

•Liquid-cooled, 1,679cc, DOHC, 16-valve, 65°, V-4 engine has no equal in its class. The compact engine design has allowed the engineers to place the engine in the "sweet spot" of the frame to optimize handling.
•DOHC 4-valve "pent roof" cylinder head design provides optimum breathing efficiency for incredible engine performance. Valve actuation is via under bucket shims. Compression ratio is 11.3:1.

•Steel valves are used for excellent durability. Intake valves are 34mm in diameter with a 14-degree valve angle while exhaust valves are 30mm with a 15 degree valve angle.

•"Combination" chain and gear camshaft drive system is utilized. With this system, only the intake cams are driven by a chain (attached to the crank), the exhaust cams are driven by a gear drive off the intake cams. This design allows for more compact cylinder heads since the distance or "pitch" between the camshafts is reduced.
•High-performance camshafts provide incredible engine performance. Centrifugal decompression device on the exhaust cam means fast, easy starting.

•Automatic hydraulic cam chain tensioners reduce engine mechanical noise.
•Lightweight, forged, aluminium short skirt pistons help provide fast throttle response, reduced vibration and provide excellent durability.

•Connecting rods are carburized and use a nut less design. The lower end "cap" of the rod is made from the same piece of material as the upper portion; this design is known as "fracture splitting". This design aids in establishing true big end roundness, greater precision in con rod dimensions and are extremely durable.
•180-degree crankshaft design is utilized.
•Gear-driven engine counter balancer shaft is used to reduce vibration and maximize rider comfort. The balance ratio is 50% to allow some pulse feel. Since the crank design is 180 degrees, there is also some inherent natural balancing effect as well.

•Twin radiator design features a curved upper rad and lower flat rad for maximum cooling efficiency. Each rad has its own cooling fan.
•An oil-to-coolant heat exchanger type oil cooler maintains stable lubricant temperatures for increased performance and extended engine life.
•Wet sump oil lubrication system is used and features a spin-on type oil filter.
•Mikuni fuel injection system uses four 48mm throttle bodies fitted with T.P.S. (Throttle Position Sensor) and numerous other sensors. An oxygen sensor has been fitted into the exhaust making this a "closed loop" type FI system. The benefits include excellent throttle response, great fuel economy, reduced emissions, stable idling and no choke to fuss with during start up. The closed loop design means the system is constantly monitoring the fuel / air mixture and adjusting it as required for maximum performance plus reduced emissions.

•Denso 12-hole injectors are used for excellent fuel atomization for maximum power and response across the entire rev range.
•The VMAX utilizes a lightweight main Electronic Control Unit (ECU) that in fact consists of 3 – ECUs in total. The main 32-bit ECU controls the ignition and fuel injection process, while a 2nd and 3rd integral ECU controls the YCC-T & YCC-I. This "combined" ECU design reduces weight.
•YCC-I or Yamaha's Chip Controlled Intake means the intake funnels / stacks vary in length (between 2 positions) depending on engine rpm. An electronic servo motor varies the funnel length from 150mm (for low to mid rpms) to the short setting of 54mm for high rpm. The transition or switching rpm between the 2 lengths is 6,650 rpms. The revolutionary YCC-I provides the best of both worlds, solid low rpm torque and power combined with an amazing high rpm rush. It takes only 0.3 of a second for the funnels to move from the tall to the short position.

•Yamaha Chip Controlled Throttle (YCC-T) electronically controls the throttle valves for outstanding response and improved controllability at all rpms. This system features twin Throttle Position Sensors (TPS) and a D.C. motor driving the throttle valves. The YCC-T is used to provide even more control of the intake air volume for smoother torque character. The rider can "mechanically close" the throttles by simply closing the throttle twist grip.
•Large capacity air box uses a viscous-type paper air filter.

•Air Induction System (AIS) injects fresh air into the exhaust port area to fully combust any un-burnt fuel, reducing harmful HC and CO emissions for a cleaner environment.
•4-into-1-into-2 into-4 exhaust system is used. Not only does it make a serious styling statement but also provides excellent performance and reduced emissions thanks to a 3-way honeycomb catalytic converter in the under engine "muffler box". It also features Yamaha's patented Exhaust Ultimate Power Valve (EXUP). This system monitors engine rpm and adjusts exhaust flow (via the EXUP valve) for maximum performance at all rpms with no "flat spots". This system helps to improve torque, optimize fuel economy and reduces emissions too.

•Crankcase design incorporates the cylinders into the upper half of the cases for reduced weight. Ceramic composite cylinder "bores" are a "liner-less" design with the ceramic coating sprayed directly on the aluminium block to ensure great heat dissipation for consistent power delivery, reduced friction and reduced weight.

•Open deck type cylinder design is used for maximum cooling efficiency.

•Lightweight magnesium alloy crankcase covers are used.

•Hydraulically activated, ramp-type slipper clutch featuring 10 friction plates is used to deliver consistent clutch performance with a light lever pull and minimal maintenance. A slipper or back limiter clutch assembly reduces rear wheel hop when making hard downshifts or under hard braking. The clutch master cylinder is a Nissin design using a 14mm piston. The clutch lever offers 4 positions of adjustability.

•5-speed transmission features optimized gear ratios for maximum acceleration and performance. 5th gear is an overdrive gear to reduce engine rpm at highway speeds for a comfortable ride.

•Clean, quiet low-maintenance shaft drive is used. This system features dual "U" joints to accommodate the extra wide rear tire.
•Compact shaft drive gear case assembly reduces weight and improves styling.

•Functional hand finished aluminium intake covers highlight Yamaha's quality and attention to detail.
•ACM magneto produces 420 watts of power at 5,000 rpms.

•Maintenance-freetransistor controlled ignition (T.C.I.) provides a hot spark for sure starts and strong engine performance.

•High-performance direct ignition coils (ignition coil is built into the spark plug cap) reduce weight while iridium spark plugs and high-output magneto deliver increased spark energy.

Chassis and Suspension:

•Lightweight cast aluminium frame has been designed to offer an optimized rigidity balance to maximize handling performance. This frame is very rigid or stiff at the head pipe, engine mounts and swingarm pivot point. In other areas, material is less rigid in order to allow for "tuned flex".
•Extra-long, lightweight cast aluminium swingarm provides great torsional rigidity for excellent handling and manoeuvrability. The distance between the swingarm pivot and the rear axle has been optimized (662.5mm) for great rear wheel traction. Threaded holes for accessory racing type rear stand are provided.

•Detachable C.F. die cast aluminium and extruded aluminium rear sub frame means easier maintenance access (and a less costly repair if the unit is "looped out").
•Huge fully adjustable, conventional cartridge-type 52mm front fork features 120mm (4.7″) of road-smoothing wheel travel. The inner tubes feature a oxide titanium coating to reduce friction and wear. The adjustable design allows the rider to tailor suspension settings to match rider's weight and road conditions to maximize handling and suspension performance. There is 5-way spring preload adjustability plus 20-way compression damping and 17-way rebound damping adjustability.
•Lightweight triple clamps. The upper is made of cast aluminium while the lower clamp is forged aluminium. Fork pitch is 225mm while offset is 30mm.

•Link Monocross rear suspension utilizes a fully adjustable remote reservoir rear shock. Rear wheel travel is 110mm (4.3″). Adjustments include 11 way spring preload adjustability (via easy-access remote adjuster), 12-way compression damping and 18-way rebound damping adjustability.
•15-litre fluorinated polyethylene fuel tank is mounted below the rider's seat and therefore helps maintain a low centre of gravity plus mass centralization. It also provides space for the large capacity air box. The fluorination treatment reduces the "permeation" of fuel vapours (hydrocarbons) into the atmosphere. The electric fuel pump is housed inside the tank. The low fuel warning light will illuminate with approx. 4.2 litres of fuel remaining.

•Dual floating 320mm wave-style front rotors are squeezed by radial mount, monoblock 6-piston calipers. The result is incredible braking performance with excellent control and lever feedback. The master cylinder is a Brembo radial pump master cylinder with a 16mm piston, a direct GP race innovation. The lever is adjustable for various hand sizes.

•298mm wave-style rear disc is squeezed by a single-piston slide-type caliper utilizing sintered metal pads and a 14mm Brembo master. The caliper is mounted below the swingram to maintain a handling enhancing low centre of gravity.

•Anti-lock braking system features Yamaha's latest ABS system, very similar to that found on the FJR1300. The linear controlled 3-position ABS system features an ECU with an integrated compact hydraulic unit built into the ECU plus active type wheel sensors with magnetic rotors. The benefit is reduced weight, excellent mass centralization and better lever feedback when the system is operating. The main benefit of ABS is excellent control under hard braking or braking on wet or slippery surfaces since the ABS system helps to prevents wheel lock-up.
•Rugged yet lightweight cast aluminium 5-spoke mag wheels front and rear. The wheels utilize hollow "spokes" to reduce unsprung weight for superior handling. Front rim size is a 3.50 x 18 fitted with a tubeless 120/70R18 radial tire, while the rear is 6.00 x 18 fitted with a wide tubeless 200/50R18 radial tire.
•Conventional tapered 1?" diameter low rise handlebar.
•Cool multi-function handlebar mounted meter includes analog tachometer and digital speedo plus an adjustable shift light and a variety of warning lights. A second multi-function display panel is located on top of the "fuel tank" (actually it is the air box cover). Readouts on this panel include fuel gauge, fuel consumption display, odometer, dual tripmeters, clock, coolant temp, gear indicator, throttle valve opening, intake air temp, stop watch and fuel reserve tripmeter. This panel uses a highly visible 256 x 64 dot matrix "Organic Electro Luminescence display". Brightness is adjustable.

•Bright, H4 60/55-watt, halogen headlight

•Eye-catching LED tail light means it uses less electrical power.

Additional Features:

•Immobilizer ignition system is designed to reduce the possibility of "ride-away" theft. This system must recognize the "coded ignition key" in order for the unit to start. If the immobilizer ignition does not recognize the key (or a screwdriver or other type of "jimmy tool") the bike will not start even if the ignition is turned or forced into the on position. If the system does not recognize the coded chip in the ignition key, it will not allow the ignition system, fuel pump or starter motor to function.
•High-performance, long-life Iridium spark plugs

•Lightweight forged aluminium shift lever and rear brake pedal

•Low-fuel warning light

•Low maintenance, lightweight, sealed battery

•Stylish key with special key case holder

•Lean angle engine kill switch prevents unit from running if it is on its side to avoid engine damage.

IMPORTANT NOTE: The VMAX offers a significant level of power and performance. It is not intended for novice or inexperienced riders.
---
2013 Yamaha VMAX Hyper Modified Ludovic Lazareth – USA Specifications/Technical Details
US MSRP Price: See dealer for pricing in USD

Standard VMAX specifications below:

Engine
Type 102-cubic-inch (1679cc) liquid-cooled 65° V-4, DOHC, 4 valves/cylinder
Bore x Stroke 90.0mm x 66.0mm
Compression Ratio 11.3:1
Fuel Delivery Fuel Injection with YCC-T and YCC-I
Ignition TCI: Transistor Controlled Ignition
Transmission 5-speed, multiplate slipper clutch
Final Drive Shaft

Chassis
Suspension / Front 52mm telescopic cartridge fork w/oxidized titanium coating. Fully adjustable preload, compression and rebound; 4.7 in travel
Suspension / Rear Single shock w/remote reservoir and remote adjustable for preload, compression and rebound
Brakes / Front Dual 320mm wave-type discs; radial mount 6-piston calipers, Brembo® radial pump master cylinder
Brakes / Rear 298mm wave-type disc, single-piston caliper and Brembo® master cylinder
Tires / Front Bridgestone® Radial 120/70-R18 59V
Tires / Rear Bridgestone® Radial 200/50-R18 76V

Dimensions
Length 94.3 in
Width 32.3 in
Height 46.9 in
Seat Height 30.5 in
Wheelbase 66.9 in
Rake (Caster Angle) 31.0°
Trail 5.8 in
Fuel Capacity 4.0 gal
Fuel Economy** 27 mpg
Wet Weight*** 683 lb / 686 lb (CA model)

Other
Warranty 1 Year (Limited Factory Warranty)
*Prices and specifications subject to change without notice. Please read your Owner's Manual and all labels before operation.
**Fuel economy estimates are based on US EPA exhaust emission certification data obtained by Yamaha. Your actual mileage will vary depending on road
conditions, how you ride and maintain your vehicle, accessories, cargo, and operator/passenger weight.
***Wet weight includes the vehicle with all standard equipment and all fluids, including oil, coolant (as applicable) and a full tank of fuel.
---
2013 Yamaha VMAX Hyper Modified Ludovic Lazareth – Canadian Specifications/Technical Details
Canada MSRP Price: See dealer for pricing in CDN

Standard VMAX specifications below:
Engine Liquid-cooled, DOHC, 16-valves, 65 degree V-4
Displacement 1679cc
Bore and Stroke 90 x 66mm
Compression Ratio 11.3:1
Maximum Torque 17 kg-m (123 ft-lb) @ 6,500 rpm
Fuel Delivery Mikuni 48mm fuel injection
Estimated Fuel Consumption* 11.4kpl / 32mpg (Imp.)
Lubrication Wet sump
Ignition / Starting TCI / Electric Start
Transmission 5-speed (with slipper clutch)
Final Drive Shaft

Suspension (Front) Fully adjustable 52mm cartridge fork
Suspension (Rear) Fully adjustable Link Monocross
Brakes (Front) Dual 320mm discs with ABS
Brakes (Rear) 298mm disc with ABS
Tires (Front) 120/70R18
Tires (Rear) 200/50R18

Length 2,395mm (94.3″)
Width 820mm (32.3″)
Height 1,190mm (46.9″)
Wheelbase 1,700 mm (66.9″)
Rake / Trail 31° / 148mm (5.8″)
Ground Clearance 140mm (5.5″)
Seat Height 775mm (30.5″)
Fuel Capacity 15 litres
Wet Weight 310 kg (684 lb)
Colour(s) Dark Metallic Violet
± Fuel economy estimates are based on US EPA exhaust emission certification data obtained by Yamaha and converted into Canadian measurements. Your actual mileage will vary depending on road condition, how you ride, maintain your vehicle, accessories, cargo and operator/passenger weight.

Specifications, appearance, and price of product are subject to change without notice.
* MSRP does not include freight, PDI (Pre Delivery Inspection), pre-rigging (boats), or taxes. Dealer may sell for less. See your local dealer for out the door pricing.
---
2013 Yamaha VMAX Hyper Modified Ludovic Lazareth – UK/Europe Specifications/Technical Details
UK/European MSRP Price: See dealer for pricing in GBP

Standard VMAX specifications below:
Engine
Engine type liquid-cooled
Displacement 1,679cc
Bore x stroke 90.0 mm x 66.0 mm
Compression ratio 11.3 : 1
Maximum power 147.2 kW (200PS) @ 9,000 rpm
Maximum Torque 166.8 Nm (17.0 kg-m) @ 6,500 rpm
Lubrication system Wet sump
Carburettor Electronic Fuel Injection
Clutch Type Wet
Ignition system TCI
Starter system Electric
Transmission system Constant Mesh
Final transmission Shaft

Chassis
Frame Diamond Shaped
Front suspension system Telescopic forks, Ø 52 mm
Front travel 120 mm
Caster Angle 31º
Trail 148 mm
Rear suspension system Swingarm
Rear Travel 110 mm
Front brake Hydraulic dual disc, Ø 320 mm
Rear brake Single Disc, Ø 298 mm
Front tyre 120/70 R18M/C (59V)
Rear tyre 200/50 R18M/C (76V)

Dimensions
Overall length 2,395 mm
Overall width 820 mm
Overall height 1,190 mm
Seat height 775 mm
Wheel base 1,700 mm
Minimum ground clearance 140 mm
Wet weight (including full oil and fuel tank) 310 kg
Fuel tank capacity 15 litres
Oil tank capacity 5.9 litres
---
2013 Yamaha VMAX Hyper Modified Ludovic Lazareth – Australian Specifications/Technical Details
Australia MSRP Price: See dealer for pricing in AUD

Standard VMAX specifications below:
Engine
Engine Type Liquid-cooled, 4-stroke, DOHC, 4-valve, V-4
Displacement 1679 cc
Bore x Stroke 90.0 x 66.0 mm
Compression Ratio 11.3:1
Lubrication System Wet sump
Fuel Management EFI, YCC-I & YCC-T
Fuel Tank Capacity 15 L
Final Transmission Shaft drive
Transmission 5-speed w/ slipper clutch
Dimensions
Length 2395 mm
Width 820 mm
Height 1190 mm
Seat Height 775 mm
Wheelbase 1700 mm
Ground Clearance 140 mm
Wet Weight 310 kg with 15 litres of fuel
Chassis
Frame Type Aluminium diamond
Suspension Front 52mm Telescopic fork, 120mm travel
Suspension Rear Swingarm, link-type, fully adjustable, 110mm travel
Brakes Front 320mm dual wave discs, six pot radial mounted calipers
Brakes Rear 298mm single wave disc
Tyres Front Bridgestone radial 120/70 R18MC(59V)
Tyres Rear 200/50 R18MC(76V)
Specifications, features and prices to change by manufacturer without notice. All information correct as of posted date.