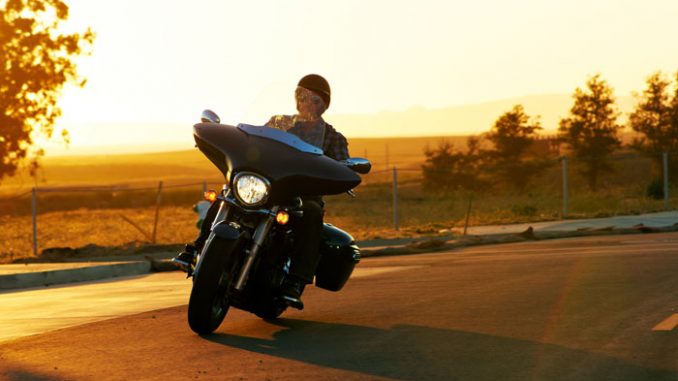 Click photos to enlarge. Our big, clean bike pics make great desktop wallpaper.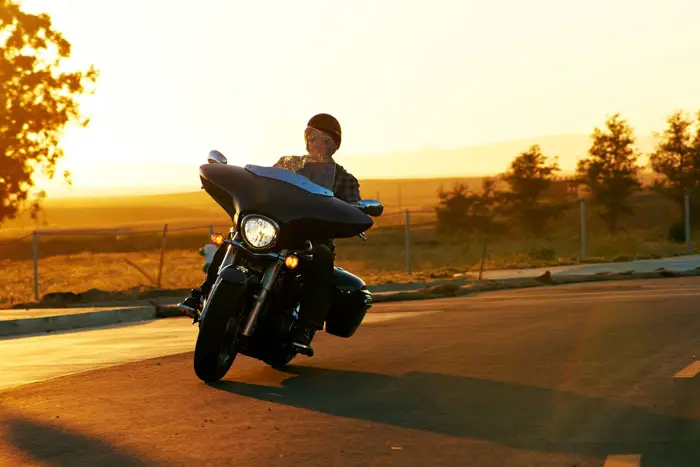 2013 Yamaha V-Star 1300 Deluxe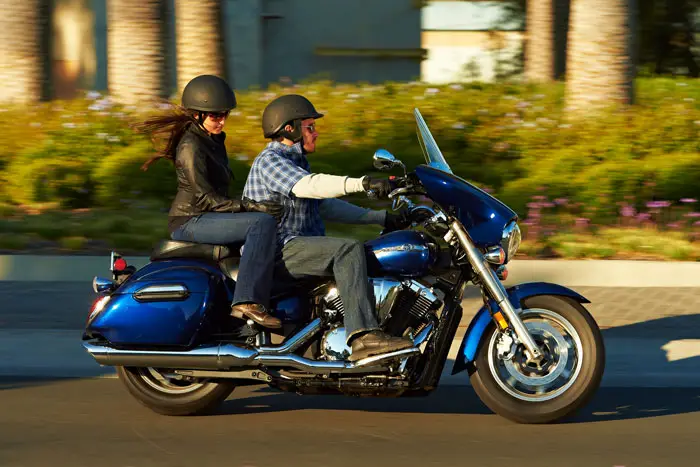 2013 Yamaha V-Star 1300 Deluxe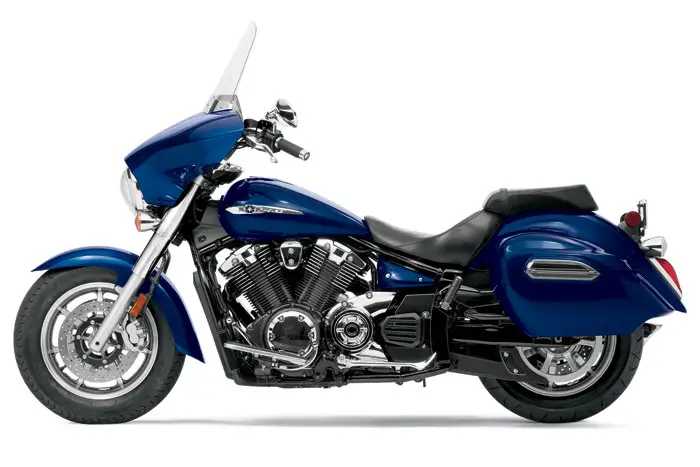 2013 Yamaha V-Star 1300 Deluxe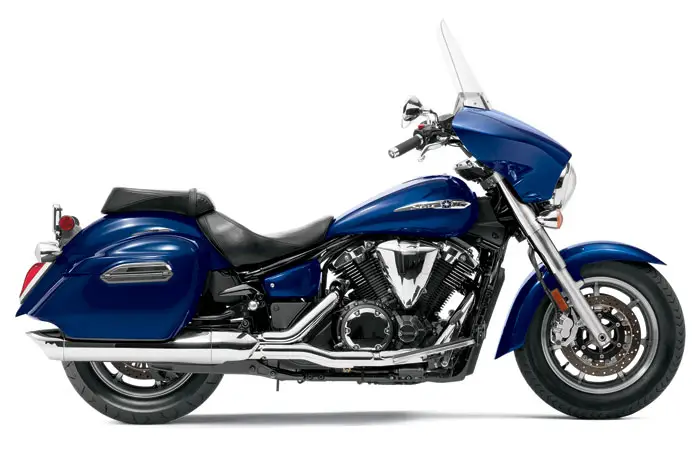 2013 Yamaha V-Star 1300 Deluxe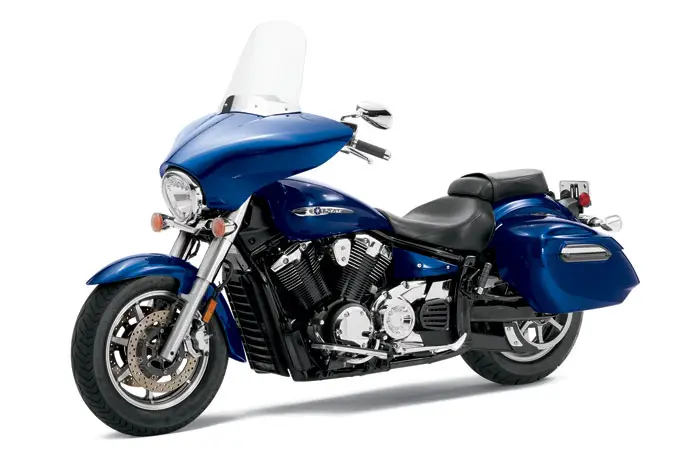 2013 Yamaha V-Star 1300 Deluxe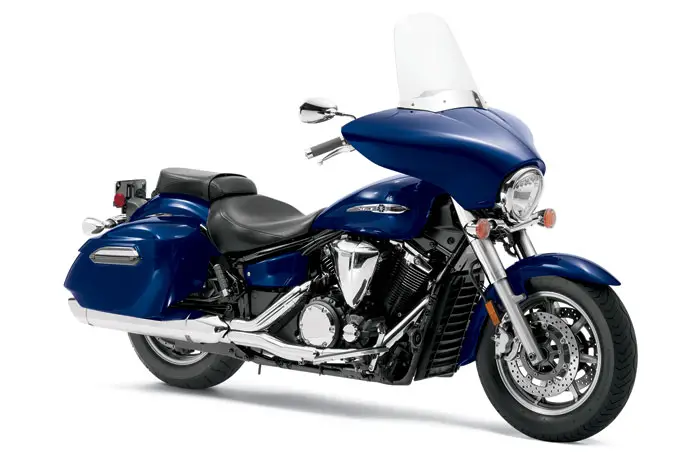 2013 Yamaha V-Star 1300 Deluxe
2013 Yamaha V-Star 1300 Deluxe Review

2013 Yamaha V-Star 1300 Deluxe
New for 2013, the V Star 1300 Deluxe is the world's first and only production midsize bagger…
Introducing the new 2013 Yamaha V-Star 1300 Deluxe, the only casual full dress touring machine in the mid displacement class. Brimming with features, the Yamaha Deluxe offers all day riding comfort with plenty of storage. The 2013 V-Star 1300 Deluxe delivers exceptional performance and value, making it the ideal choice for riders looking for high end appearance and features in a midsized cruiser.
All Dressed up With Everywhere to go.
Introducing the world's first production midsize bagger! Packed with features including a torquey 80 cubic inch engine, stylish and functional fork mounted fairing, fully integrated dash and audio system with iPod/iPhone 5 compatiliity, hand controller for audio, Garmin Zumo 665 motorcycle friendly navigation system (featuring XM satellite radio capability, bluetooth wireless, waterproof design, lane assist and 3D building view), hard bags with tons of storage, steel fenders and muchmore. The all new 2013 Yamaha V-Star 1300 Deluxe truly is in a class by itself.
The new V-Star 1300 Deluxe offers great touring comfort and reliability in an easy to handle mid-size package.

Powered by a 1304cc fuel injected, liquid-cooled V-Twin, the Deluxe also sports a classic-styled fairing, 28.5 litre hard shell saddlebags and an iPod / iPhone ready audio system with dual speakers. Add the Garmin Zumo 665 GPS nav system into the mix and you are ready to hit the open road for places unknown in comfort and style.



2013 Yamaha V-Star 1300 Deluxe Key Features

US MPG Fuel Consumption: NA mpg; Fuel Consumption ± 18kpl/51mpg(Imp)

Colour matched fairing with audio ready & navigation systems

Spacious locking hard saddlebags
The V Star 1300 Deluxe delivers exceptional value in the full-dress category, at a surprisingly low $13,690 MSRP, making it the ideal choice for the midsize cruiser rider wanting high-end appearance and features.

The fork mounted fairing offers riders great weather protection and dynamic, sporty good looks.

A fully integrated dash and audio system with iPod®/ iPhone® compatibility. Riders can control their music on a control pod located on the left handlebar.

The V Star 1300 Deluxe is equipped with a rugged, waterproof Garmin® zumo® 665 GPS. Features include motorcycle-friendly navigation, including weather and traffic conditions (if subscribed to monthly service), lane assist, and 3D building view. XM® satellite radio (with subscription) and Bluetooth® wireless functionality.

Hard, lockable side bags have spacious room for long trips or commuting.

Real steel fenders make V Star 1300 Deluxe ideal for customization.

The Star Accessories Catalog is packed full of high-quality parts that invite Star owners to fully express their individuality.
2013 Yamaha V-Star 1300 Deluxe Features and Benefits
Engine:
•1304cc, (80 cubic inch) liquid-cooled, short stroke, SOHC, 8-valve, 60° V-twin powerplant pumps out excellent power and torque for unparalleled acceleration and cruising performance. At 110 km/hr the engine is only turning 3,400 rpm, for relaxed highway cruising.

•Electric starting system features a mechanical centrifugal decompression device in the exhaust camshaft for easy, no-hassle starting and reduced battery size and weight.
•Liquid-cooling not only allows for higher state of tune but also reduces mechanical noise for a quieter engine.

•In an effort to maintain the classic air-cooled appearance of the engine, cooling fins have been added as a styling highlight.
•The short stroke engine design reduces the "tallness" of the engine, while the 60 degree "V" makes the engine more compact thereby centralizing mass and lowering the center of gravity for lighter more responsive handling.
•Classic V-twin "pulse feeling" and engine character highlight this powerplant while annoying high frequency vibration has been eliminated.
•One-piece cylinder heads feature 4-valves per cylinder to provide optimum breathing efficiency for maximum power output. Each head is fitted with a single long reach spark plug.

•Stylish chromed cylinder head covers.
•The SOHC valve train features 36mm intake and 32mm exhaust valves with special single coil springs for great power and torque. Valve angles are set at 20 degrees. Specially designed roller rockers activate the valves. The roller rocker system allows a greater amount of valve lift without producing excessive camshaft wear and friction. The slipper portion of the rocker arm features a needle bearing to further reduce wear and slide resistance. The camshafts have been specially designed to provide class leading power.

•Optimized squish area forces the fuel / air mixture toward the centre of the combustion chamber for more complete combustion and hence power.
•The water pump which is integrated with the oil pump and is located inside the engine cases to keep a cleaner, more traditional air-cooled look to the powerplant. The engine uses a wet sump lubrication system.
•The radiator is mounted between the front frames down tubes to minimize its appearance especially when viewing the machine from the side. Even the rad hoses have been discreetely placed for a cleaner appearance. An electric fan aids in cooling in stop and go traffic.
•Automatic hydraulic cam chain tensioners reduce mechanical noise and extend engine life.
•Ceramic composite-plated cylinders reduce weight, increase cylinder life and provide uniform heat dissipation. The cylinders have a tapered "V" appearance to highlight the V-twin design. Cylinder bore is 100mm.
•Forged pistons offer great durability and reduced weight for faster engine response and less mechanical vibration.
•Crankshaft features a single crank pin design which enhances the pulse feeling and engine character.

•Single axis, left and right dual engine counter balancers reduce vibration to a minimum while maximizing rider comfort.
•Crankcase design features internal oil and coolant lines for a clean, air-cooled engine appearance. There are special piston coolers that spray oil at the under side of the pistons.

•Easy access, spin on type oil filter
•Classic side mounted 3.7 liter air box houses a viscous paper-type filter and adds that special styling touch.

•Mikuni dual bore, 40mm returnless-type throttle body fuel injection system with TPS (Throttle Position Sensor) and ISC (Idle Speed Control) . This is a "closed loop" system that utilizes an oxygen sensor. The oxygen sensor "sniffs" spent exhaust gases and feedback info to the ECU which in turn adjusts the fuel/air mixture for maximum power with minimum emissions. The oxygen sensor is located before the mufflers, so the use of slip-ons will not effect this system.
•Bore size is 40mm and each injector features 12 holes and a dual spray pattern for better fuel atomization and more complete combustion chamber filling. There is one injector per cylinder. Fuel injection benefits include improved fuel economy, chokeless operation, reduced emissions, and steady idling during start-up.

•2 into 1 exhaust system features a 3-way honeycomb catalyzer at the entry point to the muffler. The catalyzier reduces harmful exhaust emissions, while the muffler produces a throaty V-Twin growl. The rear portion of the muffler features a "slash cut" end.

•Maintenance-free transistor controlled ignition (T.C.I.) provides a hot spark for sure starts and strong engine performance.

•Smooth-shifting, 5-speed transmission with 5th gear overdrive delivers outstanding cruising performance and reduced rpms at highway speeds. The engine is spinning at 3,400 rpm at 110 km/hr.

•Clean, quiet belt drive system is extremely low maintenance and simplifies customization. The belt is unique to the XVS1300 and features carbon cords for strength.
•Specially designed starter motor features a damping mechanism to prevent damage from kick back.

•Air Induction System (A.I.S.) reduces harmful exhaust emissions (CO + HC).
•One piece classic heel-and-toe shifter adds versatility and enhances the overall cruising experience.
Chassis and Suspension:
•Double cradle steel frame offers roomy ergonomics, and great handling. This frame utilizes a rigid engine mounting system to optimize the overall rigidity balance for superior handling. The rack is 32 degrees, while the lean angle is a sporty 36 degrees.
•Steel swingarm matches the frame and provides superior performance in a wide variety of conditions, while also making a bold styling statement.
•Long 1,690mm (66.5″) wheelbase creates a long, low retro profile and provides solid, stable handling.
•The long low design means spacious ergonomics with lots of leg room, which maximizes both rider and passenger comfort.
•41mm KYB front fork features stylish large-diameter brushed-finished covers. Wheel travel is 135mm (5.3″) for a smooth, comfortable ride.

•Monocross style, spring preload-adjustable, single-shock, link rear suspension centralizes mass for agile handling. The linkage system provides a rising rate effect that provides excellent compliance on both small and large bumps. There are 9 positions of spring preload adjustability to suit rider preference.
•Rear shock is vertically mounted behind the engine and is tucked out of sight for that classic, hardtail look. Rear wheel travel is 110mm (4.3″).

•Dual 298mm, floating front discs are squeezed by compact twin piston front calipers.
•298mm rear disc brake squeezed by single piston caliper mounted to the underside of the swingarm. This design not only helps to hide the caliper but also lowers the center of gravity for better handling.
•Lightweight 7-spoke cast aluminum wheels are fitted with wide tubeless tires. These stylish "mag" wheels are both easy to clean and never require maintaince. The rear drive pulley matches the wheel design.
•Stylish fork mounted faring offers a dynamic look as well as great weather protection. It also features dual speakers providing excellent sound quality. A taller windshield provides relaxed cruising comfort. The Garmin Zumo 665 navigation system is neatly integrated into the centre of the fairing cockpit. It can be easily removed if desired

•The V-Star 1300 Deluxe is equipped with a Garmin Zumo 665 GPS / navigation system. The Garmin Zumo series are specifically designed for motorcycle use and feature a rugged, waterproof design. For complete details for the Zumo 665 please go to: https://buy.garmin.com/shop/shop.do?pID=65203

•iPod / iPhone ready audio system features dual fairing mounted speakers and convenient handlebar mounted audio controller. Just plug in your iPod / iPhone into the special connector in the saddlebag and sit back, relax and enjoy your favorite tunes.
•Beautifully styled 28.5 litre, colour matched, hard locking saddlebags offer plenty of convenient storage.
•Full-size, "tapered" floating-type rider floorboards are roomy and comfortably positioned while also helping to reduce vibration. There is a replaceable "scraper" on the lower edge of the footboard.

•1 inch, rubber mounted handlebars are easy to reach and help to reduce vibration.

•Front and rear fenders are steel for easy customization and painting if desired.

•18.5 liter teardrop shaped fuel tank with flush mounted filler cap. Fuel tank features a seamless design for that clean, custom look.

•Generous rider and passenger seats offer plenty of room and support for all day riding comfort. Seat height is only 690mm or 27.2″ inches off the ground.

•Handlebar-mounted chromed instrument features an analog speedometer, digital odometer, dual tripmeters, low fuel tripmeter, clock and low fuel warning light. Stylish red background illumination.

•Handlebar switch gear allows the operator to change instrument functions via buttons on the back of the RHS handlebar switch, thereby eliminating the need to take your hands off the bars to adjust the main instrument functions.

•60/55 watt high intensity halogen headlight emphasizes the "wild streamline", mass forward styling design. The chromed headlight body is adjustable up and down plus left and right via remote adjusters. There are also two 35 watt accessory light connectors inside the headlight shell for accessory passing lamps.
Additional Features:
•Industry-leading Star family fit and finish features rich, lustrous paint and extensive chrome accents creating a machine as stunning as it is powerful.

•3D fuel tank emblems enhance quality and attention to detail.

•Chromed drive belt cover

•Extra wide front brake and clutch levers provide a quality feel.

•Steering lock is integrated into the main ignition switch for extra convenience.

•Handy, under seat helmet holder

•Low-maintenance, sealed battery ensures fuss-free, dependable starting.
•Self-cancelling turn signals feature stylish clear lenses.

•Conventional passenger footpegs

•High output 460 watt generator

•Electric fuel pump
---
2013 Yamaha V-Star 1300 Deluxe – USA Specifications/Technical Details
US MSRP Price: $13,690 (Deep Blue) USD

Engine
Type 80-cubic-inch (1304cc) liquid-cooled V-twin; SOHC, 4 valves/cylinder
Bore x Stroke 100.0 mm x 83.0 mm
Compression Ratio 9.5:1
Fuel Delivery Fuel injection
Ignition TCI: Transistor Controlled Ignition
Transmission 5-speed; multiplate wet clutch
Final Drive Belt
Chassis
Frame Double Cradle
Suspension / Front 41mm Telescopic fork; 5.3-in travel
Suspension / Rear Single shock; 4.3-in travel
Brakes / Front Dual hydraulic disc, 298mm
Brakes / Rear Hydraulic disc, 298mm
Tires / Front 130/90-16M/C 67H
Tires / Rear 170/70B-16M/C 75H
Wheels 7-spoke aluminum
Dimensions
Length 98.0 in
Width N/A
Height 45.1 in
Seat Height 27.2 in
Wheelbase 66.5 in
Fuel Capacity 4.9 gal
Fuel Economy** N/A
Wet Weight*** N/A
Other
Warranty 1 Year (Limited Factory Warranty)
*Prices and specifications subject to change without notice. Please read your Owner's Manual and all labels before operation.
**Fuel economy estimates are based on US EPA exhaust emission certification data obtained by Yamaha. Your actual mileage will vary depending on road
conditions, how you ride and maintain your vehicle, accessories, cargo, and operator/passenger weight.
***Wet weight includes the vehicle with all standard equipment and all fluids, including oil, coolant (as applicable) and a full tank of fuel.
---
2013 Yamaha V-Star 1300 Deluxe – Canadian Specifications/Technical Details
Canada MSRP Price: $14,499 CDN
Engine Liquid-cooled, SOHC , 8-valve, 60°, V-twin
Displacement 1,304cc (80 cubic inch)
Bore and Stroke 100 x 83mm
Compression Ratio 9.5:1
Maximum Torque 11.3 kg-m (81.8 ft-lb) @ 4,000 rpm
Fuel Delivery Mikuni dual bore 40mm F.I.
Estimated Fuel Consumption* 18kpl / 51mpg (Imp.)
Ignition / Starting TCI / Electric
Transmission 5-speed
Final Drive Belt

Suspension (Front) 41mm fork
Suspension (Rear) Adjustable link Monocross
Brakes (Front) Dual 298mm discs
Brakes (Rear) 298mm disc
Tires (Front) 130/90-16
Tires (Rear) 170/70-16

Length 2,490mm (98″)
Wheelbase 1,690mm (66.5″)
Seat Height 690mm (27,2 ")
Fuel Capacity 18.5 litres (4.1 imp. gallons)
Colour(s) Purplish Metallic Blue
± Fuel economy estimates are based on US EPA exhaust emission certification data obtained by Yamaha and converted into Canadian measurements. Your actual mileage will vary depending on road condition, how you ride, maintain your vehicle, accessories, cargo and operator/passenger weight.

Specifications, appearance, and price of product are subject to change without notice.
* MSRP does not include freight, PDI (Pre Delivery Inspection), pre-rigging (boats), or taxes. Dealer may sell for less. See your local dealer for out the door pricing.
---
2013 Yamaha V-Star 1300 Deluxe – UK/Europe Specifications/Technical Details
UK/European MSRP Price: £ See dealer for Pricing.

More information to follow shortly
---
2013 Yamaha V-Star 1300 Deluxe – Australian Specifications/Technical Details
AU MSRP Price: $TBA AUD

More information to follow shortly
Specifications, features and prices to change by manufacturer without notice. All information correct as of posted date.