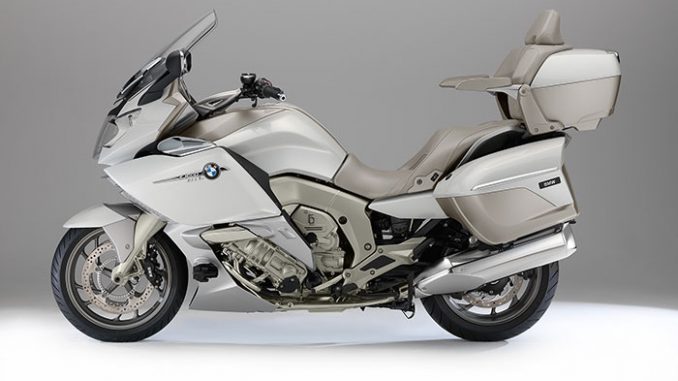 Click photos to enlarge. Our big, clean bike pics make great desktop wallpaper.
2014 BMW K1600GTL Exclusive Review

2014 BMW K1600GTL Exclusive on Totalmotorcycle.com
TOURING ALL INCLUSIVE: THE NEW K 1600 GTL EXCLUSIVE.
When dynamic performance meets luxury, the result is always exclusive and sensational. BMW Motorrad presents the K 1600 GTL Exclusive – a high-class touring bike that takes technology and visual styling to the extreme. This GTL makes all 6-cylinder dreams come true.
The BMW K 1600 GTL Exclusive takes two-wheeled travel to a whole new level thanks to a 118 kW (160 hp) in-line six-cylinder engine that melds superlative power with exemplary refinement, as well as boasting superb standards of equipment and comfort.
Spearheading the BMW Motorrad tourer range, the "Exclusive" model already lays claim to a class-beating specification as standard, including central locking with anti-theft alarm system and ESA II electronic suspension adjustment for an optimum spring/damper setup regardless of load. The Dynamic Traction Control (DTC) boosts safety when accelerating, while the innovative new Hill Start Control feature takes all the hard work out of pulling away uphill, even when carrying a passenger and luggage. Needless to say, the K 1600 GTL Exclusive also comes equipped with BMW Motorrad ABS as standard, like all BMW motorcycles.
The film antenna for the radio that is embedded in the topcase lid is a world first and ensures the best possible reception quality while also enhancing the bike's appearance. Long-distance travel comfort for the pillion passenger is taken to greater heights by a new seat, the heated backrest and comfortable armrests. Also to be found on the list of standard equipment are LED auxiliary headlights, adaptive xenon headlight, Tyre Pressure Monitor, additional brake light, engine protection bar, floor lighting, as well as LED daytime running light and, for the first time on a BMW motorcycle, Keyless Ride.
The styling of the "Exclusive" model likewise spells pure luxury – from the fuel tank's aluminium moulding through the fully chromed exhaust system to the new-look instrumentation.
The colour scheme for the new K 1600 GTL Exclusive adds to the sense of elegance and aesthetic appeal. The bodywork's four-coat paint finish in Mineral white metallic high gloss combines to striking effect with the classy chrome surfaces, the contrasting shade of Magnesium metallic matt and the Glacier silver metallic radiator fins. The colour-coordinated upholstery for the seat cushions, backrest and pillion passenger armrests adds the perfect finishing touch.

2014 BMW K1600GTL Exclusive Totalmotorcycle.com Key Features

•Superior in-line six-cylinder engine with abundant pulling power, especially at low and medium revs.
•Output of 118 kW (160 hp) at 7,750 rpm and maximum torque of 175 Nm (129 lb-ft) at 5,250 rpm.
•Over 70 per cent of maximum torque on tap from just 1,500 rpm.
•Three selectable riding modes ("Rain", "Road", "Dynamic").
•High standard of active safety thanks to BMW Motorrad Integral ABS (part integral).
•Dynamic Traction Control (DTC) to maximise safety when accelerating.
•Chassis featuring duolever and paralever suspension plus ideal concentration of mass for dynamic handling abilities combined with the best possible comfort.
•Electronic Suspension Adjustment II (ESA II) for optimum adaptation to all operating requirements and vehicle loads.
•New instrumentation scales and sophisticated chrome surfaces. (New!)
•Instrument cluster with extended functionality. (New!)
•Larger seat area, armrests and new heated backrest to offer pillion passengers the best possible comfort. (New!)
•Liners for cases and topcase (embroidered).
•Keyless Ride and central locking to maximise ease of use and security. (New!)
•Hill Start Control enabling pulling away uphill with ease and comfort. (New!)
•Integral film antenna for optimum radio reception and exclusive styling. (World first!)
•Adaptive xenon headlight for greater safety on night-time rides.
•LED daytime running light. (New!)
•LED auxiliary headlights.
•Floor lighting.
•Audio system with preparation for navigation device and controllable interface for iPod, MP3, USB, Bluetooth and satellite radio (satellite radio only available in USA and Canada).
•Innovative design offering outstanding wind and weather protection.
•Elaborate, exceptionally high-grade four-coat paint finish. (New!)
•Extensive equipment and bespoke accessories made to BMW Motorrad's customary high standards.

Hill Start Control
Heated Passenger Backrest
Passenger Arm Resets
Ground Lights
Crash Bars
2nd Brake Light
Dynamic Traction Control
Adaptive Cornering Lights
LED auxilary Headlights
Electronic Suspension Adjustment
Central Locking and Anti-Theft alarm
Keyless Ride
Daytime Running Light
Radio Film Aerial (embedded in the lid of the top case)
Liners for Panniers and Top Box
2014 BMW K1600GTL Exclusive Totalmotorcycle.com Features and Benefits
The design: a perfectly crafted masterpiece.
"Exclusive" at first sight: four layers of Mineral white metallic high-gloss paint give the outer skin of the GTL Exclusive a level of quality and depth which is unparalleled. Mineral white metallic is seamlessly blended with gentle Magnesium metallic matte and supplemented with numerous surfaces finished in chrome, seats and upholstery in Magnesium silver and a wealth of other details – the GTL Exclusive radiates luxury and dynamic performance from every angle.
The technology: only the best.
The GTL Exclusive also features the silken-soft yet powerful in-line 6-cylinder. Its exclusivity lies in the detail: Hill Start Control for moving off effortlessly on slopes, Keyless Ride automatically releases the steering lock, ignition, fuel tank lid and alarm system as soon as the key is within two meters of the motorcycle. The radio foil aerial antenna is integrated invisibly in the body and the Adaptive headlight with xenon technology enhances visibility and safety.
The equipment: uncompromising.
The equipment options assembled for the GTL Exclusive are those most frequently in demand among motorcyclists. Central locking with alarm system and a heatable seat with backrest come as standard. ESA II, DTC, RDC, LED auxiliary lights, adaptive xenon headlight, a second brake light and ground lighting are included for travel comfort. The functions of the BMW on-board computer Pro have been improved and an engine guard is incorporated as standard.

---
2014 BMW K1600GTL Exclusive – Totalmotorcycle.com USA Specifications/Technical Details
US MSRP Price: $29,950 USD


Engine

Type
Oil/water-cooled 4-stroke in-line 6-cylinder engine, two overhead camshafts, four valves per cylinder
Bore x stroke
72 mm x 67.5 mm
Capacity
1,649 cc
Rated output
160 hp (118 kW) at 7,750 rpm
Max. torque
129 lb/ft (175 Nm) at 5,250 rpm
Compression ratio
12.2:1
Mixture control / engine management
Electronic intake pipe injection
Emission control
Closed-loop 3-way catalytic converter, emission standard EU-3

Performance / fuel consumption

Maximum speed
125 mph
Fuel consumption per 100 km at constant 90 km/h
51 mpg, at a constant 55 mph
Fuel consumption per 100 km at constant 120 km/h
40 mpg, at a constant 75 mph
Fuel type
Unleaded super

Electrical system

Alternator
three-phase alternator 580 W
Battery
12 V / 19 Ah, maintenance-free

Power transmission

Clutch
Multiple-disc clutch in oil bath
Gearbox
6-speed, helical, gearbox
Drive
Shaft drive

Chassis / brakes

Frame
Bridge-type frame, cast aluminium, load-bearing engine
Front wheel location / suspension
BMW Motorrad Duolever; central spring strut
Rear wheel location / suspension
BMW Motorrad Paralever
Suspension travel front / rear
4.9 in / 5.3 in (125 mm /135 mm)
Wheelbase
63.7 in (1,618 mm)
Castor
4.3 in (108.4 mm)
Steering head angle
62.2°
Wheels
Cast aluminum wheels
Rim, front
3.50 x 17″
Rim, rear
6.00 x 17″
Tyres, front
120/70 ZR 17
Tyres, rear
190/55 ZR 17
Brake, front
Dual disc brake, diameter 320 mm, 4-piston fixed calipers
Brake, rear
Single disc brake, diameter 320 mm, double-piston caliper
ABS
STANDARD (part-integral)

Dimensions / weights

Length
98.0 in (2,489 mm)
Width (incl. mirrors)
39.4 in (1,000 mm)
Height (excl. mirrors)
57.7 in (1,465 mm)
Seat height, unladen weight
Standard: 29.5 in (750 mm)
High: 30.7 in (780 mm)
Extra high: 31.9 in (810 mm)
Inner leg curve, unladen weight
Standard: 67.7 in (1,720 mm)
High: 69.7 in (1,770 mm)
Extra high: 72.0 in (1,830 mm)
Unladen weight, road ready, fully fuelled 1)
794 lbs (360 kg)
Dry weight

Permitted total weight
1,235 lbs (560 kg)
Payload (with standard equipment)
441 lbs (200 kg)
Usable tank volume
7.0 gallons
Reserve
Approx. 1 gallon

---
2014 BMW K1600GTL Exclusive – Totalmotorcycle.com Canadian Specifications/Technical Details
Canada MSRP Price: $33,350 CDN

Engine

Type
Oil-/watercooled 4-stroke in-line 6-cylinder engine, two overhead camshafts, four valves per cylinder
Bore x stroke
72 mm x 67.5 mm
Capacity
1,649 cc
Rated output
118 kW (160 hp) at 7,750 rpm
Max. torque
175 Nm at 5,250 rpm
Compression ratio
12.2:1
Mixture control / engine management
Electronic intake pipe injection
Emission control
Closed-loop 3-way catalytic converter, emission standard EU-3

Performance / fuel consumption

Maximum speed
Over 200 km/h
Fuel consumption per 100 km at constant 90 km/h
4.6 l
Fuel consumption per 100 km at constant 120 km/h
5.9 l
Fuel type
Unleaded super, octane number 95 (RON)

Electrical system

Alternator
three-phase alternator 580 W
Battery
12 V / 19 Ah, maintenance-free

Power transmission

Clutch
Multiple-disc clutch in oil bath
Gearbox
6-speed, helical, gearbox
Drive
Shaft drive

Chassis / brakes

Frame
Bridge-type frame, cast aluminium, load-bearing engine
Front wheel location / suspension
BMW Motorrad Duolever; central spring strut
Rear wheel location / suspension
BMW Motorrad Paralever
Suspension travel front / rear
125mm /135 mm
Wheelbase
1,618 mm
Castor
108.4 mm
Steering head angle
62.2°
Wheels
Cast aluminium wheels
Rim, front
3.50 x 17″
Rim, rear
6.00 x 17″
Tyres, front
120/70 ZR 17
Tyres, rear
190/55 ZR 17
Brake, front
Dual disc brake, diameter 320 mm, 4-piston fixed calipers
Brake, rear
Single disc brake, diameter 320 mm, double-piston caliper
ABS
BMW Motorrad Integral ABS (part-integral)

Dimensions / weights

Length
2,489mm
Width (incl. mirrors)
1,000 mm
Height (excl. mirrors)
1,465 mm
Seat height, unladen weight
750 mm (OE seat extra high: 800 mm)
Inner leg curve, unladen weight
1.720 mm (OE seat extra high: 1.810 mm)
Unladen weight, road ready, fully fuelled 1)
360 kg
Dry weight

Permitted total weight
540 kg
Payload (with standard equipment)
196 kg
Usable tank volume
26.5 l
Reserve
4 l

---
2014 BMW K1600GTL Exclusive – Totalmotorcycle.com European/UK Specifications/Technical Details
UK/European MSRP Price: £22,400.00 GBP (On The Road)
Engine

Type
Liquid cooled DOHC 6 cylinder engine 24 valve
Bore x stroke
72 mm x 67.5mm
Capacity
1,649 cc
Rated output
160 bhp at 7,750 rpm
Max. torque
175 Nm at 5,250 rpm
Compression ratio
12.2 : 1
Mixture control / engine management
Digital Engine Management
Emission control
Emission Standard EU 3

Performance / fuel consumption

Maximum speed
Over 125 mph
Fuel consumption per 100 km at constant 90 km/h
4.6 litres
Fuel consumption per 100 km at constant 120 km/h
5.9 litres
Fuel type
Unleaded octane 95 RON

Electrical System

Alternator
580 W Alternator
Battery
12 V / 19 Ah maintenance free

Power transmission

Clutch
Wet clutch
Gearbox
6 Speed bevelled transmission
Drive
Shaft Drive

Chassis / brakes

Frame
Cast Aluminium, partially load bearing engine
Front wheel location / suspension
Duolever, central spring strut
Rear wheel location / suspension
Paralever
Suspension travel front / rear
125 mm / 135 mm
Wheelbase
1,618 mm
Castor
108.4 mm
Steering head angle
62.2°
Wheels
Cast Aluminium
Rim, Front
3.50 x 17″
Rim, rear
6.00 x 17″
Tyre, front
120/70 ZR 17
Tyre, rear
190/55 ZR 17
Brake, front
Twin disc, Ø 320 mm, 4-piston fixed callipers
Brake, rear
Single disc, Ø 320 mm, dual-piston calliper
ABS
BMW Motorrad Integral ABS as standard

Dimensions / weights

Length
2,489 mm
Width (incl. mirrors)
1,000 mm
Height (excl. mirrors)
1,465 mm
Seat height, unladen weight
750 mm (high seat 780 mm, extra high seat 800 mm)
Inner leg curve, unladen weight
1,720 mm (high seat 1,770 mm, extra high seat 1,810 mm)
Unladen weight, road ready, fully fueled
364 kg
Dry weight

Permitted total weight
560 kg
Payload (with standard equipment)
196 kg
Usable tank volume
26.5 litres
Reserve
approx 4 litres

Specifications, features and prices to change by manufacturer without notice. All information correct as of posted date.
Technical data relate to the unladen weight (DIN)
1) According to Directive 93/93/EEC with all fluids, fuelled to at least 90% of usable fuel tank
2) Unladen weight without fluids