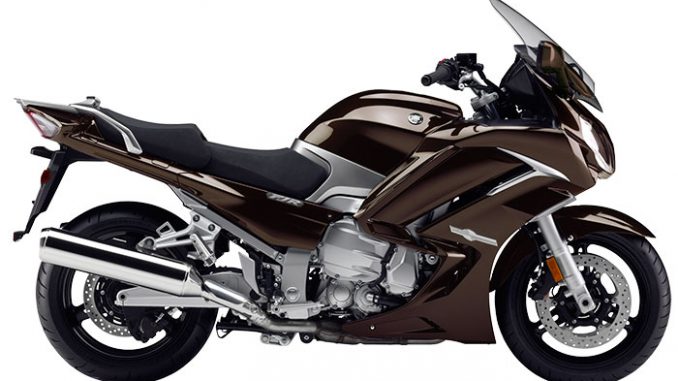 Click photos to enlarge. Our big, clean bike pics make great desktop wallpaper.
2014 Yamaha FJR1300 Review

2014 Yamaha FJR1300 on Totalmotorcycle.com
Conquer Road…
Famous for outstanding reliability and performance, the FJR1300 has a reputation that is second to none in the sport touring world. Featuring the latest electronic rider aids and bold styling, this 3rd generation FJR offers more comfort, performance and value than ever before.

2014 Yamaha FJR1300 Totalmotorcycle.com Key Features

/// Power
1298cc, DOHC, 16-valve, liquid-cooled inline-four engine delivers serious power and torque (102 ft-lbs of torque @ 7000 rpm) for an unequalled spread of muscle over a wide RPM range. Red line is a surprisingly low 9,000 rpm for extended engine life.
/// Comfort
Single piece upper fairing provides great aerodynamics for reduced drag as well as excellent wind and weather protection. Featuring a push button operated electrically adjustable windscreen, dual 60/55 watt headlights and folding mirrors, the latest FJR cuts a stylish profile.

/// Storage
Quick-release luggage mounts mean fast removal of the 30 litre colour matched hard saddlebags. Small item storage compartment is located in the upper left side of the fairing. Inside this compartment is a 12 volt 30 watt DC power outlet for added convenience.
2014 Yamaha FJR1300 Totalmotorcycle.com Features and Benefits

/// ENGINE
•1298cc, DOHC, 16-valve, liquid-cooled inline-four engine delivers serious power and torque (102 ft-lbs of torque @ 7000 rpm) for an unequalled spread of muscle over a wide RPM range. Red line is a surprisingly low 9,000 rpm for extended engine life.
•Engine is a fully stressed chassis member, allowing for a lightweight yet rigid frame design for excellent handling.
•One-piece cylinder and upper crankcase assembly provides tremendous engine rigidity that's lighter and stiffer than two-piece designs.
• Specially designed four-valve per cylinder head features compact, side-driven double-overhead camshafts providing outstanding low to mid rpm torque and horsepower for effortless sport touring and great passing power.
•Exhaust valves feature carburized tips where the valve contacts the shim for excellent durability. Carburizing is a heat treating process that increases the carbon content of a part and as a result improves strength and durability.
• Specially designed high lift intake and exhaust cams provide excellent torque and power characteristics well suited to sport touring.
•Ceramic composite cylinder "bores" are a "liner less" design with the ceramic coating applied directly to the cast aluminium block to ensure uniform heat dissipation for consistent power delivery, reduced oil consumption, reduced friction and reduced weight (since there are no additional cylinder liners).
• High performance, short skirt, forged aluminium pistons are light weight for fast throttle response and also reduce reciprocating mass for less mechanical vibration. Compression ratio is 10.8:1
• Specially designed, low-vibration crankshaft features two gear-driven secondary counter balancers delivering a smooth ride, which enhances both rider and passenger comfort.
• The crank uses carburized connecting rods for excellent strength and durability.
• Automatic cam chain tensioner reduces both maintenance and engine mechanical noise.
• Maintenance-free transistor controlled ignition (T.C.I.) provides a hot spark for sure starts and strong engine performance.
• High performance direct ignition coils (ignition coil is built directly into the spark plug cap) significantly reduce weight and save space.
•Yamaha Chip Control Throttle (YCC-T) electronically controls the throttle valves for outstanding response and improved controllability at all rpms. The YCC-T is used to provide very accurate control of the intake air volume for smoother torque character and throttle response. The YCC-T features 3 – ECU's inside the main ECU to control ignition, fuel injection and the YCC-T function. This ECU is capable of responding to changes at a speed of 1000th of a second.
• The rider can "mechanically close" the throttles by simply closing the throttle twist grip.
•Traction control system works in conjunction with the YCC-T system. Utilizing front and rear wheel sensors, this system senses when the rear wheel begins to spin and modifies the YCC-T function, ignition timing and fuel injection to reduce power and eliminate wheel spin. The actuation button is on the multifunction instrument panel as is the status indicator / warning light. The traction control system helps maintain traction when accelerating on slippery surfaces. The system automatically is engaged when the ignition is turned on. The traction control system can be turned off if desired.
•Yamaha D-Mode variable throttle control, also a function of the YCC-T, enables the rider to adjust the performance characteristics of the engine based on riding conditions or rider preferences. The "S mode" provides sportier engine response in the low to mid speed range (full engine power) while the "T mode" reduces engine response across the rpm range. The "T mode" is well suited for more relaxed touring and reduces fuel consumption. The D-Mode switch is located on the R.H.S. handlebar switch gear.
•Electronic cruise control system is also part of the YCC-T family of functions. The control buttons are located on the L.H.S. handlebar switch gear. The "settable range" is from 50 to 128 km/hr and the transmission must be in 3rd gear or higher. The cruise system can be cancelled by activating front or rear brakes, pulling in the clutch, completely closing the throttle grip or using the activation button.
•Electronic fuel injection (EFI) system is ideal for long-distance sport-touring. The 42mm throttle body fuel injection system with 4-hole Denso injectors delivers crisp, seamless throttle response regardless of weather or altitude.
• This is a closed loop fuel injection system, with a heated oxygen sensor that monitors the amount of oxygen in the spent exhaust gases and adjusts the fuel -air mixture via the ECU and FI system for maximum performance with minimum emissions. The benefits of fuel injection include choke-free starting, steady idling during warm up, excellent fuel economy, and reduced emissions. The oxygen sensor is located before the mufflers, so the use of slip-on mufflers will not affect this system.
•Heated oxygen sensor provides precise fuel – air ratio information to the fuel injection system to reduce emissions even further, especially at lower engine temperatures.
• Viscous paper-type air filter.
•Compact engine design uses a stacked "Tri-Axis" transmission (transmission shafts are stacked to minimize powerplant size front to back). The stacked design reduces engine length and centralizes mass, thereby allowing the engineers the ability to place the engine in the "sweet spot" of the frame for optimized front and rear weight distribution which provides excellent handling characteristics. Front – rear weight distribution is 51.9% front and 48.1% rear
•Wide ratio 5-speed transmission utilizes widely spaced gear ratios for relaxed long-distance sport touring performance combined with seamless acceleration. 5th gear is an overdrive gear to reduce rpms at highway speeds.
•Special scissors-type primary driven gear helps prevent drive train backlash. and significantly reduces transmission noise for great rider comfort.
• Light-action hydraulic clutch provides smooth, effortless shifting, minimizing both rider fatigue and maintenance. Shift shaft features a needle-roller bearing to reduce friction for silky-smooth shifting.
• Clean, quiet shaft drive system is super-durable and low maintenance. This system features mechanical cam dampers in the drive pinion for quieter, smoother power delivery to the rear wheel.
• 4-into-1-into-2 stainless steel exhaust optimizes engine performance across the power band and utilizes dual, three-way catalytic converters located in the junction box under the engine to reduce emissions.
•Curved radiator uses twin ring-type fans for great heat dissipation and to aid in moving the hot air out of the cockpit area for optimized air management and less heat to the rider. Ring type fans "pull" more air than a conventional type fan.
• Easy-access cartridge-type spin-on oil filter makes oil changes a snap.
•Excessive lean angle cut-out switch prevents the engine running in the event of a tip over. The switch will activate at 70 degrees.

/// CHASSIS/SUSPENSION
•Cast aluminium twin spar, diamond-type frame, features massive twin spars. This frame design is light and extremely rigid, partially thanks to the engine being a stressed member. It is the perfect combination for sharp, accurate handling.
•Fully detachable aluminium rear sub frame helps reduce weight while permitting easier rear shock access.
•Lightweight, cast aluminium swingarm. The special swingarm design incorporates the shaft drive into its left side to reduce unsprung weight for incredible handling and suspension performance.
• Key chassis geometry figures include: caster angle = 26 degrees and trail of 109mm. Front – rear weight distribution is 51.9% front and 48.1% rear
•Fully adjustable, 48mm, cartridge-style forks offer 135mm (5.4″) of wheel travel. The adjustable design allows the rider to tailor suspension settings to match rider weight, load and road conditions. Fork adjustments include: 15mm of spring preload, 21-way compression damping and 16-way rebound damping.
•Adjustable link Monocross rear suspension with 125mm (4.8″) of wheel travel features a handy, two-stage (soft / hard) spring preload adjustment lever that allows the rider to easily switch between solo and two-up preload settings. Other rear shock adjustments include: 18-way rebound damping.
•Dual 320mm front discs are squeezed by Nissin 4-piston calipers. Computer controlled ABS is standard on the FJR1300.
•282mm rear disc brake with single piston caliper provides outstanding stopping power. The caliper is mounted on the underside of the swingarm to reduce torque action for superior suspension performance. The rear brake ABS system is also computer controlled.
•The ABS or Anti-Lock Braking System features a linear controlled 3- position system that helps to prevent wheel lock up. The controlling ECU and the hydraulic unit are combined into a single compact unit that allows for mass centralization. When the ABS system senses impending wheel lock-up, via active type wheel sensors, the system regulates the hydraulic pressure to the point just before the wheel or wheels lock-up. The benefit of ABS is excellent control under hard braking or when braking on wet, slippery or loose surfaces.
•Unified braking system with computer controlled ABS. When the front brake is applied it activates 6 of the 8 front caliper pistons (all four LHS front pistons are activated, while only the "upper" two pistons on the RHS front caliper are activated). When applying the rear brake, the rear piston activates and 2-front pistons activate.
•Lightweight cast-aluminium 3-spoke wheels are fitted with premium 120/70ZR17 front and 180/55ZR17 rear radial tires well suited to both spirited solo riding and longer range sport touring.
•Adjustable handlebars offer three positions of adjustability. From the centre position, the bars can be adjusted 5.5 mm forward or 5.5mm back towards the rider. Total adjustment range is 11mm.
•Adjustable, two-piece seat features a seat height adjustment range of 20mm (0.8″) for the rider portion of the seat. This simple adjustment can be done in mere seconds, without tools.
• Stylish single piece upper fairing provides great aerodynamics for reduced drag as well as excellent wind and weather protection. Air flow management has been optimized for superior rider comfort. Central air duct reduces the vacuum effect and turbulence in the cockpit.
• Push button operated electrically adjustable windscreen. The windshield design reduces the "vacuum effect" (negative pressure) in the cockpit area. The adjustment range is 130 mm (5.1″). The windshield features a memory and will hold its last position when the key is turned off. The windshield control buttons are on the L.H.S. handlebar switch gear.
•Dual 60/55 watt multi-reflector headlight assembly can be easily adjusted for two up riding. Left and right sides can be independently adjusted up or down via conveniently located adjustment knobs.
•Headlight LED position lamps not only add a serious styling highlight but also improve visibility.
•Middle cowl increases wind & weather protection in the rider's leg area. The special venting can be adjusted via tool-less quick fasteners. The adjustment range is 20mm or approximately 0.75″, allowing more or less air toward the rider's hip and leg area.
•LED front turn signals are integrated into the middle cowl for a sleek, streamlined appearance. Note: LED lights use less power than conventional bulbs and last longer too.
•Small item storage compartment is located in the upper left side of the fairing. Inside this compartment is a 12 volt 30 watt DC power outlet for added convenience. The lid can only be opened when the ignition is turned on. Its 1 litre capacity is perfect for small items such as cell phone, wallet, garage door opener, etc.
•Quick-release luggage mounts mean fast removal of the 30 litre colour matched hard saddlebags. The FJR1300 has been designed to look great with or without the saddlebags installed. It takes mere seconds to install or remove the locking saddlebags or optional top case.
• Ergonomically shaped, large-capacity 25-litre fuel tank offers an excellent riding range, and is constructed of steel allowing for the use of magnetic tank bags. The reserve portion is 5 litres. The underside of the tank improves air management.
• Easy to read, multifunction instrument panel. On the left side is an analog electric tach, in the middle a digital speedo and on the right a multi-dot liquid crystal display. Functions in the digital speedo include a fuel gauge, D-Mode indicator, clock, and ECO indicator. The DOT matrix display on the right side includes odometer, dual tripmeters, outside air temp, coolant temp, instant fuel consumption, average fuel consumption, estimated travel range (with remaining fuel), time trip and low fuel tripmeter. Other functions include grip heater status and gear position indicator. There are also a full range of warning and indicator lights as well, including cruise and traction control status. The ECO indicator is a light that indicates the bike is being ridden in a manner that conserves fuel.
• Sleek tail section helps reduce drag and features a sturdy rear passenger grab rail. There is a small integrated rack that doubles as the mount for the optional top box.
•Immobilizer ignition system is designed to reduce the possibility of "ride away" theft. This system must recognize the "coded ignition key" in order for the unit to start. If the immobilizer ignition does not recognize the key (or a thief's screwdriver or other type of "jimmy tool") the bike will not start even if the ignition is turned or forced into the on position. If the system does not recognize the coded chip in the ignition key, it will not allow the ignition system, fuel pump or starter motor to function.

/// ADDITIONAL FEATURES
• The FJR features a convenient "one-key" system to operate all keyed devices on the bike including the main ignition, steering lock, saddlebag and optional top case locks.
•Variable heated grips keep hands warm on cool days or evenings
• Glove box contains a 12V DC outlet for phones, GPS units, electric vests, etc.
•5-position adjustable front brake and clutch levers.
•Separate rider & passenger footrests reduce vibration & weight
• Stylish folding mirrors.
• Dual-bulb taillight assembly with integrated turn signals provide a slick, integrated look.
• Small under seat storage area can hold a small U-lock.
•Low-maintenance sealed battery
•Centre stand
The FJR1300 offers a significant level of power and performance. It is not intended for novice or inexperienced riders.
---
2014 Yamaha FJR1300 – Totalmotorcycle.com USA Specifications/Technical Details
US MSRP Price: $NA USD

See FJR1300A and FJR1300ES
---
2014 Yamaha FJR1300 – Totalmotorcycle.com Canadian Specifications/Technical Details
Canada MSRP Price: $17,499.00 CDN
/// ENGINE
ENGINE
Liquid cooled, DOHC, 16 valve, in-line four
DISPLACEMENT
1298cc
BORE AND STROKE
79 x 66.2mm
COMPRESSION RATIO
10.8:1
MAXIMUM TORQUE
14.1kg-m (102 ft-lb) @ 7,000 rpm
ENGINE MANAGEMENT
YCC-T, D-Mode, Traction Control, Cruise Control
FUEL DELIVERY
Mikuni 42mm throttle body F.I.
ESTIMATED FUEL CONSUMPTION±
16kpl / 47mpg (Imp.)
IGNITION / STARTING
TCI / Electric
TRANSMISSION
5-speed
FINAL DRIVE
Shaft

/// CHASSIS
SUSPENSION (FRONT)
Fully adjustable 48mm fork
SUSPENSION (REAR)
Adjustable link Monocross
BRAKES (FRONT)
Dual 320mm discs with 4 piston calipers and ABS
BRAKES (REAR)
282mm disc with single piston caliper and ABS
TIRES (FRONT)
120/70ZR17
TIRES (REAR)
180/55ZR17

/// CRITICAL DATA
LENGTH
2,230mm (87.8 ")
WIDTH
750mm (29.5″)
HEIGHT
1,325mm (52.2″) to 1,455mm (57.3)
WHEELBASE
1,545mm (60.8″)
RAKE / TRAIL
26° / 109mm (4.3″)
GROUND CLEARANCE
130mm (5.1″)
SEAT HEIGHT
805mm (31.7″) or 825mm (32.5″)
FUEL CAPACITY
25 litres (5.5 imp.gal.)
WET WEIGHT
289 kg (637 lb)
COLOUR(S)
Metallic Brown
---
2014 Yamaha FJR1300 – Totalmotorcycle.com UK/Europe Specifications/Technical Details
UK/European MSRP Price: £NA.

Details to follow shortly.
---
2014 Yamaha FJR1300 – Totalmotorcycle.com Australian Specifications/Technical Details
AU MSRP Price: See dealer for pricing AUD

Details to follow shortly.
Specifications, features and prices to change by manufacturer without notice. All information correct as of posted date.