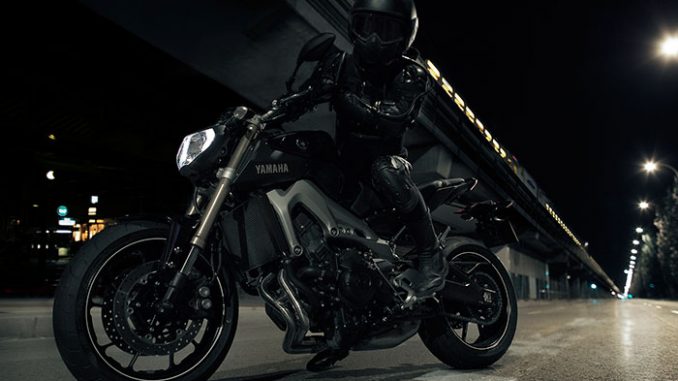 Click photos to enlarge. Our big, clean bike pics make great desktop wallpaper.
2014 Yamaha FZ-09 Review

2014 Yamaha FZ-09
The Darkside of Japan
The new 2014 FZ-09 boasts a game changing 850cc triple engine with cross-plane crank that pumps out exhilarating power and a throaty exhaust note.
The all new 2014 Yamaha FZ09. "Naked" sportbike features a revolutionary 850cc, triple cylinder engine with a cross-plane crank which provides awesome engine torque and feel along with a unique pulse and sound. Its slim design provides an overall light in weight and a nimble ride unlike any other.
Introducing the all-new 2014 FZ-09, a sports model powered by an all-new liquid-cooled, 850 cc in-line 3-cylinder, fuel-injected engine. The FZ-09 has been developed around the concept of a "Synchronized Performance", that allows a rider to enjoy the feeling of complete control in typical everyday riding situations. In other words, the FZ-09 has been designed to respond to your every command.
2014 Yamaha FZ-09 Total Motorcycle Key Features

1. Introducing an all-new 847cc liquid-cooled, in-line 3-cylinder, DOHC, 12-valve engine with fuel injection. This engine combines advanced high tech components including YCC-T® and Yamaha D-Mode, with a crossplane concept crankshaft to deliver an exciting, torquey and quick-revving engine character.

2. This 3-cylinder engine features Yamaha's "Crossplane Crankshaft Concept" that provides linear torque development in response to the rider's throttle input. Among the advantages of the in-line 3-cylinder engine are: (1) linear torque development, (2) even firing intervals that provide smooth torque characteristics and a good feeling of power in the low to mid rpm range, (3) a light, slim and
compact design, and (4) performance that combines the characteristics of both 2-cylinder and 4-cylinder engines.

3. To reduce vibration and deliver a smoother ride, the engine has a primary coupled-force balancer that revolves in the
opposite direction and at the same speed as the crankshaft.
4. A new 6-speed transmission has also been adopted to match the new engine. The transmission has optimized gear ratios that help to deliver engine torque efficiently. The result is a transmission that helps bring out more of the low- to mid-speed torque and excellent response characteristics.

5. The ride-by-wire Yamaha Chip Controlled Throttle (YCC-T) system senses the slightest throttle input by the rider, relays the data to the ECU, which instantaneously calculates the ideal throttle valve opening based on engine rpm and throttle opening, and then sends commands to a servo-motor actuator that moves the throttle valve which actively controls the intake airflow volume. This is a
technology contributing to the rider's feeling of torque and controllability from the new 3-cylinder engine.

6. Electronic fuel injection has been adopted to provide outstanding drivability. 12-hole injectors attached directly to the cylinder head deliver a highly pressurized spray of atomized fuel with droplets as small as a few microns. This enables high-precision injection directed at the valve skirts that contributes to optimum fuel combustion resulting in outstanding drivability and performance.

7. The FZ-09 is equipped with Yamaha D-MODE (or "Drive Mode") variable throttle control system to allow the rider to choose the optimum engine character for their riding situation. The rider can choose at will from three throttle valve control maps (Standard Mode, "A" Mode, and "B" Mode) for different performance characteristics. Operation is performed by a button on the handlebars. STD Mode is set to accommodate a wide range of riding conditions. In this mode the rider can enjoy the 3-cylinder engine's linear torque feeling from low speeds all the way up to high speeds. A Mode lets the rider enjoy sharper throttle response in the low-to mid-rpm range than the STD Mode. B Mode lets the rider enjoy milder throttle response than the STD Mode for more relaxed power characteristics.
Slim, compact, 847cc, DOHC, 16 valve (4-valves/cyl), liquid-cooled, 42.5 degree inclined, inline-three cylinder engine. The engine has been tuned to provide plenty of low to mid-range torque with strong yet linear throttle response.

3 into 1 Exhaust
Stylish, compact, low mounted, 3 into1 exhaust system features stainless steel header pipes with special "Nano-film" coating to help prevent rusting and discolouration.

Style
Stylish, one piece, multi-reflector 65/55 watt halogen headlight highlights the naked roadster styling of the FZ-09.
2014 Yamaha FZ-09 Total Motorcycle Features and Benefits
ENGINE
• Slim, compact, 847cc, DOHC, 16 valve (4-valves/cyl), liquid-cooled, 42.5 degree inclined, inline-three cylinder engine. The engine has been tuned to provide plenty of low to mid-range torque with strong yet linear throttle response. Engine "character" and sound are intoxicating.
• Downdraft style combustion chamber design features 4-valves per cylinder and a 11.5:1 compression ratio for excellent torque output. Four valves per cylinder enhances the low to midrange torque.
• Intake valves are 31mm in diameter and exhaust valves are 25mm. The valve angle is set at 26.5 degrees (intake is 13 & exhaust is 13.5 degrees) to keep the combustion chamber compact. The stainless steel valves feature an Isonite surface treatment and carburized tips for improved durability and wear resistance.
• Valve adjustment intervals are every 40,000 kms.
• Newly designed 120 degree crankshaft is used. This design reduces inertia torque while emphasising linear torque development in response to the rider's throttle action. This design has been optimized to achieve strong torque over a broad rpm range as well as fast, linear throttle response. This engine design allows a whole new level of "rider – machine communication". The engine features and "even" 240 degree firing order.
• A lightweight "coupling force balancer" is used to reduce engine vibration for excellent rider comfort.
• "Fracture split" connecting rods feature a nut less design. The lower end "cap" of the rod is made from the same piece of material as the upper portion; this design is known as "fracture splitting". This design aids in establishing true big end roundness and greater precision in con rod dimensions for excellent durability despite the high horsepower loads.
• Lightweight forged aluminum pistons. Lightweight design aids in fast engine response and reduced weight. During the forging process, the aluminum is heated to the point where it can be shaped under pressure in a die but not to the point that it melts. By not melting the aluminum, the material stays stronger and hence can be lighter with excellent durability.
• Direct plated cylinders are a "liner less" design with a ceramic coating sprayed directly on the aluminum block. This coating enhances the thin film of oil between the cylinder and piston which reduces friction and increases power. Other important benefits include; excellent heat dissipation for consistent power delivery and reduced weight since there are no liners.
• The cylinder is "offset" relative to the crankshaft to reduce frictional losses between the pistons and the cylinder wall during the power stroke.
• One-piece cylinder and upper crankcase assembly provides superior engine rigidity and reduces weight. The engine is a stressed member, so it also improves chassis rigidity as well.
• Lightweight, hollow intake and exhaust camshafts are designed to provide strong low and midrange power and torque, in the most commonly used speed ranges.
• Mechanical "half nut" cam chain tensioner reduces mechanical engine noise. This special design is a world's first for Yamaha and better controls the flexing of the tensioner spring. The benefits include fewer parts and a lighter, more compact design.
• Mikuni, 41mm, throttle body fuel injection system utilizes a throttle position sensor (TPS) and an acceleration position sensor (APS). Yamaha's chip controlled throttle (YCC-T) and D-Modes systems are also used. The injectors feature 12 holes and 20 degree spray pattern. The injectors are located such that the fuel is sprayed directly at the intake valve.
• This is a closed loop fuel injection system, with an oxygen sensor that monitors the amount of oxygen in the spent exhaust gases and adjusts the fuel -air mixture via the ECU and FI system for maximum performance with minimum emissions. The benefits of fuel injection include choke-free starting, steady idling during warm up, excellent fuel economy, and reduced emissions. The system has been "tuned" to provide excellent "ride ability" with "linear" throttle control.
• Yamaha Chip Control Throttle (YCC-T) system electronically controls the throttle valves for outstanding response and improved controllability at all rpms. The YCC-T is used to provide even more control of the intake air volume for a smoother torque character. The YCC-T is capable of responding to changes at a speed of 1000th of a second.
• Yamaha D-Mode variable throttle control enables the rider to adjust the performance characteristics of the engine based on riding preferences or road conditions. Standard mode emphasises the very linear throttle and torque feel of the engine. The A mode allows the rider to enjoy even sportier engine performance in the low to mid rpms. While the B Mode reduces throttle response for riding situations that require softer power characteristics, such as slippery. The D-Mode button is located on the RHS handle bar switch gear.
• Compact Electronic Control Unit (ECU) utilizes a powerful 32-bit processor for fast control of the injection, engine management and ignition processes. The compact design reduces weight.
• New air box features dual resonator chambers and unequal internal intake funnel lengths for all 3 cylinders. The left cylinder funnel is 102.8mm, the centre is 82.8mm and the right cylinder is 122.8mm. The benefit is a wide torque curve and an exciting intake sound that accentuates the exhaust note. A viscous paper type air filter is utilized.
• All new, compact 6-speed transmission "stacks" input/output shafts to centralize mass and to keep the overall engine size shorter front to back. As a result, this allows the engineers the freedom to place the engine in the frame for optimum front to rear weight balance. The transmission primary reduction ratio is 1.681 and gear ratios are optimized to accentuate the torque and throttle response of the engine.
• Compact, wet-type heavy duty, multi-plate clutch ensures consistent, positive engagement.
• Stylish, compact, low mounted, 3 into1 exhaust system features stainless steel header pipes with special "Nano-film" coating to help prevent rusting and discolouration. The muffler is a triple expansion type with a 3-way honeycomb catalyzer to reduce harmful CO and HC exhaust emissions. The low mounted design centralizes mass for excellent handling and a light weight feeling.
• Lightweight flat design radiator for maximum cooling efficiency. There is a protector plate on the lower edge of the rad to prevent small stones from being kicked up into the fan.
• Lightweight, aluminum liquid-cooled oil cooler maintains stable lubricant temperatures for extended engine life.
• Convenient spin-on type oil filter.
• Convenient oil level sight glass means easy oil level inspection.
• Maintenance-free transistor-controlled digital ignition (TCI) ensures fast starts and great performance at all rpms.
• Air Induction System (AIS … not ram air) injects fresh air into the exhaust port to reduce harmful HC and CO emissions for a cleaner environment.

CHASIS / SUSPENSION
• All new CF (Controlled Filling) die cast, twin spar, diamond-type, aluminum frame provides an optimized rigidity balance for incredible sports performance combined with great stability. The engine is a stressed member of the chassis, allowing a lighter, more compact main frame design without sacrificing stability or agile handling qualities.
• The riding position is one of the most important features of the FZ-09 chassis, offering a balance between sports handling and excellent rider comfort thanks to its upright seating position.
• Key chassis geometry figures include: 1440mm (56.7″) wheelbase, 25 degrees of rake and 103 mm of trail. The front to rear weight distribution is 51 / 49%, and the lean angle is 51 degrees, highlighting the very sporty nature of the FZ-09. The chassis dimensions and shape have been designed to enhance the qualities of the 3 cylinder engine and to centralize mass and lower the centre of gravity to provide the rider with "the pleasure of controlling the bike at will"
• Detachable, round tube steel rear sub frame allows easy access to rear suspension components and reduces costs in the event of a "loop-out".
• Lightweight, externally mounted, C.F. (Controlled Filling) die cast aluminum, truss-type rear swingarm offers great rear wheel control and traction for razor-sharp cornering and superb stability at speed.
• Adjustable 41 inverted cartridge style fork offers 137mm (5.4″) of wheel travel. The fork can be adjusted for spring pre-load and rebound damping. The benefits of the inverted design include, reduced "unsprung" weight and reduced fork flex since the larger diameter tubes are gripped in the triple clamps. The adjustable design allows the rider to tailor suspension settings to match rider weight, road conditions and riding style to maximize handling and suspension performance.
• Lightweight, cast aluminum upper and forged aluminum lower triple clamps.
• Adjustable link-type Monocross rear suspension. The rear shock can be adjusted for spring pre-load and rebound damping. The adjustable design allows the rider to tailor suspension settings to match rider weight, riding style and road /track conditions to maximize handling and suspension performance. Rear wheel travel is 130mm or 5.1″
• Dual 298mm floating front discs are squeezed by ultra-rigid, radial mount, Advic, mono block, 4-piston calipers which provide outstanding stopping power and feel. The master cylinder utilizes a 16mm piston for outstanding stopping power with less lever effort.
• 245mm rear disc is squeezed by a lightweight single piston slide-type Nissin caliper with sintered metal brake pads.
• Lightweight, cast-aluminum 10-spoke wheels reduce unsprung weight for great handling characteristics. The front wheel is an MT3.50-17 and is fitted with a 120/70-ZR17 radial tire. The rear wheel is a MT5.50-17 fitted with a 180/55-ZR17 radial tire.
• Conventional, tapered aluminum handlebar design combines with the upright positioning for excellent all day riding comfort.
• 14-litre fuel tank offers a slim design with great knee grip. It is made of steel, for ease of use with magnetic style tank bags. The reserve portion of the tank is 2.8 litres(when the low fuel light illuminates).
• Stylish, one piece, long design (400mm/15.7") rider and passenger seat offers exceptional comfort. Dual texture seat cover. Seat height is 815mm (32.1″).
• New, compact, liquid crystal multi-function meter. Functions (all digital) include bar-style tachometer, digital speedometer, odometer, dual trip meters, fuel gauge, fuel reserve trip meter (counts kilometres since the fuel went on reserve), clock, coolant temperature, gear indicator and an engine trouble diagnostic mode.
• All new handlebar switch gear. Start button is integrated into the engine kill switch.
• Stylish, one piece, multi-reflector 65/55 watt halogen headlight highlights the naked roadster styling of the FZ-09.

DETAILS
• Dunlop SportMax radial tires
• Lightweight forged aluminum footrests, shifter and rear brake pedal
• Brilliant LED rear tail light with unique running / brake light display
• Excessive lean angle engine cut-out switch … if unit is on its side the engine will shut down
• Lockable steering
• Durable "O"-ring-sealed drive chain
• Lightweight, low-maintenance sealed battery
• Yamaha diagnostic tool connector

Additional Features:
• The aluminum, tapered-type handlebars – a first for a Yamaha sportbike – provide a good balance of strength and light weight.
• The fuel tank, with its deeply recessed knee grip area, contributes to a narrow seat/tank juncture.
• Newly designed, compact, hexagonal-type rearview mirrors match the "mass forward" design of the rest of the bike.
• A newly designed lightweight, compact, full LCD instrument panel is adopted. The tachometer has a digital bar-type display with gear position indicator. The electric starter button is a new slide-type that incorporates the engine cut-off switch is an integrated button for a modern and high quality appearance.
• The brake pedal, shift pedal, and footrests are made of forged aluminum for light weight and excellent appearance.
• The LED taillight has separate left and right lamps that illuminate when the taillight is on and across the entire lens when the brake light is on.

The FZ-09 offers a significant level of power and performance. It is not intended for novice or inexperienced riders.
---
2014 Yamaha FZ-09 – Total Motorcycle USA Specifications/Technical Details
US MSRP Price: MSRP* $7,990 (Liquid Graphite) Available from September 2013; $7,990 (Rapid Red) Available from September 2013

Engine
Engine Type 847cc liquid-cooled DOHC 4-stroke; 12 valves
Bore & Stroke 78.0 x 59.1mm
Compression Ratio 11.5:1
Fuel Delivery Fuel Injection
Ignition TCI: Transistor Controlled Ignition
Transmission 6-speed; multiplate wet clutch
Final Drive O-ring chain

Chassis
Suspension / Front 41mm fork; adjustable preload and rebound damping; 5.4-in travel
Suspension / Rear Single shock; adjustable preload and rebound damping; 5.1-in travel
Brakes / Front Dual hydraulic disc, 298mm
Brakes / Rear 267mm disc
Tires / Front 120/70-ZR17
Tires / Rear 180/55-ZR17

Dimensions
Length 81.7 in
Width 32.1 in
Height 44.7 in
Seat Height 32.1 in
Wheelbase 56.7 in
Ground Clearance 5.3 in
Rake (Caster Angle) 25.0°
Fuel Capacity 3.7 gal
Fuel Economy** N/A
Wet Weight*** 414 lb

Other
Warranty 1 Year (Limited Factory Warranty)

---
2014 Yamaha FZ-09 – Total Motorcycle Canadian Specifications/Technical Details
Canada MSRP Price: 8,999.00 CDN
ENGINE
Liquid-cooled, DOHC, 16-valve, inline-three cylinder
DISPLACEMENT
847cc
BORE AND STROKE
78 x 59.1 mm
COMPRESSION RATIO
11.5:1
MAXIMUM TORQUE
8.9 kg-m (64.3 ft-lbs.) @ 8,500 rpm
ENGINE MANAGEMENT
YCC-T & D-Mode (3 positions)
FUEL DELIVERY
Mikuni 41mm throttle body F.I.
LUBRICATION
Wet sump
IGNITION / STARTING
TCI / Electric
TRANSMISSION
6-speed
FINAL DRIVE
"O"-ring chain

CHASSIS
SUSPENSION (FRONT)
Adjustable 41mm inverted fork
SUSPENSION (REAR)
Adjustable link Monocross
BRAKES (FRONT)
Dual 310mm discs / radial mount 4-piston calipers
BRAKES (REAR)
245mm disc / single piston caliper
TIRES (FRONT)
120/70ZR17
TIRES (REAR)
180/55ZR17

CRITICAL DATA
LENGTH
2,075mm (81.7″)
WIDTH
815mm (32.1″)
HEIGHT
1,135mm (44.7″)
WHEELBASE
1,440mm (56.7″)
RAKE / TRAIL
25° / 103mm
SEAT HEIGHT
815mm (32.1″)
FUEL CAPACITY
14 litres (3.1 imp. gallons)
WET WEIGHT
188 kg (414 lb.)
COLOUR(S)
Vivid Red
Dark Metallic Grey
---
2014 Yamaha FZ-09 – Total Motorcycle UK/Europe Specifications/Technical Details
UK/European MSRP Price: £NA.

See 2014 Yamaha MT-09 model.
---
2014 Yamaha FZ-09 – Total Motorcycle Australian Specifications/Technical Details
AU MSRP Price: See dealer for pricing AUD

Details to follow shortly.
Specifications, features and prices to change by manufacturer without notice. All information correct as of posted date.