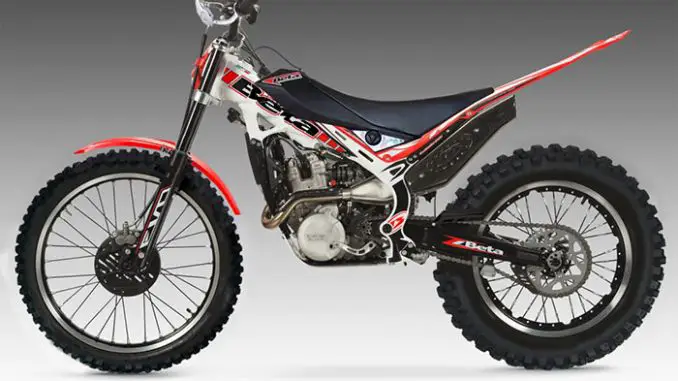 Click photos to enlarge. Our big, clean bike pics make great desktop wallpaper.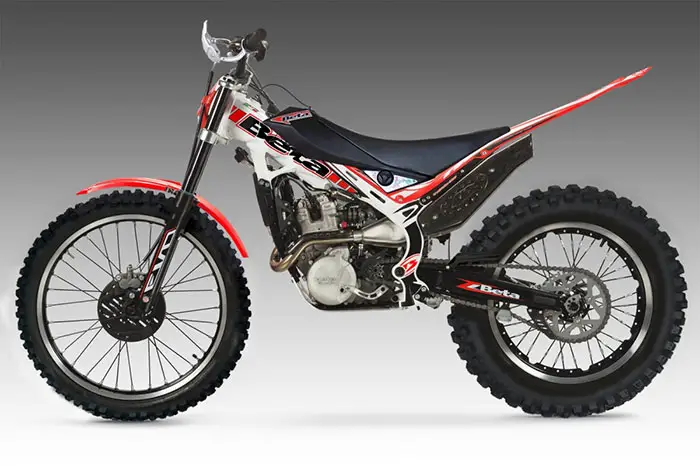 2015 Beta EVO250 4-Stroke Sport
2015 Beta EVO250 4-Stroke Sport Review

2015 Beta EVO250 4-Stroke Sport on Totalmotorcycle.com
More updates….
The popular 250 and 300 models both receive the following updates:
All new shock which includes a nitrogen valve for easy service. This new shock is not only lighter but also will operate at lower temperatures due to a low-friction floating piston and polished internals. This, in junction with the new shorter fork tubes insures the finest and most balanced suspension on the market.
The ignition system has been adopted from the Evo Factory Editions. It includes a 12-pole stator for higher output to the cooling fan while offering easier starting. The flywheel rotor has been reversed to move the rotating mass closer to the center of the engine. This enhances the balance and feel of the bike. The system is finished off with a magnesium cover. The cover replaces the plastic found on earlier models and insures to keep water out.
The Evo 250 now has a new crankshaft that has narrower yet larger diameter crank flywheels. This along with the new engine cases provides more spinning inertia while also moving more mass to the center of the engine. This system is shared with the 300 and was found on last season's 300 Factory Edition as well.
Both the 250 and 300 benefit from a newly designed exhaust pipe that provides more low end power. The design works in harmony with the new engine crankshaft and flywheel system to provide more traction without losing any top-end power delivery.
2015 Beta EVO250 4-Stroke Sport Totalmotorcycle.com Features and Benefits
– All 2015 models receive the new head cover with a coolant bleed plug
– New longer fuel valve lever has been added to make it easier to turn the fuel off and on.
– Updated fuel valve lever
– New 12-pole stator (right) with "Reversed" flywheel
– Magnesium ignition cover (right)
Items included with all Evo Sport models:
• Long Range fuel tank with built-in seat for trail riding
• Knobby tires
• Front fender lift kit to prevent mud packing into fender
• Updated clutch setting for a more aggressive engagement
• Beta hand guards
• Distance meter mounted on handlebars
• Larger countershaft sprocket for casual trail riding
• Special graphics
---
2015 Beta EVO250 4-Stroke Sport – www.Totalmotorcycle.com International Specifications/Technical Details
MSRP Price: $8,499 USD

Engine
Type: Single cylinder, 4-stroke, 4-valve, liquid-cooled
Bore: 77mm
Stroke: 53.6mm
Displacement:249.6cc
Compression Ratio:11.5:1
Ignition:Electronic 12 volt, 85 watt w/ dual-map switch (aggressive or soft settings)
Spark Plug:NGK CR7EB
Lubrication:Internal oil pump w/ cartridge filter
Carburetor:Mikuni CV
Clutch:Wet multi-disc
Transmission:5-speed
Chassis
Frame:Aluminum beam, single wave Hydro-Formed w/built in fuel tank
Wheelbase:51.4"
Seat Height:26"
Ground Clearance:12.2"
Footrest Height:13.6"
Dry Weight:155.5 lbs. dry
Fuel Tank Capacity:.75 US gallons
Front Suspension:38mm Paioli including hard-coated tubes
Rear Suspension:Adjustable single shock, aluminum bodied, with nitrogen valve including linkage
Front Wheel Travel:6.5"
Rear Wheel Travel:7.1"
Final Gearing:11t front, 42t rear
Front Brake:185mm rotor w/ 4-piston caliper
Rear Brake:160mm rotor w/ twin-piston caliper
Front/Rear Rim:21" (Front) 18" (Rear)
Front/Rear Tire:Michelin Trial
Warranty:6 month Limited Warranty
MSRP: $8499.00
*specifications subject to change without notice.
Additional information on all models including manuals, accessories and parts books are available online at BetaUSA.com under Support.

Specifications and appearance are subject to change without prior notice.