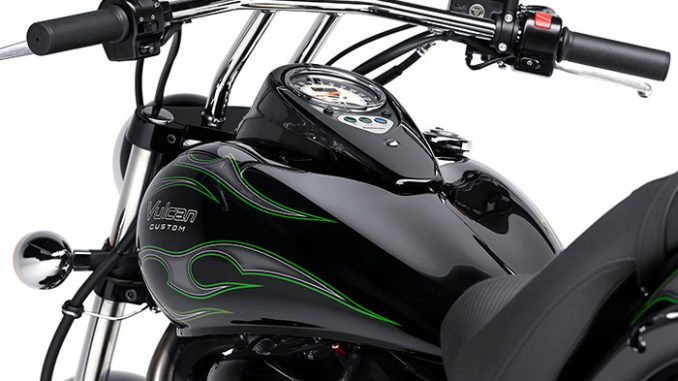 Click photos to enlarge. Our big, clean bike pics make great desktop wallpaper.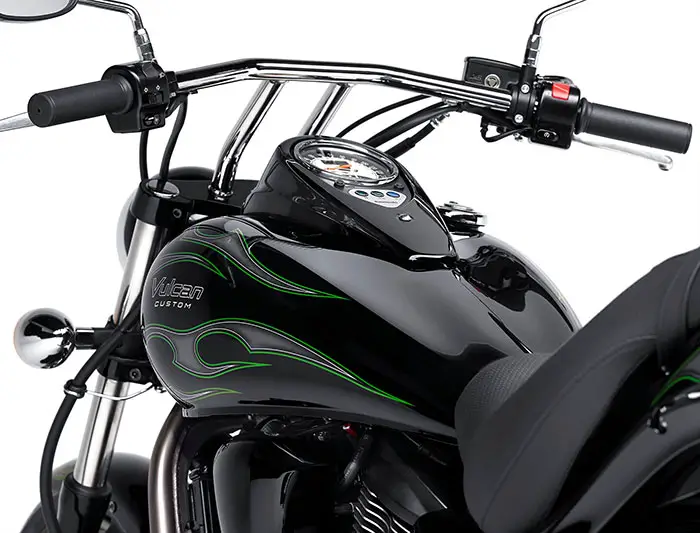 2015 Kawasaki Vulcan 900 Custom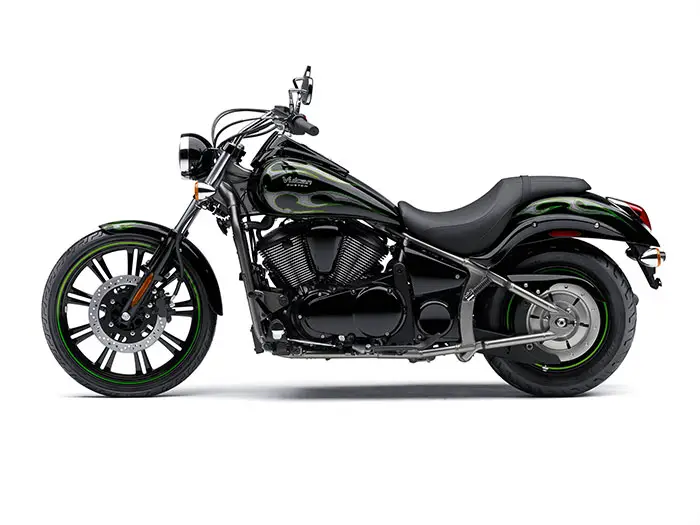 2015 Kawasaki Vulcan 900 Custom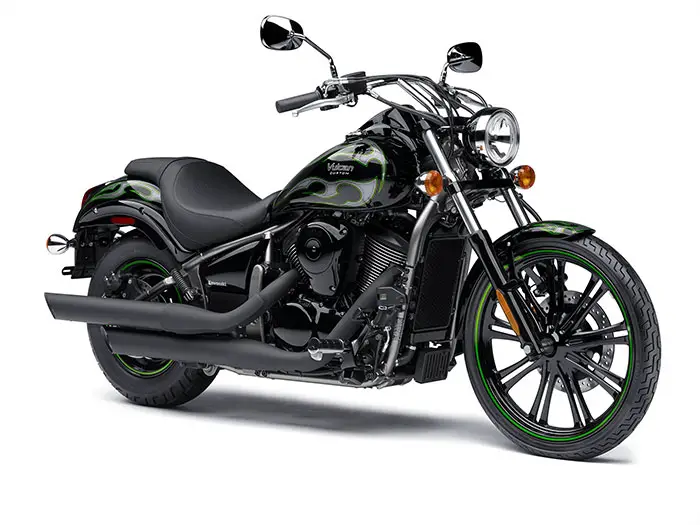 2015 Kawasaki Vulcan 900 Custom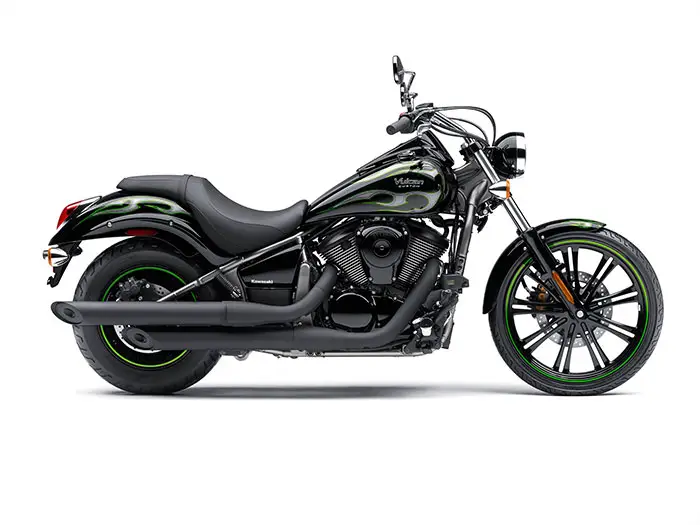 2015 Kawasaki Vulcan 900 Custom
2015 Kawasaki Vulcan 900 Custom Review

2015 Kawasaki Vulcan 900 Custom on www.Totalmotorcycle.com
Blacked-Out Street Rod-Style Cruiser in an Accessible Package…
Vulcan® 900 Custom is an easy motorcycle to like because it is different from the average cruiser. The bike's custom styling oozes attitude from its tall front tire to the blacked-out features such as the mufflers that might more predictably wear a chrome coating on some of the competitors. In addition, the drag-style handlebar and low-slung seat put the rider in the perfect position to get the most out of this easy-to-ride, powerful and dependable Kawasaki cruiser.
HIGHLIGHTS OF 2015 KAWASAKI VULCAN 900 CUSTOM
•Smooth 903cc V-twin DFI® engine
•Black cast wheels with fat 180mm rear tire
•Forward-mounted foot controls and drag-style handlebar
•Tank-mounted instrumentation on class-leading 5.3-gallon fuel tank
•Efficient low-maintenance belt drive
POWERTRAIN
Vulcan 900 Custom packs a fuel-injected 903cc V-twin engine for the sort of roll-on acceleration that will surprise many folks on larger motorcycles. Carrying the easy-to-manage engine is a chassis that allows nimble handling that will put most heavyweight cruisers to shame. So, while your friends admire the Custom's looks, you can smile in the knowledge that its appearance is merely the wrapper on Kawasaki's expert engineering, long-term dependability and satisfying performance.

STYLING
Vulcan 900 Custom's unique, edgy design lets it stand out from the cruising crowd. Kawasaki designers and engineers concentrated on delivering a motorcycle with a customized appearance typically found only on hand-made one-of-a-kind custom builds. A massive rear tire, stylish front-end accentuated by a thin 21" cast wheel, and sculpted bodywork are the stand-out features of the Vulcan 900 Custom.
Perhaps one of the most striking examples of the Vulcan cruiser's distinctive look is the large-diameter 21" front wheel – a rare commodity in the custom-building world. The wheel features spokes arranged in pairs for visual appeal. Balancing the lightweight look of the front-end is a low, wide rear wheel featuring a 180mm tire on a 15" cast wheel that gives the rider the feeling of sitting on a made-to-order motorcycle.
Bridging the visual contrast between the front and rear wheels is a sleek and subtle fuel tank. Its flowing lines easily lead the eye along the delicate curves that bring together the highly customized form of this mid-sized cruiser. And its stylish aesthetics provide the ideal platform for customization with Kawasaki Genuine Accessories.
Ready for anything, from local streets to highway speeds, the Vulcan 900 Custom's excellent power, easy maneuverability and good looks make it the one to own.

2015 Kawasaki Vulcan 900 Custom www.Totalmotorcycle.com Key Features

Key Features
903cc V-twin provides an optimal balance of performance and rideability in a stylish package
Black cast wheels – solid-looking rear and "twin-spoke" front
Forward-mounted foot controls and drag-style handlebar for a laid-back riding position with plenty of attitude
Fat 180mm rear tire is the widest in its class and adds to the big bike feel
Stylish tank-mounted instrumentation includes fuel gauge
Class-leading 5.3-gallon fuel tank
Efficient belt drive runs cleaner and with less maintenance than a chain
Digital Fuel Injection (DFI®) delivers precise throttle control with enhanced fuel economy
2015 Kawasaki Vulcan 900 Custom www.Totalmotorcycle.com Features and Benefits
903cc V-twin SOHC Engine
Smooth and reliable engine tuned to deliver a healthy dose of torque at low RPM
Gear-driven balancer allows a single-pin crankshaft without excessive vibration
Rubber-mounted to reduce engine vibration at all speeds

Four-valve Cylinder Head
Provides maximum valve area for optimum flow, creating more power and low-end torque
Single overhead camshaft design is simple, lightweight and practical
Long intake tracts narrow near the combustion chamber to increase intake flow speed for more efficient filling, increased torque and better low-end response

Electronic Fuel Injection
Superb performance and rideability thanks to dual throttle bodies with sub-throttle valves
The ECU-controlled sub-throttles are located behind the main throttle valve, allowing the DFI® system to provide precise throttle response
Fine-atomizing fuel injectors produce a fine mist for optimal acceleration, combustion and fuel consumption

Liquid- and Air-cooling
Finned cylinders and heads combine with liquid cooling for exceptional thermal control
Maintains consistent engine temperatures for long engine life and sustained power
Automatic fan helps keep things cool

Dual Slash-cut Mufflers
Big slash-cut mufflers look great and contain emission reducing honeycomb catalyzers
Satin black finish for extra attitude

Double Cradle Frame
Very rigid, large-diameter box section backbone allows space for a larger fuel tank, and lightweight handling at low speeds
Fork offset and frame geometry combine for light, low-effort handling at very low speeds
Long wheelbase contributes to a comfortable highway ride
Triangular swingarm has a hardtail appearance, but utilizes a single shock hidden beneath the seat
Long and low chassis for minimal seat height, maximum visual impact

Belt Drive
Lower unsprung weight than shaft drive to improve ride quality and suspension action
Low maintenance and low noise

41mm Front Fork
Offers excellent rigidity and 5.9″ of travel
33-degrees of rake and 7.2″ of trail for excellent straight line tracking

Front and Rear Disc Brakes
300mm front and 270mm rear brake discs are gripped by twin-piston calipers for some of the best stopping power in the class

Custom Cast 21″ Front Wheel
The 18-spoke front wheels are arranged in pairs
Tapered and flanged in two directions, every line and surface of each spoke is exquisitely crafted
Aggressive black finish

Wide Rear Tire
180mm-wide rear tire provides added traction while projecting a powerful image
Wider tire than that found on most large-displacement cruisers
Cast 15″ rear wheel contrasts the tall front wheel
Aggressive black finish

Tank-mounted Instruments
– Speedometer with turn signal indicators and caution lamps are housed on the tank
Provides crucial information at a glance
Compact design matches the bike's clean look

Sculpted Bodywork
Fuel tank features a twin valley design, with a dynamic tension and presence all its own
Designed to be pleasing to both the eye and the touch, the tank is composed entirely of curves with varying radii; the twin valley theme continues to the rear fender and its sculpted contours
The bottom of the rear fender features a relatively straight cut to match the lines of the motorcycle

Custom Features
Chrome headlamp and mount, lower triple clamp, turn signals, footpegs, shift lever and rear brake lever
Clean headlight design is compact and isolated without a central fork cover or mounting bar
Small, minimalist fender and lack of front fork covers also contributes to the slender appearance of the front-end
Sporty, straight-style handlebar adds to the bike's custom styling. Instead of handlebar clamps, twin tubes elegantly curve from the upper triple clamp. Both the handlebar and twin tubes are chromed
Forward-mounted footpegs instead of floorboards add to the custom image and improve rider control
The one-piece "gunfighter" style seat was designed for comfortable rider and passenger accommodation
Standard toe-operated shift lever complements the forward footpegs for a more comfortable riding position

Kawasaki Genuine Accessories
A full range of Kawasaki Genuine Accessories are available through authorized Kawasaki dealers
These include a number of windshields, light bars, passenger backrests, gel seats, saddlebags, dress-up covers and many more
---
2015 Kawasaki Vulcan 900 Custom – www.Totalmotorcycle.com USA Specifications/Technical Details
US MSRP Price: $8,499 USD

Engine: Four-stroke, liquid-cooled, SOHC, four valves per cylinder, V-twin
Displacement: 903cc / 55.1 cu in
Bore x stroke: 88 x 74.2mm
Compression ratio: 9.5:1
Maximum torque: 58.2 lb-ft @ 3,500rpm
Cooling: Liquid
Fuel injection: DFI® with dual 34mm Keihin throttle bodies (2)
Ignition: TCBI with digital advance
Transmission: Five-speed with positive neutral finder
Final drive: Belt
Frame: Double cradle, high-tensile steel
Rake / trail: 33-degrees / 7.2″
Front suspension / wheel travel: 41mm hydraulic telescopic fork / 5.9″
Rear suspension / wheel travel: Uni-Trak® swingarm, 7-way adjustable spring preload / 4.1″
Front tire: 80/90×21
Rear tire: 180/70×15
Front brake / rear brake: 300mm hydraulic disc / 270mm hydraulic disc
Overall length: 94.7″
Overall width: 35.2″
Overall height: 44.1″
Seat height: 27″
Curb weight**: 610.8 lb
Fuel capacity: 5.3 gallons
Wheelbase: 64.8″
Colors: Ebony
MSRP: $8,499
Warranty: 12 months
Kawasaki Protection Plus (optional): 12, 24, 36, and 48 month plans are available
---
2015 Kawasaki Vulcan 900 Custom – www.Totalmotorcycle.com Canadian Specifications/Technical Details
Canada MSRP Price: $NA CDN
Model not available

* The Manufacturer's Suggested Retail Price does not include freight, pre-delivery inspection or applicable taxes. The final price is at the discretion of the dealer. Prices and Specifications are subject to change without prior notice. The amount indicated as "Your price" may include an optional instant Mega Cash credit that is deducted from the manufacturer's suggested retail price before taxes. This promotion is time limited and certain conditions will apply. See your dealer for complete details. Offer not available on financed purchases and cannot be combined with any other special offers. The final price is at the discretion of the dealer. Prices and Specifications are subject to change without prior notice.
** Includes all necessary materials and fluids to operate correctly, full tank of fuel (more than 90% of capacity) and tool kit (if supplied)
‡ Power / Torque figures measured at the crankshaft.
The specifications mentioned here apply to and have been achieved by production models under standard operating conditions. We intend only to give a fair description of the vehicle and its performance capabilities but these specifications may not apply to every machine supplied for sale. Kawasaki Heavy Industries, Ltd. reserves the right to alter specifications without prior notice. Equipment illustrated and specifications may vary to meet individual markets. Available colours may vary by market.