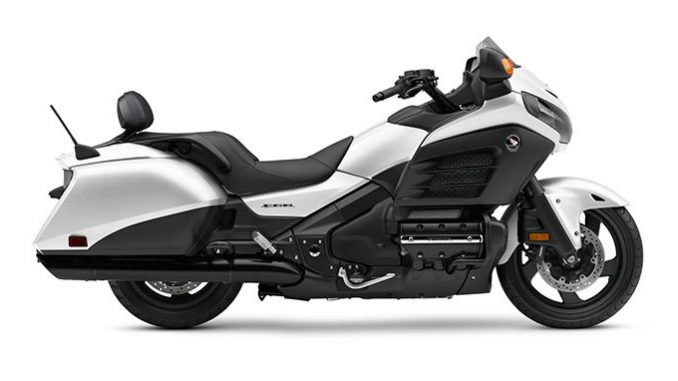 2016 Honda Gold Wing F6B Deluxe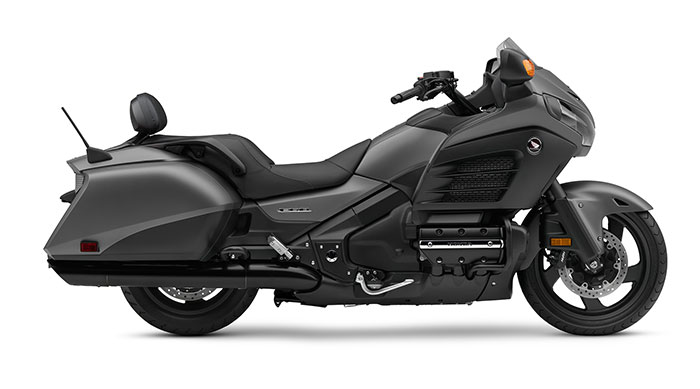 2016 Honda Gold Wing F6B Deluxe
2016 Honda Gold Wing F6B Deluxe Review

2016 Honda Gold Wing F6B Deluxe on www.Totalmotorcycle.com
A New Way To Go Deluxe…
Maybe you want a touring bike that's like nothing else out there. Maybe you want a cruiser that's not a cookie–cutter clone. Maybe you just want a bike that's big enough to take you wherever you want to go, and do it in comfort and style, with plenty of class and independence.
If that's what you're after, Honda's Gold Wing F6B Deluxe is your kind of bike. Big, smooth, powerful. The Gold Wing F6B Deluxe uses technology gathered from our own Honda Gold Wing, a bike that's set the standards in Luxury Touring for the last 40 years. But the F6B is lighter, trimmer and leaner. You're going to find that it's perfect for around-town rides, shorter trips or weekend getaways. You're also going to find that it will blow away just about any conventional cruiser in terms of looks and commanding presence—not to mention on-road performance.
You asked for it, so here it is. And the F6B is still available in two trim levels—standard and deluxe with a new Matte Pearl White. With plenty of storage capacity and with many of the Gold Wing's comfort and luxury features, the F6B is ready to take you wherever adventure calls. Isn't it about time you answer?

Cruise Control
It's a perfect standard for a bike like the F6B that's designed for some serious distance riding.

Integrated Luggage
Luggage performs better when it's designed in, not added as an afterthought. The F6B sports twin-integrated saddlebags with 22 liters of storage; both are lockable and sealed against the elements.

Six-Cylinder Engine
Based on the Gold Wing's 1832cc powerplant, the Gold Wing F6B Deluxe's engine features the same smooth power. And since the Gold Wing F6B Deluxe is lighter, it's going to feel even more powerful.

Two Feature-Package Versions
Gold Wings have always been famous for creature comforts. So the Gold Wing F6B Deluxe comes loaded with everything from cruise control, surround sound to an adjustable air suspension. The F6B Deluxe goes even further, with self-cancelling turn signals, backrest, heated grips, centerstand and more.
2016 Honda Gold Wing F6B Deluxe www.Totalmotorcycle.com Key Features
•1832cc liquid-cooled, horizontally opposed six-cylinder engine
•Cruise control, integrated luggage, low-profile windshield, adjustable suspension, comfortable seat
•Premium surround sound
•Adds: centerstand, passenger backrest, heated grips and self-cancelling turn signals.

Raising the Ante

It's impossible to compare the F6B to the competition, because there's nothing else like it on the road except for our own Gold Wing and Valkyrie. And as you'd expect from a motorcycle of this caliber, the F6B offers the refinement, fit, finish, and overall dedication to advanced engineering and quality that only a Honda can. We've been making Gold Wings for 40 years now, and the F6B benefits from all that experience. One ride and you'll see what we're talking about. And you'll wonder why anyone could settle for anything less.
2016 Honda Gold Wing F6B Deluxe www.Totalmotorcycle.com Features and Benefits
Aggressive Styling
It's like no other Gold Wing we've ever made. The F6B features sleek, super streamlined bodywork with a lower, swoopier profile that sweeps back from the minimal windscreen to the low rear cowl right where the trunk could have been. And where other bikes have chrome, the F6B is pure blacked-out metal, from engine casing to the cast wheels.
Audio System with Surround Sound
Making a superior motorcycle sound system is a challenge, but it's one that Honda has mastered like no other bike maker. You'll be amazed when you experience the clear, powerful surround sound (SRS CS Auto*) with deep, powerful bass. And for those who prefer headsets (SRS Headphone*), you'll discover sound that feels three-dimensional and totally realistic (SRS CS Auto*)**.
Low-Profile Windscreen
When it comes to engineering, Honda has unmatched resources. Countless hours in our research facility wind tunnels led to the F6B's revolutionary windscreen. With its minimal design it saves weight, eliminates a prime cause of wind drag and delivers absolutely amazing wind and weather protection. Riders will also love how open the cockpit now feels.
Cruise Control
Perfected on our Gold Wing touring bikes, the F6B's cruise control offers a full range of features: set, resume, step up and down. It works seamlessly, and it makes this smooth-riding machine seem even smoother, and it a real benefit on long, straight highway sections.
Glovebox Within Glove Reach
Because all Gold Wings feature a low-mounted fuel tank, there's additional storage room right in front of the rider. It's easy to access this convenient storage, and it's lockable for items like your cell phone, GPS or camera for scenic turnouts.
Heated Grips
Sure, you always wear gloves, but what if they're not heavy enough for really cold weather? Now there's help right at your fingertips-literally. Experienced riders know this concept that sounds like a luxury until you have it; then it becomes a necessity you'll never want to ride without. (Deluxe Model)
1832cc Liquid-Cooled, Fuel-Injected Engine
Sometimes a powerplant rises above the merely functional and becomes an icon for superior engineering. It is this engineering that powers the Gold Wing F6B. The technically savvy are impressed with its electronic programmable fuel injection, its compact flat-six design, how it's horizontally opposed for smoothness and the fact that all this is achieved with regular unleaded gasoline. Even more impressive is the character this liquid-cooled, 1832cc six gives the Gold Wing F6B—effortless, comfortable, and completely competent year after year.
Easy-Up Centerstand
Sometimes a side stand just isn't enough. Putting your F6B up on the centerstand gives you a little more confidence when you park it and leave it—no chance of it accidentally being brushed past and pushed over. If you've ever come back and found your bike on its side, you know the feeling. It also makes routine maintenance on the bike a lot easier. (Deluxe Model)
Adjustable Suspension
On a touring motorcycle, how much weight you carry constantly changes. Passenger or no passenger, loaded or empty saddlebags: you need an adjustable suspension that's also easy to adjust. The F6B features a rear Pro Arm® single-side swingarm with Pro-Link® single shock. Best of all, the spring-preload adjustment is remote-controlled.
Shaft Final Drive
Clean, efficient and virtually maintenance-free, the F6B's proven shaft final drive is exactly what you want on a bike like this. You can pile on the miles without ever having to worry about lubricating or adjusting a chain.
Long-Distance Seating
You don't design a comfortable seat for two without putting in real miles, and Honda engineers have racked up millions of them. Our experience and testing have created a seat design that gives the rider just enough back support while providing the passenger an elevated view so they can see more than the back of a helmet. The F6B's carefully tuned padding and shape mean more pleasure from more miles in the saddle.
Passenger Backrest
Nothing makes passengers happier, especially on bikes, than a comfortable and secure backrest. The F6B features a sleek, modern design that's totally integrated with its overall look. It's just wide enough, just padded enough to make every mile just a little more comfortable for your riding partner. And you can't be happy if they're not happy. (Deluxe Model)
iPod® Connectivity
The Gold Wing F6B has an unbeatable sound system, so don't forget to pack your music. Now you can connect a compatible Apple® iPod® player and control it through the Gold Wing's audio controls, or you can plug in a USB flash drive MP3, WMA6 or AAC music files. The connector is located in the lockable saddlebags, where devices can be conveniently carried and discreetly stored.
Spacious Storage
Creating a high-performance touring bike means paying careful attention to the art of packing. The Gold Wing F6B's twin saddlebags are mounted low for a better center of gravity, sealed to be weather resistant and lockable to deter thievery. Offering 22 liters of space, there's ample room for the stuff you need to enjoy every trip.
Self-Cancelling Turn Signals
When you share the road, you always want other riders and drivers to know what your intentions are, so it can be unsettling when you realize you left your turn signal blinking long after the turn. The F6B is equipped with turn signals that automatically turn off after they detect that you've completed a turn. (Deluxe Model)
Exhaust System
Baggers have a little attitude—and the F6B sets plenty of records in that department, thanks to an exhaust internals that give it a throatier, meaner sound.
---
2016 Honda Gold Wing F6B Deluxe – www.Totalmotorcycle.com USA Specifications/Technical Details
US MSRP Price: $21,499 USD

ENGINE
Engine Type 1832cc liquid-cooled horizontally opposed six-cylinder
Bore And Stroke 74.0mm x 71.0mm
Induction PGM-FI
Ignition Computer-controlled digital with 3-D mapping
Compression Ratio 9.8:1
Valve Train SOHC; two valves per cylinder

DRIVE TRAIN
Transmission Five-speed including Overdrive
Final Drive Shaft

CHASSIS / SUSPENSION / BRAKES
Front Suspension 45mm cartridge fork with anti-dive system; 4.8 inches travel
Rear Suspension Pro Arm® single-side swingarm with Pro-Link® single shock with remote-controlled spring preload adjustment, 4.1 inches travel
Front Brakes Dual full-floating 296mm discs with CBS three-piston calipers
Rear Brake Single ventilated 316mm disc with CBS three-piston caliper
Front Tire 130/70R-18
Rear Tire 180/60R-16

DIMENSIONS
Rake 29.15°
Trail 109mm (4.3 inches)
Wheelbase 66.5 inches
Seat Height 28.5 inches
Curb Weight 855 pounds (Includes all standard equipment, required fluids and a full tank of fuel-ready to ride)
Fuel Capacity 6.6 gallons
Miles Per Gallon 34 MPG – Miles per gallon values are calculated estimates of fuel consumed during laboratory exhaust emissions tests specified by the EPA, not during on road riding. Use for comparison purposes only. Your actual mileage will vary depending on how you ride and maintain your vehicle, weather, road conditions, tire pressure, cargo and accessories, rider and passenger weight, and other factors.

OTHER
Model Id GL1800BD
Emissions Meets current California Air Resources Board (CARB) and EPA standards.
Available Colors Matte Silver, Matte Pearl White

FACTORY WARRANTY INFORMATION
Three Years Transferable, unlimited-mileage limited warranty; extended coverage available with a Honda Protection Plan.
---
2016 Honda Gold Wing F6B Deluxe – www.Totalmotorcycle.com Canadian Specifications/Technical Details
Canada MSRP Price: $ CDN
See Honda Gold Wing F6B ABS


---
2016 Honda Gold Wing F6B Deluxe – www.Totalmotorcycle.com European Specifications/Technical Details
Europe/UK MSRP Price: £ GBP (On The Road inc 20% Vat)
NA
Specifications, features, illustrations and equipment shown are believed to be correct – however, accuracy cannot be guaranteed. Honda Canada Inc. reserves the right to make changes at any time, without notice or obligation, in colours, specifications, accessories, materials and models. Some vehicles are shown with optional equipment. Some vehicles shown are U.S. or European models. Canadian specifications and models may vary.
Manufacturer Specifications and appearance are subject to change without prior notice on Total Motorcycle (TMW).