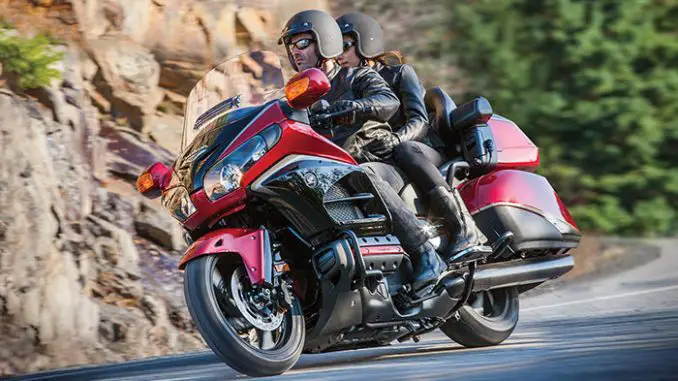 2016 Honda Gold Wing GL1800 Audio Comfort Navi XM ABS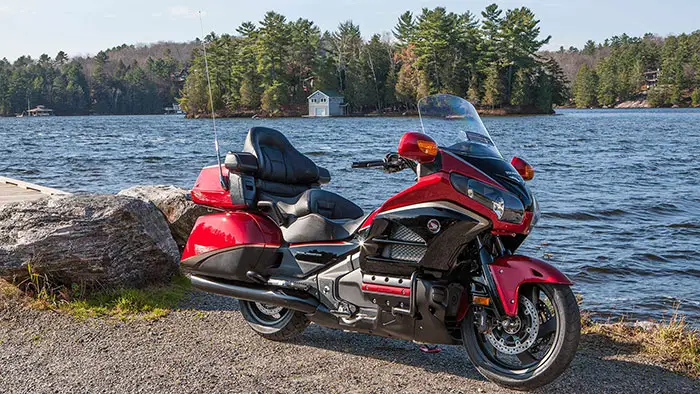 2016 Honda Gold Wing GL1800 Audio Comfort Navi XM ABS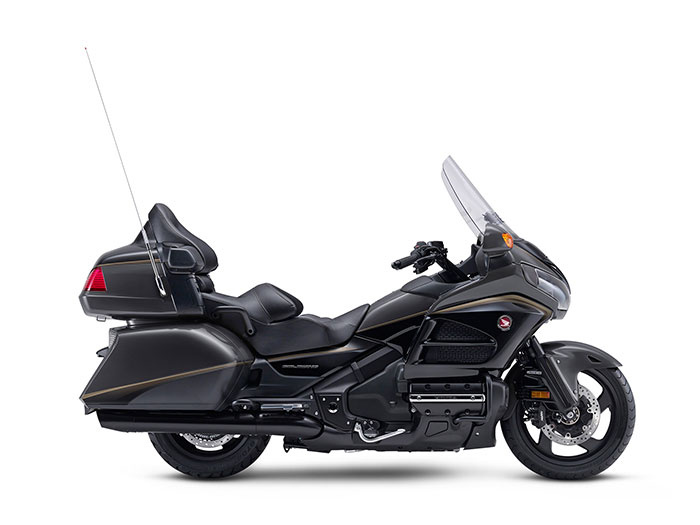 2016 Honda Gold Wing GL1800 Audio Comfort Navi XM ABS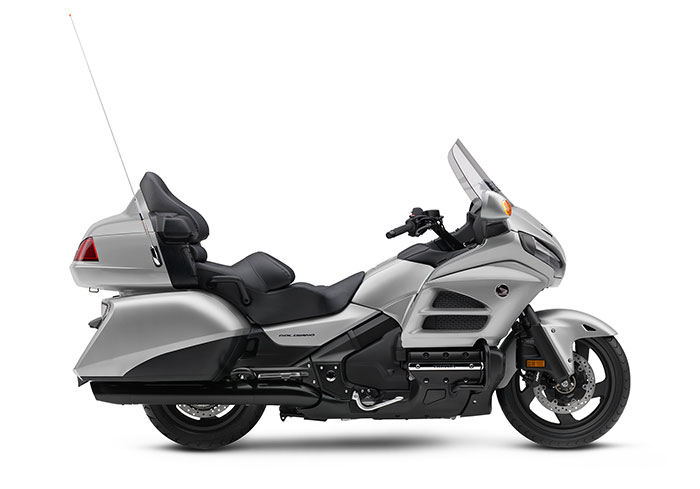 2016 Honda Gold Wing GL1800 Audio Comfort Navi XM ABS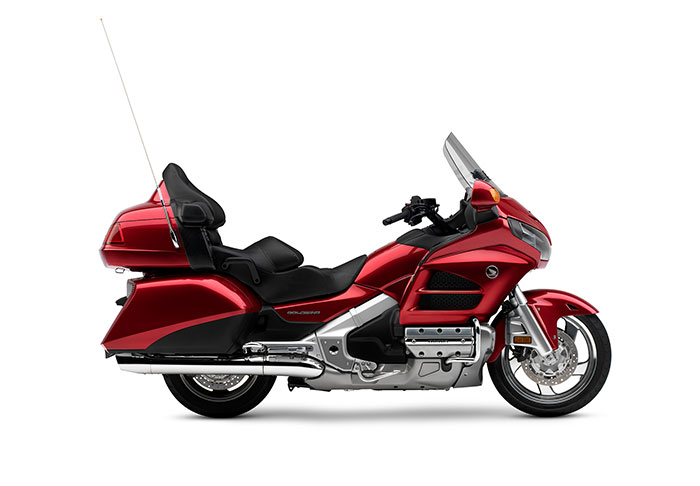 2016 Honda Gold Wing GL1800 Audio Comfort Navi XM ABS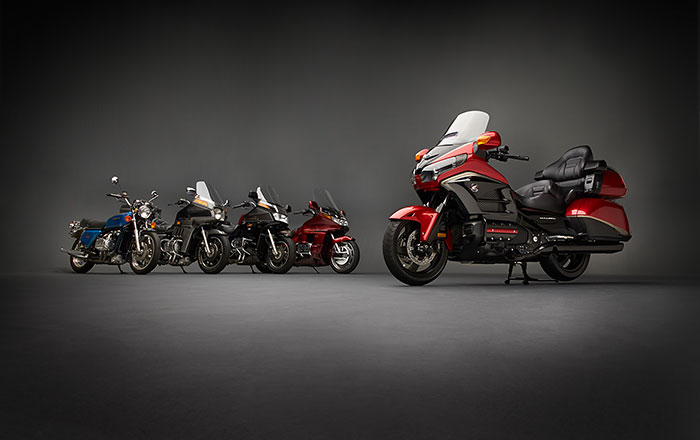 2016 Honda Gold Wing GL1800 Audio Comfort Navi XM ABS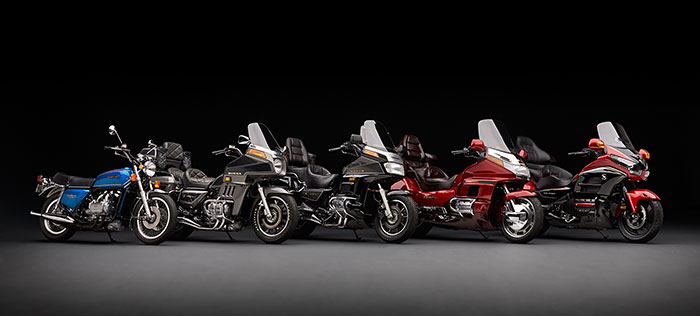 2016 Honda Gold Wing GL1800 Audio Comfort Navi XM ABS
2016 Honda Gold Wing GL1800 Audio Comfort Navi XM ABS Review

2016 Honda Gold Wing GL1800 Audio Comfort Navi XM ABS on www.Totalmotorcycle.com
The Gold Standard in Touring…
No motorcycle has changed the concept of touring like the Honda Gold Wing. A horizontally opposed engine offering power, performance and perfect smoothness. Shaft final drive. A chassis designed for day–long comfort. And over the last four decades, the Gold Wing has just gotten better and better, and touring riders have had it better and better too—full-coverage bodywork, bigger engines, more cylinders, better chassis, more power, integrated luggage.
Take a week off—or even just a weekend. Pack up the Gold Wing's saddlebags. Settle in behind that full–coverage windshield and bodywork. And point it down the road to someplace you've never been.
Or plan your lifetime trip, and program it in to the Gold Wing's available navi system. You see, the Gold Wing doesn't dictate how or where you ride—it lets you live the dream, and lets you take a lucky passenger along too.
Travel first class.
Since 1975, the Gold Wing has set the standard for a luxurious tourer. No other two-up motorbike can match the combination of power and refinement. Travel Gold Wing class and discover a supremely comfortable and rewarding way to see the world.
Luxurious comfort
Even a long tour never feels long.
Luxury is fitted as standard, but underneath the surface is a powerful touring machine. The unique fuel-injected 1832cc flat-six engine delivers tireless power with amazing smoothness and lack of noise. The Gold Wing's five-speed gearbox comes complete with overdrive and shaft final drive. The result is smooth power with low cruising revs, more comfort and less fuel use.
Defining luxury
The front fairing has been specially designed to improve protection against wind and weather.
If the weather does change for the worse, it's good to know there's heated handlebar grips, heated seats and a foot warming system. There's also a windscreen-adjustment system with six height settings. Suddenly winter rides feel like summer again.
No need to pack light
Between the fairing pockets, top box and larger panniers, the Gold Wing boasts over 150 litres of luggage capacity. The specially-designed luggage features a remote-control key lock.

Capturing Memories.
Every Honda journey is fueled by planning and preparation. Excitement and anticipation. And to help you get the most out of your next journey, we bring you the Gold Wing family of motorcycles: our pure-muscle Valkyrie. Our versatile F6B. And our flagship Gold Wing –– the standard in long–distance touring.

Start Your Journey.
Experience the innovations and features of the 2016 Gold Wing for yourself with a demo ride at participating dealers.

Trip Planner
You can plan trip routes on your home computer and upload them into your Gold Wing's available navi system. You can share your trips with friends, or download routes from others. And when you're using your navi system, you'll notice features like a lane guidance/junction view feature and a GPS receiver that captures satellite signals faster.

It Just Keeps Getting Better
Other features include iPod® connectivity, so you'll be able to enjoy your adventure even more. Add the incredible line-up of the available XM® entertainment programming, and the available XM® NavTraffic® and NavWeather™ features, you can stay on course and ahead of bad weather.*
*XM Radio, NavTraffic and NavWeather are available on the 2016 Gold Wing Audio Comfort Navi XM, 2016 Gold Wing Audio Comfort Navi XM ABS and 2016 Gold Wing airbag models only. XM Radio requires a subscription, sold separately after the first 90 days.

Four Performance Packages
We offer the Gold Wing in four distinct performance package options, with exclusive features like Premium Surround Audio; XM® Radio with navigation, traffic, and weather; trip planner; a tire pressure monitoring system; ABS; heated grips and seat; and even one with the industry's first airbag.
2016 Honda Gold Wing GL1800 Audio Comfort Navi XM ABS www.Totalmotorcycle.com Key Features
The Honda Gold Wing has always offered power, performance, handling and touring comfort. That's why it's always led the touring-bike class. For 2016, you can choose from four options packages.
Each package is designed to optimize your riding experience with such exclusive features as XM Radio with NavTraffic/NavWeather and our Trip Planner software. Our premium audio package gives you surround sound and more. Cold-weather comfort features like heated grips, a heated seat and passenger backrest, foot-level warm-air ducts and better lower-leg wind protection make a great ride even better. Combined Anti-Lock Brakes (C-ABS) help you stop with more confidence, and Honda's revolutionary airbag system is the first of its kind on a production motorcycle.
Gold Wing Audio Comfort
Features & Options
•1832cc liquid-cooled horizontally opposed six-cylinder engine; Heated grips, seat, & foot warmer; Premium Surround Sound; Cruise Control; Electric Reverse

Gold Wing Audio Comfort Navi XM
Features & Options
•Adds: Satellite-Linked Navigation System & XM Radio, Weather & Traffic
Gold Wing Audio Comfort Navi XM ABS
Features & Options
•Adds: Combined Anti-Lock Brakes
Gold Wing Airbag
Features & Options
•Adds: First Motorcycle Airbag
The Motorcycle That Defines What A Touring Bike Should Be.

If there's one thing that sets a Honda apart, it's our dedication to superior engineering. Make that two things—in addition to that innovative design, Honda's build quality is second to none. You can see it in your Gold Wing's fit and finish, but you also see it in how well your Gold Wing runs, and for how long. The Honda Gold Wing is the absolute gold standard in motorcycling, that's for sure. You'll realize it on your first ride. But, more important, you'll still know it's true 1,000 rides later.
Revolutionary. Extraordinary. Standard-setting. It's what you've come to expect of the Gold Wing. And that's especially true with our latest model.
†Some local governments may prohibit the use of a headset by the operator of a motor vehicle. Always obey applicable laws and regulations.
2016 Honda Gold Wing GL1800 Audio Comfort Navi XM ABS www.Totalmotorcycle.com Features and Benefits
Engine & Drivetrain

Enhanced cooling efficiency
Two side-mounted radiators enhance cooling efficiency and use low-air-pressure areas created by side cowls to draw cooling air through the radiators and beyond the rider at highway speeds.
Cold-start rideability
Engine cooling system features a series-flow coolant flow pattern that offers cold-start rideability and provides rapid engine warm-up. A compact water pump is mounted behind the engine and is driven directly by the crankshaft, contributing to quicker engine warm-up.
Precise idle control
Rotary Air Control Valve (RACV) maintains precise idle control under widely varying engine loads and operating temperatures.
Smooth Shifting
The Gold Wing's drivetrain uses a sturdy eight-plate clutch with maintenance-free hydraulic-assist, and a precise-shifting five-speed transmission with a tall fifth gear for effortless highway cruising.
Superb rideability
Electronic control unit (ECU) provides two digital 3-D fuel injection maps for each cylinder and one digital 3-D ignition map for each cylinder, creating ideal fuel mixture and spark advance settings for superb rideability. Unique knock-control sensors monitor ignition advance to improve performance throughout the entire rpm range.
Optimum efficiency
Two 40 mm-diameter throttle bodies deliver air to six specially designed Keihin 50-psi high-pressure programmed fuel injectors (PGM-FI). Fuel is delivered through four nozzle tips in each injector, producing an atomized fuel mixture that is highly combustible for optimum efficiency and power.
Quiet operation
Silent-type camshaft chains with automatic adjusters provide reliable, maintenance-free operation. Parallel two-valve cylinder-head design utilizes direct shim-under-bucket valve actuation and requires no 1,000 km service. The Nickalloy crankshaft bearing caps provide quiet operation throughout the engine's operating temperature range, and powerful 1,300-watt alternator uses a fluid-damper (viscous coupling) system to minimize alternator noise.
Excellent handling & manoeuvrability
Low, forward engine placement and solid engine-mounting produce excellent road handling characteristics and impressive low-speed manoeuvrability.
Smooth power
Powerful fuel-injected 1,832 cc six-cylinder engine produces smooth, effortless power while surpassing the California Air Resources Board (CARB) emission standards. An ECU-controlled closed-loop emission control system utilizes two oxygen sensors to constantly deliver a precise air/fuel mixture, while two exhaust catalytic converters further reduce emissions of carbon monoxide, hydrocarbons and nitrogen oxides. And what's more, efficient stainless steel six-into-two exhaust system produces a pleasing, powerful sound.

Chassis & Suspension

Minimized fork dive
Massive 45 mm front fork incorporates an anti-dive system that minimizes fork dive when braking. The system utilizes brake fluid pressure generated in the secondary Dual-Combined Braking System master cylinder mounted on the left fork leg and is activated by input from either the front brake lever or the rear brake pedal. This application of anti-dive and Dual-Combined Braking System produces enhanced stability when manoeuvring at both low speeds and highway speeds.
Excellent traction & cornering grip
Cast aluminum 18 x 3.5-inch front wheel and 16 x 5.0-inch rear wheel are lightweight and strong. Radial touring tires are specifically engineered for the Gold Wing, providing a combination of excellent traction, cornering grip and long tire life.
Relaxed touring or sport riding
The Gold Wing rigid Pro-Arm single-sided cast aluminum swingarm provides simplified servicing of the rear wheel and tire, while assuring optimum handling. The beautiful multi-box-section aluminum dual-spar frame sets new class standards for handling, and Pro-Link-mounted rear shock provides 105 mm (4.1 in.) of plush travel for relaxed touring or sportier riding.
Safety first
Tire Pressure Monitoring System (TPMS) automatically reads the inflation pressure of the front and rear tires and alerts you if it detects under-inflation.
Unique shaft drive
Unique damping system in the shaft drive utilizes a double-pipe structure, with a rubber-bonded coating applied to the inner pipe to absorb road shock and engine torque.
Push-button adjustable suspension
Computer-controlled adjustable hydraulic rear suspension preload is easily set by the rider with push-button controls and features a two-position memory.
Excellent braking power
Dual full-floating 296 mm front discs with Dual-Combined Braking System three-piston calipers and a single ventilated 316 mm rear disc with one Dual-Combined Braking System three-piston caliper provide excellent braking power. Honda's Dual-Combined Braking System features a second master cylinder and a three-stage proportional control valve (PCV) to couple the three-piston calipers of the dual front and single rear disc brakes. Using the front brake lever activates the outer two pistons of the front right-side caliper and the centre piston of the front left-side caliper and, acting through the secondary master cylinder and an inline proportioning valve, the outer two pistons of the rear caliper. The rear brake pedal operates the centre piston of the rear brake caliper, the centre piston of the front right-side brake caliper and the outer two pistons of the front left-side caliper. A delay valve sensitive to the rider's pedal pressure smoothes front brake engagement. Anti-lock Braking System (ABS) features an electric-motor-driven modulator that provides rapid and precise braking-pressure adjustments, resulting in smooth ABS operation. The system incorporates an integrated ECU, self-diagnostics with an interactive ECU test function, and automatic protection against system failure. Massive 45 mm front fork houses a cartridge damper in the right leg with 122 mm (4.8 in.) of travel for a smooth yet superb ride.
Minimal engine vibration
Inherently smooth flat-six-cylinder engine also serves as a tuned stressed frame member. The solid engine-mounting system utilizes specially designed hangers and carefully matched mounting bolts to provide both excellent road feel and minimal engine vibration.
Superb riding comfort
The innovative aluminum frame is specifically engineered for optimum rigidity with tuned flex. This combination of rigidity and flexibility produces excellent handling, superb riding comfort and wonderful road feel.

Additional Features
Excellent warranty
3 year, unlimited mileage, freely transferable warranty; extended coverage available with Honda Plus.
Rider convenience
Self-cancelling turn signals, dual helmet locks, fully illuminated handlebar and radio switches and fold-down antenna for easy storage are just some of the handy features included. Convenient ignition switch/fork lock adds security, padded passenger handrails and an easy-to-use centrestand are rider-friendly and the dual electric spiral horns trumpet a distinctive note that is a pleasure to hear.To make life easier, the Tire Pressure Management System (TPMS) automatically reads the inflation pressure of the front and rear tires and alerts you if it detects under-inflation, and an adjustable and closeable windshield vent routes fresh air to the rider's face or chest. The slow-speed electric reverse system is engaged with the simple push of the thumb controls on the right handlebar, and with the lightweight electronic cruise control system utilizing a 16-bit ECU-controlled, motor-actuated throttle mechanism – the rider can relax and enjoy the road. Maintenance-free features include: automatic choke, RACV automatic idle, programmed fuel injection, automatic cam-chain adjusters, 20-amp YTX maintenance-free sealed battery and computer-controlled hydraulic rear spring preload adjustment. For additional confidence there are adjustable brake and clutch levers, an extensive tool kit and a large 25-litre fuel tank that houses the PGM-FI fuel pump, providing excellent long-distance cruising range.
Integrated rider airbag
Industry-first fully integrated rider airbag on a motorcycle. Four sensors mounted on the front fork measure the change in deceleration caused by an impact, and send that data to an ECU computer. If the ECU determines that a serious collision is in progress, it instantly instructs the airbag to deploy from a panel in the dash area. *Available only on the Gold Wing GL1800AD
Navigation & audio system
Next-Generation Honda Satellite Linked Navigation System includes: a bright colour screen; quick satellite connection; 3-D terrain view, lane assist with junction view and more; complete Canada and U.S. mapping with points of interest installed; points-of-interest information includes fuel stations, restaurants, lodging, attractions, transportation, government and emergency information and saved rider's input with home function; step-by-step verbal directions through headsets or speakers; on-screen text guidance and pop-up menus; easy-to-use handlebar and fairing-mounted controls; user-friendly programmability that allows you to plan trip routes on your home computer and upload them into your Gold Wing's navi system or share them with friends. Next-Generation premium audio system includes: direct MP3/i-Pod® connectivity plus full device control through handlebar controls; SRS CS Auto™ technology surround-sound system; 80-watt-per-channel power amplifier provides clear, crisp sound at all highway speeds; six-element speaker system with two rear speakers, a pair of front speakers and two tweeters for a rich, full surround sound quality; tuner features auto bass control combined with auto volume control.
Information at a glance
Instrument cluster includes white-on-black analog displays for speedometer, tachometer, coolant temperature and fuel level, plus features adjustable backlighting and high-luminescence red pointers. Indicator/warning lights are provided for reverse, neutral, overdrive, oil pressure, fuel injection, high beam, sidestand, cruise on, cruise set and low fuel. A high-resolution LCD, housed in a separate module, is visible in all lighting conditions and displays the odometer, A/B tripmeter, ambient temperature, audio modes, CB, rear-suspension setting, trunk/saddlebag-open indicators and a clock.
Huge storage capacity
Specially designed luggage features a remote-control key-lock, permitting pop-open rear trunk operation; a remote lock/unlock feature for the trunk and the saddlebags; and a horn-actuated bike locator. If remote locking is attempted while a lid is open, the emergency lights flash to alert the rider. The spacious luggage gives the Gold Wing a total capacity of well over 150 litres, including the fairing pockets. The saddlebag lids feature hydraulic dampers for smooth operation. Soft-touch plastic elastomer provides a luxurious feel to the front console, front and rear-pocket covers, and the passenger armrests.
Beauty and ingenuity
The Gold Wing aerodynamic bodywork is functional as well as beautiful, providing excellent rider wind protection while reducing the aerodynamic drag coefficient. A simple yet ingenious ratcheting windshield-adjustment system provides six settings, over nearly 100 mm (4 inches) of travel and protection. Operated manually, the mechanism eliminates the weight and complexity of electric motors. The handsome two-piece aluminum handlebars are strong yet lightweight and the engine and saddlebag guards help protect the bodywork in case of a tip-over. To further protect its beauty, a silver powder-coated finish helps ensure the aluminum frame will remain beautiful for years to come. Headlight system features two 55-watt H7 low-beam and two 55-watt H7 high-beam bulbs with computer-designed multi-reflectors. In high-beam operation, all four bulbs produce a distinctive front lighting signature, and the motorized headlight aiming system is operated by a dial switch and provides 2.5 degrees of adjustment from level.
Comfort for one or two
The parallel two-valve cylinder head design, together with side-mounted radiators, allows optimum ergonomics, with excellent rider foot room and a large passenger cockpit, and an ergonomically designed saddle with a low 740 mm (29.1 in.) seat height has a plush passenger seat with integral backrest and side support for all-day riding comfort. The five-position heated grips and five-position heated seat/backrest combination with individual rider and passenger controls for optimum comfort, and foot-warming system channels engine-heated air over the rider's feet and is controlled by a fairing-mounted lever.
---
2016 Honda Gold Wing GL1800 Audio Comfort Navi XM ABS – www.Totalmotorcycle.com USA Specifications/Technical Details
US MSRP Price: $28,129 USD

ENGINE
Engine Type 1832cc Liquid-Cooled horizontally opposed six-cylinder
Bore And Stroke 74mm x 71mm
Induction Programmed Fuel Injection (PGM-FI)
Ignition Computer-controlled digital with three-dimensional mapping
Compression Ratio 9.8:1
Valve Train SOHC; two valves per cylinder

DRIVE TRAIN
Transmission Five-speed including Overdrive, plus electric Reverse
Final Drive Shaft

CHASSIS / SUSPENSION / BRAKES
Front Suspension 45mm cartridge fork with anti-dive system, 5.5 inches travel
Rear Suspension Pro Arm® single-side swingarm with Pro-Link® single shock with computer-controlled spring preload adjustment with two memory presets; 4.1 inches travel
Front Brake Dual full-floating 296mm discs with CBS three-piston calipers
Rear Brake Single ventilated 316mm disc with CBS three-piston caliper
Front Tire 130/70R-18
Rear Tire 180/60R-16

DIMENSIONS
Rake 29.15 degrees
Trail 109mm (4.3 inches)
Wheelbase 66.5 inches
Seat Height 29.1 inches
Curb Weight 904-933 pounds, depending on option packages selected (Includes all standard equipment, required fluids and a full tank of fuel-ready to ride)
Fuel Capacity 6.6 gallons
Miles Per Gallon 35 MPG – Miles per gallon values are calculated estimates of fuel consumed during laboratory exhaust emissions tests specified by the EPA, not during on road riding. Use for comparison purposes only. Your actual mileage will vary depending on how you ride and maintain your vehicle, weather, road conditions, tire pressure, cargo and accessories, rider and passenger weight, and other factors.

OTHER
Model Id GL1800
Emissions Meets current California Air Resources Board (CARB) and EPA standards.
Available Colors Grey Metallic/Black,Matte Altair Silver and Candy Red

FACTORY WARRANTY INFORMATION
Three Years Transferable, unlimited-mileage limited warranty; extended coverage available with a Honda Protection Plan.
---
2016 Honda Gold Wing GL1800 Audio Comfort Navi XM ABS – www.Totalmotorcycle.com Canadian Specifications/Technical Details
Canada MSRP Price: $30,499 CDN

Engine & Drivetrain

Engine Type
Liquid-cooled horizontally-opposed six cylinder

Displacement
1,832 cc

Bore & Stroke
74 mm x 71mm

Compression Ratio
9.8:1

Valve Train
Chain-driven SOHC, 2 valves per cylinder

Fuel Delivery
PGM-FI electronic fuel injection

Transmission
Five-speed including overdrive, plus electric reverse

Final Drive
Shaft

Chassis & Suspension

Front Suspension
45 mm cartridge fork with anti-dive system; 122 mm (4.8 in.) travel

Rear Suspension
Pro-Arm single-sided swingarm with Pro-Link single shock with computer-controlled preload adjustment and two memory presets; 105 mm (4.1 in.) travel

Additional Information

Tires
Front: 130/70R – 18 radial Rear: 180/60R – 16 radial

Brakes
Front: 296 mm discs with three-piston caliper Rear: single 316 mm disc with three-piston caliper. Dual-Combined Braking System with ABS

Seat Height
740 mm (29.1 in.)

Wheelbase
1,690 mm (66.5 in.)

Curb Weight
417 kg (919 lbs.) including required fluids and full tank of gas – ready to ride

Fuel Capacity
25 litres

Colour
Heavy Gray Metallic (SE), Candy Prominence Red, Matte Altair Silver Metallic (AIRBAG)

Warranty
3 year, unlimited mileage, freely transferable warranty; extended coverage available with Honda Plus.
---
2016 Honda Gold Wing GL1800 Audio Comfort Navi XM ABS – www.Totalmotorcycle.com European Specifications/Technical Details
Europe/UK MSRP Price: £ GBP (On The Road inc 20% Vat)
See 2016 Honda Gold Wing GL1800AD Airbag
Specifications, features, illustrations and equipment shown are believed to be correct – however, accuracy cannot be guaranteed. Honda Canada Inc. reserves the right to make changes at any time, without notice or obligation, in colours, specifications, accessories, materials and models. Some vehicles are shown with optional equipment. Some vehicles shown are U.S. or European models. Canadian specifications and models may vary.
Manufacturer Specifications and appearance are subject to change without prior notice on Total Motorcycle (TMW).