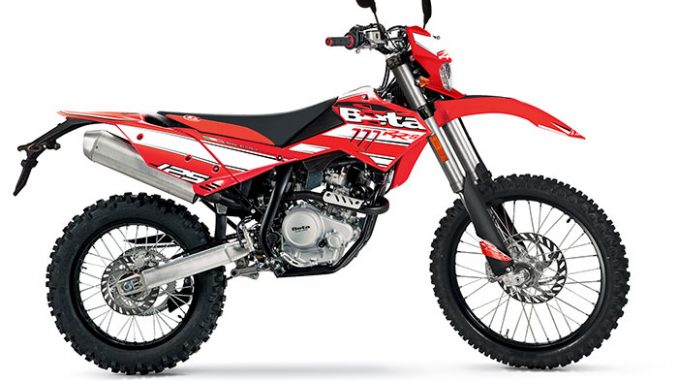 2017 Beta 125 RR-S Review

2017 Beta 125 RR-S on www.Totalmotorcycle.com
Street Legal Play Bike!
The all new model for the USA is the 125 RR-S. A play bike that is fully capable on or off the road.
125 RR-S:
This all new model offers the play rider many benefits including light weight and just the right amount of power in a chassis that handle like a real motorcycle should. Many of the play bike on the market are either not legal for the street and/or have suspension that should be left for the street only. The 125 RR-S is a full featured model just like its big brothers and is destined to instill confidence in riders of all levels.
The 125 RR-S is street legal in all 50 states and has the following features:
• Liquid cooled 4 stroke engine: the engine is manufactured in Italy and offers electric start and a six speed transmission
• Low Seat Height: At 35.5", vertically-challenged riders will appreciate touching the ground.
• Locking gas cap & seat: both the gas cap and seat lock while using the same key.
• Wheels & swingarm: constructed of aluminum to reduce weight and enhance the look.
• Fan Kit: Cooling fan kit included to help keep engine temps cool on hot days.
2017 Beta 125 RR-S www.Totalmotorcycle.com Key Features
Beta continues to march forward with innovative designs including oil injection on the two strokes, Fuel Injection on the four strokes and power plants that not only focus on racing but also on the common rider.
Many improvements and updates have been included on the 2017 lineup. All to enhance the riding experience. One big change is the new RR-S model line Beta calls "Street Legal Off Road". These models are basically off road race/play bikes that have been approved for the street in all 50 states. Also new for 2017 is the red hot 125 RR-S. This little play bike will for sure be a hit with all riders that want to hit the trails or the street. Put it on the back of the motor home or just simply ride it to your favorite trail system, go on a trail ride and then ride home. The 125 RR-S defines FUN.
Returning for 2017 are the popular, oil injected 250 and 300 RR alongside the even more popular Xtrainer. All three models fitting a special niche in the off road market.
We hope you choose Beta as your next motorcycle.
2017 Beta 125 RR-S www.Totalmotorcycle.com Features and Benefits
•New model for 2017
•Street Legal in All 50 States
•125 cc liquid cooled 4-valve engine (made in Italy)
•Full Size wheels with perfect ergonomics
•Quiet muffler
•Styled after the larger RR and RR-S Models
•Estimated fuel mileage is 60 MPG
•Includes passenger pegs
•Aluminum wheels and swingarm
•41mm front fork w/10.3" front suspension travel
•10.6" rear suspension travel
•35" seat height
Built-In Grab Handles
Locking Seat
Liquid Cooled 4 valve "Made in Italy" Engine w/6-speed transmission
Rear Suspension Linkage
High Quality Michelin ON/Off Road Tires
35" Seat Height
Full-Function Meter with Adjustable Trip Meter
Folding Mirrors
"Real" Motorcycle Feel and Layout
6-Speed Transmission
Electric Starter
35" Seat Height
Aluminum Wheels and Swingarm
Multi-Function Meter
Quick-Access Air Filter
12-Month Limited Warranty
---
2017 Beta 125 RR-S – www.Totalmotorcycle.com North American Specifications/Technical Details
MSRP Price: $4999 USD
Engine Specs:
Type: Italian built single cylinder, 4 valve 4-stroke, liquid cooled
Bore: 52 mm
Stroke: 58.6 mm
Displacement: 124.45cc
Compression Ratio: 11.2:1
Ignition: CDI (TCI)
Spark Plug: NGK CR8E
Lubrication: Oil pump w/cartridge oil filter Oil Capacity 1000 cc
Carburetor: Mikuni 26 mm
Clutch: Wet multi-disc
Transmission: 6-speed
Final Drive: Chain
Chassis Specs:
Frame: Molybdenum steel/double cradle
Wheelbase: 56.7"
|Seat Height: 35" (with 25mm of static sag)
Ground Clearance: 13" Footrest Height: 15.7"
Dry Weight: 219 lbs. dry
Fuel Tank Capacity: 1.6 US gallons
Front Suspension: 41 mm USD fork
Rear Suspension: Steel body shock w/adjustable spring preload
Front Wheel Travel: 10.3"
Rear Wheel Travel: 10.6"
Final Gearing: 14t front, 63t rear
Front Brake: 260mm rotor
Rear Brake: 220mm rotor
Front/Rear Rim: 21" (Front) 18" (Rear)
Front/Rear Tire: Michelin Enduro Competition (DOT Approved)
Warranty: 12 month Limited Warranty
Manufacturer Specifications and appearance are subject to change without prior notice on Total Motorcycle (TMW).