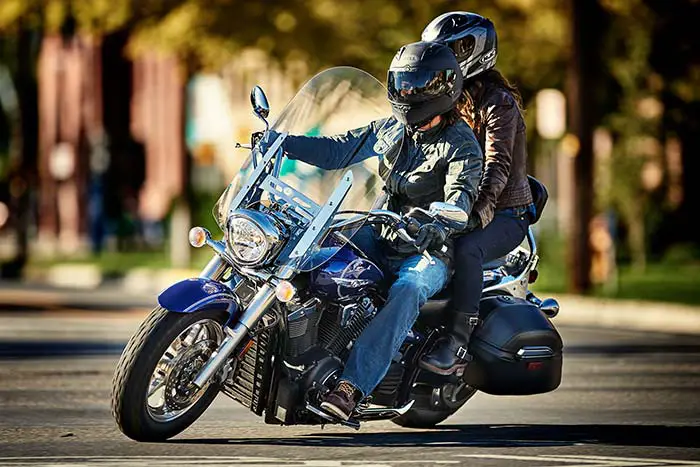 2017 Yamaha V-Star 1300 Tourer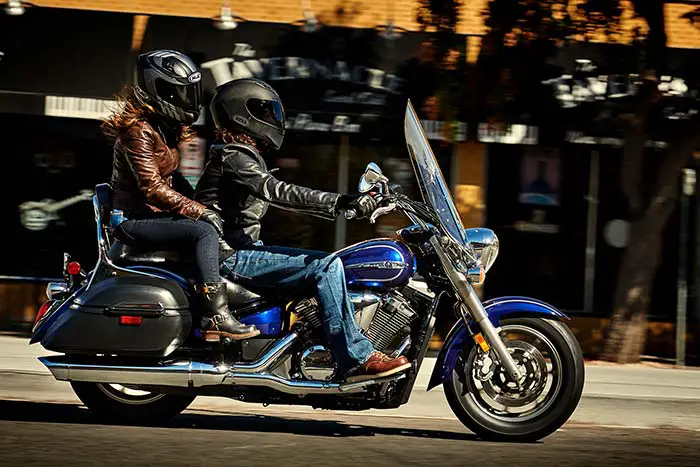 2017 Yamaha V-Star 1300 Tourer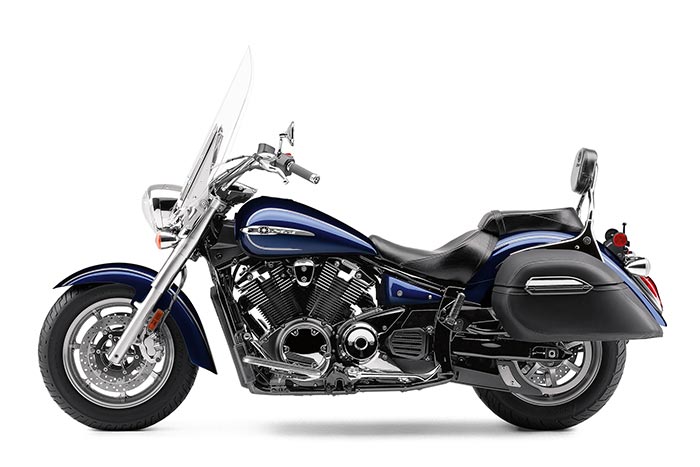 2017 Yamaha V-Star 1300 Tourer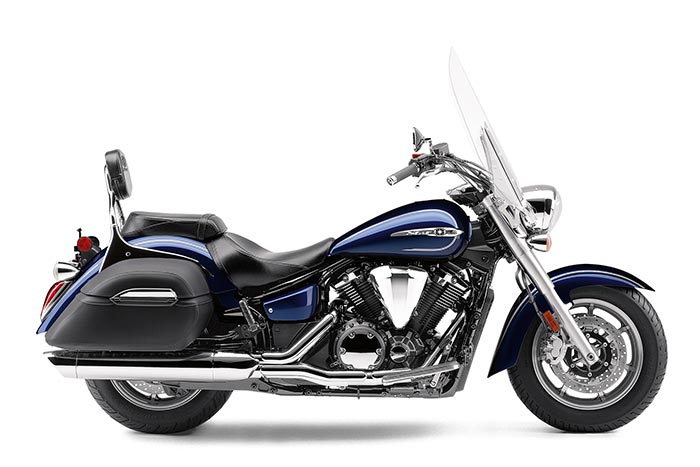 2017 Yamaha V-Star 1300 Tourer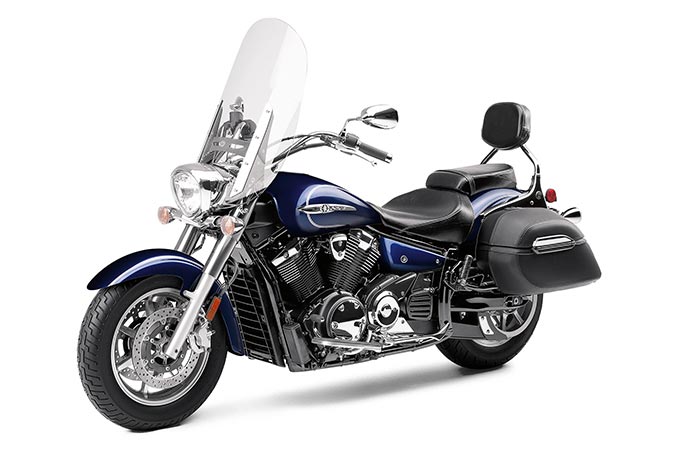 2017 Yamaha V-Star 1300 Tourer
2017 Yamaha V-Star 1300 Tourer Review

2017 Yamaha V-Star 1300 Tourer on www.Totalmotorcycle.com
TOUR IN STYLE AND PERFORMANCE…
Powerful, fuel-injected V-twin, sporty handling, low 27.2″ seat, triple disc brakes, leather-wrapped hard sidebags, quick release backrest & windshield and much more.
The V-Star 1300 Tourer features a host of casual touring amenities that will have the miles rolling by in comfort & style. Quick release windshield & passenger back rest both lock for additional security while the 23 litre leather wrapped hard saddlebags offer plenty of storage. Roomy and powerful, the V-Star 1300 Tourer is a great choice for those weekend getaways.
///Power
1304cc, (80 cubic inch) liquid-cooled, short stroke, SOHC, 8-valve, 60° V-twin powerplant pumps out excellent power and torque for unparalleled acceleration and cruising performance. At 110 km/hr the engine is only turning 3,400 rpm, for relaxed highway cruising.
///Storage
Leather covered, hard shell saddlebags feature a stylish tapered design and are lockable for extra security. The bags offer 23 litres of storage capacity each, ample room for casual touring.
///Comfort
Quick release, locking windshield features chrome accents and a central Star logo that enhances the unit's overall styling. The windshield offers excellent wind and weather protection, while the quick detach, lockable passenger backrest provides peace of mind for a passenger.
---
2017 Yamaha V-Star 1300 Tourer www.Totalmotorcycle.com Key Features
•Quick Release Windshield and Backrest
The V Star 1300 Tourer rolls out with a lockable quick release windshield, leather-wrapped hard sidebags, and a lockable quick release passenger backrest all standard, ready for the open road, or the commute to school or work or a ride down the boulevard with attitude.
•Sporty, Modern Power
The midsize V Star 1300 Tourer brings modern-classic styling along for a lighter, sportier, hot-rod-inspired ride. 80-cubic-inch (1304cc) liquid-cooled, fuel-injected V-twin with dual counterbalancers produces excellent power across the board along with a highly stimulating exhaust note.
•Legendary Yamaha Handling
Steel chassis puts 48 percent of the bike's weight on the front tire, for light handling and maneuverability.
•Well Finished Detailing
Modern-classic design, including a two-into-one exhaust, gives the V Star 1300 Tourer that distinctive Star® look, while authentic cruiser features such as belt drive, steel fenders and fuel tank, open up the customization possibilities even further.
•Fuel Efficient
Estimated 42 mpg* means over 200 miles of riding between fill-ups—on regular unleaded gasoline, too.
•Ready to Customize
The Star Accessories Catalog is packed full of high-quality parts that invite Star owners to fully express their individuality.
2017 Yamaha V-Star 1300 Tourer www.Totalmotorcycle.com Features and Benefits
///Engine
•Blacked out, 1304cc (80 cubic inch), liquid-cooled, short stroke, SOHC, 4-valve per cylinder, fuel injected, 60° V-twin power plant pumps out impressive power & torque. An uneven firing interval, bore & stroke dimensions, special ignition & injection mapping all contribute to excellent torque output and that classic V-twin pulse feeling. At 110 km/hr. the engine is only turning 3,400 rpm, for relaxed highway cruising.
•Liquid-cooled engine design.
•allows for higher state of tune because of more stable operating temperatures
•reduces mechanical noise for a quieter engine
•rad is mounted between the front down tubes to minimize its appearance
•rad hoses have been discreetly placed for a cleaner appearance
•electric fan aids in cooling during hot weather or in stop & go traffic
•Classic air-cooled engine appearance.
•cooling fins have been added to give the V-Star 1300 Tourer that traditional air cooled look
• cylinders have a tapered "V" appearance to highlight the V-twin engine style
•Short stroke engine design.
•reduces the "height" of the engine for a lower centre of gravity for easy & light handling
•60 degree "V" keeps the engine more compact & also centralizes mass
•short stroke design offers excellent power at slightly higher rpms than a traditional air cooled long stroke V-Twin
•SOHC, pent-roof, 4-valve cylinder heads.
•4-valve design optimizes breathing efficiency & overall engine performance at all rpms
•36 mm intake & 32 mm exhaust valves use friction reducing single valve springs
•stylish chromed cylinder head covers
•compact pent roof combustion chamber & optimized squish area forces the fuel / air mixture toward the centre of the combustion chamber for more complete combustion & excellent power with reduced emissions
•25,000 km valve adjustment intervals
•Specially designed roller rockers activate the valves.
•roller rocker arms allows a greater amount of valve lift without causing excessive camshaft wear & friction
•slipper portion of the rocker arm utilizes a needle bearing for reduced wear & reduced sliding resistance (friction)
•Automatic cam chain tensioners reduce mechanical noise and simplify maintenance.
•Ceramic composite-plated cylinder bores.
•excellent heat dissipation for consistent power delivery
•ceramic coating enhances the thin film of oil between the cylinder & piston, reducing friction & increasing power
•extended cylinder service life
•High performance forged aluminum pistons.
•less reciprocating mass for fast engine response
•reduced mechanical vibration
•special piston cooler jet nozzles spray oil at the underside of the pistons & rods for excellent durability
•Single pin style crankshaft with uneven firing order
•design accentuates V-twin engine character, pulse feel & sound
•Crankcase design features internal oil & coolant lines for a clean, air-cooled engine appearance.
•Dual engine counter balancers reduce vibration to a minimum while maximizing rider comfort.
•Easy access, spin on type oil filter & drain plug for easy oil changes.
•Classic side mounted air box houses an easy access, a high-flow viscous paper-type filter.
• "Closed loop" Mikuni dual bore, 40mm throttle body fuel injection system.
•system uses throttle position sensor (TPS) to help optimize intake air flow & power
•ISC or idle speed controller ensures a steady idle
•12 hole injectors optimize fuel atomization
•Injector dual spray pattern for more complete combustion chamber filling
• "closed loop system" uses dual oxygen sensors to "sniff" spent exhaust & automatically adjust the fuel / air ratio for reduced emissions
•oxygen sensor is located before the mufflers, so the use of aftermarket "slip-on" mufflers will not affect the closed loop system
•fuel injection benefits include; excellent throttle response, choke-free starting, steady idling during warm up, excellent fuel economy & reduced emissions
•Smooth-shifting, 5-speed transmission.
•optimized gear ratios match engine output for strong acceleration
•5th gear is an overdrive gear for reduced engine rpms at highway speeds
•Low maintenance belt drive final drive.
•cleaner & quieter than chain drive & no messy chain splatter
•significantly reduces maintenance Vs a chain… no regular adjustments or lubrication required
•belt drive system simplifies customization
•Maintenance-free transistor controlled ignition (TCI).
•produces a strong spark for fast starts
•provides precise ignition timing / mapping for optimum engine performance at all rpms
•2 into 1 exhaust system.
•large diameter header pipes for maximum flow
•heat shields protect rider & passenger from hot components
•3-way honeycomb catalyzer reduces exhaust emissions
•Air Injection System injects fresh air into exhaust ports to fully burn any unburnt fuel, reducing harmful CO & HC exhaust emissions.
•High output 460 watt generator.
///Chassis/Suspension
•Double cradle steel frame.
•provides roomy ergonomics combined with a low seat height
•frame utilizes a rigid engine mounting system optimizing the overall rigidity balance for superior handling
•rake is 32 degrees
•engine sits low in the chassis to reduce the centre of gravity for light, easy handling.
•Steel swingarm compliments the frame and the overall chassis rigidity balance.
•Long, 1685 mm (66″) wheelbase.
•roomy ergonomics
•excellent stability for a relaxed ride
•41mm KYB front fork offers 135 mm (5.3″) of wheel travel.
• excellent ride comfort & compliance
•large-diameter brushed-finished fork covers
•Adjustable Monocross style single-shock, link rear suspension with 110 mm (4.3″) of wheel travel.
•linkage system provides a rising rate effect that provides excellent compliance on both small & large bumps
• 9 positions of spring preload adjustability to suit load and / or rider preferences
•Rear shock is vertically mounted behind the engine.
•shock is tucked out of sight for that classic, clean, hard tail look
•location centralizes mass for light weight feel
•Dual 298mm, floating front discs are squeezed by compact twin piston front calipers.
•298 mm rear disc is squeezed by a single piston caliper.
•caliper is mounted below the swingarm to lower center of gravity for lighter handling & that hidden look
•Lightweight 7-spoke cast aluminum wheels.
•front wheel size is MT3.00 x 16
•rear wheel size is MT4.50×16
•both fitted with tubeless tires
•Steel front & rear fenders allows for easy painting or customization ? to suit personal preferences
•18.5 litre seamless design fuel tank
•extended riding range
•3.7 litre reserve capacity (low fuel light illuminates)
•high capacity electric fuel pump
•Generous rider & passenger seats
•offers excellent long distance comfort & support
•seat is only 675 mm or 26.6 inches off the ground, inspiring rider confidence
•Full-size, "tapered" floating-type rider floorboards.
•roomy & comfortably positioned
•help reduce vibration
•special replaceable "scrapers" on the lower edge of floorboard
•1 inch, rubber mounted handlebars are easy to reach & reduce vibration for excellent comfort.
•Handlebar-mounted meter / instrument.
•functions include; analog speedometer, odometer, dual trip meters, fuel gauge, fuel reserve trip meter (counts kilometers since low fuel light illuminated), clock & range of warning lights
•self-diagnostic function
•adjustable, red background illumination
•instrument functions can be "tabbed" through & reset using the RHS handlebar switch gear, allowing the operator to change instrument functions without taking hands off the bars.
•Stylish fork mounted, quick release, locking tall windshield.
•offers excellent wind & weather protection
•features chrome accents & a central Star logo
•23 litre, leather covered, hard shell saddlebags
• stylish tapered design
• lockable for extra security
•one touch / one hand openers
•shell is made of ABS plastic & then leather wrapped? bags keep their shape
•Quick relese, locking passenger backrest embossed with Star logo
•adds comfort, style & peace of mind
•60/55 watt high intensity halogen headlight with remote adjusters to compensate for varying loads.
///Details
• Industry-leading Star family fit & finish
• Upper & lower belt drive cover
• Extra wide front brake & clutch levers
• Steering lock is integrated into the main ignition switch for extra convenience.
• Under seat helmet holder
• Self-cancelling turn signals
• Oil level sight glass
• Low-maintenance, sealed battery (battery should be charged during winter storage)
---
2017 Yamaha V-Star 1300 Tourer – www.Totalmotorcycle.com USA Specifications/
Technical Details
US MSRP Price: $12599 USD
Engine Type 80-cubic-inch (1304cc) liquid-cooled SOHC Vtwin; 8 valves
Bore x Stroke 100.0mm x 83.0mm
Compression Ratio 9.5:1
Fuel Delivery Fuel injection
Ignition TCI: Transistor Controlled Ignition
Transmission 5-speed; multiplate wet clutch
Final Drive Belt
Suspension / Front 41mm telescopic fork; 5.3-in travel
Suspension / Rear Single shock; 4.3-in travel
Brakes / Front Dual hydraulic disc, 298mm
Brakes / Rear Hydraulic disc, 298mm
Tires / Front 130/90-16
Tires / Rear 170/70B-16
L x W x H 98.0 in x 39.4 in x 59.8 in
Seat Height 27.2 in
Wheelbase 66.5 in
Rake (Castor Angle) 32.7°
Trail 5.7 in
Maximum Ground
Clearance
5.7 in
Fuel Capacity 4.9 gal
Fuel Economy 42 mpg
Wet Weight 712 lb
Warranty 1 Year (Limited Factory Warranty)
Color Galaxy Blue
** Fuel economy estimates are based on US EPA exhaust emission certification data obtained by Yamaha.
Your actual mileage will vary depending on road conditions, how you ride and maintain your vehicle,
accessories, cargo and operator/passenger weight.
*** Wet weight includes the vehicle with all standard equipment and all fluids, including oil, coolant (as
applicable) and a full tank of fuel. It does not include the weight of options or accessories. Wet weight is
useful in making real-world comparisons with other models.
---
2017 Yamaha V-Star 1300 Tourer – www.Totalmotorcycle.com Canadian Specifications/Technical Details
Canada MSRP Price: $13499 CDN
Engine
Liquid-cooled, SOHC , 8-valves, 60°, V-twin
Displacement
1,304cc (80 cubic inch)
Bore and Stroke
100 x 83mm
Compression Ratio
9.5:1
Maximum Torque
11.3 kg-m (81.8 ft-lb) @ 4,000 rpm
Fuel Delivery
Mikuni dual bore 40mm F.I.
Estimated Fuel Consumption±
17.7kpl / 50mpg (Imp.)
Ignition / Starting
TCI / Electric
Transmission
5-speed
Final Drive
Belt
Suspension (Front)
41mm fork / 135mm (5.3″) wheel travel
Suspension (Rear)
Adjustable link Monocross / 110mm (4.3″) wheel travel
Brakes (Front)
Dual 298mm discs / twin piston calipers
Brakes (Rear)
298mm disc / single piston caliper
Tires (Front)
130/90-16
Tires (Rear)
170/70-16
Length
2,490mm (98″)
Width
1000mm (39.4″)
Height
1520mm (59.8″)
Wheelbase
1,690mm (66.5″)
Seat Height
690mm (27,2 ")
Fuel Capacity
18.5 litres (4.1 imp. gallons)
Wet Weight
323kg (712 lb)
Colour(s)
Dark Purplish Metallic Blue
---
2017 Yamaha V-Star 1300 Tourer – www.Totalmotorcycle.com European Specifications/Technical Details
Europe/UK MSRP Price: £ GBP (On The Road inc 20% Vat)
Model Not Available
Manufacturer Specifications and appearance are subject to change without prior notice on Total Motorcycle (TMW).