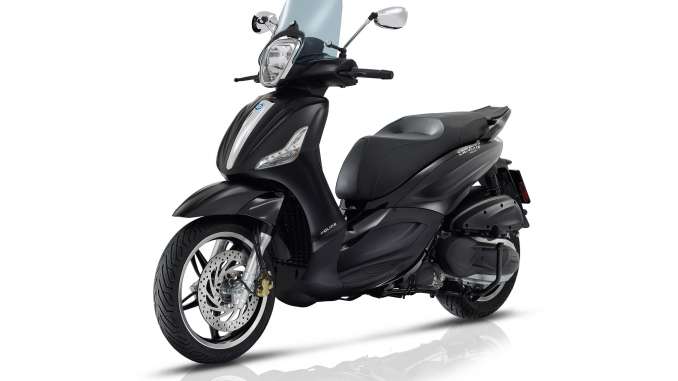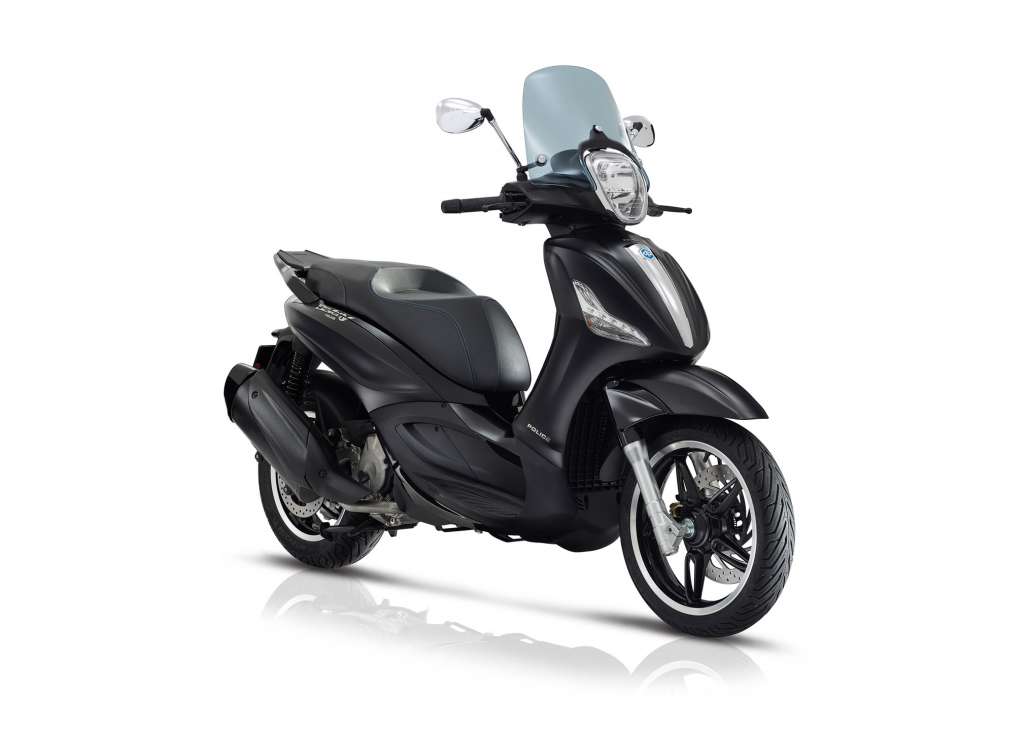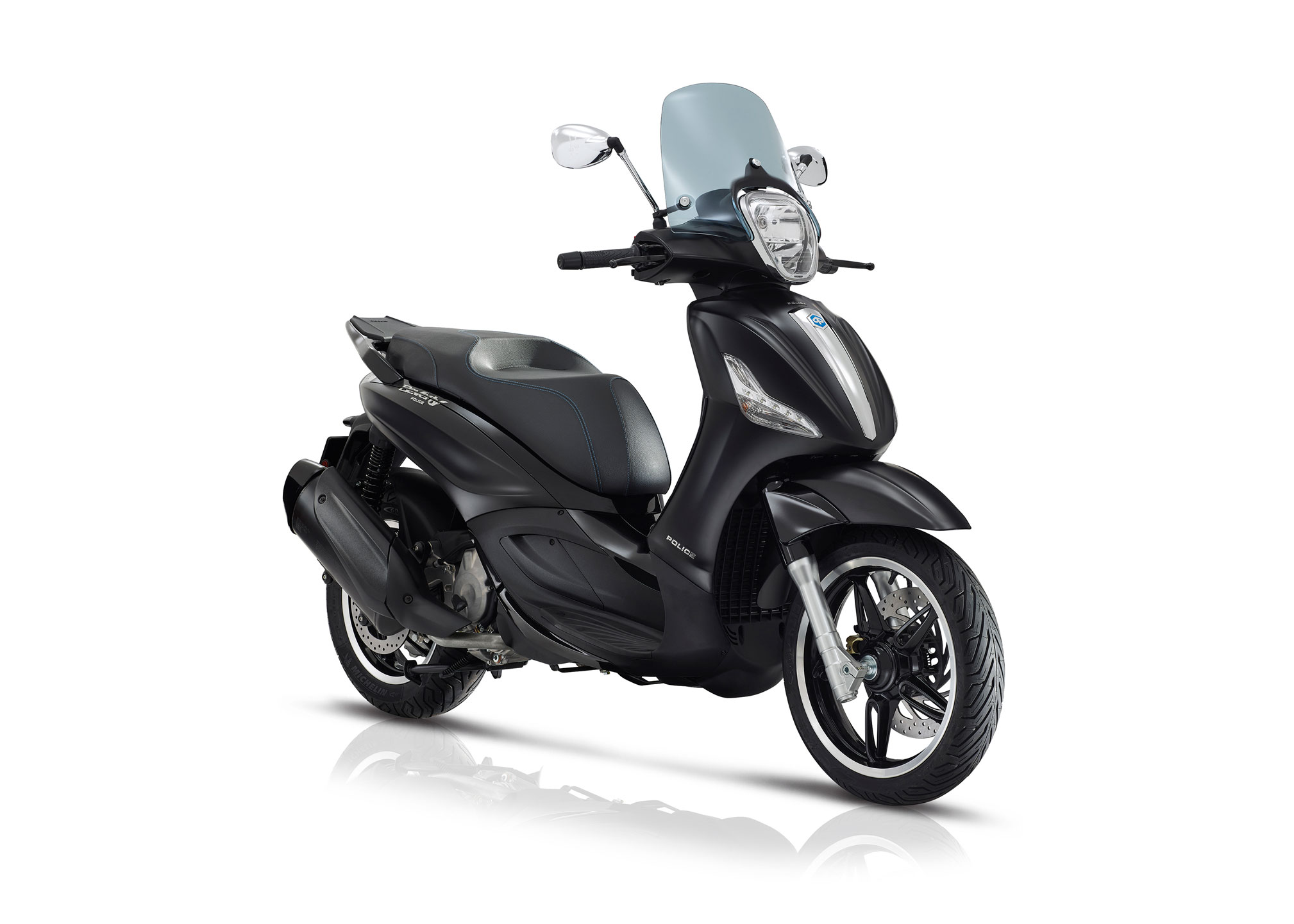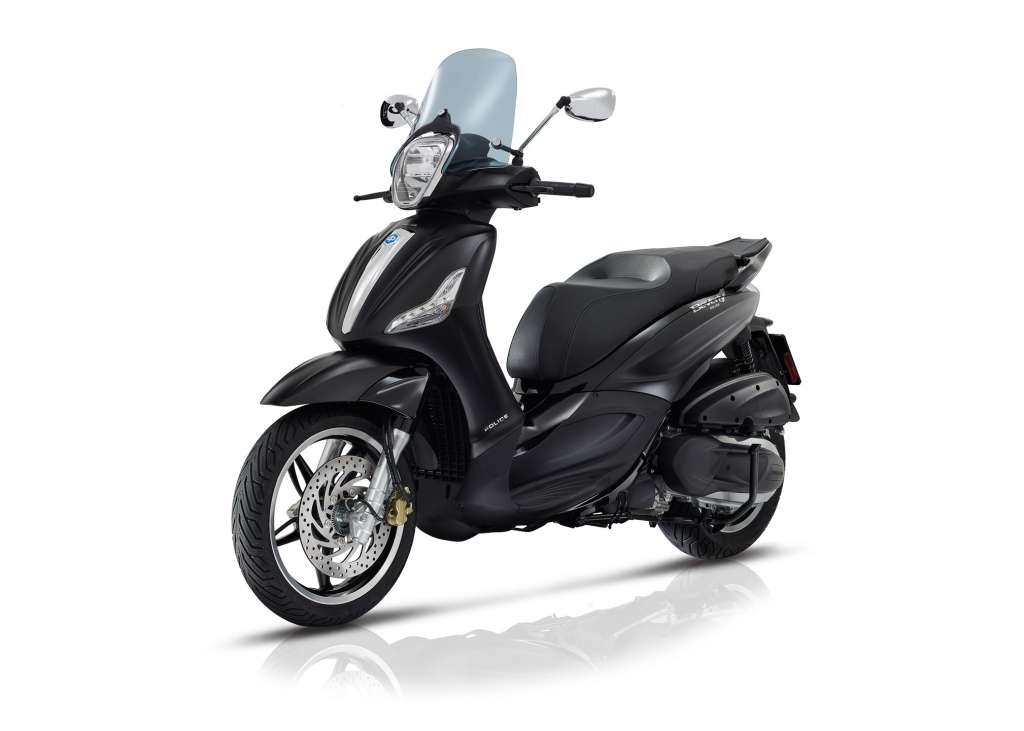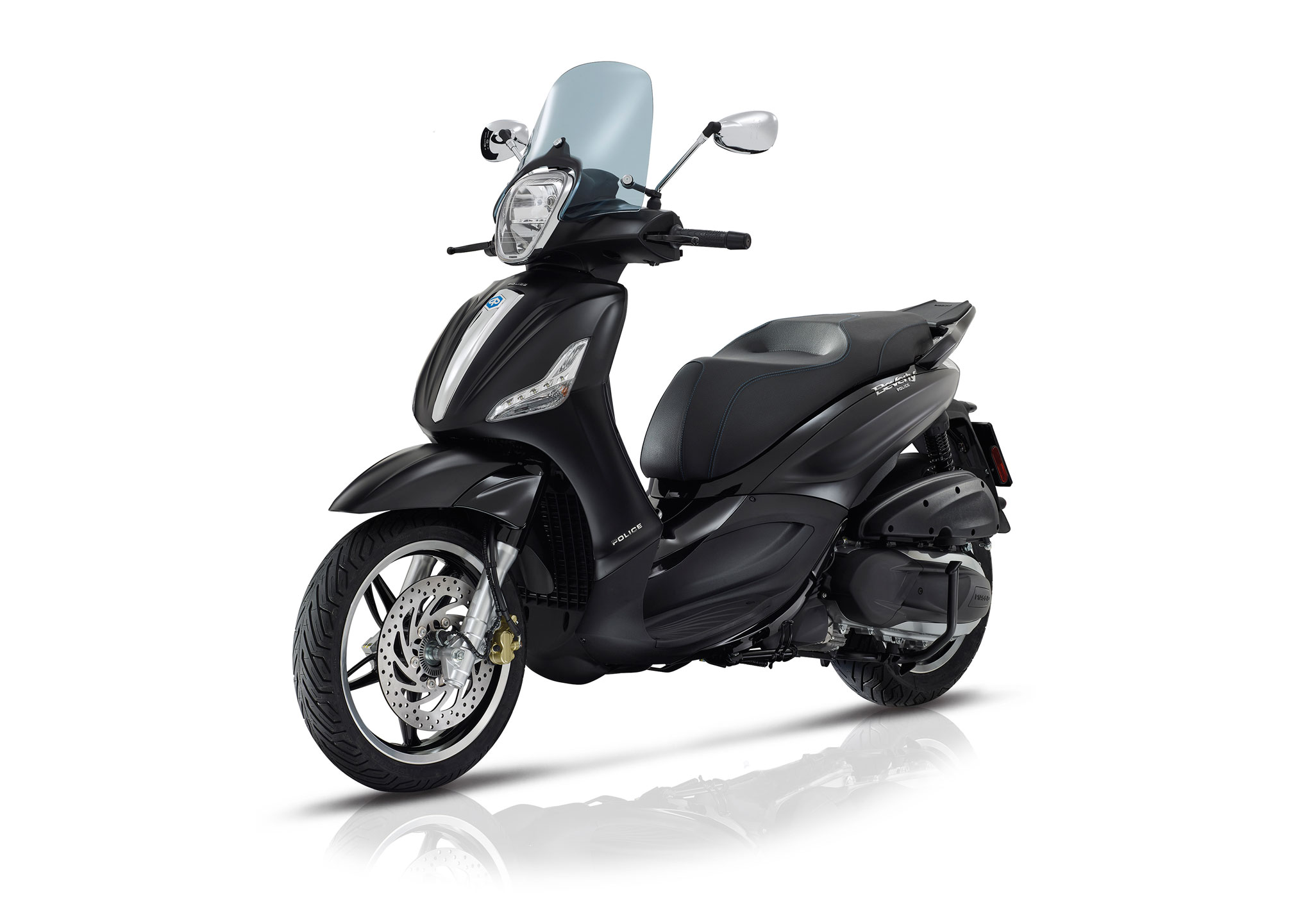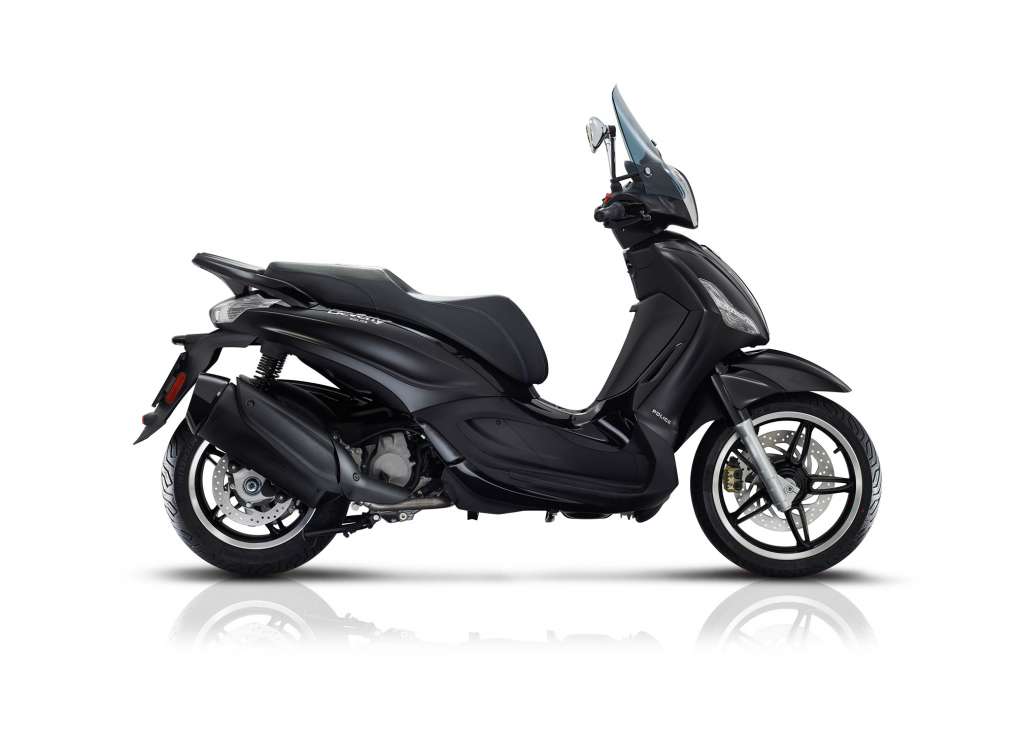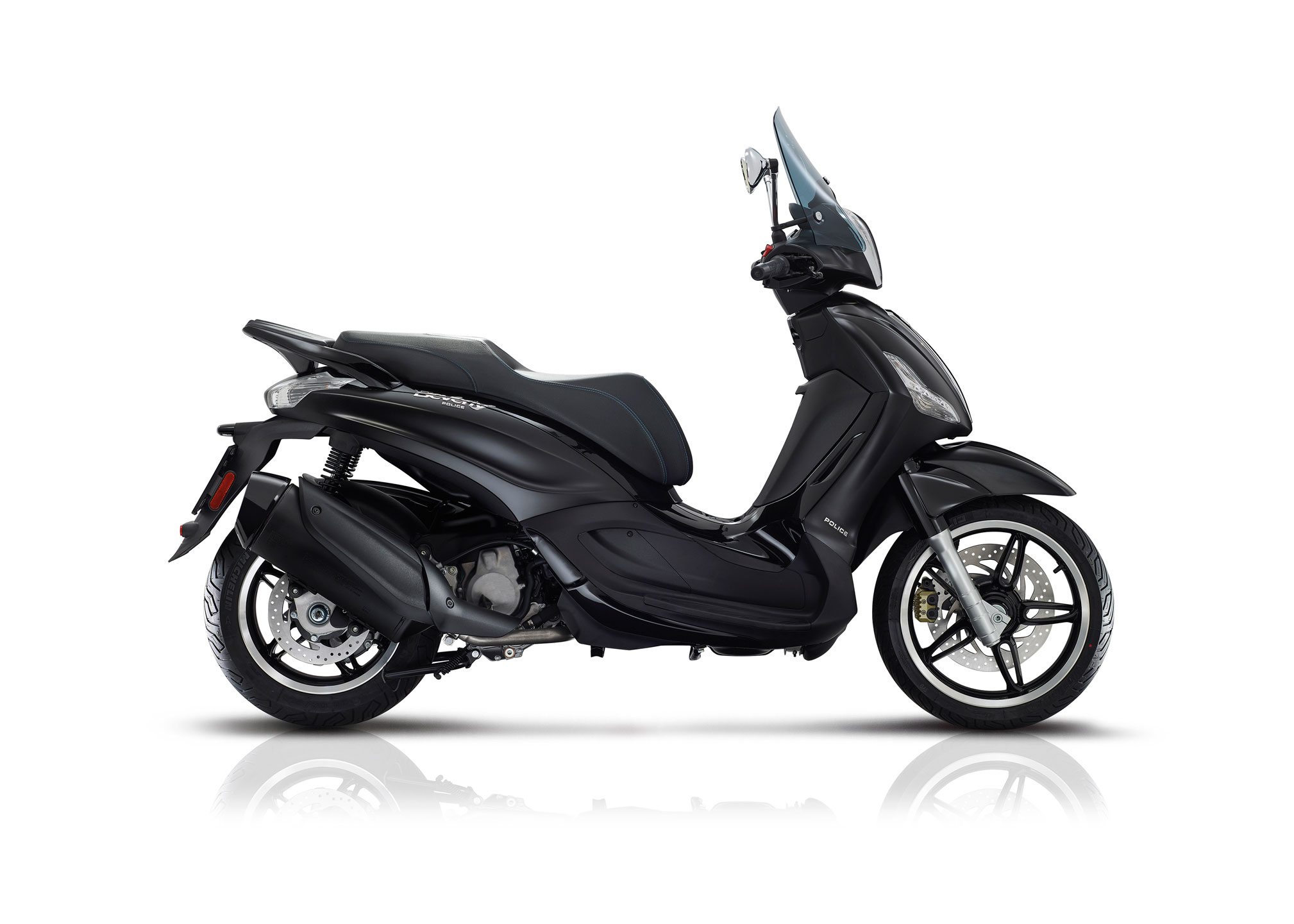 UNCOMPROMISING PERFORMANCE.
2018 Piaggio Beverly 300 by Police Review on Total Motorcycle:
BEVERLY POLICE, BORN OUT OF THE COMBINATION OF TWO EXCELLENT 'MADE IN ITALY' BRANDS, GROWS TO A POWERFUL 350 POWERPLANT
Beverly by Police is born out of the collaboration between two excellent "Made in Italy" brands: Police, a globally recognised lifestyle brand and the Piaggio Group, the largest European manufacturer and international leader in the scooter sector.
Out of the combination of these two icons of style and technology a scooter is born, available with a 300cc engine and now with a new and brilliant 350cc powerplant that combines the bold and gritty spirit of Police that has always been characterised by a metropolitan and rough verve, and the technology of Beverly, the high wheel scooter which provides uncompromising performance in its sector.
Beverly 300 and 350 by Police Euro4 is available on the European markets in the tough Nero Mat Carbon colour scheme with polished chrome details and blue tinted mirrors, just like the lenses of the Police sunglasses that have represented an entire generation. To complete the 'street look', Beverly by Police comes with a dedicated helmet that matches the scooter's style perfectly.
2018 Piaggio Beverly 300 by Police Totalmotorcycle.com Key Features
Piaggio Beverly, thanks to its features of agility, reliability and safety, as well as its spectacular performance, has revolutionised the market, quickly becoming a leader in the highly competitive and prestigious high wheel scooter segment.
Over the years, Piaggio Beverly has been renewed and maintained its popularity both for city riding and for its comfort and reliability demonstrated in short and medium range touring use. Thanks to the motorcycle style chassis architecture, the new 350 powerplant, the only one of its kind, and the availability of the ABS system and ASR traction control, Beverly is the most advanced and modern representative of the medium engine capacity high wheel scooter segment
2018 Piaggio Beverly 300 by Police Totalmotorcycle.com Features and Benefits
The Piaggio Beverly by Police is now available also with an ultra modern single cylinder 350, 4-stroke, 4 valve, electronic injection and water cooled engine – state of the art Piaggio Group technology in scooter engines. This is an engine designed to provide performance comparable to a 400 cc engine, but with compact dimensions and reduced weight in line with a 300 cc engine. Equipped with the first and only scooter engine with an automatic multi plate wet clutch derived from the motorcycle world, it has exceptional performance with extremely contained fuel consumption: maximum power of 30.2 HP at 8,250 rpm and maximum torque of 29 Nm at 6,250 rpm. The extremely effective chassis architecture guarantees agility, efficiency and riding pleasure at top levels.
The 300 cc single-cylinder 4-stroke 4-valve engine with electronic injection delivers a maximum power of 22.2 HP at 7,250 rpm, with a maximum torque output of 23 Nm at just 5,750 rpm. With such specs comes a throttle response to match, coupled with feisty performance, making it ideal both for tackling congested town traffic and for mid-range touring in full comfort, whether riding solo or two-up.
A protagonist since the nineteen-eighties as an eyewear brand, the Police brand enhances a wide range of products in various categories, all of which stand out because of their profoundly urban on the road essence. In fact, this co-branding is a natural progression for the brand which, after signing perfumes, watches, jewellery and small leather items, redefines itself in what is its natural habitat and becomes a scooter, ready to conquer all the streets of the world.
From its beginnings, Police has been a social phenomenon, thanks in part to the testimonials chosen for the iconic advertising campaigns that have characterised an era (Bruce Willis, George Clooney, David Beckham, Antonio Banderas), making the brand synonymous with a lifestyle. The brand currently caters to Modern Alpha Males, guys who want to leave their mark on the world in which they live through their choices and their desire to express themselves. These new rebels challenge themselves and exceed all limits. Fighting has become a form of discipline and excellence. Compared to the past, they do not want to escape from society or oppose it, but they simply want to stand out from within the group to which they belong.
Wide range of dedicated accessories
For the entire Piaggio Beverly range, a series of accessories is available capable of enhancing comfort and versatility in daily use.
TomTom Vio Piaggio Special Edition: the first GPS navigation device designed by TomTom for scooters is now available in an exclusive and special edition specifically developed for Piaggio Group and customized in terms of packaging, cover and splash screen.
37-litre top box colour coded to match the vehicle and comfort back rest colour coded to match the saddle. It is large enough to hold one flip up or two jet helmets.
Leg cover, practical and integrated with the vehicle.
Indoor and outdoor vehicle cover.
Electronic antitheft system with electronic key and remote control.
Practical handlebar-lock mechanical antitheft device, clean, quick, safe and convenient.
Tunnel bag designed to be positioned on top of the central tunnel without disturbing the rider.
Windshield made of extremely high impact resistant methacrylate (4 mm thick) for excellent protection from the wind and cold.
Transparent top fairing capable of increasing protection from the wind.
Smoked top fairing (comes standard on Piaggio Beverly 350 SportTouring): provides greater protection from the wind and a further sporty touch.
Matt black jet helmet, dedicated to the Piaggio Beverly 300 by Police.
2018 Piaggio Beverly 300 by Police – Totalmotorcycle.com USA Specifications/Technical Details
US MSRP Price: $ USD
2018 Piaggio Beverly 300 by Police – Totalmotorcycle.com Canadian Specifications/Technical Details
Canada MSRP Price: $ CDN
2018 Piaggio Beverly 300 by Police – Totalmotorcycle.com European Specifications/Technical Details
Europe/UK MSRP Price: £ GBP (On The Road inc 20% Vat)
Manufacturer Specifications and appearance are subject to change without prior notice on Total Motorcycle (TMW).