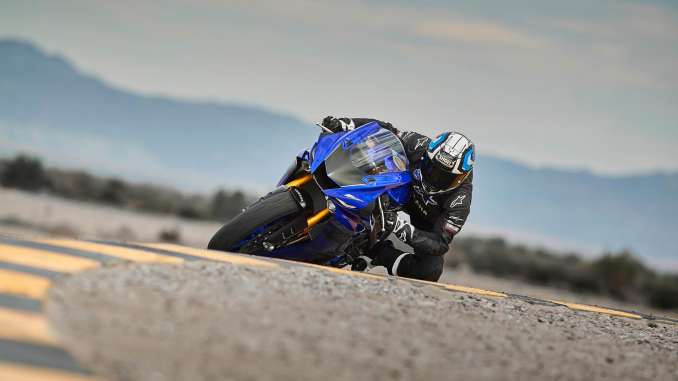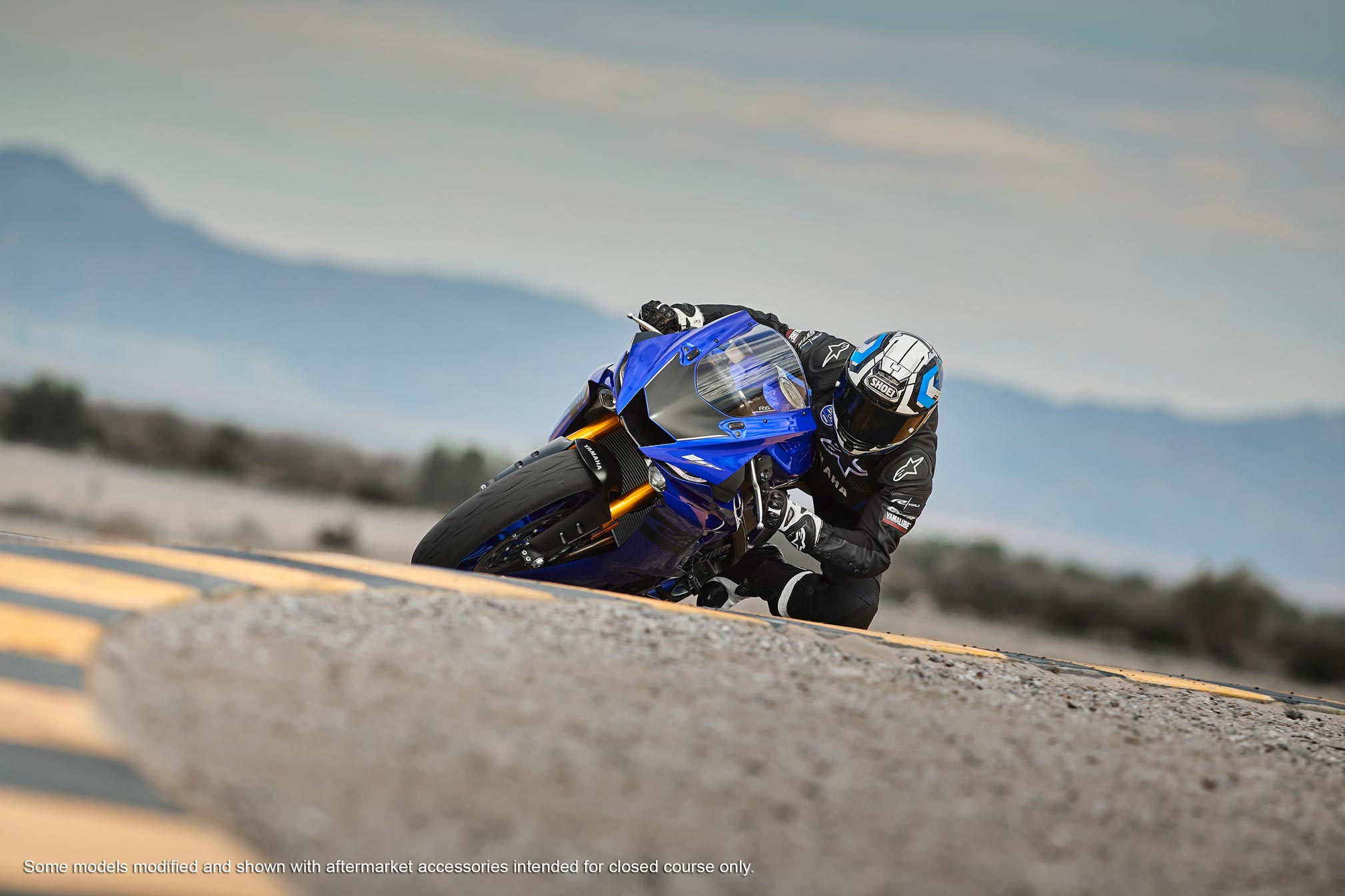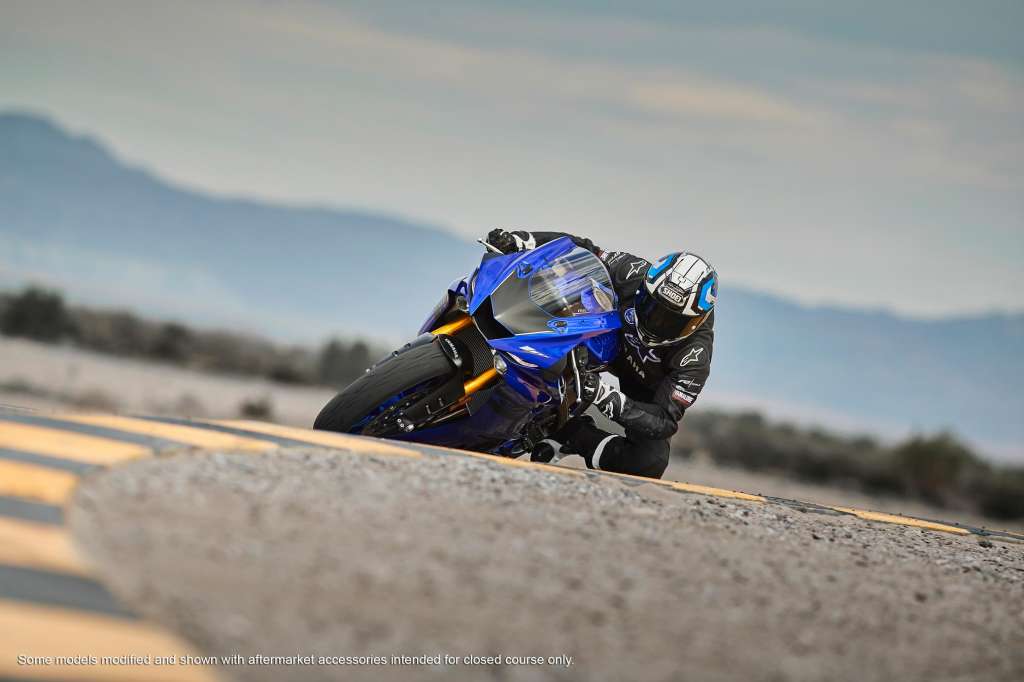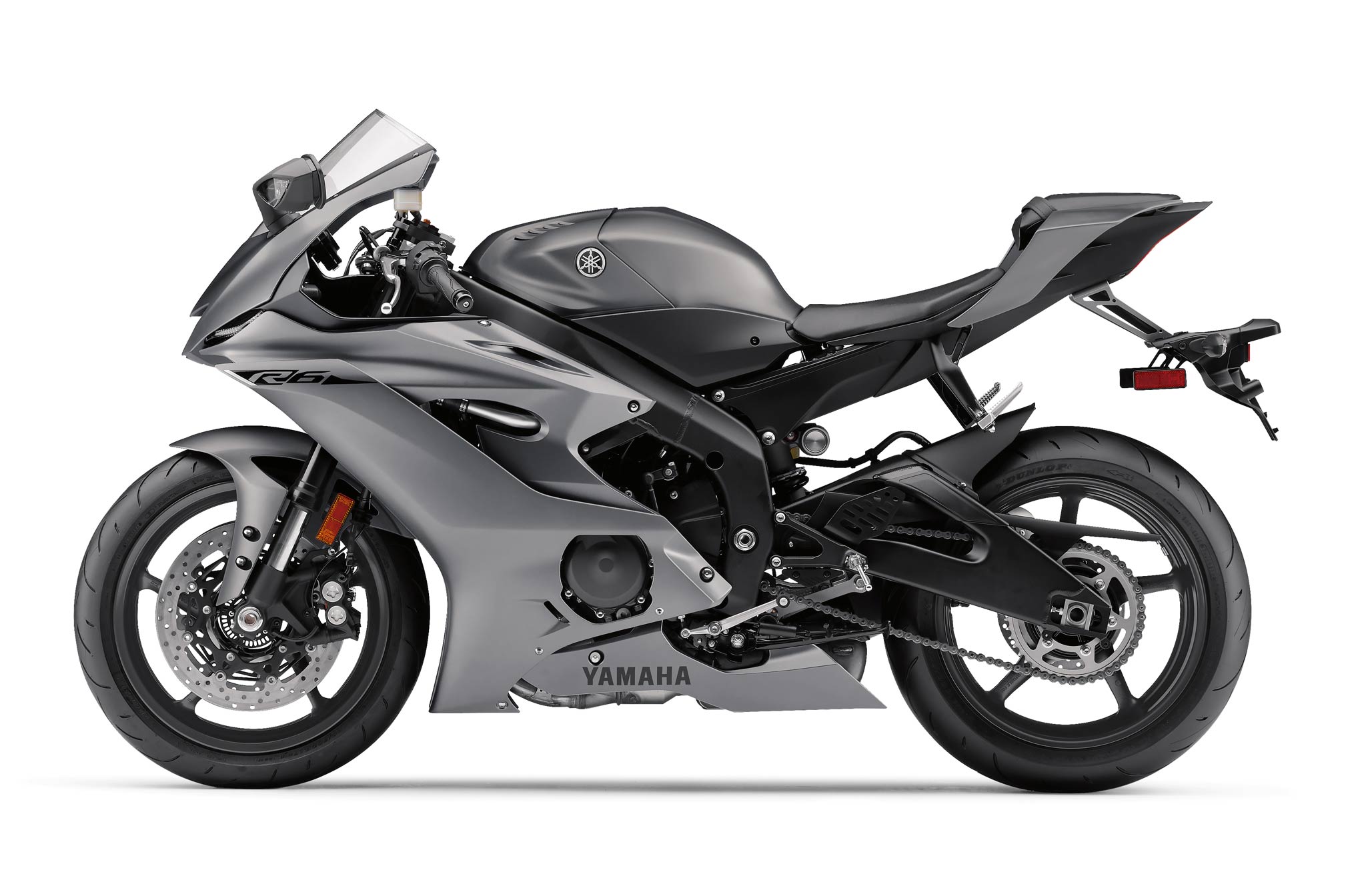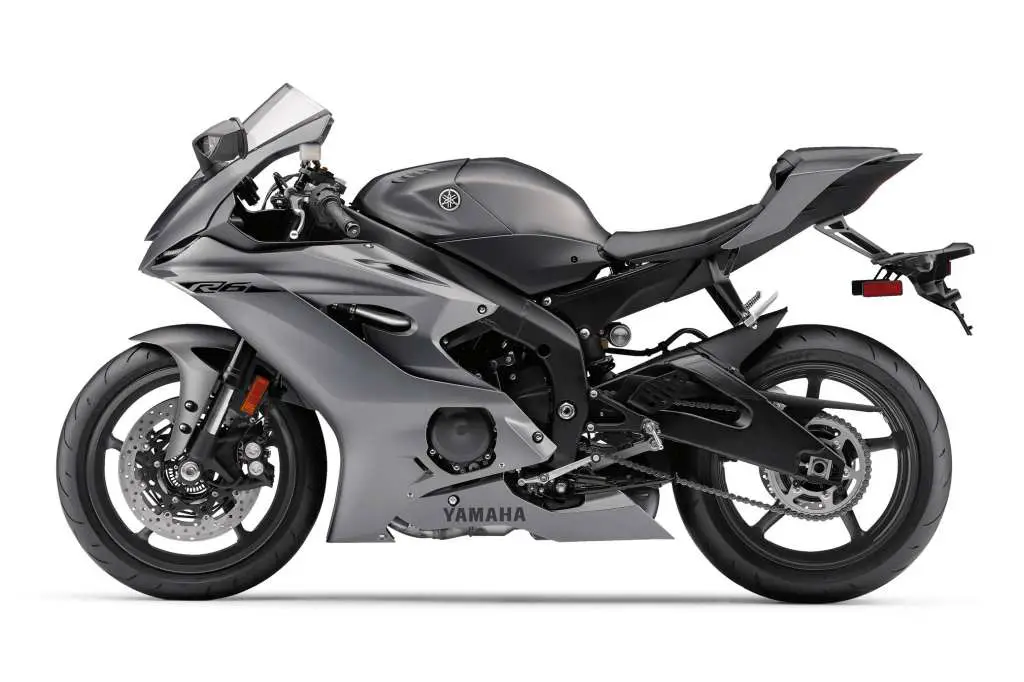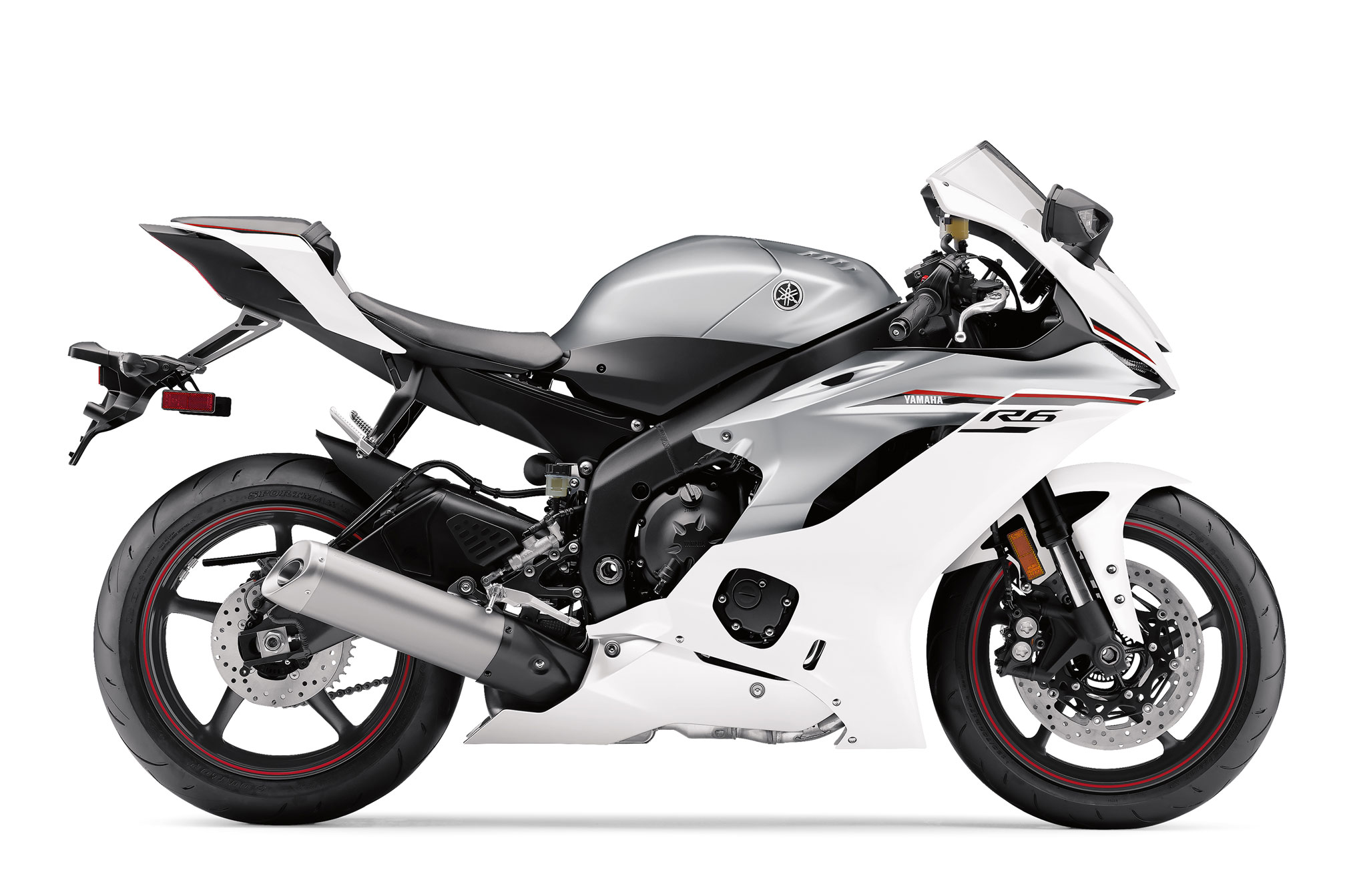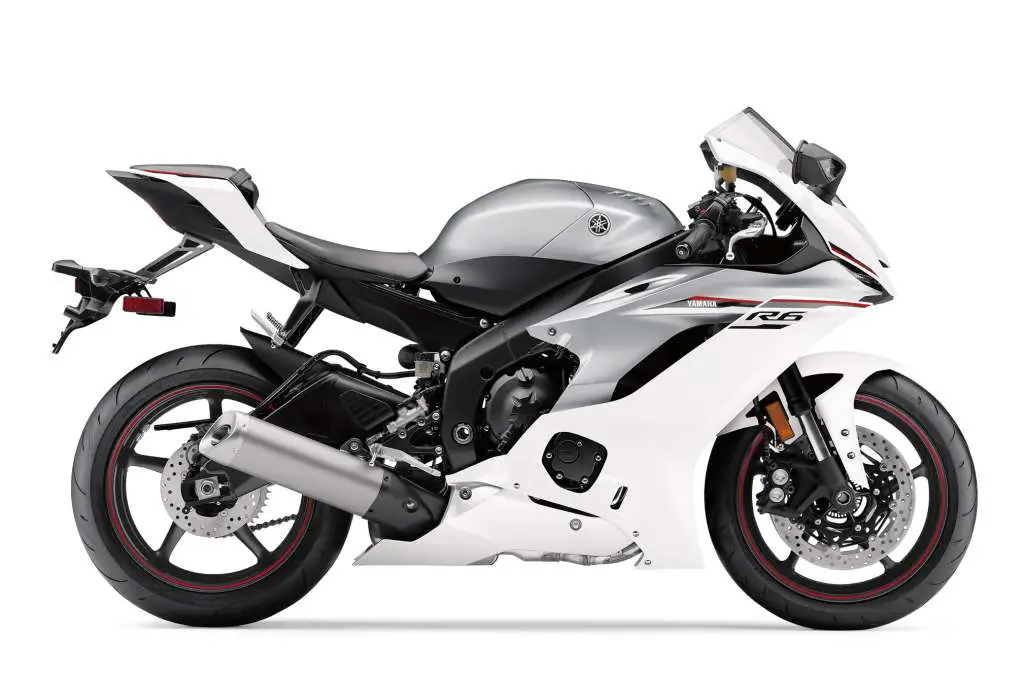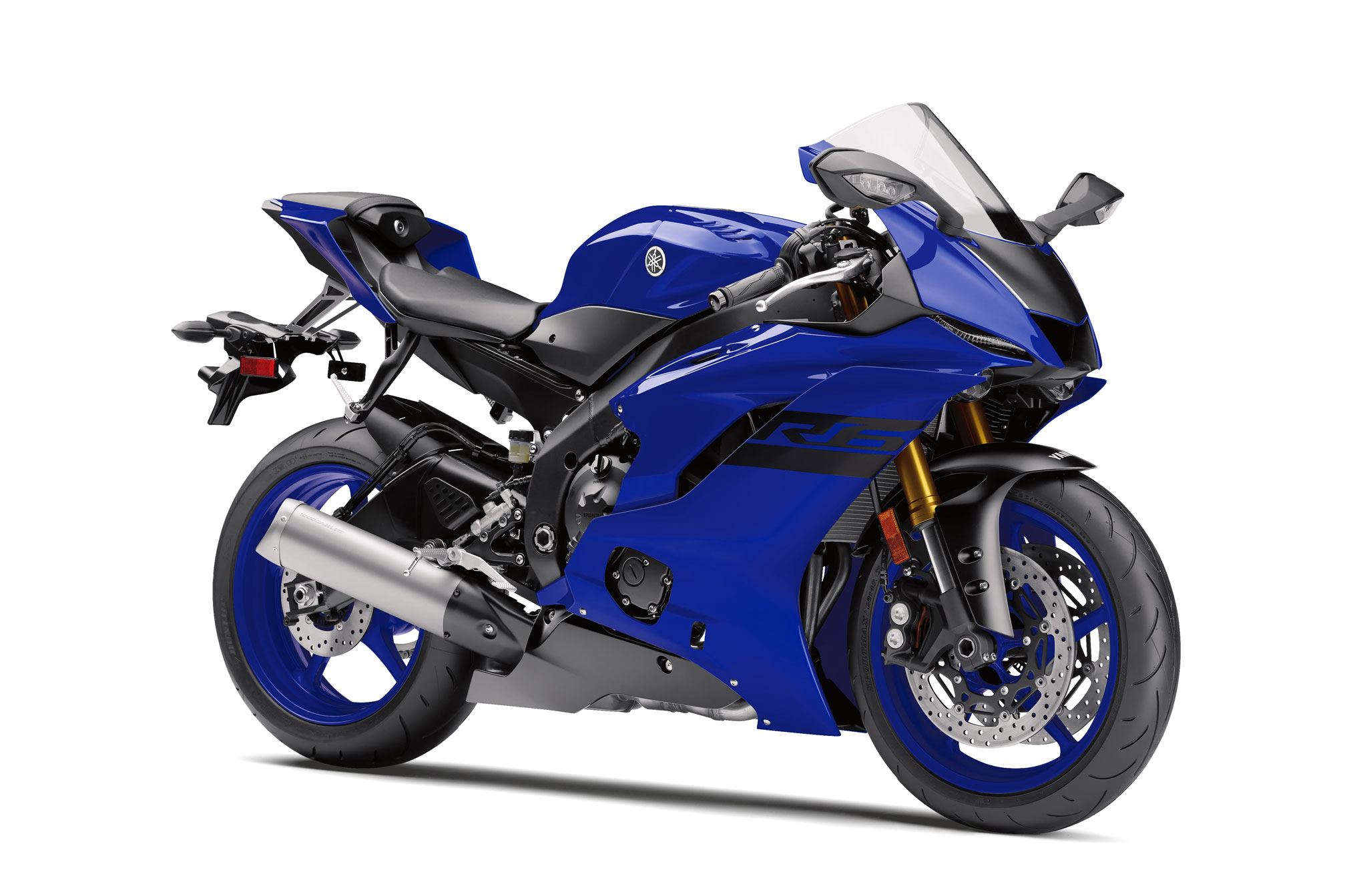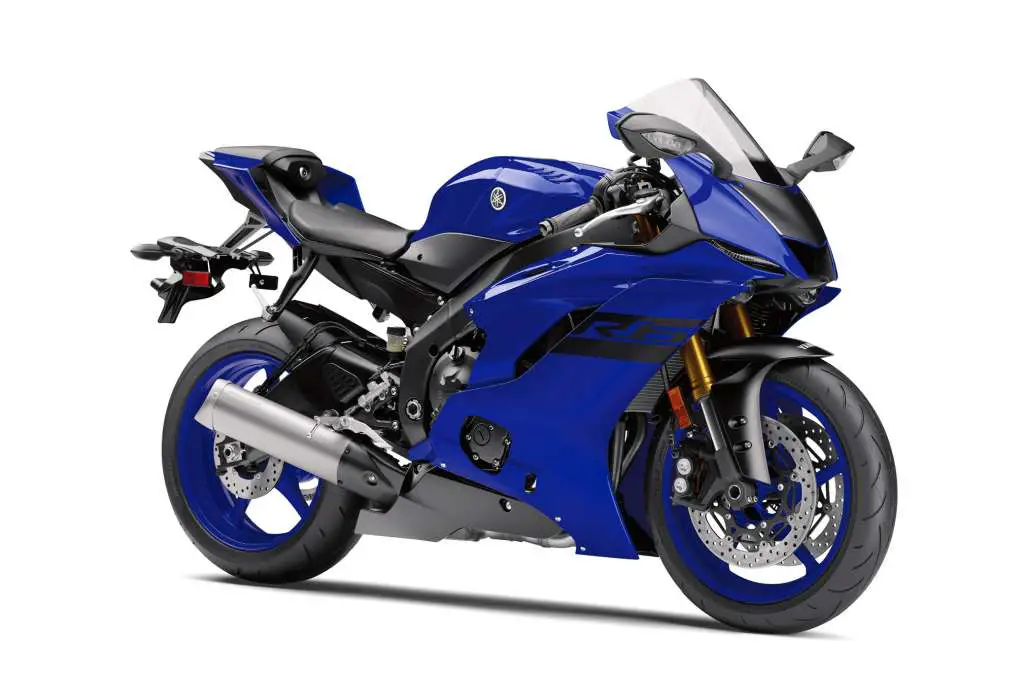 REFINED. REDESIGNED. REMARKABLE.
The YZF-R6 is a legend on the street – and with 3 Supersport World titles in recent years it's also a proven winner on the race track. One ride on this MotoGP-bred racer and you enter the exciting world of Yamaha. R WORLD!
Featuring low-drag bodywork and an aggressive look that bears all the characteristics of Yamaha's thoroughbred R-series DNA, the new YZF-R6 has arrived.
And to give you the ability to push even harder, the new YZF-R6 comes with a 6-mode Traction Control System, as well as a Quick Shifter System (QSS) and ABS.
From its aggressive looks with the M1-inspired styling, instant 7-setting Traction Control, Drive Modes, R1-spec front forks and brakes plus much more, the new R6 is the ultimate 600.
Since its debut in 1999, the R6 has been the bike of choice for serious 600 class riders and racers. The R6 features a host of great features including ABS brakes with large 320 mm front rotors, 43 mm fully adjustable inverted forks and an R1 inspired body design that is sure to turn heads. The R6 is full of innovation and technology you won't find on the competitor's machinery.
Proven on track dominance, good looks, and reigning back‑to‑back MotoAmerica Championships. Enough said.
///Power
Ultra-compact, lightweight, short stroke, 599 cc, DOHC, 16-valve, liquid-cooled, in-line four-cylinder engine with lightweight titanium valves produces incredible horsepower. Redline is set at an amazing 16,000 rpm
///Performance
The YZF-R6 features a highly aerodynamic front fairing and windscreen that provides an 8% improvement in aerodynamic efficiency. This contributes to a higher top speed during track riding.
///Handling
The front end features YZF-R1 based easy-adjust KYB 43 mm inverted forks and large 320 mm discs with radial mount 4-piston calipers (ABS equipped.)
Ultra-compact, 599cc, DOHC, 4-valve (titanium), liquid-cooled, in-line four-cylinder engine
16,000 rpm redline
Yamaha chip controlled throttle (YCC-T) & variable intake stacks (YCC-I)
6 – setting traction control system (plus off)
D-Mode system (3-modes)
Lightweight Delta Box frame & C.F. die cast magnesium sub-frame
R1 based KYB 43 mm fully adjustable inverted fork with easy access adjusters (R6 specific settings)
Fully adjustable KYB piggyback rear shock
ABS equipped brakes with 320 mm dual front discs with 4-piston calipers
17 litre R1 style aluminum fuel tank
YZF-M1 MotoGP inspired aerodynamic fairing with LED headlights & position lights
R1 style folding mirrors with integrated LED turn signals
R1 inspired "flow thru tail" section
Accessory "quick shifter" ready
Accessory Communication Control Unit ready (CCU)
2018 Yamaha YZF-R6 Totalmotorcycle.com Features and Benefits
///ENGINE
Ultra-compact, lightweight, short stroke, 599cc, DOHC, 4-valve, liquid-cooled, in-line four-cylinder engine with lightweight titanium valves produces championship winning horsepower. Redline is set at an amazing 16,000 rpm.
engine meets or exceeds the new Euro EU-4 emissions & noise standards
Compact "pent roof" cylinder head design features ultra-lightweight titanium valves.
27 mm intake valves & 23 mm exhaust valves… all are lightweight titanium
23.75 degree total valve angle provides a compact combustion chamber
single intake valve springs reduce weight & friction for optimum high rpm performance
lightweight aluminum valve retainers
Valve adjustment intervals are every 42,000 kms.
High flow intake & exhaust ports mean excellent power delivery at all rpms.
Lightweight magnesium cylinder head cover & crankcase case covers.
Direct ceramic composite plated "liner less" stand alone cylinder (cylinder is not part of the upper crankcase).
ceramic coating sprayed directly on the aluminum block, eliminating the liner & reducing weight
excellent heat dissipation for consistent power delivery
ceramic coating enhances the thin film of oil between the cylinder & piston, reducing friction & increasing power
Lightweight, short skirt, forged pistons.
excellent durability & reduced mechanical vibration
lightweight design aids in fast engine response
friction reducing, thin design top rings
lightweight tapered piston pins reduce weight
Lightweight crankshaft.
inertial crank mass has been optimized for fast throttle response & acceleration
crank journal bearings feature oil holes for increased oil supply for excellent durability
High lift / high performance, hollow camshafts.
designed to maximize power output across the rev range
side driven design helps reduce engine width
Crankcases feature a "tri-axis" layout for the crank, main & drive axles.
creates a more compact & shorter engine front to back
compact engine allows for optimum engine placement in the frame for desired weight distribution & great handling
Closed loop, 41 mm Mikuni throttle body fuel injection system with twin injectors.
twin injector (primary & secondary) system is used on our MotoGP M1 race bike & YZF-R1
primary injectors are located in the throttle bodies, secondary injectors located in the air box very near the computer controlled intake funnels
both primary & secondary injectors utilize 12 spray holes to maximize the atomization process
secondary injectors, located inside the air box, begin to function at mid rpms (6,000 to 7,000rpm) thru to redline
special short intake tracts enhance higher rpm power
"closed loop system" uses an oxygen sensor to "sniff" spent exhaust gases & automatically adjusts the fuel / air ratio for reduced emissions
fuel injection benefits include instant throttle response, choke-free starting, steady idle during warm up & reduced emissions
Yamaha Chip Control Throttle (YCC-T) system.
YCC-T electronically controls throttle valves for outstanding throttle response & controllability
system features throttle position sensor (TPS) & D.C. motor driven throttle valves
YCC-T system provides precise control of intake air volume for a smoother torque curve
ECU that controls YCC-T is capable of responding to changes at a speed of 1000th of a second
Yamaha Chip Controlled Intake (YCC-I) system.
intake funnels / stacks move between 2 -preset positions depending on engine rpm
transition rpm is approximately 13,500 rpms; funnel movement takes less than 0.3 of a second
electronic servo motor controls the funnels / stacks.
YCC-I provides the best of both worlds; solid low rpm torque & power combined with an amazing high rpm rush
Yamaha "D-Mode" variable throttle control system … 3 modes available.
enables rider to adjust the performance characteristics of the engine based on riding preferences or conditions
standard mode offers throttle response well suited to a variety of riding conditions, emphasizing linear throttle control
A-mode enhances throttle response allowing riders to enjoy even sportier engine performance
B -mode offers softer, slower throttle response well suited for wet or slippery riding conditions
Traction control system … 6 modes available plus off.
works in conjunction with the YCC-T system & utilizes same wheel sensors as ABS system
when system senses rear wheel spin it intervenes in the following order:
1) retards ignition timing,
2) modifies / limits fuel injection duration
3) closes the throttle butterflies via YCC-T to reduce power until wheel spin matches the chosen setting
6 modes plus off: minimal to maximum intervention as per rider choice. Maximum intervention is well suited for slippery conditions.
TCS button is handlebar mounted; status indicator / warning light in meter assembly
7.6 litre air box utilizes a high flow viscous paper type air filter.
Ram air induction system.
features centrally located intake duct delivering cool, "force-fed" air which pressures the air box & increases power output at higher speeds
straight shot induction from centrally located fairing duct to air box without bends or turns
Close ratio 6-speed transmission delivers seamless power delivery & maximum acceleration.
gear widths, splines & engagement dogs have been optimized to handle the R6's power
gears use flat contact-type engagement dogs for smooth, positive shifting & great durability.
pre-wired for accessory quick shifter
Slipper or back limiter clutch assembly.
reduces the effects of engine braking & improves rear wheel control by eliminating rear wheel hop or chatter when down shifting under hard braking
Accessory quick shifter ready.
allows for faster upshifts by eliminating the need to close the throttle or pull in the clutch
works with standard shift pattern
reduces wear & tear on the clutch & transmission
easy plug-and-play installation (part number: BN6-E81A0-V0-00)
Wet sump oil lubrication system with liquid-cooled oil cooler.
oil quantity has been optimized to reduce internal frictional loses caused by "oil drag"
liquid-cooled oil cooler ensures consistent engine temperatures for maximum performance & extended service life
High capacity cooling system.
curved radiator provides more surface cooling area than a flat rad for excellent cooling efficiency
ring-type fan provides increased airflow (and cooling) versus a standard cooling fan
Maintenance-free Transistor Controlled Ignition (TCI).
produces a strong spark for fast starts
provides precise ignition timing / mapping for optimum engine performance at all rpms
Direct ignition coils, iridium dual electrode spark plugs & high-output magneto.
ignition coils are integrated into plug caps, significantly reducing weight & complexity
"Mid ship" 4-into-2-into-1 exhaust system.
maximizes engine performance & centralizes mass for light, agile handling
header pipe diameter & length have been optimized for optimum flow
System features three, 3-way honeycomb catalyzers to reduce exhaust emissions. The oxygen sensor provides feedback to the ECU so it can adjust for the optimum fuel/air mixture. The "mid ship" titanium muffler is located low in the chassis to central mass & lower the center of gravity for incredible handling.
Yamaha's EXUP system (Exhaust Ultimate Power Valve).
part of the mid ship exhaust system
utilizes a titanium body & butterfly valves that reduce the "blow back" phenomenon caused by "valve overlap"
design reduces weight & maximizes cornering clearance
EXUP system helps eliminates "flat spots" in the power band & reduces emissions
High powered 32 bit electronic control unit actually contains three ECUs to control the FI system, YCC-T & YCC-I systems & ignition mapping.
Air injection system (AIS … not ram air) injects fresh air into exhaust ports to fully burn any unburnt fuel, further reducing exhaust emissions.
///CHASSIS/SUSPENSION
Compact, lightweight aluminum Deltabox frame offers an optimized rigidity balance for incredibly light & agile handling.
MotoGP inspired innovation that Yamaha calls a "straight frame concept", meaning top spars of the frame lie as close to possible to the frame's torsional axis (the line connecting the head pipe to the swingarm pivot point).
ram air duct passes through the frame at the head pipe for a straight ram air effect
mix of mold castings & pressed aluminum plates make up the frame
engine is a fully stressed chassis member allowing for a super-light main frame design
New, slim design detachable CF die cast magnesium rear sub frame.
sub-frame is 20 mm narrower at seat – tank junction
new narrower sub-frame works in conjunction with new seat for quick, easy rider movements
detachable design allows easier rear shock access & can be replaced in the event of damage
Lightweight, aluminum "gull wing" type swingarm.
lightweight design reduces unsprung weight for superior suspension performance
mix of castings & pressed plates for optimum rigidity
swingarm pivot position has been optimized to reduce the "squat" tendencies caused by drive chain reaction to hard throttle openings
excellent rear wheel traction & control
Key chassis geometry figures:
1380 mm wheelbase, 24 degree caster angle, 97mm of trail and a 52.5% front & 47.5% rear weight distribution
57 degree maximum lean angle
New, fully adjustable, R1 based, 43mm inverted front fork with 120 mm (4.7″) of wheel travel.
incredible suspension performance with excellent "feedback"
inverted design benefits include; reduced "unsprung" weight, reduced fork flex since the larger diameter tubes are gripped in the triple clamps & optimized rigidity
adjustments include: spring preload, high speed compression damping, low speed compression damping & rebound damping. Settings are specific to the R6.
all adjusters are located on top of the fork caps for fast, easy access
adjustments allow the rider to tune suspension to match riding style & road or track conditions
new, 25 mm front axle
Revised, fully adjustable Monocross link rear suspension utilizes a new KYB piggyback shock with 120mm (4.7″) of wheel travel.
adjustments include: spring preload, high & low speed compression damping and rebound damping adjustability
piggyback desgn allows room for adjusters & helps to keep the shock cooler for consistent damping performance
ABS equipped, radial mount, mono-block 4-piston calipers squeeze new, larger 320mm dual front discs.
radial mount design helps to reduce caliper distortion for improved braking performance
aluminum disc carriers reduce weight
Nissin master cylinder provides excellent front brake lever feel & feedback
ABS equipped, lightweight 220mm rear disc brake is squeezed by a single-piston caliper.
Anti-lock braking system (ABS).
controlling ECU & hydraulic unit are combined into a single compact unit to reduce weight & centralize mass
when ABS system senses impending wheel lock-up (via active type wheel sensors) it regulates hydraulic pressure to the point just before the wheel(s) lock-up
ABS benefits include; excellent control under hard braking or when braking on wet, slippery or loose surfaces
New lightweight, 5-spoke cast aluminum 17″ wheels.
reduce unsprung weight by making hub & spokes a single structural unit
special casting technique makes the rim section substantially lighter & stronger
front rim size is MT3.50 x 17, rear rim is MT5.50 x17
New, 17-litre aluminum fuel tank.
over 1 kg weight savings Vs last year's steel tank
provides excellent rider mobility (narrower seat-fuel tank junction)
reserve portion of the tank is 3.4 liters (low fuel light illuminates)
internal electric fuel pump
All new, ultra-sleek, YZF-M1 MotoGP inspired front fairing.
8 % improvement in aerodynamic efficiency Vs. '16 model
centrally located ram air duct
most aerodynamic production motorcycle ever produced by Yamaha
windshield is 50 mm (2″) higher than last generation…
New LED main headlights & LED position lighting.
LEDs use less power allowing for a smaller ACM (smaller ACM means less power losses)
LED lights offer excellent visibility
LED lights offer extended service life
New design, separate rider & passenger seats.
new rider seat enhances the narrower sub-frame for fast, easy rider movements
New, compact race inspired multi-function analogue & digital instrumentation cluster.
readouts include; analog tach, digital speedometer, dual trip meters, gear position indicator, low fuel warning light, fuel trip meter (counts kilometers since low fuel light illuminated), clock, stop watch, D-mode & traction control indicators, coolant temp, outside air temp, instant& average fuel consumption & a self -diagnostic mode
programmable shift light & stop watch/lap timer
adjustable back lighting
New design, LED taillight for excellent visibility.
Immobilizer ignition system to reduce the possibility of "ride away" theft.
system must recognize the "coded ignition key" in order for the unit to start
if immobilizer ignition does not recognize the key, the ignition system & starter will not function, even if the ignition is forced into the on position
Accessory ready Communication Control Unit (CCU):
CCU is Yamaha's data acquisition unit… a great tool for track day & race enthusiasts
works with IOS & Android platforms
parameters recorded include: traction-control activation, front & rear ABS activation, lean angle, engine speed, wheel speeds, throttle position, gear position, front & rear brake pressures, coolant temperature and lap times
information also notes position on the race track
possible to overlay multiple laps & share data with other R6 riders
///DETAILS
lightweight 525 O-ring chain
steering lock
under seat bungee cord attachment straps & helmet holder cable
new, smaller, low maintenance sealed gel-type battery (battery should be charged during winter storage)
Note: The YZF-R6 offers a significant level of power and performance. It is not intended for novice or inexperienced riders.
2018 Yamaha YZF-R6 – Totalmotorcycle.com USA Specifications/Technical Details
US MSRP Price: $12,199 USD
Engine Type 599cc liquid-cooled DOHC inline 4-cylinder; 16 titanium valves
Bore x Stroke 67.0mm x 42.5mm
Compression Ratio 13.1:1
Fuel Delivery Fuel injection with YCC-T and YCC-I
Ignition TCI: Transistor Controlled Ignition
Transmissioin 6-speed; multiplate slipper clutch
Final Drive Chain
Suspension / Front 43mm KYB® inverted fork, 3-way adjustable; 4.7-in travel
Suspension / Rear KYB® piggyback shock, 4-way adjustable; 4.7-in travel
Brakes / Front Dual 320mm hydraulic disc; ABS
Brakes / Rear 220mm hydraulic disc; ABS
Tires / Front 120/70ZR17
Tires / Rear 180/55ZR17
L x W x H 80.3 in x 27.4 in x 45.3 in
Seat Height 33.5 in
Wheelbase 54.1 in
Rake (Caster Angle) 24.0°
Trail 3.8 in
Maximum Ground Clearance 5.1 in
Fuel Capacity 4.6 gal
Fuel Economy 42 mpg
Wet Weight 419 lb
Warranty 1 Year (Limited Factory Warranty)
Color Matte Gray; Team Yamaha Blue; Intensity
White/Matte Silver
2018 Yamaha YZF-R6 – Totalmotorcycle.com Canadian Specifications/Technical Details
Canada MSRP Price: $14,599 CDN
///Engine
Engine
Liquid-cooled, DOHC, 16-valves (4-valves/cyl) (titanium), in-line four
Displacement
599 cc
Bore and Stroke
67 x 42.5 mm
Compression Ratio
13.1:1
Maximum Torque
6.6 kg-m (47.7 ft-lb) @ 11,500 rpm
Engine Management
YCC-T, YCC-I, Traction Control, D-Modes
Fuel Delivery
41 mm Mikuni throttle body F.I. with twin injectors (primary & secondary)
Estimated Fuel Consumption±
17.9 kpl / 50 mpg (Imp.)
Lubrication
Wet sump
Ignition / Starting
TCI / Electric
Transmission
6-speed
Final Drive
O-ring chain
///Chassis
Suspension (Front)
Fully adjustable 43mm inverted fork / 120mm (4.7″) wheel travel
Suspension (Rear)
Fully adjustable link Monocross / 120mm (4.7″) wheel travel
Brakes (Front)
Dual 320mm discs / radial mount 4-piston calipers / ABS equipped
Brakes (Rear)
220mm disc / single piston caliper / ABS equipped
Tires (Front)
120/70ZR17
Tires (Rear)
180/55ZR17
///Critical Data
Length
2,040mm (80.3")
Width
695 mm (27.4")
Height
1,150 mm (45.3")
Wheelbase
1,375mm (54.1″)
Rake / Trail
24° / 97mm (3.8″)
Ground Clearance
130mm (5.1″)
Seat Height
850mm (33.5")
Fuel Capacity
17 litres (3.7 imp.gallons)
Wet Weight
190 kg (419 lbs.)
Colour(s)
Yamaha Blue
Matte Metallic Gray
2018 Yamaha YZF-R6 – Totalmotorcycle.com European Specifications/Technical Details
Europe/UK MSRP Price: £ See Dealer for Pricing in GBP (On The Road inc 20% Vat)
Engine YZF-R6
Engine type 4-stroke, liquid-cooled, DOHC, forward-inclined parallel 4-cylinder, 4-valves
Displacement 599cc
Bore x stroke 67.0 mm x 42.5 mm
Compression ratio 13.1 : 1
Maximum power 87.1 kW (118.4PS) @ 14,500 rpm
Limited power version N/A
Maximum torque 61.7 Nm (6.3 kg-m) @ 10,500 rpm
Lubrication system Wet sump
Clutch type Wet, Multiple Disc
Fuel system Fuel Injection
Ignition system TCI
Starter system Electric
Transmission system Constant Mesh, 6-speed
Final transmission Chain
Fuel consumption 6.6 l/100km
CO2 emission 154 g/km
Chassis YZF-R6
Frame Aluminium Deltabox
Front suspension system Telescopic forks, Ø 43 mm
Front travel 120 mm
Caster angle 24º
Trail 97 mm
Rear suspension system Swingarm, (link suspension)
Rear travel 120 mm
Front brake Hydraulic dual disc, Ø 320 mm
Rear brake Hydraulic single disc, Ø 220 mm
Front tyre 120/70 ZR17M/C (58W) Tubeless
Rear tyre 180/55 ZR17M/C (73W) Tubeless
Dimensions YZF-R6
Overall length 2,040 mm
Overall width 695 mm
Overall height 1,150 mm
Seat height 850 mm
Wheel base 1,375 mm
Minimum ground clearance 130 mm
Wet weight (including full oil and fuel tank)
190 kg
Fuel tank capacity 17 litres
Oil tank capacity 3.4 litres
Manufacturer Specifications and appearance are subject to change without prior notice on Total Motorcycle (TMW).