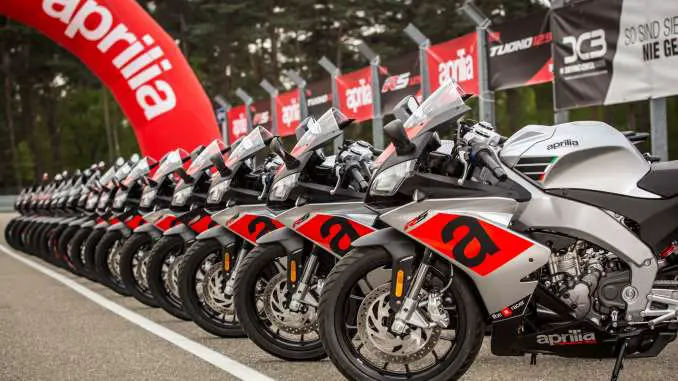 Introducing the new 2018 Aprilia Motorcycle Guide.
New Bike Reviews, Huge Photos, Full Specifications. Get it all at Total Motorcycle.
Road Bikes
– 2018 Aprilia RSV4 RF – New model
– 2018 Aprilia RSV4 RR – New model
– 2018 Aprilia RS125 Replica GP – (Europe)
– 2018 Aprilia RS125 – (Europe)
– 2018 Aprilia Tuono 125 – (Europe)
– 2018 Aprilia Tuono V4 1100RR
– 2018 Aprilia Tuono V4 1100 Factory
Factory Works
– 2018 Aprilia RSV4 RF/RR Factory Works Kit – New
From the Manufacturer:
Aprilia Racing Factory Works kit
Aprilia Racing is the most advanced Piaggio Group platform for the development of technology applied first to racing bikes and then to factory models. The Racing Division that has brought the Noale-based Manufacturer 54 world titles, launched the "Factory Works" program last year to make the same technology developed for the Aprilia RSV4 – seven-time World Superbike champion – available to anyone who wants to compete in top-level championships for standard derivatives or for those who simply want to have an RSV4 with optimized performance for track use. The program has been expanded with the introduction of an Aprilia RSV4 kit that maximizes engine performance, reduces overall weight and improves aerodynamics. Thanks to new pistons, different heads, full racing exhaust and regenerated control unit, the engine reaches 215 HP. The additions that lighten it include a lithium battery, a new fuel tank, which, together with the complete exhaust system, some carbon pieces and the aluminum upper casting plate made in a single piece, carry a total weight of around 10 kg. The new Factory Works kit can be further enriched by a flush mount set featuring aerodynamic appendages, developed by Aprilia on the RS-GP prototype used in the MotoGP World Championship.
Manufacturer Websites
Aprilia