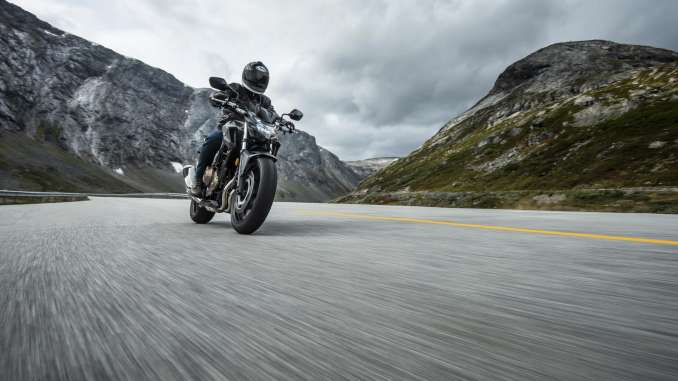 PERFECTION IS IN THE DETAILS.
2019 Honda CB500F:
The CB500F boasts a ton of upgrades this year, like more midrange power, better acceleration, new fuel injectors, a new supersport styled dual-outlet muffler, refined transmission internals, a new rear shock, a slipper/assist clutch and much, much more.
Positioned for Success.
The CB500F's classic riding position lets you sit up straighter, without your weight on your arms, so it gives you a great field of vision when you're riding around town or commuting. Plus, this year we've given it a new, stiffer, premium tapered handlebar that increases steering feedback. The bike delivers a comfortable ride for passengers, too.
Modern Style.
The CB500F is designed to be timeliness yet forward-thinking, with an LED headlight and minimal bodywork. The result is a bike that looks exactly like a modern motorcycle should.
Originally launched in 2013, the naked CB500F has proved that one of Honda's tried-and-trusted formulas for building popular motorcycles has lost none of its relevance. Namely, an entertaining twin-cylinder engine wrapped in a simple, lightweight, sporty chassis can be as much fun for a veteran rider as it is for those still building their riding experience. While the CB500F's compact dimensions and welcoming manners make it a great tool for learning, and sensible running costs are ideal for commuting, those same attributes make it a genuine pleasure for weekend outings.
Building on the theme for 2019, the CB500F is redrawn with uncompromising lines that further elevate its technical and mechanical aspects, while a host of upgrades enhance the fun riding experience even more.
The CB500F occupies a unique spot in our lineup: an aggressively-styled streetfighter that's a great choice for a wide range of riders. And for 2019, the CB500F is better than ever.
We took this awesome all-rounder and gave it more power, more style, a nicer sound, and a whole bunch of other functional upgrades. What didn't change is this bike's mission: to put a new generation of riders on one of the best street machines possible, with some of the widest range of opportunities. The new CB500F isn't a bike that forces you into a mold—it's a blank canvas that lets you paint your own picture of motorcycling.
So check it out in person at your Honda Dealer. Because you won't realize how right this bike is until you sit on one or—even better—ride one for yourself.
STYLING
For 2019, the CB500F's naked faired form has evolved front to rear and exudes a newfound aggression. Led by the penetrating headlight design, the machine's stance is low-set and ready for action; the side shrouds interlock with the fuel tank and fully emphasize the engine, while the side covers and seat unit continue the theme of muscular angularity.
A tapered handlebar adds feel and leverage. New LCD instruments feature Gear Position and Shift Up indicators; this is set to a default 8,750 rpm but can be adjusted in 250 rpm increments between 5,000 and 8,750 rpm.
CHASSIS
The unchanged 35mm steel diamond-tube mainframe is light and strong, with a tuned degree of yield that gives optimum feedback to the rider as road surfaces change. Vibration is minimized by the shape and position of the engine mounts, plus the frame's rigidity balance.
The geometry gives nimble, yet confidence-inspiring steering. Mass centralization, with the engine in close proximity to the swingarm pivot point, delivers turning agility, while optimum front/rear weight distribution ensures stability. The low, 30.9 inch seat height makes the CB500F very easy to manage, and its neutral riding position comfortably accommodates riders of varying heights.
The 41mm preload-adjustable telescopic fork delivers a compliant yet controlled ride and gives great feel for front-tire grip. A new single-tube rear shock (as found on larger-capacity sport bikes) replaces the double-tube design of the previous model; its large-diameter piston ensures excellent suspension response and temperature management. It has nine-stage spring preload adjustment and works through a rigid box-section steel swingarm, which now features pressed-steel chain-adjustment end-pieces.
Lightweight, 17-inch cast-aluminum wheels employ hollow cross-section Y-shaped spokes. A single front 320mm petal-style disc and two-piston brake caliper is matched to a 240mm rear disc and single-piston caliper.
ENGINE
The CBR500R's eight-valve, liquid-cooled, parallel-twin-cylinder engine offers a well-proportioned balance of physical size and willing, enjoyable power output, with an energetic, high-revving character and capable top-end performance. Already strong off the bottom, the target for 2019 development was faster acceleration through a boost in low-to-mid-range power and torque in the 3,000 to 7,000rpm range; the 4% improvement comes via altered intake valve timing—with "close" timing accelerated by 5°—and lift increased by 0.3mm to 7.8mm.
Feeding the PGM-FI fuel injection is now a more-or-less straight shot of airflow through the airbox and throttle bodies. The battery has been repositioned further away from the rear of the airbox intake duct (1.7 inches versus 0.5 inches) to allow greater airflow; the exhaust muffler now features dual exit pipes, adding a sportier-sounding edge to each pulse. Peak power arrives at 8,500 rpm, with maximum torque delivered at 7,000 rpm.
The primary couple-balancer sits behind the cylinders, close to the bike's center of gravity. The primary and balancer gears use scissor gears, reducing noise. The crank counterweight is specifically shaped for couple-balance is light to allow the engine to spin freely, with reduced inertia.
Acting as a stressed member, the engine complements the frame's rigidity with four frame hangers on the cylinder head. Internally, the cylinder head uses roller-rocker arms; shim-type valve adjustment allows them to be light, for lower valve-spring load and reduced friction. A silent cam chain has the surface of its pins treated with Vanadium, reducing friction with increased protection against wear.
A six-speed gearbox mirrors that of the RR and uses the same gear-change arm structure and link mechanism. New for 2019 an assist/slipper clutch enables lighter upshifts and smoother downshifts.
One-year, transferable, unlimited-mileage limited warranty; extended coverage available with a Honda Protection Plan.
Meets current EPA and CARB standards
California version differs slightly due to emissions equipment
2019 Honda CB500F Totalmotorcycle.com Features and Benefits
More horsepower, more torque
The DOHC liquid-cooled parallel-twin engine uses a square bore & stroke of 67 mm x 66.8 mm for an optimum combination of strong low-end torque and excellent top-end power. A 4% boost in horsepower and torque for 2019 results in even sportier performance.
New slipper clutch
Not only does the new slipper clutch help to prevent rear-wheel lockup on downshifts, it also reduces effort at the lever by almost half, helping to reduce rider fatigue particularly in city traffic or on long rides.
Compact engine, minimal vibration
Engine vibration is kept to a minimum by using crank pins phased at 180 degrees and a balancer shaft behind the cylinders, which also contributes to the engine's compact size.
Crisp throttle response
PGM-FI electronic fuel injection keeps the engine running efficiently in all conditions and ensures crisp throttle response and powerful torque at low to mid rpm.
Runs smoothly at high output levels
Careful flow analysis of the cooling system resulted in a water pump that's small and lightweight, yet still more than capable of keeping the engine running its best at high output levels.
Maximized flow efficiency
In order to maximize air-intake and exhaust efficiency, the profile from the air cleaner through the intake ports to the exhaust pipe was made as straight as possible, helped in part by repositioning the battery away from the rear of the airbox intake duct.
Reduced weight & friction
The four valves in each of the DOHC cylinder heads have narrow stems, thereby reducing weight and friction and increasing efficiency.
High-tech design
A light and compact roller-rocker-arm assembly and shim-type valve adjustment allows a lower valve-spring load for reduced friction and a compact cylinder head.
Improved durability
The pins in the silent cam chain have been treated with vanadium, which both reduces friction and improves durability. The lightweight pistons use the same advanced manufacturing process as those found in the CBR1000RR. To ensure precise cylinder shape, the engine uses the same centrifugal-cast thin-wall sleeves as found in the CBR1000RR.
Reduced friction
The oil pump's internal relief structure uses the same design as found in the CBR1000RR, which reduces friction, improves aeration performance and simplifies the shape of the oil pan.
Easy shifting
The new gear indicator and adjustable shift-up indicator make it even easier to use the smooth-shifting six-speed gearbox.
The sound of power
The battery has been repositioned farther from the rear of the airbox intake duct to improve airflow, while the muffler now features dual exit pipes for a sportier sounding edge to the exhaust note.
Designed for rider feedback
The lightweight diamond-shaped steel frame was designed to allow a certain degree of yield, which enables it to better respond to changes in the road surface and to transmit just the right amount of feedback to the rider.
Comfortable & sporty ride
Upgraded for 2019, the Pro-Link® rear suspension boasts a new single-tube shock absorber (as found on larger capacity sportbikes) with five-stage spring preload adjustment, replacing the double-tube design of the previous model. Its large-diameter piston ensures excellent suspension response and improved heat dissipation. The shock connects to a rigid box-section steel swingarm with new pressed-steel chain-adjustment end pieces. Both the shock and the adjustable 41 mm fork are calibrated for a comfortable but sporty ride.
Easy to manage
The 785 mm seat height makes the CB500F very easy to manage, and its neutral riding position comfortably accommodates riders of any height.
Lightweight wheels
Lightweight cast aluminum wheels with Y-shaped spokes not only look trick, they also contribute to the bike's excellent manoeuvrability.
Reduced unsprung weight
Wave brake rotors with superlative heat-dissipating qualities are lighter than conventional discs of the same diameter, which help to further reduce the bike's unsprung weight.
Designed for city & highway rides
Ergonomics were carefully configured to ensure an unrestricted riding position that allows easy manoeuvring in town, an easy reach to the ground, as well as excellent comfort during long-distance highway trips.
Aggressive look
Sleek bodywork incorporates an LED headlight, taillight and turn signals, and leaves more of the engine exposed for an aggressive, streetfighter look.
Increased range
It not only looks more aggressive, but the redesigned fuel tank also boasts increased capacity of 17.1 litres, providing a range of approximately 480 km for longer rides and fewer stops.
Convenient under-seat storage
A utility space under the seat accommodates a U-lock, wet weather gear or other items.
Brake lever and wave key
Adjustable brake lever and wave-style ignition key add to the CB500F's long list of premium features.
2019 Honda CB500F – Totalmotorcycle.com USA Specifications/Technical Details
US MSRP Price: starting from $6499 USD
Canada MSRP Price: $ CDN
Europe/UK MSRP Price: £ GBP (On The Road inc 20% Vat)
Australia MSRP Price: See Dealer for Pricing in AUS
ENGINE
ENGINE
Engine Type
471cc Liquid-Cooled Parallel-Twin
Bore And Stroke
67.0mm x 66.8mm
Compression Ratio
10.7:1
Induction
PGM-FI with 34mm throttle bodies
Ignition
Computer-controlled digital transistorized with electronic advance
Valve Train
DOHC; four valves per cylinder
DRIVE TRAIN
DRIVE TRAIN
Transmission
Six-speed
Final Drive
O-ring-sealed chain
CHASSIS / SUSPENSION / BRAKES
CHASSIS / SUSPENSION / BRAKES
Front Suspension
41mm fork; 4.3 inches travel
Rear Suspension
Pro-Link® single shock with nine-position spring preload adjustability; 4.7 inches travel
Front Brake
Twin-piston caliper with single 320mm disc
Rear Brake
Single-caliper 240mm disc
Front Tire
120/70R-17 radial
Rear Tire
160/60-17 radial
DIMENSIONS
DIMENSIONS
Rake
25.5 degrees
Trail
102mm (4.0 inches)
Wheelbase
55.5 inches
Seat Height
30.9 inches
Fuel Capacity
4.5 gallons
Curb Weight
415 pounds (Includes all standard equipment, required fluids and full tank of fuel – ready to ride)
OTHER
OTHER
Model ID
CB500F
Emissions
Meets current EPA standards. California version meets current CARB standards and may differ slightly due to emissions equipment.
Available Colors
Grand Prix Red
FACTORY WARRANTY INFORMATION
FACTORY WARRANTY INFORMATION
One Year Included
Transferable, unlimited-mileage, limited warranty
2019 Honda CB500F – Totalmotorcycle.com Canada Specifications/Technical Details
TBA
2019 Honda CB500F – Totalmotorcycle.com European Specifications/Technical Details
TBA
2019 Honda CB500F – Totalmotorcycle.com Australian Specifications/Technical Details
Manufacturer Specifications and appearance are subject to change without prior notice on Total Motorcycle (TMW).