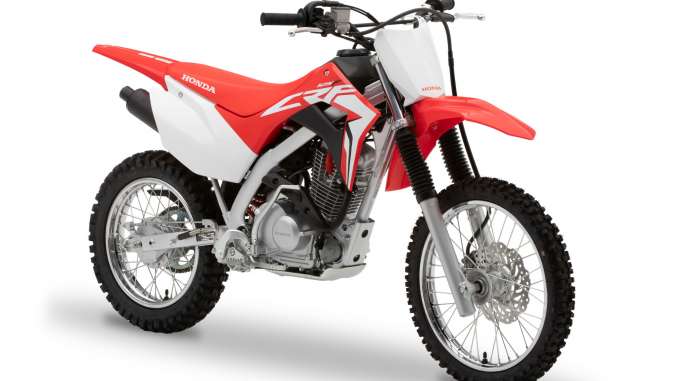 NEW AND IMPROVED FUN.
2019 Honda CRF125F:
Better bike, better rider. It will light the fuse for any kid who wants to progress to bigger fire power.
It may be small, but it shares the same styling and some of the features of its big brother, the awesome CRF450R. Hit the electric start and the air-cooled SOHC engine is eager to go, tuned specifically for smooth bottom end torque, perfect for junior riders. The new diamond spar steel frame, the 31mm diameter fork with 140mm of travel and Honda Pro-Link rear suspension system provide a tough chassis to bash on through the rough stuff.
Honda's CRF125F may sit right in the middle of our off-road fun bike lineup, but it's over the top when it comes to some big improvements this year. In terms of our overall line, the CRF125F is the next step up from our CRF110F—a little bigger, a little taller, a little more powerful. We've designed it to hit that sweet spot that makes it a great choice for both young riders and smaller adults. But for 2019, it's a whole lot better.
To start with, we gave it fuel injection this year. That makes a great engine even better, first because it broadens up the power, but most of all because you can say goodbye to clogged up pilot jets after the bike's sat out the winter. It also means easier starting and better running in cold weather or at high altitudes, and less pollution.
There's a new twin-spar steel frame this year too, and more suspension travel at each end for an even more plush ride. An electric starter makes it easy to get going, while a four-speed transmission gives you all the control of a full-sized bike.
Sound like an awesome motorcycle, but maybe you're looking for something that will better fit a taller rider? Right this way—we also make the CRF125F in a big-wheel version. Either way, you're making a great choice.
Be A Responsible Rider: All parents need to consider their youngsters' age, size, ability and maturity before allowing them to ride. Obtain a copy of "Off-Road Safety Tips" from your local Honda Dealer.
Electric Starter
Turn a key, push a button—that's all it takes to get the CRF125F started. Add in a generous dose of Honda reliability and you'll find the CRF125F is super easy to own.
Sized for the Sweet Spot
With its air-cooled, 125cc single-overhead-cam engine and four-speed transmission, the CRF125F will fit a wide range of riders. It has enough power for teens and small adults without being intimidating for younger riders.
Fuel-Injected Engine
New for 2019, the CRF125F's fuel injection makes starting easier than ever, and automatically compensates for cold weather or high altitudes. Plus, it runs cleaner!
Time to think big.
We've got some big guns in our CRF–MX line up and the new CRF125F is proud to stand next to them. The perfect entry bike for young guns aged 10, or over, who are looking for fun and a bike to feed their dirt track passion.
Room to grow
Getting to grips with off road riding.
The learnings from early years are invaluable to help novices grow into accomplished off road riders.
Braking power
A 220mm front disc brake is hydraulically operated with an adjustable span lever. Complemented by the 95mm rear drum brake, both provide a good even balance of braking power.
Happier landings
With the CRF125F, young riders can progress to more adventurous riding, safely.
With a suspension system built around a beefy 31mm telescopic fork and heavy weight springs, the bike is perfect for soaking up the forces from a jump.
Taking more of the shock
A new rear shock has a 32mm diameter piston damper with separate air/oil/gas pressure chambers to reduce emulsification and maintenance.
Honda Pro-Link System
The steel swingarm is built around the Honda Pro-Link system, which uses needle bearings to diminish friction.
CRF Performance Line technology such as fuel injection and twin-spar frame design is now bestowed on the CRF Trail Line, advancing the 2019 CRF125F and CRF125F Big Wheel into modern off-road motorcycles that maximize fun and ride enjoyment. The electronically controlled Keihin fuel-injection system delivers smooth, seamless, linear power at any rpm and throttle setting—ideal for new motorcyclists and equally advantageous for advanced riders on technical trails or when going through big elevation changes—and the model is 50-state off-road legal. The all-new twin-spar frame is made of steel and extensively tested and developed for a confidence-inspiring chassis wrapped in new body panels and graphics that match those of the model's race-oriented CRF siblings. Both CRF125F models retain the proven 124.9cc SOHC engine and four-speed gearbox for strong power and intuitive shifting feel. In terms of hardware, the two versions differ only in wheel size, swingarm length and final-drive gearing, resulting in a difference in seat height of 1.8 inches. Instructors or parents will appreciate the peace of mind that comes with putting a rider on a secure and nimble machine, and maintenance is simplified with fuel injection—no jets to change or to clog with fuel residue if the bike sits for an extended period. Electric start, low-fuel indicator light, ignition "key on" indicator, and Honda's earned reputation for making the best-built and most dependable motorcycles on the trail mean pride of ownership all week and fun and thrills every weekend.
2019 Updates
All-new electronically controlled Keihin fuel-injection system replaces carburetor. FI delivers linear and hesitation-free power for easier-to-control delivery at all points in the powerband.
Twin-spar steel frame, with heavy-duty design inspired by the frame architecture of the CRF Performance Line, provides the right balance of rigidity and suppleness for trail-bike comfort.
Suspension travel increased (by 10mm increase in front, 12mm rear) for improved plushness and better bottoming resistance.
New 1 gallon steel fuel tank with integrated fuel pump and fuel filter. Low-fuel indicator on handlebar illuminates when .2 gallons remain. New frame design shields tank in the event of a fall.
All-new bodywork and graphics match styling of CRF Performance Line.
New handlebar-mounted, multiple-function switch incorporates starter button, ignition "key on" indicator, fuel-injection system status, and low-fuel indicator light. (Replaces reserve setting on petcock.)
New ratchet-style fuel tank cap reduces possibility of loosening during ride.
Half-waffle grips have a smaller circumference for a better fit with smaller hands.
New seat foam is 5mm taller, yet seat height on the standard version is only 2mm higher, due to seat placement in the new frame. (Seat height on Big Wheel version isn't increased from 2018.)
Engine/Drivetrain
The 124.9cc SOHC engine returns with smoother, more linear power delivery.
Four-speed gearbox is well matched to the broad power spread.
Electric starter makes getting going a breeze, with kick-start backup included.
Chassis/Suspension
CRF125F and CRF125F Big Wheel have seat heights of 29.1 inches and 30.9 inches, respectively.
CRF125F has wheel sizes of 17 and 14 inches front and rear, respectively. CRF125F Big Wheel has 19- and 16-inch wheels.
The 31mm fork provides plush front-suspension action.
Pro-Link® rear-suspension design with sophisticated single shock for consistent action.
Smooth stopping power provided by hydraulic front brake with 220mm rotor and 95mm rear drum brake.
Front brake lever is adjustable to work with varying hand sizes.
Styling follows that of the race-winning CRF Performance Line.
Meets CARB and EPA off-road emissions standards.
Consult owner's manual for optional racing parts
Specifications subject to change
2019 Honda CRF125F Totalmotorcycle.com Features and Benefits
Ideal for beginners
Durable, simple, low-maintenance, 125 cc air-cooled single-cylinder 4-stroke engine develops the smooth, tractable power that's ideal for beginners.
Simplified maintenance
Maintenance-free CD ignition and automatic cam-chain tensioner contribute to the engine's rock-solid reliability.
New fuel-injection system
New PGM-FI electronic fuel injection ensures a smooth flow of power for easier handling, plus trouble-free operation and maintenance.
Info at a glance
Handy LED lights indicate ignition ON, low fuel, and PGM-FI status. No second guessing if you've left the key on or you're about to run out of gas, and another way the CRF125F helps young riders learn the basics of motorcycle operation.
No engine oil contamination
Closed crankcase vent system safeguards against engine oil contamination.
Not too loud
Quiet muffler won't annoy the neighbours.
Smooth-shifting transmission
Durable four-speed transmission with a light-pull manual clutch provides smooth, sure engagement.
Easy to start
Convenient electric starter with kick-start backup makes getting going a breeze.
New twin-spar frame
The new twin-spar frame borrows its design from the CRF-R line, providing enhanced rigidity with just the right amount of tuned flex for optimum handling in a variety of conditions.
Increased suspension travel
Extra travel from the upgraded leading-axle front fork means even better control and comfort over the toughest terrain.
Comfortable seat height
The Pro-Link®, single-shock rear suspension with box-section swingarm also provides extra travel for 2019, yet seat height measures a confidence-inspiring 739 mm (29.1 in.)
Remarkable grip & longevity
Knobby tires fitted to 17-inch front and 14-inch rear rims provide excellent grip and long life.
Cool look
CRF-R-inspired bodywork looks great, and is built tough for years of riding fun.
New durable fuel tank
Plastic-injected fuel tank with integrated fuel pump adds to the CRF125F's legendary durability and ease of use.
Spill protection
New easy-close gas cap with latch eliminates the risk of the cap loosening while riding.
High-quality controls
High-quality controls include comfortable grips and levers.
Extra protection
Fork boots help protect stanchion tubes and fork seals.
Long-life sprockets
Durable steel sprockets are built for the long run.
2019 Honda CRF125F – Totalmotorcycle.com USA Specifications/Technical Details
US MSRP Price: starting from $ USD
Canada MSRP Price: $ CDN
Europe/UK MSRP Price: £ 2448 GBP (On The Road inc 20% Vat)
Australia MSRP Price: See Dealer for Pricing in AUS
ENGINE
ENGINE
Engine Type
124.9cc air-cooled single-cylinder four-stroke
Bore And Stroke
52.4mm x 57.9mm
Compression Ratio
9.0:1
Valve Train
SOHC; two-valve
Induction
Fuel-injection, 22mm throttle bore
Ignition
Full Transistorized
DRIVE TRAIN
DRIVE TRAIN
Transmission
Four-speed
Final Drive
Chain
CHASSIS / SUSPENSION / BRAKES
CHASSIS / SUSPENSION / BRAKES
Front Suspension
31mm telescopic fork; 5.2 inches of travel
Rear Suspension
Pro-Link® single-shock; 5.5 inches of travel
Front Brake
220mm hydraulic disc
Rear Brake
Drum
Front Tire
70/100-17
Rear Tire
90/100-14
DIMENSIONS
DIMENSIONS
Rake
27°30′ (Caster Angle)
Trail
81mm (3.2 inches)
Wheelbase
48.0 inches
Seat Height
29.1 inches
Curb Weight
194 pounds (Includes all standard equipment, required fluids and full tank of fuel-ready to ride)
Fuel Capacity
1.0 gallon
Ground Clearance
8.3 inches
OTHER
OTHER
Emissions
Meets California Air Resources Board (CARB) and EPA off-road emissions standards.
Available Colors
Red
Model ID
CRF125F
FACTORY WARRANTY INFORMATION
FACTORY WARRANTY INFORMATION
Duration
Six Months transferable limited warranty; extended warranty available with a Honda Protection Plan.
2019 Honda CRF125F – Totalmotorcycle.com Canada Specifications/Technical Details
Engine & Drivetrain
Engine type
Air-cooled, single-cylinder, 4-stroke
Displacement
125 cc
Bore & stroke
52.4 mm x 57.9 mm
Compression ratio
9:1
Valve train
SOHC; 2-valve
Fuel delivery
PGM-FI electronic fuel injection with 22 mm throttle body
Transmission
Four-speed with manual clutch
Final drive
#428 chain, 13T/46T
Chassis & Suspension
Front suspension
31 mm leading-axle Showa fork; 133 mm (5.24 in.) travel
Rear suspension
Pro-Link® Showa single shock; 140 mm (5.51 in.) travel
Dimensions & Additional Information
Tires
Front: 70/100-17
Rear: 90/100-14
Brakes
Front: 220 mm hydraulic wave disc
Rear: Drum
Ground clearance
211 mm (8.3 in.)
Seat height
739 mm (29.1 in.)
Wheelbase
1,219 mm (48 in.)
Curb weight
88 kg (194 lb) including required fluids and full tank of gas—ready to ride
Fuel capacity
3.7 litres; low-fuel light comes on at 0.8 litres
Colour
Extreme Red
2019 Honda CRF125F – Totalmotorcycle.com European Specifications/Technical Details
Engine
Bore × Stroke (mm) 52.4 x 57.9
Carburation Carburetor
Compression Ratio 9.5:1
Engine Displacement (cc) 124.9
Engine Type (cm³) Air cooled 4-stroke SOHC single
Starter Kick
Wheels
Brakes Front 220mm Hydraulic Disc
Brakes Rear 95mm leading/trailing drum
Suspension Front 31mm telescopic fork
Suspension Rear Single shock, Pro-Link
Tyre Size Front 70/100-19
Tyre Size Rear 90/100-16
Wheels Front Wire spoke
Wheels Rear Wire spoke
Dimensions and Weights
Caster Angle 30°
Dimensions (L×W×H) (mm) 1,770 x 740 x 1,010
Frame type Diamond; steel
Fuel Tank Capacity (Litres) 4.3 litres
Ground Clearance (mm) 219
Kerb Weight (kg) 88
Seat Height (mm) 785
Trail (mm) 94
Wheelbase (mm) 1254
Transmission
Clutch Wet, multiplate
Final Drive Chain
Gearbox 4-speed
Instruments and Electrics
Ignition System Capacitor Discharge (CDI)
2019 Honda CRF125F – Totalmotorcycle.com Australian Specifications/Technical Details
Manufacturer Specifications and appearance are subject to change without prior notice on Total Motorcycle (TMW).