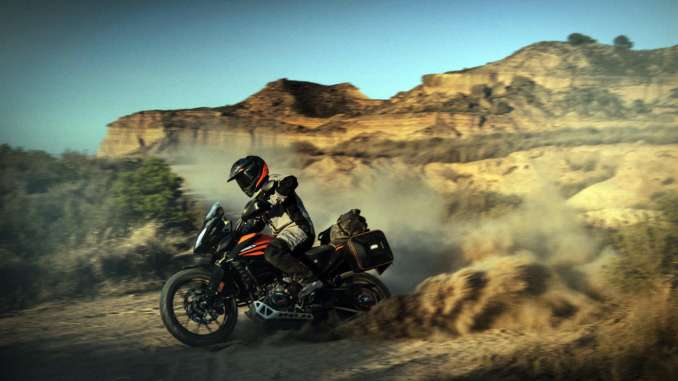 2020 KTM 390 Adventure : MORE ADVENTURE AWAITS YOU.
2020 KTM 390 Adventure Guide.
Satisfy your restless spirit with the new KTM 390 ADVENTURE. This compact single-cylinder travel-enduro machine has a sporty design attitude, with the comprehensive equipment and proven performance credentials of the KTM ADVENTURE range. Its versatile ergonomics, smooth power delivery and innovative technology all come together in a comfortable, lightweight package built for those wanting to fit more adventure into their daily lives.
KTM SHOW OFF NEW TRIPLE MODEL THREAT AT EICMA 2019
KTM revealed their latest innovations on the first day of the EICMA motorcycle show in Milan, Italy. The company unveiled three brand new models – the 2020 KTM 1290 Super Duke R, the 2020 KTM 890 DUKE R, and the 2020 KTM 390 ADVENTURE – as well as displaying their full gamut of motorcycles for 2020 across a busy exhibition stand. Pride of place was reserved for KTM's outstanding achievements in the world of racing with the KTM 450 RALLY, the KTM 250 SX-F, the KTM 300 EXC TPI and the KTM RC16 (MotoGP™) prominent.
The KTM 1290 SUPER DUKE R has been 're-Beasted'. KTM's flagship bike has won rave reviews by catering for the preferences and skills of a vast range of motorcyclists and has undergone its most radical re-invention yet for 2020. A completely new chassis, styling, and electronics mean the KTM 1290 SUPER DUKE R has trimmed weight across the board, while a reworked LC8 engine has unleashed even more power.
KTM have beefed up their potency in the midweight segment with the new KTM 890 DUKE R. Foregoing some of the excellent daily capabilities of its younger brother – the KTM 790 DUKE – the KTM 890 DUKE R is a sportier and edgier naked bike for hard riding. More power and more torque come from the new engine, which has been teamed with 'racier' ergonomics, better brakes, and fully adjustable WP APEX suspension. The KTM 890 DUKE R is ideal for the motorcyclist wanting a more extreme experience or searching for bigger thrills and 'flickability' compared to a larger capacity model.
The new KTM 390 ADVENTURE has harnessed the attributes and DNA from the popular and highly rated KTM 790 ADVENTURE as well as the development information gleaned from nearly two decades of Dakar Rally success. A breezy, agile, and ideal entry model for riders keen to discover the 'adventure' sensation, this motorcycle offers added versatility for touring and light offroading. Using elements of the KTM 390 DUKE as a base, the KTM 390 ADVENTURE offers proximity to the feeling and performance found at the root of the all-conquering KTM 450 RALLY but with crucial A2 license compatibility and current Euro emissions standards as part of the package.
KTM welcomes a ninth consecutive year of growth and another sales record in 2019 while continuing to pursue an even greater global market share and further consolidation as Europe's leading manufacturer. KTM will also be seeking to build on the strengths of their dealer network and international strategic partnerships.
After a grand opening this summer, the work, innovation, and history of the brand is now fabulously displayed in a visual and interactive manner at KTM's new Motohall, located in Mattighofen. Mr. Trunkenpolz, together with KTM Motorsport Director Pit Beirer, also took time to reference the impact and importance of MotoGP™ and the firm's presence at the elite level of racing as the conclusion of a third season in Grand Prix draws near.
There was considerable interest in a number of other motorcycles, especially the new KTM SX-E 5; an adjustable and versatile junior electric bike that has the potential to introduce a vast fresh generation to the buzz of riding.
In what is now customary fashion, KTM celebrated their competitive triumphs for the year. The Red Bull KTM Factory Racing Team earned their 18th Dakar success as well as the FIM Cross Country Rallies World Championship with two different riders. The KTM 450 SX-F was the basis for Cooper Webb's rookie AMA 450SX Championship win and victories for Tony Cairoli, Jeffrey Herlings, and Glenn Coldenhoff in MXGP. Spanish sensation Jorge Prado used the KTM 250 SX-F to accumulate a record amount of Grand Prix holeshots and won his second consecutive MX2 title. KTM recently launched the KTM 450 SX-F CAIROLI and KTM 250 SX-F PRADO limited editions in recognition of their feats.
Back on the slicks, the Red Bull KTM Factory Racing made fantastic progress in MotoGP™ with four bikes on the premier class grid, two front row starts, and a slew of top ten results from the 19 rounds of a season that is still delivering thrills. Moto2™ and Moto3™ victories were acknowledged and celebrated.
KTM announced that the fourth instalment of the unique European KTM ADVENTURE RALLY will take place in Greece during June 2020. A KTM ADVENTURE RALLY is the company's scheme for Adventure riders who want to fully embrace the KTM READY TO RACE spirit and share offroad experiences in incredible surroundings to form unforgettable memories with like-minded motorcyclists – including KTM Ambassadors, factory riders, and staff.
KTM look to 2020 with great optimism. The surge of almost 10 years of expansion shows no signs of slowing as the company evolves their R&D activities and output for both STREET and OFFROAD markets, fueled by their peerless racing endeavors. They will look to further consolidate their position as the continent's #1 manufacturer while also exploring other areas of global growth.
2020 KTM 390 Adventure Totalmotorcycle.com Features and Benefits
Engine & Exhaust
Each adventure is a true test of man and machine. With a proven track record in the Dakar rally, the toughest adventure of them all, KTM has gained the know-how to produce reliable powerplants that deliver top performance across a wide range of terrain. Whether you intend on pushing further, harder or more often, the compact and lightweight engines powering the KTM ADVENTURE range are built to take you to new extremes, and beyond.
Engine
Torquey, clean power
A state-of-the-art, liquid cooled, single-cylinder, four-stroke 373 cc engine powers this agile machine perfectly into KTM's world of ADVENTURE. The engine is equipped with an electric starter and achieves a peak power of 32 kW (43 hp) with an incredibly punchy 37 Nm of torque. Twin overhead camshafts, four valves and electronic fuel injection are integral to the KTM 390 ADVENTURE's outstanding power and together with a balancer shaft, deliver the highest levels of smoothness. Its lightweight and compact construction facilitates straight air intake channels, allowing for a shortened distance for air to flow into the combustion chamber, and beyond for gas flow to the two catalytic converters. Besides the faster movement of air and gases, this also allows the engine to warm up faster. Additionally, the two catalytic converters and the fuel tank ventilation system (EVAP system) improve emission values and prevent fuel vapors from being released into the environment, making the KTM 390 ADVENTURE extremely eco-friendly and compliant with the strict EU4 exhaust emission standards.
Slipper Clutch
The slipper clutch is a unique feature that saves power and helps in slides. It opens when the engine back-torque becomes too high, preventing annoying rear wheel chatter when braking sharply or decelerating and gives the wheel just that little bit of braking for a controlled rear wheel slide. It also closes with the force of the clutch springs when the throttle is opened, allowing the clutch to be pulled with the little finger, which saves energy when riding.
Piston
The 89 mm bore piston is DLC coated for extra durability. It performs a stroke of 60 mm, which results in a displacement of 373.2 ccm and produces a compression ratio of 12.6:1. The crown is cooled by the oil spray nozzle, while the piston uses a continuous, low-friction, nicasil-coated aluminum wet bushing with open-deck design.
EMS/Ride-by-wire
The 390 ADVENTURE is fitted with a state-of-the-art engine management system featuring the most modern electronic fuel injection system with a 46 mm throttle body. Instead of the throttle valve in the electronic injection system being controlled by a conventional throttle cable, the KTM 390 ADVENTURE uses a ride-by-wire process. With the help of electronic sensors, twisting the throttle grip activates the throttle valve through the use of a servo motor. It electronically translates the throttle commands of the rider into the optimum throttle valve position for the current riding situation and for the most linear power delivery.
Exhaust
Sweet, clean engine notes
The KTM 390 ADVENTURE features a lightweight, precision-crafted exhaust system, comprising of a stainless steel header pipe and pre-muffler, which flow perfectly into a slim silencer. The silencer is shaped by a compact and light aluminum sleeve that has been positioned close to the bike's overall center of gravity to improve balance and handling. It aids in delivering instant, smooth power and is specifically designed to not affect the rider's movement on the bike. Two catalytic converters are integrated in the header pipe and pre-muffler, effectively bringing the exhaust emissions down to Euro 4 level.
Chassis
The KTM 390 ADVENTURE is a versatile travel motorcycle, well balanced and purposeful. It has super agile and sporty handling on the street and as well as the offroad capability to take on rougher dirt roads. Even with its large volume fuel tank, the design of the bodywork and the seat allow excellent ergonomics, freedom of movement and comfort. It offers a low seat height, while still providing sufficient ground clearance. The rugged, minimalist bodywork defines the identity of the bike and underlines its hardcore roots.
Frame
Lightweight and rugged
Similar to the race proven frame of the KTM 450 RALLY, the KTM 390 ADVENTURE features an ultra-lightweight, yet extremely stable trellis frame. It exceeds all requirements for stability and controllability and is the backbone of this nimble adventurer. The forgiving balance of flex and stiffness, combined with a wheelbase of 1430 (+/-15.5 mm) and a 63.5 degree steering head angle, clearly suggest an offroad oriented layout. It is also the basis of its outstanding straight-line stability and precise and agile steering behavior.
Engine
A state-of-the-art, liquid cooled, single-cylinder, four-stroke 373 cc engine powers this agile machine perfectly into KTM's world of ADVENTURE. The engine is equipped with an electric starter and achieves a peak power of 32 kW (43 hp) with an incredibly punchy 37 Nm of torque. Twin overhead camshafts, four valves and electronic fuel injection are integral to the KTM 390 ADVENTURE's outstanding power and together with a balancer shaft, deliver the highest levels of smoothness.
Subframe
The removable, steel trellis subframe is fixed to the main frame with 4 screws. It was developed to be compact and lightweight, but strong enough to carry a passenger and luggage, while negotiating the tough conditions that can be expected when adventure riding.
The die-cast, open-lattice swingarm is a signature element of the KTM ADVENTURE range. It is precisely manufactured with an optimized stiffness, while still offering excellent flex characteristics. The rear shock links directly onto the swingarm, reducing complexity and parts, while also enhancing the feeling of the bike's behavior for the rider. The relatively long swingarm provides enough space for any suitable offroad tire.
Suspension
Ready for more
With many years of development in the toughest terrain, the KTM 390 ADVENTURE draws on WP's renowned racing experience for a great handling package that is ready for more adventure. The fully adjustable WP APEX suspension in the front and rear, work together perfectly with the chassis to provide comfort, control and the clearance to venture down more challenging roads.
Front Fork
The WP APEX 43 mm upside-down fork was originally developed for enduro riding and is the absolute leader when it comes to suspension in this class. It features a spring on both sides, but each fork leg has a separate function: compression damping is fitted on the left side, while rebound is on the right. This means the forks can easily be adjusted with the twist of a dial on the top of the forks. Due to high-quality materials and a state-of-the-art production process, the WP APEX 43 mm fork – with 170 mm of travel – has outstanding response and damping characteristics.
Triple Clamp
The triple clamp is developed for a 63.5 degree steering head angle. It is also possible to change the height of the handlebar with different mounts available in the KTM PowerParts catalogue.
Rear Shock
The cutting-edge WP APEX shock absorber finds its way into the nimble chassis of the KTM 390 ADVENTURE. It provides 177 mm of travel and is ideal for traveling long distances in tough conditions. Thanks to an adjustable spring preload and rebound damping, it can be fine-tuned to different situations, balancing typical KTM performance with all day riding comfort.
Brakes
High-level stopping power
High-quality BYBRE brakes featuring a large 320 mm front brake disk and a 230 mm rear disk work perfectly with a 4-piston radially mounted front caliper and a 1-piston floating rear caliper, to provide the ideal mix of control and stopping power. In addition, a 2-channel ABS system made by BOSCH guarantees the highest safety standard when conditions get a bit trickier.
Fuel tank
14.5 liters of adventure potential
The fuel tank is a central element of the design and engineering mastery of this daily adventurer. Its shape offers excellent ergonomics, with a narrow knee area that provides great control and even fits taller riders. It has an impressive 14.5 liter fuel capacity and together with its exceptional fuel economy, is set for more than 400 km of non-stop exploring on a full tank.
Ergonomics & Comfort
The KTM 390 ADVENTURE has several optional features to enhance rider comfort, including a higher or lower seat option and adjustable handlebar height. With lessons learned from KTM's Dakar Rally success, its performance-oriented, long-distance ergonomics were designed with comfort and control in mind.
Handlebar
Shaped for comfort and control
As on the bigger-displacement KTM ADVENTURE machines, the KTM 390 ADVENTURE is fitted with a high-end, tapered aluminum handlebar that importantly, provides a comfortable riding position and maximum control. The left side features an easily accessible menu switch for the TFT display and for the selection of various different modes and connectivity features. Simply flick "up" and "down" through the menu, select the desired setting with the right button or go a step back with the left.
Seats
Shaped to keep on going
The two-part seat is positioned for comfort and control on long rides, at an accessible seat height of 858 mm. The rider's seat is narrower in the front, making it even easier to reach the ground. The seat cover provides a tested mix of grip and easy movement, while the foam ensures the ride stays comfortable – motivation to keep riding more and more. The seat can be easily removed for access to the airbox and a small storage compartment.
Footpegs
Stay connected to the ride
The wide and robust foot pegs come directly from the offroad models. They were developed for all day riding, standing or seated, for street or offroad boots. They have rubber inserts, which provide more comfort when riding on the street and can be easily removed for more grip when heading off the beaten track.
Windshield
See things clearly
The KTM 390 ADVENTURE's windshield is an efficient deflector. It has a profile that allows the rider to move around the bike freely and offers an unobstructed view directly in front of the bike, even when covered in dirt. It can also be mounted in a lower or higher position to suit the rider´s size or needs. Two windshields of different lengths can be ordered from the KTM PowerParts catalogue.
2020 KTM 390 Adventure – Totalmotorcycle.com International Specifications/Technical Details
US MSRP Price: $ See Dealer for Pricing in USD
Canada MSRP Price: $ See Dealer for Pricing in CDN
Europe/UK MSRP Price: £ See Dealer for Pricing in GBP (On The Road inc 20% Vat)
Australia MSRP Price: See Dealer for Pricing in AU
ENGINE
DISPLACEMENT
373.2 cm³
DESIGN
1-cylinder, 4-stroke engine
BORE
89 mm
STROKE
60 mm
STARTER
Electric starter
LUBRICATION
Wet sump
TRANSMISSION
6-speed
COOLING
Liquid cooled
CLUTCH
PASC™ antihopping clutch, mechanically operated
EMS
Bosch EMS with RBW
CHASSIS
FRAME DESIGN
Steel trellis frame, powder coated
SUSPENSION TRAVEL (FRONT)
170 mm
SUSPENSION TRAVEL (REAR)
177 mm
FRONT BRAKE
Four-piston radial fixed calliper
REAR BRAKE
Single-piston floating calliper
FRONT BRAKE DISC DIAMETER
320 mm
REAR BRAKE DISC DIAMETER
230 mm
ABS
Bosch 9M+ Two-channel ABS (incl. offroad mode, disengageable)
CHAIN
520 X-Ring
STEERING HEAD ANGLE
63.5 °
GROUND CLEARANCE
200 mm
SEAT HEIGHT
855 mm
TANK CAPACITY (APPROX.)
14.5 l
DRY WEIGHT
158 kg
Manufacturer Specifications and appearance are subject to change without prior notice on Total Motorcycle (TMW).