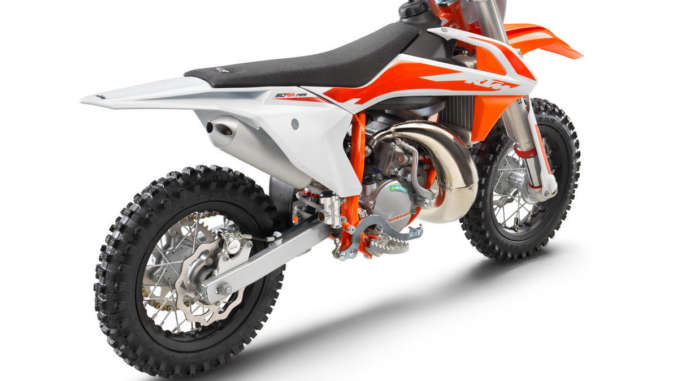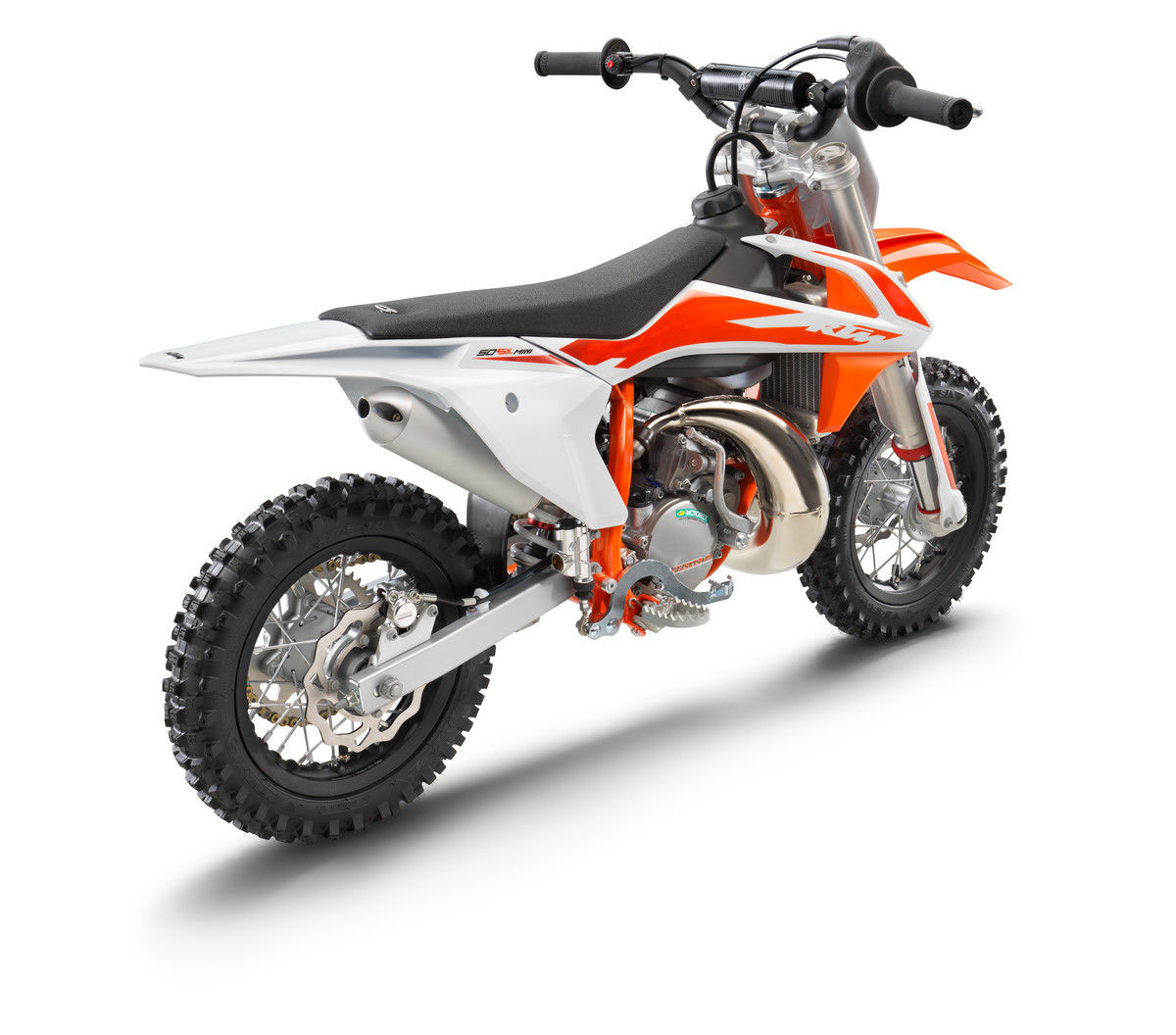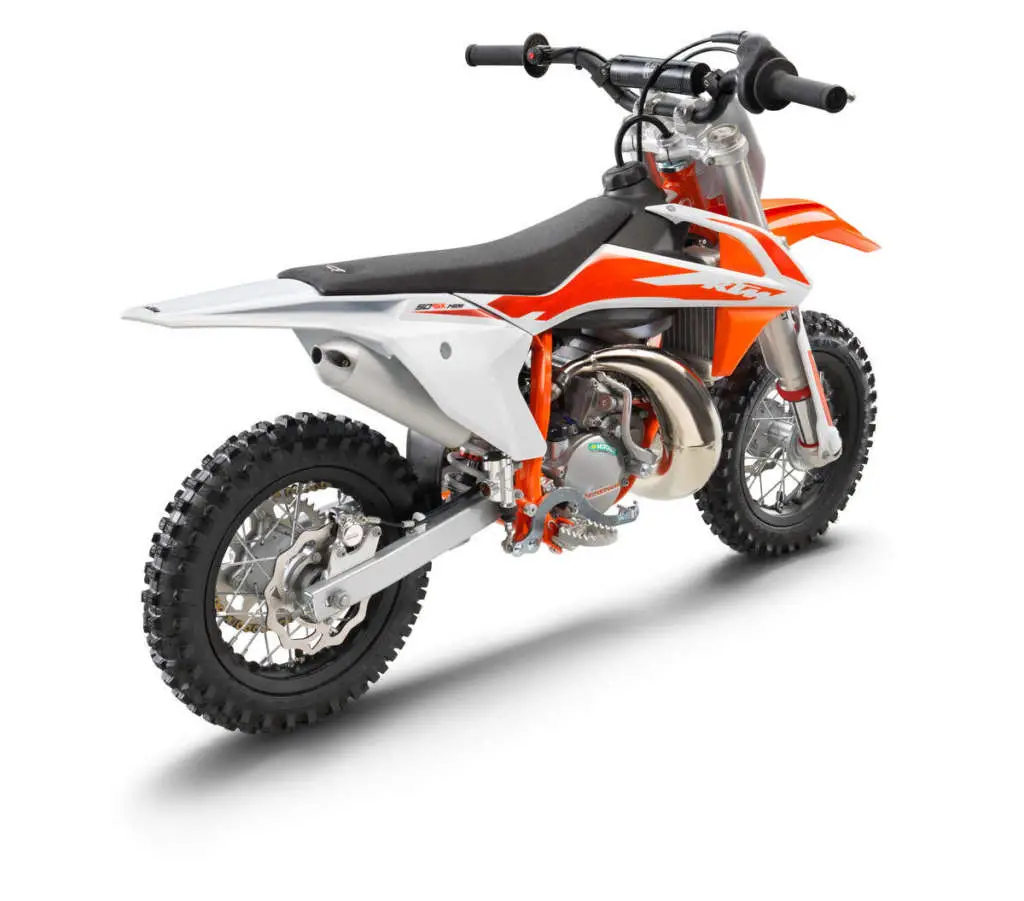 FOR THE YOUNGEST OF SHREDDERS.
2020 KTM 50 SX Mini:
Built for the smallest of racers, the KTM 50 SX MINI incorporates much of the technology of the KTM 50 SX with a friendlier power delivery, smaller wheels and a lower seat height. The KTM 50 SX MINI is a real READY TO RACE KTM for the youngest of shredders. Like its full-sized SX big brothers, it features high quality components and innovative technology. It's child's play to control with a linear power delivery and a beginner-friendly automatic clutch, which enables budding motocross racers to concentrate on the essentials and very quickly learn basic skills.
The KTM 50 SX MINI is a true KTM for young MX riders aged between 4 and 10 years old. It is a genuine dirt bike that, like its bigger siblings, is produced with top-quality components. This makes the KTM 50 SX MINI the first choice when stepping into the world of MX. Developed with the youngster in mind, this package has an engine that delivers steady, controllable power, incorporating an automatic clutch that is ideal for novice riders. It also features a high-quality WP XACT front fork and shock absorber, ultra-cool graphics and the ability to make going fast fun.
NEW graphics to match the full-sized SX range and give a READY TO RACE appearance.
 A high quality, upside-down telescopic fork from WP Suspension, featuring 35 mm diameter
ensures outstanding ride stability.
 The ergonomic handlebar made from a high-quality aluminum alloy ensures the highest
levels of stability and control.
 A 3-shaft engine design keeps the crankshaft close to the bike's center of gravity for quick
handling along with room for an optimized reed valve angle for maximum performance.
 Bodywork that mimics the full-size 2020 SX-F line that gives the KTM 50 SX mini a slim
profile for excellent ergonomics and handling.
 Front and rear hydraulic brakes by Formula combined with lightweight Wave discs are
powerful with feedback that gives control for any skill level.
 A centrifugal multi-disc automatic clutch provides manageable acceleration and can be
adjusted to the track conditions in minutes without tools.
 Super lightweight, black anodized aluminum rims are matched to MAXXIS tires for maximum
grip.
THE NEW KTM SX RANGE IS OUT NOW!
After the race is before the race and when it comes to competing in the most prestigious championships around the world, this mantra is an important one to live by. KTM's desire to win in AMA Supercross and the FIM Motocross World Championship continues to be demonstrated with outstanding performances in each series thanks to KTM's focus on creating the sharpest weapons for the toughest battles. This READY TO RACE mindset and development in the most challenging arenas is translated directly into our serial production models.
Following on from last year's ground-breaking introduction of a new KTM SX generation, for model year 2020 the 2-stroke KTM 125 SX, KTM 150 SX and KTM 250 SX, and the 4-stroke KTM 250 SX-F, KTM 350 SX-F and KTM 450 SX-F have received performance enhancing engine updates to ensure they remain at the fore and as battle-ready as ever. These detailed refinements, that have been developed with KTM´s test riders in Europe and the USA along with factory racers around the globe, complement the high-quality serial components that the KTM SX range already boasts.
New graphics and colors give the range a fresh look for the new season, while an E-starter and a map select switch with integrated traction control and launch control on 4-stroke machines, premium brakes supplied by Brembo, No-Dirt footpegs are fitted as standard to KTM's class-leading line-up. High quality exhaust systems, plastics and seats join the reworked WP XACT suspension with the proven AER technology, which offers enhanced handling for model year 2020.
Designed by the very same engineers that are responsible for the bikes raced by the likes of Jeffrey Herlings, Antonio Cairoli and Cooper Webb, the KTM sportminicycle line-up continues to set the benchmark in out-of-the-crate performance for junior riders. For MY2020 the KTM 50 SX, KTM 65 SX and KTM 85 SX have a new look and feature the WP XACT suspension for precise handling and stability in the toughest motocross terrain.
All of the junior models boast premium components such as high-quality Formula brakes, a high-strength steel frame, ergonomically designed bodywork and high-performance engines. For model year 2020 the KTM 65 SX has a reworked ignition curve for improved performance, while the carburetor has been optimized for better power delivery. Its bigger brother, the KTM 85 SX, has a new transmission drive shaft fixing for safer sprocket fixation. The KTM 85 SX also has a reworked muffler with improved packing wool, which saves weight.
In addition, the KTM SX-E 5 will join the sportminicycles as another competitive option for junior riders. Based on the KTM 50 SX with its high-end chassis, but powered by an electric motor, the KTM SX-E 5 is easy to ride, has zero emissions, low noise and requires minimal maintenance – giving riders more options for places to ride, whilst being easy to use. The height of the bike is also completely adjustable, and it is aimed at riders aged from 4 to 10 years old, making it an exciting new model in the KTM line-up. The KTM SX-E 5 will be launched this summer.
"To be the consistent performer at any level of racing, you have to continue to progress in development. The work never stops – whether that's here in Mattighofen, or with our engineers in the USA. The KTM SX range model year 2020 has received a number of updates to complement last year's groundbreaking new generation models, and we can see that our continued efforts in development are paying off – our athletes both in Supercross and Motocross have enjoyed some fantastic results so far this season. Utilizing the same R&D team as their bigger brothers, the KTM sportminicycle models remain at the very forefront of junior racing competition with detailed refinements for MY2020. In addition, we are excited for the highly anticipated launch of the all-new KTM SX-E 5 electric minicycle, which will arrive this summer," said KTM´s Senior Product Manager Offroad, Joachim Sauer.
2020 KTM 50 SX Mini Totalmotorcycle.com Features and Benefits
ENGINE & EXHAUST
KTM 2-strokes have been tearing up MX tracks for decades and are undoubtedly the fastest on the track today. Thanks to years of ongoing development, these engines are the benchmark in performance and technology, with the perfect combination of power, weight and control. Through melodic high-RPM screams, KTM 2-strokes continue to deliver thrilling high-performance harmonics.
CHASSIS
KTM engineers just love finding ways to reduce weight. The changes made on 2019 KTM SX models resulted in the slimmest, lightest dirt bikes out there and that honor is retained for 2020.
ERGONOMICS & COMFORT
In the heat of the battle, READY TO RACE ergonomics give you the edge on the track, allowing you to ride harder for longer.
BODYWORK & GRAPHICS
The bodywork is derived from the full-size SX models and provides perfect ergonomics, well thought-out contact points and maximum freedom of movement for the rider. In addition, smart design solutions for the front and rear fenders are prime examples of an intelligent design, which guarantees maximum stability and strength.
2020 KTM 50 SX Mini – Totalmotorcycle.com International Specifications/Technical Details
US MSRP Price: $3,849 USD
Canada MSRP Price: $ See Dealer for Pricing in CDN
Europe/UK MSRP Price: £ See Dealer for Pricing in GBP (On The Road inc 20% Vat)
Australia MSRP Price: See Dealer for Pricing in AU
Engine Type: Single Cylinder, 2-Stroke
Displacement: 49 cc
Bore/Stroke: 39.5/40.0 mm
Starter: Kickstarter
Transmission: Rigid 1-Stage Reduction Gear
Fuel System: Dell'Orto PVHA 12 XS
Lubrication: Separate Lubrication
Primary Ratio: 33:61 Straight Cut Reduction Gear
Final Drive: 10:42
Cooling: Liquid Cooling
Clutch: Centrifugal Clutch (Adjustable)
Ignition: Selettra 2p D36
Fr ame: Central Tube Frame, Chrome Molybdenum
Subframe: Steel
Handlebar: Aluminum Ø 22 mm
Front Suspension: WP XACT USD Ø 35 mm
Rear Suspension: WP XACT Monoshock
Suspension Travel Front/Rear: 100 mm / 3.9 in; 147 mm / 5.6 in
Front/Rear Brakes: Disc Brake 160 mm / 160 mm
Front/Rear Rims: 1.60 x 10" / 1.60 x 10"
Front/Rear Tires: 2.50 x 10" / 2.75 x 10"
Chain: 1/2 x 3/16 in
Silencer: Aluminum
Steering Head Angle: 23.6º
Triple Clamp Offset: 22 mm
Wheelbase: 914 ± 10 mm / 36 ± 0.4 in
Ground Clearance: 184 mm / 7.2 in
Seat Height: 558 mm / 22 in
Tank Capacity, Approx: 2.1L / 0.55 gal
Weight (without fuel), Approx: 40 kg/ 88.2 lbs
Manufacturer Specifications and appearance are subject to change without prior notice on Total Motorcycle (TMW).