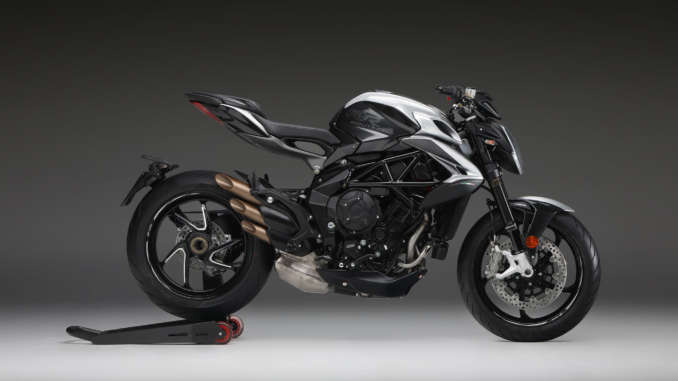 SMART CLUTCH SYSTEM REVOLUTION.
2020 MV Agusta Brutale 800RR SCS:
Starting from the 2020 Brutal 800 RR and Dragster 800 RR range will be offered with the revolutionary Smart Clutch System, alongside Veloce 800 Luxury SCS and Turismo Veloce 800 RC SCS. This exclusive equipment, developed for the world market by MV Agusta, will give the Brutale 800 RR additional sportsmanship and ease of use. The Dragster 800 RR will be even more effective in acceleration, as well as becoming even more immediate and fun in traffic.
Details – Continuous evolution
MV Agusta's technological excellence is reaffirmed by the new SCS 2.0 (Smart Clutch System) shift system. It is the only brand able to offer what is considered a true revolution in the motorcycling world.
Design – Perfection and balance
The design draws on tight lines and volumes that are perfectly integrated between the front and rear end. A design of extraordinary balance that's always been the hallmark of the Brutale. The engine is nested in MV's traditional steel lattice chassis with aluminium side plates.
Performance – Breaking new ground
Enjoying all the advantages of an advanced shift system without compromising on the sheer pleasure of riding and shifting gears is what every true motorcycle should offer. A challenge won by MV engineers, giving the rider freedom to stop and go without touching the clutch lever on the handlebar.
Technology – Light and efficient
Shifting is still done the traditional way through the foot lever, but is assisted by the two-way quick shift. The weight difference between the SCS 2.0 system and a traditional clutch is only 36g, in line with MV's philosophy of maximum efficiency and minimum weight.
Engine – Ever more performing
The in-line three-cylinder engine of the Brutale 800 RR SCS continues to stand out for its elasticity, its performance and its compact dimensions. With the Smart Clutch System, it now takes performance one step further and boasts an even more striking acceleration.
Electronics – Four bikes in one
Electronics play an important role both in managing the clutch through the Smart Clutch System and in handling the four riding modes (Sport, Race, Rain, Custom) which can be selected at the touch of a button.
Safety – Control is everything
Sheer power must not overshadow ease of use and confidence inspiring control: on the Brutale 800 RR SCS the most balanced combination comes from the Brembo four-piston radial calipers gripping two 320mm-diameter floating discs.
Warranty
MV Agusta offers a NEW 3 YEARS WARRANTY on the whole range, with a great service support for all customers. Customize your experience riding a model, discovering special kits and the vast range of readily available spare parts.
Get in Touch
Take the next step to reach your dream
2020 MV Agusta Brutale 800RR SCS Totalmotorcycle.com Key Features
 MV AGUSTA PRESENTS THE NEW 2020 MODEL RANGE
Varese, 2nd November 2019 – Quality, technology, performance. But also quick delivery of spare parts and professional service. There's more: expansion and improvement of the dealers network to offer clients timely, impeccable assistance. These are the short-term guidelines for MV Agusta, which has just set off on a growth path clearly envisioned by its CEO, Timur Sardarov.
To mark the company's determination in pursuing the 2020 objectives, production of the Brutale 1000 RR, the four-cylinder naked Superbike replica, has started in Schiranna. 208 hp maximum power, advanced chassis and suspension as well as leading-edge aerodynamic solutions all make the four-cylinder Brutale a defining example of MV Agusta's excellence in motorcycle manufacturing. As core priorities of the brand,  these values are reinforced today by the attention and the investments in Research and Development.
From the production line to dealers showrooms: Superveloce 800 Serie Oro and Superveloce 800 bring MV Agusta's timeless fascination to the roads, with their intoxicating curves, classic and contemporary at the same time. The engine and the chassis are the pinnacle of engineering that position the Superveloce 800 among the most fascinating and dynamic sports bikes on the scene.
Beauty and functionality, exciting and confidence-inspiring riding:  Dragster 800 RR SCS and Brutale 800 RR SCS both feature the revolutionary SCS 2.0 (Smart Clutch System) for clutch-free starts and stopping. A technical innovation that allows to stop and restart without touching the clutch lever, making the most out of the in-line three-cylinder engine mated to a counter-rotating crankshaft. All of this with only 36g weight increase compared to a traditional clutch.
The magic and technology of MV Agusta, at a competitive price. Thanks to the rationalisation of the production process and to efficiencies gained in the engineering phase, MV Agusta proudly presents its new Rosso Range, made up of Brutale 800, Dragster 800 and Turismo Veloce 800. The Rosso Range models stand out for their bright red livery and their comprehensive outfitting, despite a price tag that is lower than that of the models they derive from.
Vision, futuristic technology, and the pursuit of a dream: these are the values behind the creation of a new Concept Bike that will be revealed at EICMA as world premiere and which production is due to start in the coming months. The irreverent spirit of American drag races was the inspiration for a project that elevates the performance of the bike it derives from in the most daring of interpretations.
2020 MV Agusta Brutale 800RR SCS Totalmotorcycle.com Features and Benefits
Enjoy the benefits of changing the latest generation of the must have. Smart Clutch System, which only MV Agusta is able to propose and that revolutionizes the very idea of ​​motorcycle change.
Gears, lever gear, the same clutch lever: with the SCS system everything stays where it is, allowing the driver to interface with the bike The changes and climbs, in fact, remain "traditional" and take place with the pedal control assisted by the two-way quickshift EAS 2.1. The SCS 2.0 (Smart Clutch System) clutch, developed by MV Agusta in collaboration with Rekluse, automatically disengages when the bike is stationary. The Smart Clutch System In the meantime, it is possible to handle all the traffic, such as low-speed inversions, with the clutch lever. All this makes driving enormously and more intuitive.
The system developed and developed with the clutch attachment ramp and the dispensing characteristics of the MV Agusta. Technicians have identified the "perfect" attack for departures so effective that they are difficult to reproduce with a manual clutch or other assisted transmission systems. The SCS 2.0 system has another substantial advantage: it does not substantially aggravated any weight, since the difference compared to a traditional clutch is only 36 grams, in line with the MV Agusta conception of maximum lightness and Effectiveness.
Brutale 800 RR SCS and Dragster 800 RR SCS use the very rich technical equipment of the standard versions. The 798 cc three-cylinder engine with a counter-rotating crankshaft develops 140 hp (103 kW) with maximum power and 87 Nm (8.87 kgm) of maximum torque. The electronic engine management with MVICS 2.0 and Eldor engine control unit is particularly accurate and effective. Allows you to choose between 4 torque control maps, 3 predefined and one Custom.
The trellis frame in ALS steel tubes with aluminum alloy swingarm plates is completed by the scenographic mono-arm, which houses on the Dragster the 200/50 tire, mounted on the spoke rim with channel 6 "(180/55 on the Brutale, circle a breeds 5.50 ").
The SCS 2.0 clutch (Smart Clutch System) with Radius CX automatic drive and hydraulic control, multi-disc in oil bath, is an exclusive MV Agusta.
2020 MV Agusta Brutale 800RR SCS – Totalmotorcycle.com Specifications/Technical Details
US MSRP Price: $  USD
Canada MSRP Price: $ CDN
Europe/UK MSRP Price: €16990 Euro
Type Three cylinder, 4 stroke, 12 valve
Timing system "D.O.H.C" with mechanical chain tensioner
Total displacement 798 cm3 (48.68 cu. in.)
Compression ratio 13.3:1
Starting Electric
Bore x stroke 79 mm x 54.3 mm (3.1 in. x 2.1 in.) Max. power – r.p.m. (at the crankshaft) 103 kW (140 hp) at 12.300 r.p.m. Max. torque – r.p.m. 87 Nm (8.87 kgm) at 10.100 r.p.m.
Cooling system Cooling with separeted liquid and oil radiators.
Engine management system Integrated ignition – injection system MVICS 2.0
(Motor & Vehicle Integrated Control System) with six injectors. Engine control unit Eldor EM2.0, throttle body full ride by wire Mikuni, pencil-coil with ion-sensing technology, control of detonation and misfire. Torque control with four maps, Traction Control with eight levels of intervention with lean angle sensor
Electronic quick-shift MV EAS 2.1 (Electronically Assisted Shift up & down)
Clutch S.C.S. 2.0 (Smart Clutch System) Radius CX automatic clutch with hydraulic clutch actuation, wet multi-disc
Transmission Cassette style; six speed, constant mesh
Primary drive 22/41
Gear ratio
First gear: 13/37
Second gear: 16/34
Third gear: 18/32
Fourth gear: 19/30
Fifth gear: 21/30
Sixth gear: 22/29
Final drive ratio 16/41
Voltage 12 V
Alternator 350 W at 5000 r.p.m.
Battery 12 V – 8.5 Ah
Wheelbase 1400 mm (55,12 in.)
Overall length 2045 mm (80,51 in.)
Overall width 875 mm (34,45 in.)
Saddle height 830 mm (32,68 in.)
Min. ground clearance 135 mm (5,31 in.)
Trail 103.5 mm mm (4.07 in.)
Dry weight 175 kg (385,80 lbs.)
Fuel tank capacity 16.5 l (4.36 U.S. gal.)
Maximum speed* 244.0 km/h (151.6 mph)
Type ALS Steel tubular trellis
Rear swing arm pivot plates material Aluminium alloy
Type Marzocchi "UPSIDE DOWN" aluminium telescopic hydraulic fork with DLC treatment , with anodized fork legs and having
rebound-compression damping and spring preload external and separate adjustment
Fork dia. 43 mm (1.69 in.)
Fork travel 125 mm (4.92 in.)
Type Progressive Sachs, single shock
absorber with rebound and compression damping and spring preload adjustment
Single sided swing arm material Aluminium alloy Wheel travel 124 mm (4.88 in.)
Front brake Double floating disc with Ø 320 mm (Ø 12.6 in.) diameter, with steel braking disc and flange
Front brake caliper Brembo radial-type, with 4 pistons Ø 32 mm (Ø 1.26 in.)
Rear brake Single steel disc with Ø 220 mm (Ø 8.66 in.) dia.
Rear brake caliper Brembo with 2 pistons – Ø 34 mm (Ø 1.34 in.)
ABS System Bosch 9 Plus with RLM
(Rear wheel Lift-up Mitigation)
Parking brake Integrated in the rear hydraulic brake system
Front: Material/size Aluminium alloy 3.50 " x 17 "
Rear: Material/size Aluminium alloy 5.50 " x 17 "
Front 120/70 – ZR 17 M/C (58 W)
Rear 180/55 – ZR 17 M/C (73 W)
Material Thermoplastic
Steering damper Manually adjustable with 8 settings Immobilizer
Environmental Standard Euro 4
Combined fuel consumption 6.7 l/100 km
CO2 Emissions 163 g/km
Manufacturer Specifications and appearance are subject to change without prior notice on Total Motorcycle (TMW).