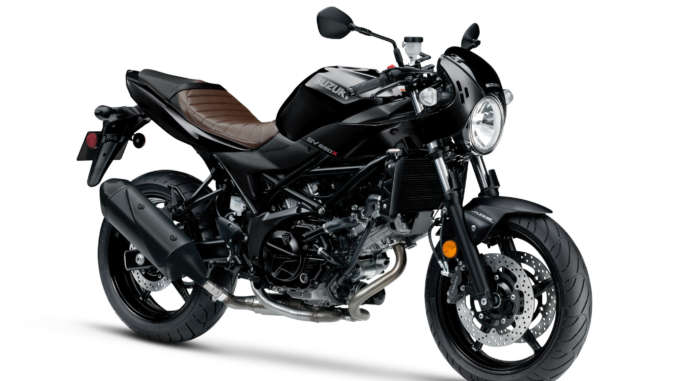 2020 Suzuki SV650X: RIDING PLEASURE UNLEASHED.
2020 Suzuki SV650X:
If you're looking to get out on the road on a sporty bike with café racer styling, look no further than Suzuki's SV650X. The SV650X is a brash, middleweight bike propelled by a smooth-revving V-twin engine tucked into a slim and lightweight trellis frame.
And there's more, as the SV650X combines power and agility with classic café racer looks. Whether in stop-and-go city traffic or on country roads, this bike delivers exhilaration and riding fun. No matter where you pull up to park, the retro appeal of the SV650X is unmistakable with its headlight cover that mimics a bikini fairing, corresponding clip-on handlebars, a tuck-and-roll-look seat, and blacked-out controls.
Mix in your favorite stretch of road and you'll see that this café bike's smooth V-twin power and agile handling make the SV650X an exciting ride with unmatched curb appeal.
V-Twin fun and Performance
Presenting the newest member of the SV family, the SV650X. It comes with the latest Suzuki innovations and will set the bar even higher for V-Twin fun and performance with added café racer flare.
Dual Spark 90° V-Twin
The V-Twin engine is a marvel of engineering with superb versatility. While at lower RPM, this engine delivers powerful torque that's easy to handle and a deep robust sound. Open the throttle to mid-range, and the power of the engine's response is linear and smooth, yet always under your control. Then at higher RPM, the V-Twin has performance ready to go.
Clip on handlebars
The SV650X is equipped with clip on handlebars compared to the standard straight bars on the standard SV650. These clip on bars encourage a sporty riding position, and hark back to the days of the original café racers.
Tuck and roll seat
The SV650X features a different seat design, the narrow, streamlined seat exudes retro looks and feel. The seat has soft cushioning, helping reduce rider fatigue, even in a sporty riding position.
Lightweight Chassis
With a remarkable ready to ride weight of only 198 kg, the SV650X makes manoeuvring and handling easy and pleasurable. The SV650X makes good use of its light weight with responsive acceleration, nimble handling and absolute confidence in manoeuvring. Riders of all levels can take to the city or winding roads and experience unrestricted fun.
Slim Body
The SV650X's streamlined profile is the result of ergonomically shaped side panels and optimised seat design, which let you straddle the motorcycle with your feet on the ground if stopped or for easy changes of position while flowing through corners. The narrow, streamlined seat is 790 mm in height and is designed almost flat from front to rear, yet gives riders a high degree of grip in the upright position. Despite its ample 14.5 litre capacity, the fuel tank is slim and sports an ergonomic form for maximum rider comfort.
Suspension
The front suspension system employs durable 41 mm telescopic right way upfront forks with 125 mm travel and are adjustable for pre-load. While the rear features link-type suspension with a stroke of 63 mm and is pre-load adjustable to one of 7 pre-defined settings. Together, the SV650X's suspension system ensures consistent ride-ability and sporty handling performance.
Wheels and Tyres
The five-spoke cast aluminium wheels create a sporty look. For an excellent balance of cornering performance and straight line speed stability, the SV650X uses 120/70ZR17M/C tyres for the front and 160/60ZR17M/C for the rear.
Brakes and ABS
The SV650X'S stopping performance comes courtesy of large 290 mm dual front disc brakes and a 240 mm rear brake disc provide incredible performance and control. For 2019 the SV650X comes with improved stopping power, thanks to an upgrade to new four-piston front brake calipers.
Advanced Rider Technology
The SV650X is equipped with some of the most advanced rider technology available, including Low RPM Assist and Suzuki Easy Start System.
Your partner in style
The SV650X exudes classic café racer good looks that grab you from the very start, tempting you to go for a ride. Once on the road, you and the machine become traveling partners, sharing a passion for performance and attracting attention wherever you go.
RIDING PLEASURE UNLEASHED
With its smooth revving V-Twin engine tucked into a slim and lightweight trellis frame, the SV650X combines power and agility with classic café racer looks.
Get a grip on a whole new standard. Striking looks. Comfort. Power. Versatility. Our standards deliver easy ergonomics, modern style, and metro muscle in dynamite packages. Whatever type of riding you prefer, our standards can handle it.
Key Features
The stylish headlight cowling creates a café fairing look as the clip-on handlebars and trim, tuck-and-roll-look seat produce a sporty riding posture that is ideal at any speed.
Side panels below the fuel tank mimic a half-fairing look and connect the body styling from nose to tail. The brown, leather-like finish of the seat adds a custom, bike-builder touch to the motorcycle.
The SV650X's glossy Glass Sparkle Black bodywork is well matched with blacked-out wheels, controls, and chassis components.
Visually stunning, the trellis-style frame is fashioned using high-strength steel tubes so it contributes to the motorcycle's low weight and trim chassis.
The exhaust muffler's position allows ample lean angles when cornering.
Dual four-piston Tokico brake calipers up front grasp a pair of 290mm fully floating stainless steel rotors for great stopping performance. The compact Anti-lock Brake System (ABS)** matches the braking performance to the available traction.
Liquid-cooled, 645cc, four-stroke, DOHC, 90-degree, L-twin, engine has perfect primary balance so it smoothly pulls with authority from idle up to the 10,000 rpm redline.
Advanced EFI system includes Suzuki's Low RPM Assist feature that seamlessly adjusts engine speed during takeoff and low-speed running to smooth the power delivery and to help eliminate the possibility of the rider stalling the motorcycle.
2020 Suzuki SV650X Totalmotorcycle.com Features and Benefits
Engine Features
Class exclusive*, 645cc, DOHC, V-twin engine produces strong, torque-rich horsepower while conforming the latest emission requirements.
The engine's 90-degree L-twin configuration has perfect primary balance so a heavy, power-robbing counter balancer is not needed.
The energy-efficient engine has unique pistons that were engineered with the use of Finite Element Method (FEM) analysis to achieve optimal rigidity and weight.
Each piston skirt has a special resin coating, and the other sliding parts are tinned for less friction and greater durability – a first for a Suzuki motorcycle.
Suzuki's innovative L-shaped piston rings contribute to reduced blow-by gas, resulting in fewer emissions and greater combustion efficiency.
Suzuki Composite Electrochemical Material (SCEM)–plated cylinders reduce friction and improve heat transfer and durability.
Both cylinder heads feature Suzuki's original Dual Spark Technology for greater combustion efficiency, better fuel economy, and cleaner emissions.
The fuel-injection system employs Suzuki's innovative Suzuki Dual Throttle Valve (SDTV) with 39mm throttle bodies. The secondary throttle valves are controlled by servo motor for smooth power delivery and optimum combustion efficiency.
Ten-hole, long-nose-type fuel injectors on each throttle body improve fuel atomization for better combustion efficiency while reducing fuel consumption.
The EFI system employs O2 feedback and a precise intake pressure sensor for optimum combustion efficiency in various conditions and reduces emissions to an incredibly low level.
Suzuki's patented Throttle-body Integrated Idle Speed Control (TI-ISC) eases starting, stabilizes the engine idle speed, and helps lower emissions. The system is compact and lightweight.
The TI-ISC on the SV650X incorporates Suzuki's Low RPM Assist feature that seamlessly adjusts engine speed during takeoff and low-speed running to smooth the power delivery and to help eliminate the possibility of the rider stalling the motorcycle.
The Engine Control Module (ECM) provides state-of-the-art engine management and has enhanced settings to suit the intake and exhaust systems, resulting in better fuel economy and linear throttle response.
Advanced, transistorized ignition control programming helps maintain more precise spark timing to the four iridium, long-life spark plugs.
The SV650X also features Suzuki's Easy Start System that lets the rider start the motorcycle with a momentary press of the start switch without pulling in the clutch lever when the transmission is in neutral.
The air cleaner case design has high capacity and routes crankcase breather gas from the engine cover to help increase engine power. The air intake funnels have staggered lengths to heighten mid-range torque.
The exhaust system has a clean, functional appearance and lower weight. The 2-into-1 system has a catalyzer to further reduce emissions.
The exhaust muffler and its brushed stainless steel cover are positioned to allow ample lean angles when cornering.
The high-efficiency radiator employs a large cooling fan for exceptional cooling capacity. To further control temperature, the engine is also fitted with a coolant-cooled oil cooler that is compact and lightweight.
The close-ratio, six-speed transmission features carefully selected ratios that are equally well-suited for commuting or spirited riding.
The multiplate clutch has precise push rod actuation of the pressure plate for a light pull and consistent release point.
Chassis Features
Bright, durable LED combination tail and brake light, plus front and rear amber-tinted turn signals.
Attention to rider comfort and confidence includes a carefully shaped seat with a high-grip, tuck-and-roll-looking cover in leather-texture brown vinyl. Integrated cargo retention loops pull out from under the seat.
The café racer styling was developed to create a classic, bike-builder look that also showcases the V-twin engine.
The compact, lightweight chassis is covered with slim bodywork to create a bike that's agile and fun to ride on a variety of streets – such as city traffic, highway, rural roads, and winding roads.
The ready-to-ride weight of the 2020 SV650X is a low 437 pounds.
The high-strength steel, trellis-style frame is key to the motorcycle's trim and intelligent dimensions. The seat height is just 790mm (31.1 inches) and is the lowest in the 600–800cc street bike class.***
The SV650X fuel tank is short and narrow and has the same 3.8-gallon (14.5-liter) fuel capacity in both US and California markets.
The slim fuel tank and seat joint help the rider in touch the ground better at stops.
The frame is mated to a steel, beam-type swingarm with a straightforward chain tension adjuster system.
The 41mm conventional-style front fork has a generous 125mm (4.9 inches) of wheel travel to provide a sporty but plush ride. Preload adjusters in the fork caps allow the rider to tune the fork springs for different loads or riding style.
Link-type rear shock unit has 63mm (2.48-inch) stroke and is tuned for a superb progressive feel and to react efficiently to varied road conditions while still delivering an agile and stable feel.
The rear shock's spring preload is seven-way adjustable so you can easily adjust for a passenger or cargo.
The front brakes feature a pair of fully floating 290mm discs grasped by four-piston Tokiko calipers for excellent braking performance. The compact Anti-lock Braking System (ABS)* ensures braking power matches available traction.
Five-spoke, cast aluminum alloy wheels are shod with lightweight, front and rear Dunlop radial tires for sharp handling and good mileage.
The Dunlop Road Smart III tires fitted to the SV650X have great grip and all-around good tire performance.
The compact and lightweight instrument panel is a full LCD display, eliminating motor and needle mechanics.
The instrument panel has several features, including a tachometer, speedometer, odometer, dual trip meter, reserve trip meter, clock, coolant temperature/oil pressure indicator, ABS alert, and gear position, plus fuel consumption and driving range data.
The clip-on handlebars and mid-set foot controls create a riding position that's ideal for sport riding, yet retains enough comfort for longer rides.
The classically round headlight is multi-reflector type with 12 V60/55-watt halogen bulb.
Additional Features
*** Excluding other Suzuki motorcycles (SV650 & SV650 ABS).
Stylized Suzuki "S" 3D emblems on the fuel tank and the fork upper bracket denote the quality, sophistication, and performance legacy of the brand.
A variety of Genuine Suzuki Accessories for SV650X owners are available, including a large selection of Suzuki logo apparel.
12-month limited warranty. Longer coverage periods with other benefits available through Suzuki Extended Protection (SEP).
*600-800cc, street bike class
**Depending on road surface conditions, such as wet, loose, or uneven roads, braking distance for an ABS-equipped vehicle may be longer than for a vehicle not equipped with ABS. ABS cannot prevent wheel skidding caused by braking while cornering. Please ride carefully and do not overly rely on ABS.
2020 Suzuki SV650X – Totalmotorcycle.com USA Specifications/Technical Details
US MSRP Price: $8,399 USD
Canada MSRP Price: $ NA CDN
Europe/UK MSRP Price: £6599 GBP (On The Road inc 20% Vat)
Manufacturer's Suggested Retail Price (also referred to as "MSRP", "Base MSRP" or the "Starting At" price), excludes taxes, title, license and registration fees, destination freight and delivery charges, dealer fees, and optional equipment.
2020 Suzuki SV650X – Totalmotorcycle.com Canada Specifications/Technical Details
NA
2020 Suzuki SV650X – Totalmotorcycle.com European Specifications/Technical Details
Dimensions and Weights
| | | | |
| --- | --- | --- | --- |
| Overall length | 2140 mm (84.3 in) | Overall width | 730 mm (28.7 in) |
| Overall height | 1090 mm (42.9 in) | Wheelbase | 1445 mm (56.9 in) |
| Ground clearance | 135 mm (5.3 in) | Seat height | 790 mm (31.1 in) |
| Kerb mass | 198.0 kg (437 lbs) | Fuel capacity | 14.5 litres (3.2 UK gallons) |
Engine Specifications
| | | | |
| --- | --- | --- | --- |
| Engine capacity | 645 cc | Engine | 4-stroke, 2-cylinder, liquid-cooled, DOHC, 90°V-twin |
| Bore | 81 mm x 62.6 mm (3.2 in x 2.5 in) | Compression ratio | 11.2 : 1 |
| Lubrication | Wet sump | Ignition | Electronic ignition (Transistorised) |
| Fuel system | Fuel injection | Transmission | 6-speed constant mesh |
| Drive | Chain | Starter | Electric |
| MPG* | 70.62 | CO2 | 93 g/km |
| Power | 56.0 kW @ 8,500 rpm (76 PS) | Torque | 64.0 Nm @ 8,100 rpm (47 lb. ft)† |
Chassis Specification
| | | | |
| --- | --- | --- | --- |
| Front suspension | Telescopic, coil spring, oil damped, spring preload adjustable | Rear suspension | Link type, coil spring, oil damped, spring preload adjustable |
| Front brakes | Disc brake, twin | Rear brakes | Disc brake |
| Front tyres | 120/70ZR17M/C (58W), tubeless | Rear tyres | 160/60ZR17M/C (69W), tubeless |
Manufacturer Specifications and appearance are subject to change without prior notice on Total Motorcycle (TMW).