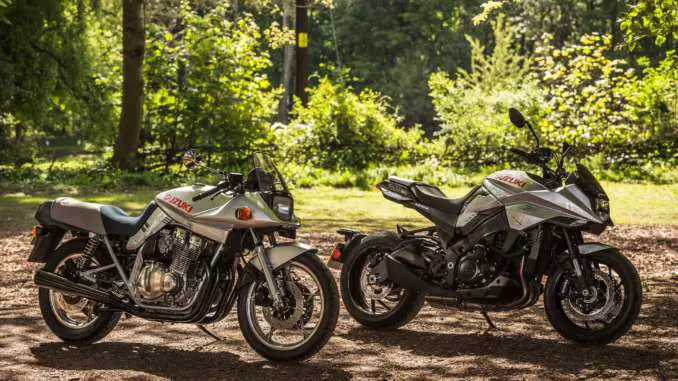 Introducing the new 2020 Suzuki Motorcycle Guide.
New Bike Reviews, Huge Photos, Full Specifications. Get it all at Total Motorcycle with the 2020 Suzuki Motorcycle Guide.
Sportbike
You'll feel our passion for performance and precision engineering as soon as you twist the throttle.
– 2020 Suzuki GSX-R1000R / R1000R ABS – New model
– 2020 Suzuki GSX-R1000 / R1000 ABS – New model
– 2020 Suzuki GSX-S1000F / S1000FA – New model
– 2020 Suzuki GSX250R / GSX250RZ
Standard / Sport
When you want comfortable ergonomics with plenty of power, standards are the perfect everyday ride.
– 2020 Suzuki GSX-S1000 – New model
– 2020 Suzuki GSX-S1000A / S1000ZA – New model (Canada)
– 2020 Suzuki Katana – New model
– 2020 Suzuki GSX-S750Z ABS / S750A / S750ZA
– 2020 Suzuki SV650 ABS / SV650A
Cruisers
Whether you crave muscle, style or just a laid-back ride, the Boulevard is a modern classic.
– 2020 Suzuki Boulevard M109R BOSS
Touring
When you want to see the countryside on two wheels, saddle up on a Boulevard touring bike.
Adventure
For comfort, versatility and performance, the V-Strom is an open invitation for new adventures on the road less traveled.
– 2020 Suzuki V-Strom 1050 / 1050A – New model
– 2020 Suzuki V-Strom 1050XT / 1050XA – New model
– 2020 Suzuki V-Strom 1050XT Adventure – New model
– 2020 Suzuki V-Strom 650 / 650 ABS
– 2020 Suzuki V-Strom 650XT / 650X
– 2020 Suzuki V-Strom 650XT Adventure – New model
Dual Sport
If you're torn between smooth pavement and wilderness trails, jump on a Dual Sport.
– 2020 Suzuki DR650S / DR650SE
Supermoto
Tame urban streets on this DR-Z dressed for the city.
Motocross
When you need to win on the track, our RM-Z series is the unfair advantage.
Off Road
Like getting down and playing in the dirt? Do it on a DR-Z.
Scooters
Our versatile Burgman scooters give you a comfortable commute with the power of a full-sized motorcycle.
– 2020 Suzuki Burgman 400 ABS – New model
From the Manufacturer: 2020 Suzuki Motorcycle Guide
Suzuki announces new V-Strom 1050XT and V-Strom 1050 at Eicma
Suzuki has unveiled two new V-Strom models today, with a new V-Strom 1050XT and V-Strom 1050 announced at Eicma in Milan, Italy. Developed to the design concept of 'The Master of Adventure', main features include:
Design heavily influenced by Suzuki's iconic DR-Z desert racer and DR Big, with a new vertically stacked rectangular LED headlight and distinctive 'beak'.
New Euro5 version of the flexible and characterful 90° V-Twin engine producing 107.4PS (79kW), a 7% increase over the previous generation.
New ride-by-wire throttle with three selectable engine modes and a three-mode traction control system.
The flagship V-Strom 1050XT gets new Suzuki Intelligent Ride System (SIRS) which features a full suite of electronics including an inertial measurement unit (IMU), lean-angle sensitive ABS with two settings, linked brakes that can detect and adapt to load and inclines, plus hill hold control and cruise control.
The new V-Strom 1050XT and V-Strom 1050 were designed and built to allow any rider to maximise their own adventure, wherever it may take them.
V-Strom 1050XT
Electronics
The V-Strom 1050XT is equipped with a comprehensive electronics package and uses the new Suzuki Intelligent Ride System (SIRS), which is aimed at enhancing everything from rider comfort to performance and practicality.
A new ride-by-wire throttle delivers a natural and linear feeling, while slow speed riding is aided with a more stable idle. The ride-by-wire throttle is part of a wider Controller Area Network (CAN); an interconnected information network that replaces standard wiring, with the benefit being fewer wires and faster data transmission. Also part of that network is a new six-direction inertial measurement unit (IMU) from Bosch. This compact unit monitors pitch, roll, and yaw based on lean angle and acceleration.
Information from the IMU helps govern Suzuki's updated Motion Track Brake System, which includes lean-angle sensitive ABS. The system also automatically applies pressure to the rear brake to help controlled deceleration when front brake pressure rises to a certain degree. The system supports the rider, should they suddenly brake mid-corner, helping them to continue on the intended line with minimal kickback at the lever.
Riders can select from two ABS modes, depending on the surface and riding conditions.
The V-Strom 1050XT's Motion Track Brake System also includes slope-dependent control, which optimises pressure across the front and rear brakes to maintain control and avoid rear wheel lift under heavy braking downhill, and load-dependent control, where the ABS unit constantly learns changes in deceleration through the input of hydraulic pressure as the load increases or decreases, when riding with luggage or with a pillion. The system remembers the optimal relationship between the deceleration and hydraulic pressure.
The system also features hill hold control, which means the brake is automatically applied when stopped on an upward slope to prevent roll-back and aid easier starts, especially when laden with pillion and luggage, and rider comfort during long-distance touring is further taken care of with the addition of cruise control.
A three-mode traction control system replaces the previous two-mode system. It can also be turned off. Riders can also select from one of three engine modes, which alter throttle response while still delivering the same peak power. The new V-Strom also gets the latest versions of Suzuki's low RPM assist and easy-start function.
Styling
While unmistakably V-Strom, the new design is a thoroughly modern take on the styling of the legendary DR-Z race bike and DR Big production machine. The beak – now synonymous with adventure bikes – was first seen on the DR-Z, and the new design further highlights the association but with a more aggressive and standout image. The shape of the fuel tank, too, apes the design of the DR-Z.
The colour options of the V-Strom 1050XT in particular pay further homage to the 'desert express' and highlight Suzuki's rich racing and adventure heritage. It comes in a similar orange and white to the original DR Big, while a yellow version links to Suzuki's motocross and off-road pedigree.
The handguards, which come as standard, are re-designed and are more angular and rugged, while the mirrors are also new.
Careful thought went into the finish of the V-Twin engine, with new bolts completing a look that sees the cylinder heads, clutch cover, alternator cover, and water pump case finished in a classy bronze.
Completing the striking new look is a new vertically stacked rectangular LED headlight plus LED tail light and LED indicators.
Engine and performance
The new Euro 5-compliant 1037cc, 90° V-Twin engine in the V-Strom 1050XT puts out more power than the outgoing V-Strom 1000, with peak power up by 7% to 107PS, while it maintains its easy-to-use, flexible character and strong linear drive.
This is achieved with reprofiled intake and exhaust cams, with increased lift duration and less overlap. Twin-plug heads remain, along with lightweight three-ring-type forged pistons. A new radiator increases cooling capacity by 15%, and there is a new oil cooler. A slipper clutch aids smoother downshifts and lighter lever action.
Chassis
The V-Strom 1050XT's chassis – a twin-spar aluminium frame mated to an aluminium swingarm – is lightweight, compact, and narrow, making it easy for riders to manage in all situations. It's slim design allows riders to get their feet down comfortably when stationary, and contributes to the V-Strom's agile handling.
It is suspended by 43mm fully-adjustable, upside down forks from KYB. The rear shock is preload and rebound damping-adjustable. Front brakes are radially-mounted Tokicos, biting twin 310mm discs for dependable stopping power.
A tapered handlebar is rigid and lightweight, with ergonomic considerations taken into account when riders are both sitting and standing. New footrests have a tougher design and make it easier to stand when off-road.
Wheels are lightweight DID aluminium, wire-spoked rims, with a 19" front and 17" rear for dependable performance on a variety of surfaces and in different riding conditions. They wear Bridgestone Battlax Adventure A41 radial tyres.
Utility
Careful consideration was given to practicality during development of the V-Strom 1050XT. There's a height-adjustable seat (plus a lower option available as an accessory for further adjustment), and an extensively wind tunnel-tested height-adjustable screen that can be adjusted without the need for tools to one of 11 settings. A new multi-function instrument cluster presents all required information on a full LCD screen using a clear and intuitive layout. A USB outlet, situated on the left of the instrument cluster, allows for easy charging of electronic devices plus a 12V DC outlet is located under the pillion seat.
Further aiding practicality is the slim fuel tank with a 20 litre capacity, giving a range of over 250 miles (400Km) between fill-ups based on the official WMTC fuel consumption of 57.65mpg (4.9L/100Km)*.
A centre stand, handguards, and engine bars, plus integrated luggage mounts that make for easy fitment and removal of panniers, add even more practicality as standard to the V-Strom 1050XT.
V-Strom 1050
The V-Strom 1050 shares many of the features of the flagship V-Strom 1050XT but with some differences to enable a lower price. The V-Strom 1050 shares the same engine and chassis platform as the XT model but replaces spoked wheels with cast aluminium items. Whilst keeping the same three-mode traction control system and three selectable engine power modes, the V-Strom 1050 loses the Suzuki Intelligent Ride System and its cruise control and Motion Track Brake System with linked brakes, hill hold, slope and load control and switchable ABS modes.
The DR-Z-inspired design is finished in either white and black or grey and black colour schemes, the LED taillights are finished with red lenses instead of the clear finish of the XT, and the LED indicators are swapped for more traditional items. The mirrors are changed, also.
It also loses the standard-fit engine bars, centre stand, handguards, and lower cowling of the XT.
Genuine accessories
A comprehensive catalogue of genuine Suzuki accessories will be available for both models, including heated grips, side stand extender, aluminium and plastic luggage kits plus two tank bags, sump guards and engine bars, fog lamps, mirror extenders, and decal kits.
Manufacturer Websites: 2020 Suzuki Motorcycle Guide
Suzuki