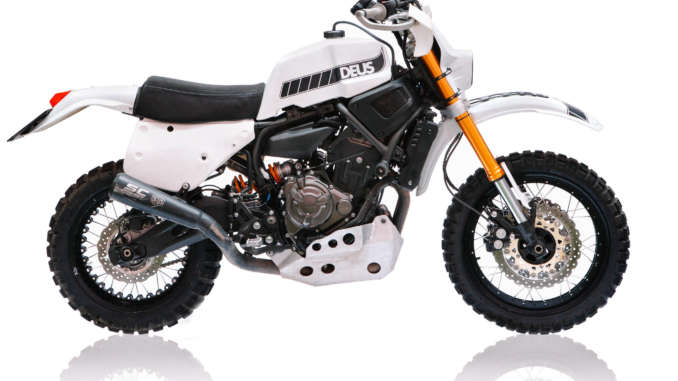 PURE OFF ROAD WARRIOR.
2020 Yamaha Swank Rally 700:
From the beginning of the official Global Partnership between Yamaha and Deus in 2013, the already existing collaboration has been growing ever stronger. As a global technical partner Yamaha has been providing support for international events in Europe, USA and Australia. Of course what put the two brands together in the first place was their shared passion for motorcycle and customization that has originated a wide range of unique projects. Among some of their uber cool custom creations are the Deus SR400 'Lightning', the XJR1300 'Eau Rouge' and the stunning XV950 'D-Side', based on a wide range of original Yamaha models The latest offering, the Swank Rally 700, takes the cool essence of Deus and blends it perfectly with Yamaha's versatile and easily customizable XSR700. The result is a true Deus custom that delivers the engaging and emotional riding experience that the XSR is famous for.
2020 Yamaha Swank Rally 700 Totalmotorcycle.com Key Features
A new Yamaha Yard Built: The pure off-road Swank Rally 700
Deus' choice of the heritage infused Yamaha XSR700 was a perfect one. The 689cc motor's strong linear torque and agile lightweight chassis form the ideal base for the new project. With off-road entertainment and action in mind, Deus mounted a Yamaha Super Ténéré 1200 front end, including forks, to the XSR along with a 19″ front wheel. Softer springs were used to account for the lower weight of the XSR700 and an Öhlins mono-shock rear was used to balance the suspension. Kineo tubeless spoke wheels were fitted front and rear and Metzeler Karoo rubber ensures maximum grip in the dirt.
Custom work includes a hand-beaten aluminium tank and a handmade saddle as well as a hand crafted aluminium skid plate. Keeping in true vintage off-road style, Acerbis front and rear fenders are mounted and Acerbis aluminium supports hold vintage plastic hand guards. A proper throaty growl signs off the Swank Rally 700 with a custom 2-in-1 SC exhaust.
2020 Yamaha Swank Rally 700 Totalmotorcycle.com Features and Benefits
The Reunion 2019, The Sardinia Swank Rally and Wheels & Waves
The Swank Rally 700 broke cover and was on display as one of the star Yard Built at this year's The Reunion bike event at the historic Monza circuit, Italy in May before moving on to a big adventure, The Sardinia Swank Rally.
Celebrating the legendary Rally of Sardinia, first created by Renato Zocchi in 1984 after his return from the Dakar, the Swank Rally has two classes, one for vintage and one for modern machines. The Swank Rally 700 was the perfect bike to tackle the epic competition, bringing a mix of Yamaha's Faster Sons vibe, Deus custom magic and XSR rideability to the event. Having successfully contested in Sardinia, it was of course on to Biarritz for the next stage of the summer, and the sun-kissed Wheels & Waves event. Adding extra flavour to the show, Deus arrived with a stunning 1958 Series 2 Land Rover, Landy, perfectly partnered with a vintage icon, Yamaha's XT500, a machine that wrote the legendary opening chapters in the early days of the Dakar Rally in the late 1970s and early 1980s. Both vintage wonders rivalled the sunshine in glorious yellow liveries.
Fashion & Pitti 2019
Deus is of course a driving force in fashion so it was no surprise that the Yamaha and Deus collaboration also touched down in Italy for the Pitti 2019 event. Taking pride of place amongst the apparel and clothing were two superstars of Yamaha's rally racing past – firstly a very special Yamaha DT 400 that took part in the 1976 Abidjan/Nice Rally, still wearing its original race livery. Demanding equal respect was a very rare Yamaha HL600 that saw action in the 1977 FIM Motocross World Championship.
The Yamaha Sport Heritage range is a major success with those riders who appreciate the unique formula that blends timeless style with a special character, sophisticated engine and chassis technology. This retro appeal mixed with contemporary high-tech motorcycles are enabling today's riders to discover the true essence of motorcycling. It is the Faster Sons philosophy, a refreshing approach to motorcycle design attracting riders of all ages and backgrounds to the Yamaha Sport Heritage line.
From the first collaborative builds together and continuing with the official global technical partnership, the relationship with Deus and Yamaha grows stronger, bringing a shared passion for fun and emotional riding experiences and the custom lifestyle to a happy and engaged fanbase of motivated two-wheel enthusiasts around the world.
2020 Yamaha Swank Rally 700 – Totalmotorcycle.com USA Specifications/Technical Details
US MSRP Price: $ USD
Canada MSRP Price: $ CDN
Europe/UK MSRP Price: £See dealer for pricing in GBP (On The Road inc 20% Vat)
Australia MSRP Price: See dealer for pricing in AU
TBA
2020 Yamaha Swank Rally 700 – Totalmotorcycle.com Canada Specifications/Technical Details
TBA
2020 Yamaha Swank Rally 700 – Totalmotorcycle.com European Specifications/Technical Details
TBA
Manufacturer Specifications and appearance are subject to change without prior notice on Total Motorcycle (TMW).