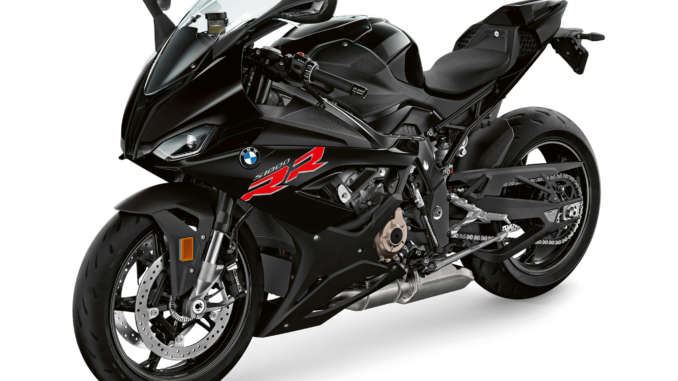 2021 BMW S1000RR : THE SUPERBIKE OF SUPERLATIVES.
Introducing the 2021 BMW S1000RR.
Always pushing to the limit and in search of the ideal line, you've got 205 HP beneath you. Unbridled power pushes your RR to the max – with a maximum torque of 83 lb-ft at 11,000 rpm and a torque curve of at least 74 lb-ft over a range of 5,500 to 14,500 [rpm]. Ten years after the first generation of the RR first mesmerized the world of motorcycles, we're now entering the next level of performance. We have updated almost every component of the RR – from the front to the rear. The result: less weight and noticeably higher performance. Are you ready for the pole position and for victory? The RR awaits you.
The BMW S 1000 RR plays by its own rules: appearance here always means pure performance. Dynamic stands for the purest form of racing sport and riding pleasure. Added to this is the constant balance between reason and unreasonableness. And all of this with unchanged and impressive performance values – despite being adapted to the EU-4 standard. Find out about all the technical data and standard equipment here.
Designed for the pole position.
Anyone who looks at it immediately understands that this is a high performance motorcycle. Every part of the RR has been designed to get the most out of it. Take, for instance, the frame layout with its new suspension technology that makes the RR lighter and more precise. In addition, there is the ergonomically focused seating position, which is unrivaled thanks to the modified frame and fairing design. The standard LED headlights give the bike a dynamic and aggressive look. The front indicators have moved from the fairing to the rearview mirrors, which not only looks aesthetically pleasing, but it also provides improved visibility. Seen from the rear, the RR dominates in terms of design and functionality: "All-in-one" is the motto here. In addition to license plate lighting, the license plate bracket now also includes LED turn signals, tail lights and brake lights.
When it comes to top performance, the RR is your perfect partner. And not just on the road, but also on the track. In a few simple steps, you can dismantle both the rearview mirror and the license plate bracket and you've got a racing bike.
The optionally available M Package turns your RR into the ultimate racing machine. Here the weight is once more reduced by around 7.7 lbs down to a mere 427 lbs. In addition to the Motorsport finish, the M carbon wheels, the M battery, the M seat with M passenger seat cover and the M swing arm pivot you also get Ride Modes Pro with the configurable Ride Modes Race Pro 1-3 and electronic assistance systems, such as DTC +/- Shift, ABS Settings, engine mappings, wheelie control and slide control and a whole lot more.
Four cylinders and unrivaled performance.
The redesigned four-cylinder engine is the RR power train. Not only was the peak output increased to 205 HP at 13,000 rpm, but the torque curve was also optimized. Thanks to BMW ShiftCam technology, which selects the valve opening time and the valve lift by means of the camshaft, significantly more torque and power is applied even in low and medium engine speed ranges.
In addition, numerous other components were adapted to further optimize weight, space and design. These include a new timing concept, hollow-drilled titanium intake valves and an improved and self-reinforcing multi-disc, anti-hopping wet clutch (-20N). The engine is now narrower and about 9 lbs lighter, which improves both the handling and the ergonomics. You will notice this immediately when you first get on.
New paint finish Black storm metallic. Racing Red non-metallic is dropped.
Changeover to EU-5.
New optional equipment: Sports silencer*.
New optional equipment: M titanium exhaust system*.
New optional equipment: M milled parts package**, M clutch lever protector, M brake lever protector, M folding brake lever, M folding clutch lever, M engine protectors, M rider footrest system left/right.
New optional equipment: Sports package***. M Endurance chain, USB charging port and M GPS lap trigger.
New optional equipment: USB charging port.
New optional equipment: M Endurance chain.
New optional equipment: M GPS Laptrigger***. Activation code to enable a GPS sensor to send the signal to the instrument cluster. This allows the data-logger to trigger the lap timer/lap counter via GPS instead of manually.
Rear of the new BMW RR
BMW RR new DDC (Dynamic Damping Control)
BMW RR 6.5″ TFT display
BMW RR multi-control on the handlebar
M carbon wheel of the new BMW RR
LED lights.
M seat.
BMW RR swing arm on the trussing in series production
2021 BMW S1000RR Totalmotorcycle.com Features and Benefits
BMW ShiftCam technology: a combination of optimized torque and top-end performance.
When you first accelerate you will immediately notice: that this bike's torque curve is captivating even at low and middle speeds thanks to BMW's ShiftCam technology. The intake valves are controlled as needed by means of a control camshaft. Depending on the speed, the valve lift and timing of the valve opening are adjusted to ensure the best performance for you and your RR.
ABS and ABS Pro: from maximum stability to the highest possible performance.
The RR has standard ABS and ABS Pro, depending on your riding mode: RAIN, ROAD, DYNAMIC, RACE or optional RACE Pro-1 to 3. So you decide whether your bike needs the maximum stability or the highest possible performance.
Standard Gear Shift Assist Pro: switch gears in milliseconds with maximum stability and performance.
On the road or on the track: This feature is a must. With the standard feature Gear Shift Assist Pro, you can smoothly shift up or down without pulling the clutch lever, so you can fully concentrate on the road. At the same time, the load-bearing influences on the body and rear wheel have been reduced to a minimum. The result: you're faster, more stable and can enjoy even higher performance and more riding pleasure.
Completely developed Dynamic Damping Control (DDC): ideal damping for country roads and the track.
The RR comes optionally equipped with the next generation DDC. Now the electronic valve is parallel to the mechanical valve. If necessary, the damping is reduced or increased in 10 milliseconds via this bypass line. For the road or the track, you can rely on exceptional damping. The suspension spring can also be adjusted manually.
Lighting design: LED, visible, dynamic, aggressive.
The standard LED headlights give the RR its new unmistakable sporty-aggressive look. This applies not only to the front headlights but to the front turn signals, which have been moved from the fairing to the mirrors on the new RR. For the rear of the bike, the turn signal, brake and tail light have been combined into one component.
6.5″ TFT display: everything in sight – and under control.
The benchmark in the superbike segment: the TFT display of the RR. With 6.5″ you have a perfect overview of your bikes information. You can choose between the Pure Ride screen that's reduced to the essentials, or one of three Core Ride screens that display other important information. Everything under control with the multi-controller on the left handlebar: Simply scroll through the menu of your 6.5″ TFT display and access the various functions and settings – without taking your hands off the handlebars, so you maintain full control.
Ergonomics: more comfort, support and freedom of movement.
Not only is the new RR a lot lighter at a mere 434 lbs, it's also got the perfect ergonomics. The frame, tank, seat, tail and footpegs have all been modified for more support, freedom of movement, more feedback and better knee closure.
The interplay of the milled footpegs and the new handlebar ergonomics with the M seat, in addition to even more feedback, lets you ride longer and concentrate on achieving faster lap times.
Strut and swing arm: performance, sensitivity and adjustability – everything for your personal victory.
The new RR is equipped with an aluminum swing arm and offers you better power distribution and less reaction from the chassis when accelerating. That saves the tires. The standard shock absorber of the new RR is now further away from the engine and is therefore less exposed to heat. In addition, a larger damper piston improves damping in all riding situations.
Standard seat and special equipment: always firmly in the saddle.
When you look at the standard seat, you'll immediately know that perfect feedback was the goal. This allows not only more freedom of movement, but also the perfect amount of contact with the motorcycle while riding. The standard seat height is 32.4" and the inner-leg curve is 71.9".
In addition to the standard seat, there's also the optional M seat for the new RR. Its firmness and slip-resistant cover save power when accelerating or braking hard, and bring more stability to the bike. The M seat is part of the M Package. It is available in three seat heights (32 in, 32.4 in and 33.4 in) as a special accessory.
License plate bracket with lighting components: everything all in one and easily dismantled.
It's so fast to convert your RR from a cruising bike to a racing machine: the tail light integrated into the LED turn signals and the license plate light are both attached to the license plate bracket unit. The big advantage here is that in just a few simple steps you can remove the license plate bracket and lighting and be ready for the track in no time.
4 standard Ride Modes / Optional Race Pro 1-3 riding modes: a question of attitude.
Four Ride Modes are standard with the RR: RAIN, ROAD, DYNAMIC and RACE. All four are perfectly tailored to the respective conditions and provide more performance or more stability and safety, as desired. Racers, in particular, get their money's worth with the special Ride Modes Pro option. The additional RACE Pro 1, RACE Pro 2 and RACE Pro 3 modes can be individually adapted to Engine (throttle), Engine Brake, Traction Control (DTC), Wheelie-Control (DTC), ABS and ABS Pro – so that you can achieve the best possible performance on every track.
Technology made for maximum performance in every situation.
The RR is a technical high-flyer with road grip: The four standard modes RAIN, ROAD, DYNAMIC and RACE already cover numerous riding styles in a variety of conditions. Optional Ride Modes Pro mode lays the racing world at your feet with the three additional modes RACE Pro 1, RACE Pro 2 and RACE Pro 3, with Launch Control, Pitlane Limiter, HSC Pro (Hill Start Control Pro) and DBC (Dynamic Brake Control). With the multi-controller you can configure the following settings via the full-color 6.5″ TFT display: the throttle response incl. engine characteristics, the engine braking torque, the traction control (DTC) incl. wheelie control, ABS and DDC (Dynamic Damping Control). And with the push of a button you can adjust the settings while riding via DTC +/- Shift. Thanks to the latest 6-axis sensor technology and torque precontrol, DTC support is particularly smooth and powerful, and performs no matter the gear, speed and inclination.
With the next-generation DTC, you get more efficient, powerful and safer traction control and thus even more forward momentum.
More stability and better force application.
The new RR has, as the only street-legal standard superbike, an aluminum undercarriage, which had previously only been used on the racing scene. The 0.66 lb lighter weight significantly reduces the unsprung mass and results in significantly less reaction from the chassis when accelerating. In addition, the shock absorber, which can be adjusted in terms of tension and rebound as well as the suspension, is installed farther away from the engine and is thus less exposed to heat. This has significant advantages for the shock absorber. By changing the strut ratio from 1.9:1 to 1.65:1 and having a larger damper piston, a smaller spring rate was able to be selected. This friction minimization increases comfort and performance since the power build-up in the strut occurs quickly and accurately. The entire system is thus much gentler on the tires.
Perfect damping on all routes.
Dynamic Damping Control (DDC) showcases a recently developed control philosophy of the electronic chassis and mechanical damping component. Regardless of whether you're on a country road or the track – the electronic valve always provides the maximum damping, depending on the riding mode and purpose. It is now parallel to the mechanical valve. If necessary, the damping is reduced or increased in 10 milliseconds via this bypass line. The anodized floating piston rod is extremely sensitive. If required, the Shim Package can also be adapted by chassis specialists.
The fork is also controlled by means of a linear position sensor with DDC. Damping is regulated here globally and in traction and compression stages. The suspension can be manually varied as needed.
2021 BMW S1000RR – Totalmotorcycle.com USA Specifications/Technical Details
US MSRP Price: $ 16999 USD
Canada MSRP Price: $  CDN
Europe/UK MSRP Price: £ GBP (On The Road inc 20% Vat)
Engine
Type Water/oil-cooled 4-cylinder 4-stroke in-line engine, four titanium valves per cylinder, BMW ShiftCam
Bore x stroke 80 mm x 49.7 mm
Capacity 999 cc
Rated output 205 hp (151 kW) at 13,000 rpm
Max. torque 83 lb-ft (113 Nm) at 11,000 rpm
Compression ratio 13.3:1
Mixture control / engine management Electronic fuel injection with ride-by-wire throttle system, variable intake, and knock sensor
Emission control Closed-loop 3-way catalytic converter, emission standard EU-4
Performance / fuel consumption
Maximum speed 185 mph
Fuel consumption 37 mpg (WMTC)
Fuel type Premium Unleaded
Electrical system
Alternator Three-phase 450 W Generator
Battery 12 V / 8 Ah, maintenance-free
BMW RR Racing red
Power transmission
Clutch Multi-disc clutch in oil bath, anti-hopping clutch, mechanically operated, integrally-reinforced
Gearbox Constant-mesh 6-speed gearbox with straight cut gears
Drive Chain 525 17/45
Chassis / brakes
Frame Aluminum composite bridge frame, partially self-supporting engine
Front wheel location / suspension Upside-down telescopic fork Ø 45 mm, compression and rebound stage adjustable, adjustable preload
Rear wheel location / suspension "WSBK" Aluminium swing arm, full floater pro, compression and rebound damping adjustable, adjustable preload
Suspension travel front / rear 4.7" / 4.6" (120 mm / 117 mm)
Wheelbase 56.7" (1,441 mm)
Castor 3.7" (93.9 mm)
Steering head angle 66.5°
Wheels Aluminum cast wheels
Rim, front 3.50 x 17″
Rim, rear 6.00 x 17″
Tires, front 120/70 ZR 17
Tires, rear 190/55 ZR 17
Brake, front Dual floating disc brakes, 4-piston fixed calipers, diameter 320 mm
Brake, rear Single disc brake, diameter 220 mm, single piston floating caliper
ABS BMW Motorrad Race ABS (partly-integral) with selectable modes; can be switched off. ABS Pro settings for RAIN, ROAD, DYNAMIC modes, but no ABS Pro in RACE mode.
Dimensions / weights
Length 81.6″ (2,073 mm)
Width (incl. mirrors) 33.4″ (848 mm)
Height (excl. mirrors) 45.3″ (1,151 mm)
Seat height, unladen weight Standard Seat: 32.4″
Inner leg curve, unladen weight Standard Seat: 71.9ʺ
Unladen weight, road ready, fully fueled Standard: 434 lbs (197 kg), M Package: 427 lbs (193.5 kg) 1)
Permitted total weight 897 lbs (407 kg)
Payload (with standard equipment) 463 lbs (210 kg)
Usable tank volume 4.4 gal (16.5 l)
Reserve Approx. 1 gal (4 l)
1) As defined in EU directive 93/93/EEC, filled with all operating fluids, fueled to at least 90% of usable tank capacity
2021 BMW S1000RR – Totalmotorcycle.com Canada Specifications/Technical Details
TBA
2021 BMW S1000RR – Totalmotorcycle.com European Specifications/Technical Details
TBA
Manufacturer Specifications and appearance are subject to change without prior notice on Total Motorcycle (TMW).