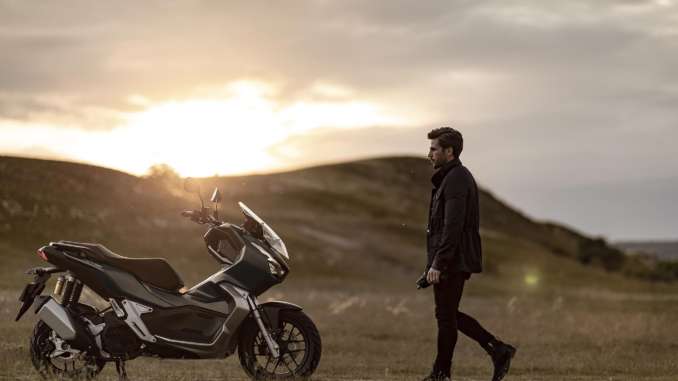 2021 Honda ADV150: ADVENTURE COMES IN ALL SIZES.
Introducing the 2021 Honda ADV150…
What exactly is the ADV150? That's a fair question, given the unique nature of this new model from Honda, the U.S. leader in scooter sales. The answer: It's a lightweight, compact scooter with adventure-ready features, a crossover model that embraces Honda's "City Adventure" concept and is positioned for both daily commuting and recreation. Prepared for practical use while still enabling the rider to indulge in opportunities for new experiences, it facilitates smooth urban travel and also back-road exploring. Making the ordinary fun and facilitating the enjoyment of free time, the ADV150 is simply the most versatile scooter on the market.
Full-size adventure bikes like Honda's Africa Twin are great do-it-all motorcycles. And now Honda is bringing adventure-bike style and spirit to a new class: Introducing the 2021 Honda ADV150, an adventure-style scooter that's ready to conquer the asphalt jungle. It starts with a proven liquid-cooled 149cc four-stroke OHC engine and a steel frame. Then there's a two-position windscreen, Honda SMART Key, plenty of under-seat storage, an automatic transmission, and the ADV150's tough, muscular styling. Perfect for a gnarly commute, smooth enough for weekend fun riding, the new ADV150 proves that adventure truly comes in all sizes.
American Honda chose April 1 to confirm that the unique, entertaining ADV150 will be brought to the U.S. for the 2021 model year – and they weren't joking! Already a hit overseas, the model is an unlikely mix of scooter and adventure bike, resulting in an enjoyable, distinctive machine that's ready for anything, whether it be a lighthearted variation on the campus commute or a trip down the local back road.
With a step-through design, substantial tires and robust Showa suspension, the compact-but-comfortable ADV150 has a rugged look that's backed up by the powerful-but-efficient engine, a tapered handlebar and optimized frame offering nimble handling. At the same time, practical features like a two-stage adjustable windscreen, under-seat storage and a Smart Key system with built-in theft deterrents mean that it's easy to live with on a day-to-day basis.
"What do you get when you combine an Africa Twin and a PCX150? We weren't sure, but we knew it sounded like fun!" laughed Chris Cox, American Honda's Manager of Experiential Marketing/Public Relations. "Seriously, more than any other powersports manufacturer, Honda has a record of success with fun, unique scooters and small motorcycles, and the ADV150 promises to carry on that tradition."
DESIGN
Honda's designers imbued the ADV150 with a fusion of styling cues intended to offer comfort in situations varying from city commuting to backroad exploring. With an emphasis on individuality and looks suggesting a mix of stylishness and power, the ADV150 has an upright riding position to minimize fatigue and provide a great view in traffic. Its comfortable rider triangle (the relationship between handlebar, seat and floorboard) and compact dimensions (particularly front to rear) expand the range of possible applications far beyond what is typical for a scooter.
A "condensed" design gives the look of an active, adventurous model
A blacked-out headlight guard and transparent windscreen express agility
The compact, individual turn signals and slim rear fender create a lightweight, dynamic image
Compact, high-positioned muffler for tough, adventure-ready looks
All-LED lighting to minimize size, weight and energy consumption, and to maximize mass-centralization (for improved handling) and illumination
The taillight is separate from rear turn signals, and incorporates an "X" design that expresses the crossover concept
The LCD main meter's design is compact, but ample information is available, thanks to the meter's square shape and a separate screen. The main meter displays date, time, oil-change indicator, fuel meter, odometer, A and B trip meters, speedometer, instant fuel consumption, average fuel consumption, air temperature, battery voltage and fuel meter. A separate sub-meter displays turn indicators, high beam, coolant temperature and fuel-injection
With Honda's Smart Key system, the scooter's main knob is automatically activated as the owner approaches, and the engine can be started without inserting the key. (An on/off switch prevents a third party from using the scooter even when the owner is in the vicinity.) The system incorporates an "answer-back" switch that flashes the turn signals to help the owner locate the scooter, as well as an anti-theft mechanism whereby the handlebar remains locked when an attempt is made to start the scooter by force. The fuel lid and seat are unlocked via a rocker switch adjacent to the main knob.
CHASSIS / SUSPENSION
Designed for user friendliness and adventure, the ADV150 has high ground clearance and adopts ADV-style suspension and tires that are robust enough to tackle rough urban roads, adventurous back roads and everything in between.
The lightweight, compact frame has optimized rigidity characteristics
The wheels have narrow spokes (12 front, 10 rear), to transmit a consistent load from rim to axle. This provides the rider with accurate information about the road surface and helps him or her to make informed riding inputs
The 31 mm telescopic Showa fork has a class-leading front-suspension travel of 5.12 inches
The twin piggyback Showa shocks offer 4.72 inches of travel and consistent damping force. Their triple-rate springs deliver progressive loading for excellent road-holding performance in varying situations, including two-up riding and traveling through rough terrain
A petal-style front brake rotor (240 mm) minimizes unsprung weight and sheds water and debris from the brake-pad surface, while a 130 mm drum rear brake aids in overall stopping performance. Front ABS is standard
The model-specific wide, tubeless tires feature a block pattern that works well in conditions from urban roads to rugged bypasses
The windscreen features two-stage, toolless adjustability for a range of 71 mm, ensuring wind protection in various situations; the low position allows chest-high flow for urban riding, and the high setting wraps wind around the upper body for longer-distance traveling
For increased strength, the handlebar features a tapered design (28.6 mm at the clamp area), similar to those of larger adventure models like the Africa Twin. The handlebar is rigid-mounted so that rider inputs are transferred directly
A 27-liter under-seat luggage box offers storage for essential adventure gear
A dash compartment provides convenient storage of small items, while an inner ACC socket allows charging of electronic devices
ENGINE / DRIVETRAIN
Providing sufficient output to match the potential of the chassis, the ADV150's proven 149cc single-cylinder four-stroke engine features a smooth power delivery with a broad high-rev range, an approach that works well in cities or on open road. The fuel-efficient enhanced Smart Power design (eSP) features advanced technologies including an ACG starter, and a start-stop system automatically shuts down the engine at stops to minimize exhaust and noise emissions. The air-intake/exhaust system is optimized, and ample torque in the low and middle rev ranges helps the rider tackle varying terrain.
Compared to the PCX150, the intake system has a 21 mm longer air-cleaner duct and a 2 mm longer connecting tube, for improved low- and midrange torque.
A diagonally mounted muffler has an inner pipe structure and catalyzer location that are optimized to minimize emissions and deliver good performance in varying conditions
2021 Honda ADV150 Totalmotorcycle.com Features and Benefits
COMFORT
TWO-POSITION WINDSCREEN
Changing riding conditions? No worries—the ADV150 features an innovative two-position windscreen. Want more breeze? Just lower it. Want improved wind and weather protection? Up she goes, no tools required.
LOW CENTER OF GRAVITY
Because the engine, drivetrain and fuel tank are mounted low in the frame, the ADV150 has a low center of gravity. That helps inspire confidence, especially in parking lots or tight traffic conditions.
RIDER COMFORT
The ADV150's long, plush seat is designed for comfort. The two-tone look also features two textures. Your passenger even gets an elevated section, so he or she can see the surroundings better. Plus, the ADV150's bodywork narrows down where you sit, giving you more room.
CONVENIENCE
AMPLE STORAGE
Your ADV150 has tons of available storage. First, flip open the seat and there's a weather-resistant 27-liter main compartment that locks securely. It's big enough for a full-face helmet and lots more. Then there's a convenient 2-liter compartment up front with a 12-volt charging port—perfect for your phone or other quick-access needs.
EASY TO PARK
Scooters can find parking way more easily than cars, but the ADV150 makes it even easier. You get the choice of both a sidestand and a centerstand. That makes it easy to park for a fast dash into a store (the sidestand) or when you need to park it upright in a tighter space (the centerstand). With a lot of other scooters, you only get one or the other.
Honda SMART KEY
Forget about fumbling for an old-school key—with Honda's SMART Key, starting the ADV150 is as easy as pushing a button or two—no conventional key is needed. Best of all, you can just leave it in your pocket. Plus, the ADV150's fuel-injected engine fires right up and runs smooth, even in colder weather.
RUGGED, MUSCULAR STYLE
If you thought scooters were all about European vacations, the new ADV150 is going to rock your world. With its tough, muscular looks, it's built for the way we ride today. Plus, check out the all-LED lighting package, including the turn signals and instrumentation.
FUEL CAPACITY
Like all Honda scooters, the ADV150 is incredibly fuel efficient—plus, its large 2.1-gallon tank means you can go even longer and ride even further between fill-ups.
PERFORMANCE
RUGGED SUSPENSION, PREMIUM SHOCKS
The ADV150 features Showa® telescopic front suspension with the most travel in its class, a full 5.1 inches. In the rear, a pair of premium Showa shocks feature remote piggyback reservoirs and triple-rate springs that control 4.7 inches of travel.
PGM FUEL INJECTION
The ADV150 features liquid cooling and Programmed Fuel Injection (PGM-FI) for great performance in all traffic conditions and easy starting, even in cold weather. Plus the ADV150 offers impressive fuel efficiency.
TECHNOLOGY
ANTI-LOCK BRAKES (ABS)
Sometimes adventure means not knowing what's around the next corner. Don't worry; the ADV150 has your back. Every ADV150 features Honda's Anti-Lock Braking System (ABS) giving you the power to make confident stops, even in less-than-ideal conditions.
12-VOLT ACCESSORY ADAPTOR
Where would we be without our electronic devices? The ADV150's integrated 12-volt adaptor makes it easy to keep your personal electronics charged up when you're on the go. It's located inside the two-liter storage compartment up front on the left side.
FRAME
Great handling and rugged construction starts with a solid chassis design, and that's where the ADV150 really shines. It uses a duplex-cradle steel-tube design rather than the more common "underbone" style. You may never see it, but you'll feel the benefits every time you ride.
V-MATIC TRANSMISSION
With the Honda V-Matic automatic transmission, just start the engine, twist the throttle and go. That means no shifting, ever—you concentrate on the road ahead and enjoy the ride! The V-Matic is a continuously variable design, so you'll always have smooth power delivery.
2021 Honda ADV150 – Totalmotorcycle.com USA Specifications/Technical Details
US MSRP Price: starting from $ 4299 USD
Canada MSRP Price: $ See Dealer for pricing in CDN
Europe/UK MSRP Price: £ GBP (On The Road inc 20% Vat)
ENGINE
Engine Type 149cc liquid-cooled 80º single-cylinder four-stroke
Bore And Stroke 57.3mm x 57.9mm
Induction PGM-FI; 26mm throttle body
Ignition Full transistorized ignition
Compression Ratio 10.6:1
Valve Train SOHC; two valves
DRIVE TRAIN
Transmission Automatic V-Matic belt drive
CHASSIS SUSPENSION BRAKES
Front Suspension 31mm Showa® telescopic fork; 5.1 inches of travel
Rear Suspension Showa® twin shocks; 4.7 inches of travel
Front Brake Single 240mm disc; ABS
Rear Brake Mechanical 130mm drum
Front Tire 110/80-14
Rear Tire 130/70-13
DIMENSIONS
Rake (Caster Angle) 26° 30′
Trail 3.4 inches
Seat Height 31.3 inches
Wheelbase 52.1 inches
Curb Weight
294 pounds (Includes all standard equipment, required fluids and a full tank of fuel–
ready to ride)
Fuel Capacity 2.1 gallons
Miles Per Gallon
TBD MPG – Honda's fuel economy estimates are based on EPA exhaust emission
measurement test procedures and are intended for comparison purposes only. Your
actual mileage will vary depending on how you ride, how you maintain your vehicle,
weather, road conditions, tire pressure, installation of accessories, cargo, rider and
passenger weight, and other factors.
OTHER
Model ID ADV150A
Available Colors Matte Black Metallic
FACTORY WARRANTY INFORMATION
One Year Included Transferable, unlimited-mileage limited warranty
Optional Extended Extended coverage available with a HondaCare Protection Plan®
2021 Honda ADV150 – Totalmotorcycle.com Canada Specifications/Technical Details
TBA
2021 Honda ADV150 – Totalmotorcycle.com European Specifications/Technical Details
TBA
Manufacturer Specifications and appearance are subject to change without prior notice on Total Motorcycle (TMW).