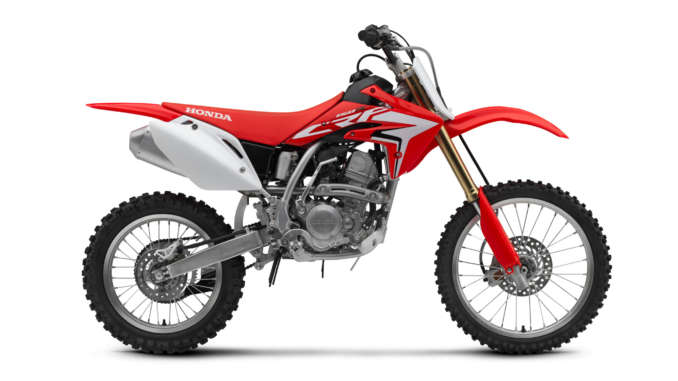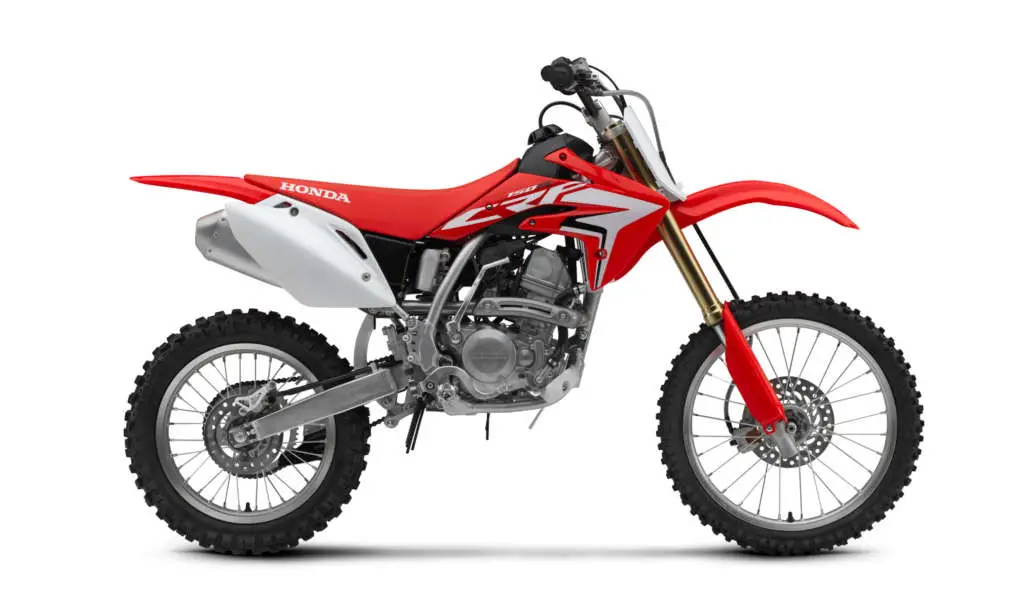 2021 Honda CRF150R Expert Big Wheel: PERFORMANCE APLENTY.
Introducing the 2021 Honda CRF150R Expert Big Wheel…
Competition teaches lessons at every age. Determination. Discipline. Self confidence. Responsibility. But to learn about winning, you need a motorcycle you can win on. And that's where the Honda CRF150R comes in. Competition ready, it's tailor-made for younger champions. With a single-cylinder Unicam® engine that packs a punch, they'll have every advantage, right out of the gate. And for taller riders there's the CRF150R Expert, with bigger wheels, a longer swingarm and higher seat. These two bikes give them what they need on the track—it's your job to coach them on their podium speech.
2021 Honda CRF150R Expert Big Wheel Totalmotorcycle.com Key Features
Bigger wheels and higher seat
Standard Features
149cc liquid-cooled single-cylinder four-stroke Unicam® engine
Track-designed chassis
Pro-Link® rear suspension
Front disc brake
Strong, lightweight wheels
"Direct push" accelerator pump
Designed for smaller racers
ENGINE / DRIVETRAIN
High-performance Unicam cylinder-head design
Compact, lightweight engine assembly weighs only 43.6 pounds
Twin-sump lubrication system separates the oil supply for the crankshaft, piston and valve train from the clutch and transmission. This ensures a supply of cool oil to the clutch, eliminates potential clutch and transmission material contamination of the engine oil, reduces the amount of circulating oil, and permits the use of a smaller oil pump
Cylinder head, piston, camshaft, and carburetor provide power, torque, and rideability throughout the powerband
Lightweight, compact, internal auto decompression and handlebar-mounted hot-start system provide easy starting, hot or cold
32 mm Keihin FCR carburetor with an accelerator-pump circuit provides accurate fuel metering, resulting in crisp throttle response and good rideability throughout the powerband
Suspension settings provide good action through even the toughest of track conditions
Exhaust system uses a lightweight stainless-steel header and re-packable aluminum muffler
Durable close-ratio five-speed transmission\
CHASSIS / SUSPENSION
Front and rear suspension settings unique to the CRF150R deliver ideal bump-absorption characteristics
Lightweight, high-tensile steel frame with large-diameter frame tubing and cross-member provides excellent turning performance and straight-line tracking
37 mm leading-axle inverted Showa cartridge fork features friction-reducing design to improve compression and rebound control
Pro-Link rear suspension
Strong, lightweight wheels are durable and minimize unsprung weight
Lightweight front and rear disc brakes with high-performance pads offer powerful, precise braking
Stout 15 mm front and 17 mm rear axles incorporate a surface-treatment for added strength and durability
Large-capacity airbox and reusable two-stage foam air filter
Lightweight plastic body components (radiator shroud, side covers, rear fender, seat base, fuel tank, front fender, and front number plate) offer a slim, aggressive style
High-quality Dunlop tires
HRC works-type rear-brake system integrates the rear master cylinder and fluid reservoir, eliminating the separate rear master-cylinder reservoir and hose
2021 Honda CRF150R Expert Big Wheel Totalmotorcycle.com Features and Benefits
Excellent mass centralization
"Ultra-high RPM, 149 cc engine is one of the most advanced in the sport; its unique 4-valve, Unicam design gives it very compact dimensions and excellent mass centralization for effortless direction changes on the ground or altitude changes in the air. Rail it or whip it with confidence."
Power when you want it
Short-skirted piston and light flywheel mean the CRF's willing engine builds revs very quickly—no waiting for the power to "hit".
Consistent engine operating temperature
"Liquid cooling and a Nikasil cylinder liner help to extend engine life. The cooling system's lightweight aluminum radiator reduces weight to help ensure consistent engine operating temperature no matter how hard you push."
More immediate throttle
Flat-slide, FCR 32 mm carburetor is fitted with an accelerator pump for more immediate throttle response. Go ahead, use the 4-stroke advantage to grab the holeshot.
Less shifting more enjoyment
Broad 4-stroke power characteristics allow the CRF150RB to use a five-speed gearbox for less shifting so you can concentrate on your riding.
Easy start from hot or cold
Although the 4-stroke engine is hard to stall, it's nice to know that an automatic decompression system makes starting easy, hot or cold.
Maximum power output
Maintenance-free digital CD ignition system includes a throttle angle sensor so it can tailor the ignition curve to provide maximum power output whenever you grab that throttle.
Increased durability & maximum control
Heavy-duty clutch is fitted with tough friction plates for increased durability but retains a light pull at the lever giving you maximum control.
Excellent performance
Lightweight high-tensile steel frame with large-diameter tubing provides excellent turning performance and keeps you tracking straight through the whoops.
Riding comfort & traction
37 mm, inverted, Showa cartridge front fork features adjustable compression and rebound settings. The fork's low-friction design will be especially appreciated when it's helping the front wheel to follow small surface irregularities without breaking traction.
Improved turning precision
Wide-section aluminum top and bottom triple-clamps hold the inverted forks rigidly and position the fork tubes far apart giving you improved turning precision and control.
Comfort on any terrain
Pro-Link® rear suspension system features a fully adjustable Showa shock that effectively soaks up whatever the track or trail can throw at it.
Precise control over any terrain
"Lightweight wheels and hubs help to reduce un-sprung weight allowing the wheels to effectively follow uneven terrain. The strong and rigid, but lightweight, box-section aluminum swingarm further enhances rear wheel tracking offering precise control whether you're braking over stutter bumps or root infested trails."
Easy braking in any condition
"Lightweight front and rear disc brakes with high-performance pads offer powerful, easy to modulate braking even when you're riding in some of the worst conditions."
Consistent power
Large-capacity airbox and reusable two-stage foam air filter means power won't drop off during long, dusty rides.
Stay comfortable & stay put
Slim, well-padded seat is comfortable and allows maximum movement. Non-slip seat cover gives you excellent control.
Personalized comfort
Fully adjustable, high-quality controls include comfortable grips, dogleg levers, side-pull throttle and a folding shift lever. Cleated, folding, self-cleaning footpegs offering excellent grip complete the impressive collection of thoughtful touches.
2021 Honda CRF150R Expert Big Wheel – Totalmotorcycle.com USA Specifications/Technical Details
US MSRP Price: $6999 USD
Canada MSRP Price: $ See Dealer CDN
Europe/UK MSRP Price: £ GBP (On The Road inc 20% Vat)
Model
CRF150R
CRF150R Big Wheel
ENGINE
Type
147.7cc water-cooled single-cylinder four-stroke
Valve Train
Unicam®, four-valve; 26mm intake, steel; 22.5mm exhaust, steel
Bore x Stroke
66.0mm x 43.7mm
Compression Ratio
11.7:1
Induction
Keihin 32mm flat-slide carburetor w/ Throttle Position Sensor (TPS
Ignition
CD w/ electronic advance
Starter
Kick
Driveline
#420 chain; 15T/50T
#420 chain; 15T/56T
Transmission
Close-ratio 5-speed manual
Clutch
Multiplate wet
SUSPENSION
Front
37mm fully adjustable leading-axle inverted conventional Showa cartridge fork; 10.8 in. travel
Rear
Pro-Link fully adjustable Showa single shock; 10.7 in. travel
Pro-Link fully adjustable Showa single shock; 11.1 in. travel
BRAKES
Front
Single 220mm disc
Rear
Single 190mm disc
TIRES
Front
70/100-17
70/100-19
Rear
90/100-14
90/100-16
MEASUREMENTS
Rake (castor angle)
27°02'
27°48'
Trail
78mm (3.1 in.)
96mm (3.8 in.)
Length
72.1 in.
74.8 in.
Width
30.3 in.
Height
44.6 in.
46.1 in.
Seat Height
32.8 in.
34.1 in.
Ground Clearance
11.9 in.
13.2 in.
Wheelbase
49.6 in.
50.6 in.
Fuel Capacity
1.1 gal.
Curb Weight*
185 lbs.
187 lbs.
OTHER
Colors
Red
*Includes all standard equipment, required fluids and full tank of fuel—ready to ride
Meets current CARB and EPA emissions standards
2021 Honda CRF150R Expert Big Wheel – Totalmotorcycle.com Canada Specifications/Technical Details
Engine & Drivetrain
Engine type Liquid-cooled single-cylinder 4-stroke
Displacement 150 cc
Bore & stroke 66 mm x 43.7 mm
Compression ratio 11.7:1
Valve train Unicam, four valves
Fuel delivery Keihin 32 mm flat-slide carb with throttle position sensor
Transmission Close-ratio five-speed
Final drive #420 O-ring-sealed chain; 15T/56T
Chassis & Suspension
Front suspension 37 mm inverted Showa leading-axle telescopic fork with adjustable compression and rebound damping; 241 mm (9.50 in) travel
Rear suspension Pro-Link® fully adjustable Showa single shock; 282 mm (11.11 in.) travel
Dimensions & Additional Information
Tires Front: 70/100-19
Rear: 90/100-16
Brakes Front: 220 mm disc with single-piston caliper
Rear: 190 mm disc with single-piston caliper
Ground clearance 336 mm (13.2 in.)
Seat height 866 mm (34.1 in.)
Wheelbase 1,285 mm (50.6 in.)
Curb weight 84.4 kg (186 lb.) including required fluids and full tank of gas—ready to ride
Fuel capacity 4.3 litres
Colour Extreme Red
2021 Honda CRF150R Expert Big Wheel – Totalmotorcycle.com European Specifications/Technical Details
NA
Manufacturer Specifications and appearance are subject to change without prior notice on Total Motorcycle (TMW).