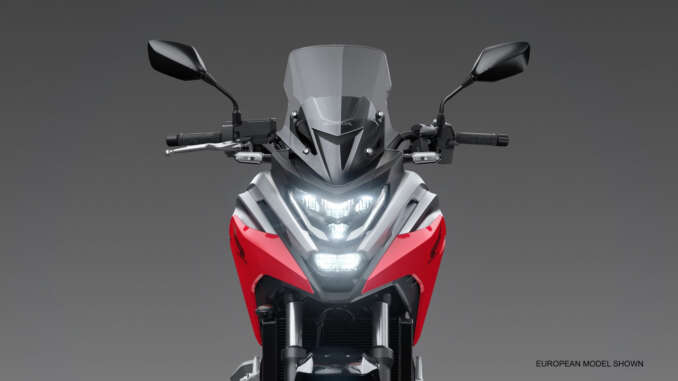 2021 Honda NC750X DCT: DO IT ALL, AND BETTER THAN EVER.
Introducing the 2021 Honda NC750X DCT…
Specialization may be fine for something like golf clubs, but we think great motorcycles should be able to do it all. Case in point: The 2021 Honda NC750X. This is a bike is for motorcyclists who appreciate both versatility and virtuosity in their adventure machines. This year, we've given this model some big improvements. More power. A larger integrated storage area. Lighter weight, and a lower seat height. Plus some huge technologic upgrades like throttle by wire, selectable riding modes, new instruments, a new frame, upgraded bodywork, and standard ABS. At its heart, the twin-cylinder engine produces a broad torque curve as well, making it a joy to ride. And you can choose from two transmissions: a conventional manual-clutch six-speed, or Honda's revolutionary automatic DCT. Either way, this latest NC750X is going to be the perfect one-bike choice for the rider who wants to do it all.
An exciting blend of practical- and performance-minded features increase the NC750X's capabilities for 2021. Already applauded for its versatility, the model's engine now has more power, plus a higher redline and revised gearbox ratios for exciting response at low rpm. Throttle-by-wire opens the door to three riding modes and a refined Honda Selectable Torque Control (HSTC) system, while also helping the bike maintain its standout fuel efficiency. Paired to these performance gains is an all-new frame and sharper styling, plus practical improvements like a larger up-front storage compartment, 30 mm lower seat height, more-protective windscreen and LED lighting. Available in both manual-transmission and DCT versions.
The idea behind Honda's NC platform was simple: build an enjoyable motorcycle that could be offered at a relatively low price—a "New Concept." Engineers used this prerequisite to focus their attention on practical performance rather than category-defining specifications and, in turn, create a groundbreaking machine that could be many things to even more people.
Torque-laden, fuel efficient and comfortable, with compliant suspension and a distinctive adventure style, the NC750X has remained true to its core, proudly building on each pillar through frequent and focused updates. For 2021, that evolution continues with a new combination of practical and performance-minded features for the NC750X, which is still available in both manual-transmission and automatic Dual Clutch Transmission versions.
Owners love the NC750X. They love its reliability and safety features. The high build quality, durable styling, do-it-all comfort and versatility makes this bike perfect for the weekday commute, as well as weekend fun. Its innovative features – like built-in storage capacity – win points, as does a characterful twin-cylinder engine that provides considerable torque with impressive fuel efficiency. And Honda's Dual Clutch Transmission, with its choice of Automatic or Manual shifting modes, is a favourite option. Yes, there are many reasons to love the NC750X. And we've made it even better.
CLEVER INDIVIDUAL
Ride smart, wherever you're heading.
Sharper, more compact bodywork marks out the individuality of the new NC750X. But it's even more comfortable, thanks to its lower seat height, as well as a redesigned protective screen. There's extra storage space, where the fuel tank would be, which is of the features that really separates the NC750X from a standard motorcycle. Increased power for the engine – and a full 6kg weight loss – generates faster acceleration, while four riding modes allow you to tailor overall performance to suit conditions.
Honda's fuel efficient, versatile all-rounder, gains improvements to the engine, chassis, styling and practicality.
Peak power of the liquid cooled 750cc parallel twin engine rises to 43kW, with a 600rpm increase to the redline. A 6kg weight reduction and shorter ratios for the first three gears add further to a sportier feel, as do sharper design lines and smaller fairings.
Three default (and one user-programmed) riding modes operate through Throttle by Wire and allow the rider to adjust the engine's character and responses, with each mode ('Sport', 'Rain' and 'Standard') linked to relevant Dual Clutch Transmission shifting patterns.
The NC750X's renowned practicality is further enhanced by an increase in volume of the unique central storage area to 23 litres, new screen, full colour LCD instrument panel, USB port and 30mm lower seat; Honda Selectable Torque Control settings now offer finer levels of control and Emergency Stop Signals are an additional feature, while fuel economy remains an attractively low 28.3km/l.
Since its introduction in 2012* the NC750X has enjoyed consistent popularity throughout Europe. Reasons for the success are several: a ground-breaking, torque-laden, fuel-sipping twin-cylinder engine, a relaxed, roomy riding position with wide handlebars and comfortable seat, compliant suspension and distinctive adventure styling all play their part.
The storage compartment (where the fuel tank would normally be), capable of holding a full-face helmet and Honda's unique Dual Clutch Transmission (DCT) that over half of European customers chose in 2019 are further features that set the NC750X apart.
Viewed as a whole, the NC750X's qualities combine to create a motorcycle which functions superbly. And for all types of riding – commuting, touring and simply for pleasure – it has proved a motorcycle with compelling all-round appeal.
Honda has taken care to continuously evolve the NC750X's successful (and unique) formula, with several upgrades over the years. For 2014 it gained 75cc, going from 670 to 745cc; for 2016 a new more adventurous aesthetic, new instruments, DCT upgrades and LED lighting were added; for 2018 two-level Honda Selectable Torque Control and a 35kW version arrived.
Now for 2021, Honda are building on its core strengths of practicality, do-it-all comfort and handling composure, improving all three. At the same time, there's also more spirited engine performance, with an injection of extra torque and a boost of top-end zap, with a raised redline. The addition of electronic riding modes completes a polished package.
*As the NC700X
2kW more peak power for the NC750X's EURO5-spec engine, plus an extra 600rpm to the redline are the headline changes, thanks to work on valve timing and intake/exhaust efficiency. Shorter ratios for first, second and third gears smarten response while a slipper clutch reduces lever load and keeps the ride smooth on rapid downshifts.
Throttle By Wire (TBW) brings with it adjustable engine character through 3 default rider modes – RAIN, STANDARD and SPORT plus a customisable USER mode. Honda Selectable Torque Control (HSTC) now has a finer level of input over 3 levels, while the Dual Clutch Transmission (DCT) option features Automatic shifting schedules that integrate with the riding modes, as well as USER control.
The other attention-grabber is the 6kg weight loss, thanks to a new frame and detail improvements around the engine and bodywork. There's also a sharper, more minimalist edge to the bodywork, with fresh style for both LED headlight, taillight and rear indicators, while the redesigned storage space grows in volume and usability. Seat height is reduced 30mm, the screen offers more wind protection and a new LCD dash is an attractive addition.
The 2021 NC750X will be available in the following colour options:
Grand Prix Red *NEW*
Mat Ballistic Black Metallic
Pearl Glare White
Glint Wave Blue Metallic
One of Europe's favourite all-rounders gets a well-rounded evolution: more power for the engine, plus higher redline and revised gearbox ratios, which come hand-in-hand with Throttle By Wire management, 3 riding modes and refined, expanded Honda Selectable Torque Control. Its renowned fuel efficiency is maintained, and a full 6kg has been shaved from the kerb weight. A redesigned frame is clothed in sharper-edged styling, the unique up-front storage compartment is usefully larger and seat height 30mm lower. The Dual Clutch Transmission variant continues to offer a technology unique to Honda on two wheels. A new screen, LED lighting and LCD dash round out the update.
2021 Honda NC750X DCT Totalmotorcycle.com Features and Benefits
DESIGN / STYLING
Styled in a manner that inspires adventure seekers but also suits commuters, the NC750X is now even sharper. Smaller upper and lower fairings are accentuated by the muscular fuel tank, while a new LED headlight and running lights strengthen the bike's image from the front.
The windscreen is new, further improving wind and weather protection for everything from longer rides to around-town commutes in less-than-ideal conditions. Meanwhile, the side panels and side covers are slimmer and, along with the svelte seat, contribute to the NC750X's lightweight styling without taking away from overall comfort. A redesigned LED taillight matches the headlight and is paired with LED turn indicators.
Proving that practical features are equally important as a slim, sporty design, the NC750X's front storage compartment has been enlarged. Positioned where the fuel tank would traditionally sit, the storage area's volume has been increased by 1 liter, to 23 liters, and has been shaped to fit an adventure helmet. The exterior portion of the lid features rails for mounting a tank bag, while the interior portion has four hooks, for using rubber straps that can help in organizing luggage. Also new for 2021 is a location designed to accept an accessory USB-C socket.
The LCD dash has been redesigned to easily reference pertinent information and manage the riding modes. The turn signals also auto-cancel; rather than using a simple timer, the system compares front and rear wheel-speed difference and calculates when to cancel relative to the situation.
ENGINE / DRIVETRAIN
The NC750X's liquid-cooled, SOHC 8-valve parallel-twin-cylinder engine is designed to offer punchy performance in the low to midrange. Its relatively long-stroke architecture and specially shaped combustion chamber combine with the high-inertial mass crankshaft to produce large amounts of effortless torque from very low rpm, while a forward cant lowers the center of gravity for optimum stability.
Valve timing has been adjusted for 2021, and now differs between the two cylinders. Through new technology, including Throttle By Wire and a refined exhaust system, the engine makes more power and has a stronger torque curve past 5,000 rpm. Moreover, the engine has a higher, 7,000 rpm redline and weighs an impressive 2.6 pounds less than before.
Shorter ratios for first, second and third gears (for both manual and DCT) improve standing start and roll-on acceleration through those gears, while fourth, fifth and sixth gears are now slightly taller, for maximum fuel efficiency.
Twin balancers counteract vibration from higher-rpm inertia, for an engine that is not only smooth-running, but has a distinctive "throb" thanks to its 270 degree crank and uneven firing intervals. Bore and stroke are set at 77 x 80 mm. Where possible, components are made to do more than one job: the camshaft drives the water pump, while one of the balancer shafts drives the oil pump. By minimizing the number of parts in this way, the engine is kept light, efficient and reliable.
The addition of a slipper clutch for 2021 reduces lever load by 20 percent and manages rear-wheel lock-up under fast down-changes of the manual 6-speed gearbox while decelerating.
A lightweight pentagon-shaped muffler uses two chambers joined by a hole-punched link pipe, which works with a final resonator chamber to create a deep, distinctive sound and exhaust pulse. The built-in catalyzer has a two-layer structure for cleaner emissions.
DCT
Honda's unique-in-motorcycling DCT technology is now in its 11th year of production and offers easy, direct gear changes through constant refinement. As is the case in other Honda products, the system uses two clutches: one for start-up and 1st, 3rd and 5th gears: the other for 2nd, 4th and 6th, with the main shaft for each clutch located inside the other for compact packaging.
Each clutch is independently controlled by its own electro-hydraulic circuit. When a gear change occurs, the system pre-selects the target gear for the clutch not currently in use. The first clutch is then electronically disengaged as, simultaneously, the second clutch engages.
The result is a consistent, fast and seamless gear change. Furthermore, as the twin clutches transfer drive from one gear to the next with minimal interruption of the drive to the rear wheel, any gear-change shock and pitching of the machine is negligible, making the change feel direct as well as smooth. Extra benefits include durability (as the gears cannot be damaged by missing a gear) impossibility of stalling, reduced stress during urban riding, reduced rider fatigue and extra mental bandwidth for better concentration on all other aspects of riding.
With the DCT gearbox, the rider may also choose Manual mode, using paddle-style triggers on the left handlebar to change gears.
In the NC750X's Automatic mode, there are four different shifting schedules to select from, with three defaults: Level 1 is the most relaxed and is used within RAIN mode; Levels 2 and 4 shift up at higher rpm and are linked with STANDARD and SPORT riding modes.
A fourth DCT shift pattern is available for the USER riding mode and falls between those for STANDARD and SPORT in terms of aggressiveness.
Adaptive Clutch Capability Control is a feature of the NC750X's DCT and manages the amount of clutch torque transmitted. This adds a natural "feathered" clutch feel when opening or shutting off the throttle for a smoother ride.
Electronics
Honda Selectable Torque Control (HSTC) comes standard on both the manual and DCT NC750X. It now offers much softer, finer control as it manages rear-wheel torque thanks to TBW, over three levels as opposed to two:
Level 1 allows the minimum intervention for some rear wheel spin—on gravel or dirt for instance. This level of intervention is reduced from the previous design.
Level 2 is the default setting and provides confidence-inspiring traction for general riding conditions.
Level 3 provides maximum intervention, for slippery conditions.
HSTC can also be switched off.
With TBW now managing engine performance and character, there are three modes for the rider to choose from for various riding conditions. Mode selection is managed between the left-hand switchgear and the LCD display.
SPORT gives more aggressive delivery of engine power and braking, with low HSTC intervention and DCT mode 4.
RAIN delivers engine power and braking least aggressively, has high HSTC intervention and Level 1 for the DCT shift pattern.
STANDARD delivers a balanced middle point for engine power delivery, engine braking and HSTC intervention, plus mode 2 for the DCT.
USER offers custom options of low/medium/high for delivery of engine power and engine braking, low/medium/high/off for HSTC, and four different shift patterns for DCT.
CHASSIS / SUSPENSION
Honda's development engineers started with the tubular-steel diamond frame and, through a careful redesign (using varying tube thicknesses) not only saved 2.6 pounds over the previous chassis but also freed up more useful space for the storage compartment by relocating the battery and redesigning the airbox.
Rake remains at 27 degrees and trail at 110 mm, while wheelbase is set at 60.1 inches. The front/rear weight distribution is 48/52, and the curb weight has been reduced by 13.2 pounds, further contributing to the bike's prowess on city streets or even longer rides through tight, twisty canyons. Further increasing the bike's practical performance, the seat height has been lowered 1.2 inches, to 31.5 inches.
The riding position is upright and neutral, with a high viewpoint for enhanced hazard perception. Another advantage of this adventure-style arrangement is great low-speed control; combined with the low center of gravity and generous steering lock, the result is exceptional low-speed handling and balance.
The 41 mm fork now has 4.7 inches of travel versus 6 inches on previous versions, and uses Showa Dual Bending Valves, with ratios optimized for both compression and rebound damping. This enables the damping force to act in accordance with piston speed in the low-speed range, improving ride quality and comfort.
The shock features a spring-preload adjuster system with 4.7 inches travel, down from 5.9 inches. It operates through Pro-Link® arrangement that offers an optimized balance of a soft initial stroke (for dealing with low-speed bumps) and excellent control.
Up front, the 320 mm disc and two-piston brake caliper deliver plenty of easy-to-modulate stopping power, complemented by the 240 mm rear disc and single-piston caliper. Lightweight two-channel ABS provides powerful and confident braking, even on slippery or wet road surfaces.
Cast aluminum front and rear wheels—sizes 17 x 3.50-inch and 17 x 4.50-inch—wear 120/70 ZR17 and 160/60 ZR17 tires. Forged aluminum L-shaped rim valves make checking and adjusting air pressure easier.
Meets current EPA and CARB standards
California version differs slightly due to emissions equipment
2021 Honda NC750X DCT – Totalmotorcycle.com USA Specifications/Technical Details
US MSRP Price: $8999 USD
Canada MSRP Price: $ 10799 CDN
Europe/UK MSRP Price: from £7459 GBP (On The Road inc 20% Vat)
| | |
| --- | --- |
| Model | NC750X DCT |
| ENGINE | |
| Type | 745cc liquid-cooled four-stroke 55º parallel twin |
| Valve Train | SOHC; 4 valves per cylinder |
| Bore x Stroke | 77.0 mm x 80.0 mm |
| Compression Ratio | 10.7:1 |
| Induction | PGM-FI electronic fuel injection w/ 36mm throttle bore (throttle-by-wire) |
| Ignition | Full transistorized ignition |
| Starter | Electric |
| Transmission | 6-speed automatic DCT |
| Clutch | 2 multiplate wet |
| Final Drive | #520 chain; 16T/43T |
| SUSPENSION | |
| Front | 41 mm Showa telescopic fork; 4.7 in. travel |
| Rear | Pro-Link® w/ single shock; 4.7 in. travel |
| BRAKES | |
| Front | Single hydraulic caliper w/ 320 mm wave disc; 2-channel ABS |
| Rear | Single hydraulic caliper w/ 240 mm wave disc; 2-channel ABS |
| TIRES | |
| Front | 120/70ZR-17 |
| Rear | 160/60ZR-17 |
| MEASUREMENTS | |
| Rake (Caster Angle) | 27º |
| Trail | 110 mm (4.33 in.) |
| Length | 87.0 in. |
| Width | 33.3 in. |
| Height | 52.4 in. |
| Seat Height | 31.6 in. |
| Ground Clearance | 5.6 in. |
| Wheelbase | 60.1 in. |
| Fuel Capacity | 3.8 gal. |
| Color | Grand Prix Red |
| Curb Weight* | 493 lbs. |
2021 Honda NC750X DCT – Totalmotorcycle.com Canada Specifications/Technical Details
Engine & Drivetrain
Engine Type Liquid-cooled, parallel twin with 55-degree slant angle and 270° phased crankshaft
Displacement 745 cc
Bore & Stroke 77 mm x 80 mm
Compression Ratio 10.7:1
Valve Train Chain-driven SOHC, four valves per cylinder
Fuel Delivery PGM-FI electronic fuel injection with 36 mm throttle bodies
Transmission Standard model: Six-speed
DCT model: Six-speed Dual-Clutch Transmission with four automatic shift modes and a manual paddle-shift mode
Final Drive #520 O-ring-sealed chain
Standard model: (17T/43T)
DCT model: (17T/39T)
Chassis & Suspension
Front Suspension 41 mm SDBV telescopic fork, 107 mm (4.2 in) travel
Rear Suspension Pro-Link® single shock swingarm; 150 mm (5.9 in.) travel
Additional Information
Tires Front: 120/70ZR-17
Rear: 160/60ZR-17
Brakes Front: 320 mm single wave disc with two-piston caliper and two-channel ABS
Rear: 240 mm single wave disc with single-piston caliper
ABS: 2 channel ABS
Seat Height 800 mm (31.5 in.)
Wheelbase 1,535 mm (60.4 in.)
Curb Weight Standard model: 214 kg (472 lb.)
DCT model: 224 kg (494 lb.)
including required fluids and full tank of gas—ready to ride
Fuel Capacity 14.1 litres
Colour Standard model: Grand Prix Red
DCT model: Grand Prix Red
Warranty 12 months, unlimited mileage, freely transferable warranty; extended coverage available with Honda Plus
2021 Honda NC750X DCT – Totalmotorcycle.com European Specifications/Technical Details
ENGINE
 
Type
Liquid-cooled 4-stroke 8-valve, SOHC parallel 2-cylinder. EURO5 compliant.
Displacement
745cc
Bore & Stroke
77mm x 80mm
Compression Ratio
10.7: 1
Max. Power Output
43.1kW @6,750rpm
Max. Torque
69Nm @ 4,750rpm
Oil Capacity
4L
FUEL SYSTEM
 
Carburation
PGM-FI electronic fuel injection
Fuel Tank Capacity
14.1 litres
Fuel Consumption
MT: 28.3km/l (WMTC mode)

DCT: 28.3km/l (WMTC mode-Tested in D-Mode)

ELECTRICAL SYSTEM
 
Starter
Electric
Battery Capacity
12V/11AH
DRIVETRAIN
 
Clutch Type
MT:Wet multiplate clutch

DCT: Wet multiplate hydraulic 2-clutch

Transmission Type
MT: 6-speed Manual Transmission

DCT: 6-speed Dual Clutch Transmission

Final Drive
Chain
FRAME
 
Type
Diamond; steel pipe
CHASSIS
 
Dimensions (L´W´H)
2210mm x 846mm x 1330mm
Wheelbase
MT: 1535mm

DCT: 1535mm

Caster Angle
27°
Trail
110mm
Seat Height
800mm
Ground Clearance
145mm
Kerb Weight
MT: 214kg

DCT: 224kg

SUSPENSION
 
Type Front
41mm telescopic fork, 120mm stroke
Type Rear
Monoshock damper, Pro-Link swingarm, 120mm travel
WHEELS
 
Type Front
Multi-spoke cast aluminium
Type Rear
Multi-spoke cast aluminium
Rim Size Front
17M/C x MT3.50
Rim Size Rear
17M/C x MT4.50
Tyres Front
120/70-ZR17M/C (58W)
Tyres Rear
160/60-ZR17M/C (69W)
BRAKES
 
ABS System Type
2-channel ABS
Type Front
320mm single wavy hydraulic disc with 2-piston caliper and sintered metal pads
Type Rear
240mm single wavy hydraulic disc with single-piston caliper and resin mold pads
INSTRUMENTS & ELECTRICS
 
Instruments
Digital speedometer, digital bar-type tachometer, clock, bar-type fuel meter, two trip meters, gear position indicator,

'instant' and 'average' fuel consumption and coolant temperature warning light.

Security System
HISS
Headlight
LED
Taillight
LED
All specifications are provisional and subject to change without notice
Please note that the figures provided are results obtained by Honda under standardised testing conditions prescribed by WMTC. Tests are conducted on a rolling road using a standard version of the vehicle with only one rider and no additional optional equipment. Actual fuel consumption may vary depending on how you ride, how you maintain your vehicle, weather, road conditions, tire pressure, installation of accessories, cargo, rider and passenger weight, and other factors.
Manufacturer Specifications and appearance are subject to change without prior notice on Total Motorcycle (TMW).