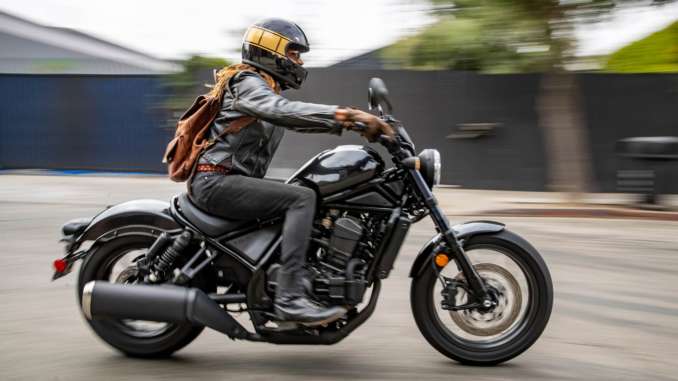 2021 Honda Rebel 1100: READY PLAYER TWO .
Introducing the 2021 Honda Rebel 1100…
Enter the all-new 2021 Rebel 1100, a forward-looking midsize cruiser made for the modern cruiser rider. With a feel and sound like nothing else on the road, it's a high-function motorcycle that only Honda could design and build, ready to take riders to their activities while delivering memorable experiences along the way.
Developed according to an ambitious "Relax and Excite" design theme, this adaptable machine is raw but purposeful, elemental yet modern, and is equally adept at classic no-rush "cruising" and adrenaline-filled outings marked by brisk acceleration and exhilarating corners. Marked by clean, serious styling and built around a retuned version of the high-performance, water-cooled parallel-twin engine from the Africa Twin, this motorcycle introduces new technology to the cruiser market. Thanks in large part to its carefully developed geometry, sport-worthy components and its best-in-class power-to-weight ratio, this motorcycle has excellent performance, in terms of both acceleration and cornering prowess. It also has a unique, deep, pulsing exhaust note, as well as a high-level finish, Honda's renowned reliability and an extremely competitive price.
Honda's new 2021 Rebel 1100 is going to change the way you think about cruisers. Sure, it has the low seat height, twin-cylinder engine and relaxed riding position that make cruiser-class machines so timelessly popular. But it also has something most cruisers lack: genuine arm-straightening performance, and a chassis and suspension that let you dial up the pace when the road gets twisty. Plus, since the Rebel 1100 out performs just about any cruiser, we didn't fall into the trap of just making it look like grandpa's sled either. Forget the chrome-and-fringe bling: this Rebel is a whole new take on how a cruiser should look. Every one comes equipped with our anti-lock brake system and cruise control. And every one rips with our Unicam® engine. You can choose between our revolutionary automatic DCT transmission or a conventional six-speed manual. Ride it on the weekends. Ride it at night. On the boulevard or in the canyons. Dress it up or dress it down with our extensive line of Honda accessories. The new Rebel 1100 can do it all—and you'll have a blast doing it.
In recent years, the evolution of the motorcycle market has produced a cruiser culture populated by men and women from diverse backgrounds and experience levels, and seeking a wide range of two-wheel experiences. Some are brand-new to riding, others are stepping up from entry-level cruisers, many are transitioning from other segments, and still others are grizzled cruiser veterans. Similarly, the riding experiences these enthusiasts pursue range widely. While many are content to limit their seat time to short jaunts at a relaxed pace, some enjoy more spirited outings on winding roads, and still others look to cover longer distances in a relatively straight line; a growing number want to do some combination—or maybe even all—of the above. In almost every case, these riders have a strong sense of community, and prefer their time on and around motorcycles to be shared with friends. In short, today's cruiser customer doesn't fit a stereotype, and neither should today's cruiser.
1084cc liquid-cooled Unicam® parallel-twin engine
Low 27.5-inch seat height
6-speed manual transmission
Blacked-out style
Wide 16-inch rear tire
Anti-lock brakes
Cruise control
Selectable riding modes
USB charging port
PERFORMANCE
1084cc TWIN-CYLINDER ENGINE
The Rebel 1100 sports an engine that redefines what a modern cruiser can and should be. The parallel-twin design is narrow, and delivers torque everywhere from idle to redline. Proven in our Africa Twin, you'll have plenty of power grunt down low, but the Rebel 1100 cruises easy and revs like nothing else in the class.
UNICAM ENGINE DESIGN
Honda's exclusive Unicam® engine design helps us give the Rebel 1100 a compact cylinder head for optimal engine placement. But the engine also benefits from superior performance, thanks to the entire cylinder-head layout. It's the best of both worlds!
270-DEGREE-PHASE CRANK
Most twins use a 180-degree crank. By phasing the Rebel 1100's at 270 degrees, you get a unique, rumbling power delivery that's easy to modulate, and that produces an awesome exhaust sound.
SPECIAL CAMSHAFT TIMING
We use different camshaft profiles and ignition timing for each of the Rebel 1100's two cylinders. Why? One cylinder produces slightly more power below 4000 rpm, and the other more above 4000 rpm. Along with the 270-degree crankshaft, the result is a unique power pulse and feel you're going to love. Plus the Rebel 1100 makes way more power (nearly 50 percent more) than some of the "traditional" cruisers out there.
SHOW LESS
ENGINEERING
CRUISE CONTROL
With a bike like the new Rebel 1100, you're going to want to get out and ride. That's why we've equipped it with cruise control, just like our Gold Wings. Want to kick back and cruise on the open road all weekend long? No problem!
THROTTLE BY WIRE
Our throttle-by-wire system greatly expands the Rebel 1100's versatility. First, you get four levels of Honda Selectable Torque Control. Second, you can choose from four power delivery modes: Standard, Rain, Sport, and a fourth that's user-programmable. First used on our World-Champion RC213V MotoGP bikes, throttle-by-wire is an excellent example of how Honda's technology works for you.
SIX-SPEED MANUAL TRANSMISSION
The Rebel 1100 features a conventional six-speed manual gearbox with a handlebar-mounted clutch lever. It's a proven, tough design that makes the bike a little bit lighter, too.
SLIPPER/ASSIST CLUTCH
Developed and perfected in Honda's racing machines, the slipper/assist clutch (on the manual-transmission model) means you get a lighter clutch pull at the lever, but a solid lockup when you release the lever and apply power. It's technology that reduces clutch effort at the bar by about 30 percent.
BIAXIAL COUNTERBALANCE
By using counterbalancing elements on two axes, Honda's engineers can cancel and fine-tune both primary and coupling vibrations from the engine. The result: we can mount the engine solidly for superior strength and handling. You get a superior ride, yet the engine still produces a pulsing beat you both hear and feel.
SUPERIOR HANDLING
A lot of today's motorcycles look great standing still or just putting along, but disappoint once the road gets twisty. At Honda, we set high standards for the way all our bikes handle and feel, and the Rebel 1100 is a perfect example—we've paid just as much attention to the way this bike corners and handles as we have its knockout styling.
LOW CENTER OF GRAVITY, COMPACT MASS
By locating heavy components like the crankshaft low and as close to the bike's center of gravity as possible, and by using a compact engine design, the Rebel 1100 provides a superior platform for excellent handling.
LIGHTWEIGHT LITHIUM-ION BATTERY
Conventional batteries are notoriously heavy—that's why we gave the Rebel 1100 a high-tech, lightweight lithium-ion battery like our best sport bikes. Compared with a similar lead-acid battery, it lasts approximately four times longer, and its shelf life is 1.6 times longer. Plus, it's way lighter.
STEEL FRAME
The Rebel 1100's frame is not only an important reason why this bike handles so well, it's also an important styling element. The trellis design describes a bold diagonal theme line from the steering head to the swingarm pivot.
CAST ALUMINUM WHEELS
Cast wheels front and rear are light, practical, easy to keep clean, and give the Rebel 1100 a look that tells you this is not built like a retro machine. The wide rims and tires add to the bike's appearance, too.
POWERFUL DISC BRAKES
The Rebel 1100 features a radially mounted front-brake caliper for powerful stopping performance. The radial-mount design also helps make it stiffer, increasing brake feel and control, and grips a single, massive 330mm disc. And at the rear, there's a 256mm disc as well for excellent stopping power.
ANTI-LOCK BRAKES
Rebel 1100s feature Honda's refined anti-lock braking system. When riding in town, in the rain, or on unfamiliar roads, it's a great asset that can help you make controlled stops in less-than-ideal conditions. For a bike like this, it's a feature everyone can appreciate.
WHEELIE CONTROL
Like our high-tech CBR1000RR-R Fireblade, the Rebel 1100 features front and rear wheel-speed sensors working with the Honda Selectable Torque Control (HSTC). The system lets you dial in three levels of wheelie control. Some other cruisers may be low-tech, but not the Rebel 1100.
UNDER-SEAT USB-C TERMINAL
We know you're going to want to charge up your personal electronics or run accessories like a navigational aid while you're out riding, and that's why we've provided a handy under-seat USB-C port.
WIDE REAR TIRE
The Rebel's low, fat 16-inch 180/65 rear tire gives you plenty of grip while helping to lower the bike's overall seat height and stance. And it looks tough, too.
WIDE FRONT WHEEL
The Rebel 1100's wide 130/70-18 front tire not only give the bike a great look, but it helps provide superior handling and stopping power.
SHOW LESS
STYLE
BLACKED-OUT STYLE
Our family of Rebels are blank canvases for your self expression. But unlike the canvas you buy at the art store, they're not boring white. As is, its blacked-out engine pieces, frame, fork and bodywork elements look great during the day and even better at night. We even black-plated the final-drive chain!
BLACKED-OUT MUFFLER
Forget about having to polish chrome or exhaust pipes that turn—the Rebel's blacked-out exhaust system blends perfectly with the bike's overall look. And maybe the biggest plus? The awesome sound that's so important to the riding experience.
MODERN/CLASSIC INSTRUMENT SHAPE
Another iconic element combining traditional and modern, the Rebel's instruments take a classic shape and fill it with totally up-to-date reverse-image digital LCD information. The instruments include a speedometer, tachometer, gear-position indicator, a fuel-indicator, engine output mode, torque control level, engine braking mode and much more.
FOUR-BULB HEADLIGHT
Another critical item in motorcycle design is the headlight. With the Rebel 1100 you get the best of both worlds. The LED lamp is bright and precise, while the round, three-inch nacelle shape gives the Rebel 1100 a character that exudes class.
ALL LED LIGHTING PACKAGE
LED lighting is where it's at now. LEDs can be lighter, brighter, and require fewer lifetime replacements than incandescent bulbs. That's why the Rebel 1100 features an all-LED lighting package—headlight, taillight, turn signals, even the license-plate light.
SEAMLESS FUEL TANK
Can you see the flange on the bottom of the Rebel 1100's fuel tank? Trick question! That's because there isn't one. Like the best custom-built bikes, we've fabricated the fuel tank without a flange to clean up the bike's lines and give it a more refined look.
3.6-GALLON FUEL TANK
One of the key items in motorcycle design is the fuel tank. Holding a generous 3.6 gallons, the Rebel 1100's iconic fuel-tank shape is timeless, but functionally it also teams up with the bike's great fuel efficiency to give you plenty of range.
LEFT-SIDE IGNITION SWITCH/STORAGE ACCESS
Moving the ignition switch to the left side keeps the Rebel 1100's dash uncluttered. It also lets the same switch unlock the three-liter underseat storage compartment for extra convenience.
COLOR CHOICES
Ready for some awesome color choices for 2021? Check out what you can be riding: Metallic Black or Bordeaux Red Metallic.
STEEL FRONT AND REAR FENDERS
Real steel never goes out of style. The Rebel 1100 has steel fenders front and rear. There's even an optional shorty front fender available.
WIDE 43mm FORK
It's what's up front that counts most in style, and the Rebel 1100 knocks it out of the park. Of course the front suspension offers precise steering and a plush ride, but the fat 43mm fork tubes give the bike a substantial presence too, and a special titanium oxide finish on the fork tubes maintain the rich blackout look.
PREMIUM REAR SUSPENSION
Because we build the Rebel 1100 for serious canyon rides as well as laid-back cruising, we gave it a pair of nitrogen-filled remote-reservoir shocks, and equipped them with a special spring rate too. Just like the front suspension, it's about adding both comfort and performance to your riding experience.
OPTIONAL Honda ACCESSORIES
Want to give your Rebel 1100 some individual touches? We have an extensive selection of Honda accessories. For example, there are several seat options, including two with brown upholstery. Carrying a passenger? Then you'll want our passenger seat, backrest, and more. Other popular items include saddlebags, rear carrier, and windscreen—almost 30 items in all.
COMFORT
LOW SEAT HEIGHT
When it comes to cruisers and seat heights, almost everyone likes them lower. At just 27.5 inches, the Rebel 1100 has one of the lowest seats in anyone's lineup. It's comfortable when you ride, and it makes it easier to flat-foot it at stoplights or in parking lots.
LIGHT OVERALL WEIGHT
Weighing just 487 pounds with a full tank of fuel (manual transmission model), the Rebel 1100 is close to 80 pounds lighter than some of its competition. That makes it easier to handle and a lot more fun and friendly to ride than some heavier machines. The light overall weight and a low center of gravity help performance, too.
NARROW OVERALL WIDTH
Super-narrow, especially at the critical tank/seat junction, the Rebel 1100 makes it easier to get on and off the bike, and to put your feet down at stops. Plus, the Rebel fits a wide variety of riders.
ROOMY RIDER TRIANGLE
A rider makes contact with the bike at three points: the seat, the handlebar, and the footpegs. The Rebel 1100's rider triangle strikes the perfect balance between laid-back cruiser and more active sport riding. You ride with a commanding presence, and the minute you sit on a Rebel in your local Honda dealership, you'll know it.
SOLO SEAT WITH OPTIONAL PASSENGER SEAT AND FOOTPEG KIT
Travelling light and on your own? Want to take a friend along? Like the clean look of a solo seat? Like the versatility of a passenger seat? With the Rebel 1100 you can easily have it both ways, since the removable seat rails, optional passenger seat, passenger footpegs and footpeg hangers are all simple, bolt-on parts.
Honda Unveils the All-New Rebel 1100 for 2021
Midsize model introduces DCT and varied riding experiences to the cruiser market
TORRANCE, Calif. (November 24, 2020) – Honda announced today an all-new midsize cruiser model—the Rebel 1100—to be powered by a water-cooled, parallel-twin engine and offered for the 2021 model year. Introducing new technology to the cruiser category, including Honda's advanced automatic Dual Clutch Transmission (DCT)—the model was conceptualized and developed following a "Relax and Excite" design theme, and is notable for its ability to suit a variety of rider types and deliver wide-ranging riding experiences.
A forward-looking motorcycle, the adaptable Rebel 1100 features carefully developed geometry, sport-worthy components and a best-in-class power-to-weight ratio, all of which combine to make it capable not just of straight-line cruising, but also more dynamic riding, including brisk acceleration and exhilarating cornering. The model has Honda's renowned reliability and finish, along with a very competitive retail price.
The engine is a retuned version of the power plant from Honda's popular Africa Twin adventure platform, with a 270-degree crankshaft design that gives a pulsing, rhythmic sound and feel at low engine speeds but runs smooth at higher rpm. The DCT enables automatic shifting, or riders can select manual mode and change gears via handlebar-mounted buttons. They can also switch between three different riding modes—Standard, Sport and Rain—each of which delivers a distinct riding experience, thanks to carefully balanced settings for power, Honda Selectable Torque Control (which incorporates Wheelie Control), engine braking and DCT.
The chassis features geometry that achieves both straight-line stability and neutral handling, and although seat height is low at 27.5 inches, the engine is compact enough to enable a 35-degree bank angle—much more than most cruisers and suitable for spirited cornering. High-performance suspension components comprise a 43 mm conventional fork with a cartridge-type damper, and twin Showa shocks with piggyback reservoirs, while the front brake has a monobloc, four-piston, radial-mount caliper with a floating rotor. Curb weight is just 509 pounds for the DCT version.
Facilitating the customization penchant for which the cruiser segment is known—and enhancing the model's already-impressive versatility—Honda is offering a full line of accessories for the Rebel 1100, from minimalist to touring-focused.
"With the evolution of cruiser culture, today's rider demands a motorcycle that expands on the capabilities that have traditionally been possible in the segment," said Lee Edmunds, Senior Manager of Powersports Marketing for American Honda. "The all-new Rebel 1100 fits the bill, providing cruiser customers with technologies—including DCT—and riding experiences that were previously unavailable in the category. It's truly a motorcycle for the modern cruiser rider."
2021 Honda Rebel 1100 Totalmotorcycle.com Features and Benefits
ENGINE / DRIVETRAIN
At the heart of the Rebel 1100 is a torquey, liquid-cooled parallel-twin 1,084cc engine, made popular in the popular Africa Twin adventure platform and adopted in order to achieve dynamic performance in a cruiser application. The engine's powerful torque and output are adjusted for easy handling, enabling both exciting rides and pressure-free, relaxed touring.
The parallel-twin design makes it possible to locate heavy parts on the rear of the engine, enhancing mass centralization and a low center of gravity. Further contributing to the compact engine layout are the Unicam® single-overhead-camshaft valvetrain design. Also found on Honda's high-performance CRF450R motocrosser, the design lowers the engine's cylinder head, contributing to the mill's compact size. In addition, a dry-sump lubrication system places the oil tank inside the crankcase, allowing a thinner oil pan.
Together, these features contribute to the Rebel 1100's excellent handling and a deep bank angle for aggressive cornering, while still allowing the squat styling and low seat height (27.5 inches) that are intrinsic to cruisers, and that enable riders to easily place both feet on the ground at stops or during parking-lot maneuvers.
The uneven firing interval provided by the 270-degree crankshaft design animates a pulsing, rhythmic feel at idle and low engine speeds. A two-axis primary balancer minimizes unpleasant vibrations by canceling primary inertia, resulting in a smooth-running engine that still produces substantial power.
Sophisticated electronic ignition timing and fuel-delivery maps give the Rebel 1100 engine a character all its own. Compared to the Africa Twin, the flywheel is 20 percent heavier, increasing the moment of inertia, and the air-filter and exhaust-system designs are unique. The combined result is enhanced cylinder "pulsing" at low rpm, while power at higher engine speeds is maximized. The muscular engine signature is unlike that of any other cruiser on the market, delivering both relaxed and exciting riding experiences.
ELECTRONIC CONTROLS
In keeping with—and contributing to—its surprising sporting capabilities, the Rebel 1100 touts electronic rider aids not typically associated with the cruiser segment. Throttle-by-wire allows features including Honda Selectable Torque Control (which incorporates Wheelie Control) and riding modes, as well as cruise control.
HSTC / Wheelie Control
By controlling the throttle opening (and thus engine torque), Honda Selectable Torque Control inhibits rear-tire slip during acceleration and cornering, increasing rider confidence. When the level setting is switched on, the system detects differences between front- and rear-wheel speeds (suggesting that the rear tire is spinning). As the calculated slip ratio goes beyond a specific level set by the rider, the ECU controls fuel injection to the optimum level, and optimized engine torque controls the rear-tire torque. An indicator light on the meter panel turns on when the system is in operation.
HSTC also incorporates Wheelie Control, which limits front-end rise during acceleration. When the system detects that the front wheel is decelerating while the rear wheel is accelerating, it infers that a wheelie is occurring and intervenes. Again, the result is an increase in rider confidence.
Riding Modes
These electronic rider aids, are controlled and utilized through different ride modes, each of which provides a distinct riding experience, enhancing the Rebel 1100's "Relax and Excite" ethos.
Three preset ride modes give the rider distinct options that result in different experiences for varying riding conditions, including commuting, long-distance trips, slippery road surfaces and carrying a passenger. Each ride mode is comprised of carefully balanced settings for power, HSTC (including Wheelie Control), engine braking and shift timing.
Standard: This mode has middle-of-the-road settings for all parameters, resulting in a riding experience that can be relaxed for city riding or cruising, yet exciting when the throttle is opened. Power is brisk but manageable, shift-timing is appropriate for a wide range of situations, engine braking is natural-feeling and HSTC suppresses unexpected slip.
Sport: Programmed for exciting, spirited riding, this mode is great for exhilarating outings, on winding roads for example. It has an aggressive, strong power delivery and low intervention for HSTC. Engine braking is natural-feeling, and gear-changes up and down occur at higher rpm, with vigorous blipping on downshifts to emphasize aggressiveness.
Rain: Not just for wet conditions, this mode is ideal for situations when traction is limited, but also when a relaxed, enjoyable, comfortable, energy-conserving riding experience is desired. Throttle response and engine braking are both mild, and gear changes occur at lower rpm, for minimum shift shock and vehicle pitching. HSTC has high levels of intervention.
In addition, a customizable User mode can be set up to the rider's preferences. When the bike's ignition is turned on, the ECU remembers the previously selected mode.
The Rebel 1100 is the only model in its class to come standard with cruise control.
STYLING & DESIGN
Simple, raw and casual-yet-serious, the Rebel 1100 has a striking appearance when parked but looks even better in use, thanks to a handlebar-seat-foot peg triangle that unites rider and bike.
The narrow, curvy steel frame has a simple, organic profile. Its 35 mm main tube contributes a bulky appearance to the machine's sleek form, while the rear has looping lines. The low, long, scallop-style, flangeless fuel tank is enhanced by subtle, low-contrast, two-tone colors. Fuel capacity is 3.6 gallons, including a 1.1 gallon reserve—sufficient for touring.
The narrow, saddle-type seat has a soft texture and progressive foam thickness, maximizing comfort for long trips. The narrow front section makes it easier to put both feet on the ground at stops, and the dished design holds the rider comfortably in place, even during vigorous acceleration. The seat is easily removable, revealing a 3 liter storage space, plus 3-amp USB-C terminals, handy for stowing and charging a smart phone or other gadgets.
The front and rear fenders are both made of 1 mm steel, produced through a drawing process, and are attached with handsome, die-cast aluminum brackets. An available accessory passenger seat bolts to the rear fender.
The engine, frame, suspension and other components are blacked out; even the D.I.D drive chain is plated with black highlighting, enhancing the bike's raw, cool character.
Meter / Controls
The ignition switch is located away from the handlebar, on the left side of the frame. The switch can also be used to remove the seat.
The handlebar bend makes for an upright rider position, and one-inch clamps provide a tough look. The left-hand switch cluster includes a horn, an up-down toggle for scrolling through riding modes, a select/enter button and a hazard-light switch. The right-hand cluster houses the start button and cruise-control switches.
The stylish, round multi-function meter is offset-mounted and has a 4.7-inch diameter screen. It mimics the look of a large analog gauge while the inverted LCD display adds a touch of modern, high-tech beauty. In addition to speedometer, tachometer and tripmeter readings, the cruise-control and transmission functions are displayed on the gauge, all in an intuitive layout.
Lighting
The modern headlight is 6.9 inches in diameter and houses four direct-emitting LED bulbs with thick inner lenses, achieving a cool, iconic look, and its low mounting position contributes to the bike's sleek profile. Conspicuous light-directing guides are arranged on both sides of the housing to highlight the character lines of the lenses and enhance the field of vision.
The 2.1-inch diameter turn signals are also LED and match well with the Rebel styling. The front signals have impressive-looking round light-guiding rings inside that function as position lights and also enhance the field of vision.
The LED taillight has a thin, simple, oval design that complements the low-slung cruiser style. A small LED light illuminates the license plate.
Cool, raw styling, stimulating performance, modern controls and relaxed comfort come together—all in one machine.
CHASSIS & SUSPENSION
Geometry
With a 59.8-inch wheelbase and a 30-degree fork angle, the Rebel 1100 achieves a cruiser style that belies its sporting capabilities. This is possible because the caster angle is actually 28 degrees and the trail length 4.3 inches, achieving both straight-line stability and neutral handling. Spirited riding is also facilitated by the aforementioned 27.5-inch seat height, the middle positioning of the foot pegs and foot controls, the neutral location and bend of the handlebar, the 35-degree bank angle (much more than most cruisers—similar to naked-bike), 4.7 inches of ground clearance.
The tubular swingarm has a 50.8 mm diameter.
Suspension
Also contributing to the sporting potential are high-performance suspension components. Consistent with the bike's blacked-out styling, the 43 mm conventional telescopic fork has stanchions that are coated with dark navy titanium oxide, while the two-part sliders are wrought and die-cast aluminum. A cartridge-type damper and 5.5 inches of wheel travel contribute to the machine's sporty performance.
Rear suspension comprises dual Showa shocks with 12.5 mm shafts and pressurized piggyback reservoirs for tough looks, good road-holding performance and consistent damping force. Rear-wheel travel is 3.7 inches.
At both ends, preload can be adjusted to tailor the ride to load and passenger conditions. The rear preload-adjustment range is particularly broad, allowing appropriate setup for a wide range of rider weights and preferences.
Brakes
Slowing and stopping the Rebel 1100 is accomplished with high-quality braking components similar to those found on sport bikes, resulting in high-level vehicle control in a broad range of riding conditions. The single front caliper has a monobloc, four-piston, radial-mount design and squeezes a floating 330 mm rotor. The rear caliper has a single piston and works a 256 mm rotor. ABS is standard.
Wheels
Attractive, sporty, cast wheels with five Y-shaped spokes are used both front and rear, providing optimum rigidity and contributing to the bike's neutral handling character. The radial tires are size 130/70-18 (front) and 180/65-16 (rear), for a voluminous look and powerful styling.
ACCESSORIES
More than any category, cruisers are about customization—for performance, appearance and convenience—and Honda makes that possible with a long list of Rebel 1100 accessories, from minimalist to tour-focused. Examples include cowls, bags, seats, backrests, short fenders and tank pads, heated grips, alarms and more.
2021 Honda Rebel 1100 – Totalmotorcycle.com USA Specifications/Technical Details
US MSRP Price: $9999 USD
Canada MSRP Price: $  CDN
Europe/UK MSRP Price: £ 8999 GBP (On The Road inc 20% Vat)
Model
CMX1100
ENGINE
Type
1,084cc liquid-cooled Unicam® four-stroke 22.5º parallel-twin
Valve Train
SOHC; four valves per cylinder
Bore x Stroke
92.0mm x 81.5mm
Compression Ratio
10.1:1
Induction
PGM-FI electronic fuel injection w/ 46mm throttle bodies (Throttle By Wire)
Ignition
Full transistorized ignition
Starter
Electric
Transmission
6 speed manual
Clutch
Multiplate wet
Final Drive
525 chain, 16T x 42T
SUSPENSION
Front
43mm conventional telescopic fork w/ adj. preload & dark titanium oxide coating; 5.5 in. travel
Rear
Dual Showa shocks w/ 12.5mm shafts & adj. preload, piggyback pressurized reservoirs; 3.7 in. travel
BRAKES
Front
Single four-piston monobloc, radial-mount hydraulic caliper w/ floating 330mm rotor; ABS
Rear
Single one-piston hydraulic caliper w/ 256mm rotor; ABS
TIRES
Front
130/70-18
Rear
180/65-16
MEASUREMENTS
Rake (Caster Angle)
28.0º
Trail
110mm (4.3 in.)
Length
88.3 in.
Width
33.6 in.
Height
43.9 in.
Seat Height
27.5 in.
Ground Clearance
4.7 in.
Wheelbase
59.8 in.
Fuel Capacity
3.6 gal. (1.1 gal. Reserve)
Color
Metallic Black; Bordeaux Red Metallic
Curb Weight*
487 lbs.
*Includes all standard equipment, required fluids and full tank of fuel—ready to ride
Meets current EPA standards
Models sold in California meet current CARB standards and may differ slightly due to emissions equipment
Specifications subject to change
2021 Honda Rebel 1100 – Totalmotorcycle.com Canada Specifications/Technical Details
Engine & Drivetrain
Engine Type
Liquid-cooled parallel twin with 270° phased crankshaft
Displacement
1,084 cc
Bore & Stroke
92 mm x 81.5 mm
Compression Ratio
10.1:1
Valve Train
SOHC, Unicam, four valves per cylinder
Fuel Delivery
PGM-FI electronic fuel injection with 46 mm throttle bodies
Transmission
Standard model: Six-speed manual
DCT model: Six-speed Dual Clutch Transmission with three automatic shift modes and a manual mode
Final Drive
#525 O-ring-sealed chain (16/42T)
Chassis & Suspension
Front Suspension
43mm conventional telescopic fork w/ adj. preload & dark titanium oxide coating; 121 mm (4.76 in) in. travel
Rear Suspension
Dual Showa shocks w/ 12.5mm shafts & adj. preload, piggyback pressurized reservoirs; 95 mm (3.74 in.) travel
Additional Information
Tires
180/65-16
180/65-18
ABS
2 channel ABS
Ground Clearance
120 mm (4.7 in.)
Seat Height
699 mm (27.5 in.)
Wheelbase
1,518 mm (59.8 in.)
Curb Weight
Standard model: 224 kg (492 lb.)
DCT model: 233 kg (514 lb.)
including required fluids and full tank of gas—ready to ride
Fuel Capacity
13.6 litres
Colour
Standard model: Gunmetal Black Metallic, Bordeaux Red Metallic
DCT model: Gunmetal Black Metallic
Warranty
12 months, unlimited mileage, freely transferable warranty; extended coverage available with Honda Plus
2021 Honda Rebel 1100 – Totalmotorcycle.com European Specifications/Technical Details
Engine
Bore × Stroke (mm) 92mm x 81.5mm
Carburation PGM-FI electronic fuel injection
Compression Ratio 10.1:1
Engine Displacement (cc) 1,084cc
Engine Type SOHC liquid-cooled 4-stroke 8-valve parallel twin with 270° crank and Uni-cam. EURO5 compliant
Max. Power Output 64kW/7,000rpm
Max. Torque 98Nm/4,750rpm
Starter Electric
C02 Emissions (g/km) 114g/km
Oil Capacity (Litres) 4.8 litres
Wheels
Brakes Front Radial mounted monoblock four-piston brake caliper, 330mm floating single disc
Brakes Rear Two Single piston caliper, 256mm single disc
Suspension Front Preload adjustable 43mm cartridge style
Suspension Rear Preload adjustable twin piggyback rear shock
Tyre Size Front 130/70B18 M/C
Tyre Size Rear 180/65B16 M/C
Wheels Front Multi-spoke cast aluminium
Wheels Rear Multi-spoke cast aluminium
Dimensions and Weights
Battery Capacity (VAh) 12V/11.2AH
Caster Angle 28°
Dimensions (L×W×H) (mm) 2240mm x 853mm x 1115mm
Frame type Diamond Steel
Fuel Tank Capacity (Litres) 13.6L
Fuel Consumption 4.9L/100km
Ground Clearance (mm) 120mm
Kerb Weight (kg) 223Kg
Seat Height (mm) 700mm
Trail (mm) 110mm
Wheelbase (mm) 1,520mm
Turning Radius 2.9m
Transmission
Clutch Wet, multiplate clutch
Final Drive Chain
Transmission Type 6-speed Manual Transmission
Instruments and Electrics
Headlights LED
Instruments Offset 120mm negative LCD instrument display
Tail Light LED
USB Socket USB-C
Cruise Control Yes
Security HISS
Manufacturer Specifications and appearance are subject to change without prior notice on Total Motorcycle (TMW).