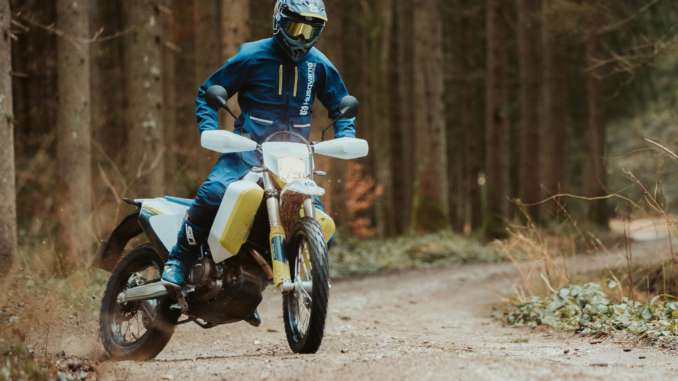 2021 Husqvarna 701 Enduro LR : UNMATCHED PERFORMANCE.
Introducing the 2021 Husqvarna 701 Enduro LR…
With the ability to conquer urban environments and treacherous off-road terrain with equal composure, the 701 ENDURO LR reaches the next level of versatility. Bred from decades of enduro world championship-winning pedigree and mixed with over a century of motorcycle expertise, the 701 ENDURO LR combines high performance with typical Swedish functionality in a stylish and modern design.
Husqvarna Motorcycles North America, Inc. is pleased to announce the release of the 2021 701 Enduro LR, the new long range enduro machine for riders wanting to travel further. Offering additional touring capabilities, thanks to its increased fuel capacity of 6.6 gallons, the 701 Enduro LR features the same advanced electronics as the highly popular 701 Enduro.
Bred from Husqvarna Motorcycles' 701 Enduro, the brand new 701 Enduro LR provides astounding power-to-weight performance, a Ride-by-Wire throttle system and carefully engineered ergonomics. With its fully integrated 6.6-gallon fuel tanks, it is the perfect machine for extended, adrenaline-filled on-road or offroad adventures, allowing incredible range between fuel stops.
The renowned, torquey, single-cylinder 692.7 cc engine offers a perfectly linear power delivery in all riding conditions. Fitted with cornering ABS, lean angle sensitive Traction Control, switchable Ride Modes and Easy Shift as standard, the 701 Enduro LR is capable of serious adventure riding and long-distance touring.
Extremely well-balanced and delivering impressive agility and handling, the 701 Enduro LR comes fitted with fully-adjustable 48 mm WP XPLOR upside-down forks and a WP XPLOR rear shock, offering 250 mm of wheel travel and excellent all-terrain capabilities.
The 701 Enduro LR comes with its own unique new graphics. Strikingly individual, it features progressive colors that guarantee they stand out in style.
2021 Husqvarna 701 Enduro LR Totalmotorcycle.com Key Features
Lightweight, integrated fuel tanks – additional 3.2-gallon capacity
Switchable Ride Modes – change power characteristics while riding
Bosch cornering ABS – lean angle specific braking technology
Easy Shift function – seamless up- and down shifting for a smoother ride
Lean-angle sensitive Motorcycle Traction Control – perfect rear wheel traction
Chromium-molybdenum steel trellis frame – amazing agility and stability
Aluminum swingarm – extremely low weight for maximum traction and stability
Polyamide rear subframe with integrated fuel tank – high-tech, single-piece construction
2021 Husqvarna 701 Enduro LR Totalmotorcycle.com Features and Benefits
FRAME
The lightweight trellis frame is made of high-grade chromium-molybdenum steel and developed to ensure precise handling and instil complete confidence in the rider. Detailed feedback is transmitted to the rider thanks to precisely calculated torsional rigidity and longitudinal flex.
DUAL FUEL TANKS
Combined with the 13 litre self-supporting rear subframe fuel tank, the perfectly integrated front tank offers an additional fuel capacity of 12 litres giving the 701 ENDURO LR an effective range of +- 500 km for long range off-road riding. The single-piece construction is made from an impact resistant high strength polyamide. The fuel supply can be easily selected while riding with a handlebar mounted switch as each tank has a separate fuel pump.
WP SUSPENSION (FRONT)
The WP XPLOR front fork provides 250 mm wheel travel and capable performance specifically aimed at enduro type riding. The forks consists of an open cartridge layout with a spring in each circuit and split damping functions with the left leg dedicated to compression damping and right fork leg rebound damping.
WP SUSPENSION (REAR)
The high performance WP XPLOR rear shock absorber is completely adjustable for compression and rebound. Connected to a linkage system with offroad geometry and 250 mm of rear wheel travel, the system ensures unbeatable all-terrain capability.
ENGINE
The single overhead camshaft, liquid cooled, single cylinder engine features the latest in design and electronic technology. An outstanding maximum power output of 55 kW (74 hp) at 8,000 rpm and torque of 73,5 Nm at 6,500 rpm leave the rider in no doubt of the performance packed inside this lightweight unit.
CYLINDER HEAD
The compact design of the single overhead camshaft, 4-valve cylinder head features 42 mm intake valves and 34 mm exhaust valves actuated by a robust rocker arm system which delivers precise valve timing at high engine speeds. Ignition is via a dual spark plug layout, each of which has an individual ignition timing control for optimal fuel combustion in the large bore combustion chamber.
RIDE-BY-WIRE THROTTLE
The Keihin electronic fuel injection system features a 50 mm throttle body with no mechanical linkage to the throttle grip. As the rider twists the throttle open or closed, the throttle valve is electronically controlled by the engine management system (EMS). The EMS continuously compares engine parameters with data from sensors, and adjusts the throttle valve accordingly, resulting in perfect power delivery and throttle response.
GEARBOX
The lightweight 6-speed gearbox features an Easy Shift function allowing gears to be seamlessly shifted up or down without using the clutch. The system uses two sensors, one sensor is on the shift arm, which detects the movement on the shift lever rod when the rider upshifts. As the second sensor detects the gear engagement, it matches engine parameters to allow a simple gear change at any RPM or engine load.
WHEELS
Black D.I.D rims made of high strength aluminium alloy add an aggressive and modern look to the 701 Enduro. The offroad capabilities of the 701 Enduro are underlined by the 21″ front and 18″ rear wheel diameter.
RIDE MODES
With a handlebar switch, the power characteristic of the engine can easily be adjusted on the fly through two unique ride modes. Mode 1 offers a sporty throttle response and cornering sensitve traction control, limiting wheel slip and wheelies to a minimum for optimal street riding performance. Mode 2 provides a smooth throttle response with off-road traction control, allowing wheel slip and lifting of the front wheel for off-road usage without restricting the performance.
BRAKES
The latest ABS technology from Bosch is combined with high performance brakes from Brembo: a two piston floating calliper and disc at the front as well as a single piston calliper and disc at the rear (both floating wave discs, 300 and 240 mm diameter respectively). The latest corner sensitive ABS technology from Bosch guarantees maximum safety and total confidence and can be fully disengaged for more advanced riders.
TRACTION CONTROL
The lean-angle sensitive traction control system monitors rear wheel speed and reacts immediately (within milliseconds) if the rotational speed of the rear wheel is disproportionate to the riding situation. The system works by reducing the engine output with a smooth and barely perceivable intervention at the throttle valve, until the system has reduced slippage to an optimum level for the selected ride mode and current lean angle. For riders looking for the full control of their motorcycle, the traction control can also be switched off.
BODYWORK
Innovative bodywork featuring a long seat that reaches over the radiator shrouds and includes functional ribbing to improve grip in all conditions. Tightly wrapped around the engine and frame, the 701's bodywork is ergonomically designed to connect the rider's body to the motorcycle, ensuring perfect harmony between man and machine while allowing for total control in all riding situations.
SLIPPER CLUTCH
The APTC (Adler Power Torque Clutch) from Adler allows for greater speeds going into and coming out of corners by maximizing rear wheel grip under hard acceleration as well as preventing rear wheel instability and chatter when braking hard into turns. The rider thus enjoys maximum control and perfect down-shifting.
CNC-MACHINED TRIPLE CLAMPS
As on the other major components of the chassis, the anodized CNC-machined triple clamps have a precisely engineered flex designed to allow the fork tubes to flex under stress. This gives the rider more feeling under braking and on bumpy terrain.
A2 LICENSE COMPATIBLE
With the specific A2 engine map that limits power to 30 kW, the 701 Enduro is suitable for A2 licence holders who aspire to become true world travelers.
2021 Husqvarna 701 Enduro LR – Totalmotorcycle.com Specifications/Technical Details
US MSRP Price: $ USD
Canada MSRP Price: $ CDN
Europe/UK MSRP Price: £ See Dealer for Pricing in GBP (On The Road inc 20% Vat)
ENGINE
TRANSMISSION6-speed
COOLINGLiquid cooled
POWER IN KW55 kW
STARTERElectric starter
STROKE80 mm
BORE105 mm
CLUTCHAPTC(TM) slipper clutch, hydraulically actuated
CO<SUB>2</SUB> EMISSIONS98 g/km
DISPLACEMENT7 cm³
EMSKeihin EMS with RBW, twin ignition
DESIGN1-cylinder, 4-stroke engine
FUEL CONSUMPTION21 l/100 km
LUBRICATIONForced oil lubrication with 2 oil pumps
CHASSIS
WEIGHT (WITHOUT FUEL)155 kg
TANK CAPACITY (APPROX.)25 l
ABSTwo-channel Bosch 9.1 MP ABS (incl. Cornering ABS and Supermoto mode Disengegable)
FRONT BRAKE DISC DIAMETER300 mm
REAR BRAKE DISC DIAMETER240 mm
FRONT BRAKEBrembo twin-piston floating calliper, brake disc
REAR BRAKEBrembo single-piston floating calliper, brake disc
CHAINX-Ring 5/8 x 1/4″
FRAME DESIGNChromium-Molybdenum steel trellis frame, powder coated
FRONT SUSPENSIONWP XPLOR-USD, Ø 48 mm
GROUND CLEARANCE270 mm
REAR SUSPENSIONWP XPLOR with Pro-Lever linkage
SEAT HEIGHT925 mm
STEERING HEAD ANGLE3 °
SUSPENSION TRAVEL (FRONT)250 mm
SUSPENSION TRAVEL (REAR)250 mm
Manufacturer Specifications and appearance are subject to change without prior notice on Total Motorcycle (TMW).