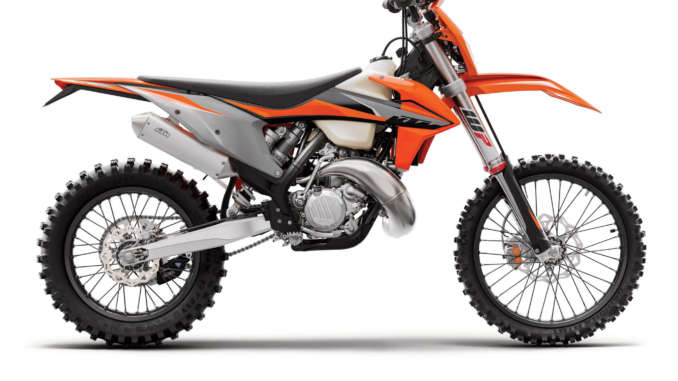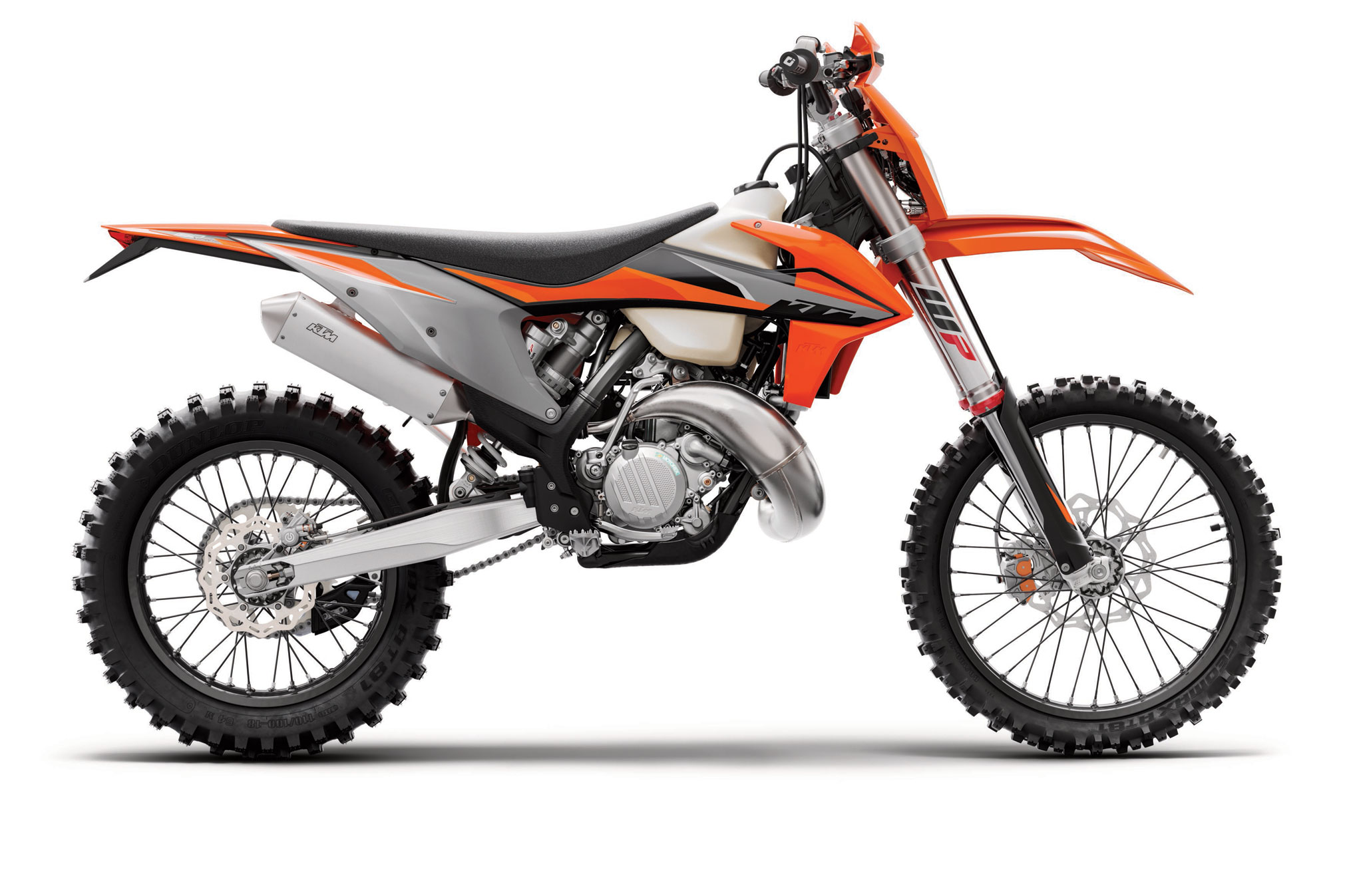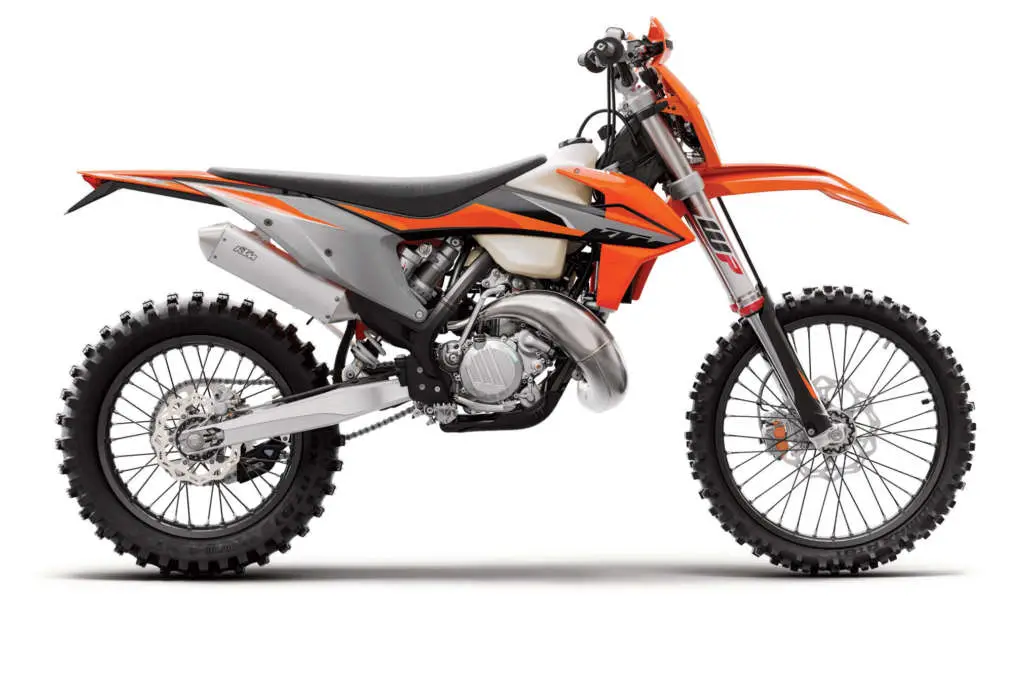 2021 KTM 150 XC-W TPI : NIMBLE OFFROAD MASTER.
Introducing the 2021 KTM 150 XC-W TPI…
This nimble, lightweight, extreme terrain master proudly features the TPI (transfer port injection). This means that there is no need for re-jetting or mixing fuel, making this easy-to-shred thoroughbred even simpler to ride and work on while delivering excellent fuel efficiency and clean exhaust emissions. Recognized for its supreme agility, the KTM 150 XC-W TPI benefits from a lightweight frame with class-leading flex characteristics that helps elevate rider and machine to incredible new levels of competence.
"XC" means cross-country. "W" represents its wide-ratio transmission. "KTM" stands for winning. This nimble, lightweight, extreme terrain master is all new for 2020 and now proudly features the "TPI" (transfer port injection) letters next to its name. This means that there is no longer a need for rejetting or mixing fuel, making this race-ready machine even simpler to ride and work on. Already recognized for its supreme agility, the new KTM 150 XC-W TPI benefits from a brand-new frame with improved flex characteristics that, together with a list of refinements including new bodywork and updated suspension, helps elevate rider and machine to incredible new levels of performance.
▪ NEW 143.99 cc 2-stroke engine fitted with a patented TPI fuel injection system for perfect fueling at any altitude, no premixing and reduced fuel consumption while still living up to the standard of a KTM 2-stroke.
▪ NEW cylinder with two injectors placed in the rear transfer ports for excellent downstream atomization of fuel and new exhaust port timing with CNC machined edge for improved bottom-end power and performance across the rpm range.
▪ NEW cylinder head with optimized combustion chamber and new water temperature sensor.
▪ EMS featuring a new ECU controlling ignition timing and fuel based on information from sensors reading intake air pressure, throttle position, water temperature and ambient air pressure from a new additional sensor that improves altitude compensation.
▪ An optional map select switch allows the rider to select an alternate map, providing a sportier power delivery, while the standard map is set for smoother and more tractable offroad characteristics.
▪ NEW 39 mm throttle body by Dell'Orto with reworked idle and cold start systems for better adjustability of idle speed and cold start enrichment.
▪ Electronic oil pump feeds oil from the 700 cc oil tank to the intake to ensure a perfect fuel-oil mix under any condition while reducing smoking by 50% and providing up to 5 tanks of fuel.
▪ NEW graphics for a READY TO RACE appearance.
▪ NEW frame developed in collaboration with KTM factory racers feature improved stiffness for outstanding handling and straight-line stability.
▪ NEW aluminum head stays for improved engine fixation.
▪ NEW 40 mm longer subframe provides improved rear fender stability.
▪ NEW bodywork designed with superior ergonomics for increased freedom of movement and improved handling and comfort.
▪ NEWLY shaped seat offers better ergonomics and comfort for long rides in demanding terrain.
▪ NEW air box and intake boot provide maximum protection of the air filter against soiling and better airflow for optimal performance.
▪ NEW fuel tank with improved ergonomics.
▪ NEW exhaust pipe with optimized shape for improved bottom-end power.
▪ NEW silencer with aluminum brackets replacing the plastic mounting system, new silencer core and lighter packing for a 60 g reduction in weight.
▪ NEW stronger and super light Lithium-Ion battery offers better starting and reduced weight for improved handling.
▪ REWORKED wiring harness and packaging for a compact electrical system.
▪ NEWLY designed radiators with an optimized cooling system for more efficient cooling and 12 mm lower mounting position for improved handling.
▪ UPDATED WP XPLOR forks with a split-function design feature a new calibrated mid-valve piston for more consistent damping, new fork caps with new adjusters and new settings to keep the front end higher for better rider feedback and increased bottoming resistance.
▪ UPDATED WP XPLOR rear shock with PDS technology features a new second piston and reworked shape of the sealing cup for improved bottoming resistance while new settings offer improved comfort.
▪ 6-speed PANKL wide ratio transmission is perfectly suited for offroad duty.
▪ The hydraulic Brembo clutch system offers light operation and highly controllable modulation of the clutch.
▪ High-tech Brembo brakes have always been standard equipment on KTM offroad bikes and are combined with lightweight Wave discs for maximum performance.
▪ KTM's "No Dirt" foot peg design keeps the pegs pivot from becoming clogged, ensuring the foot peg is always in the correct position.
▪ Super lightweight Galfer Wave rotors, CNC machined hubs, high-end Giant rims and Dunlop GEOMAX AT81 tires.
▪ "No Dirt" shift lever prevents dirt from fouling the lever joint to ensure proper shifting in any condition.
2021 KTM 150 XC-W TPI Totalmotorcycle.com Features and Benefits
Exhaust
When it comes to improved power delivery and performance, the new exhaust plays a key role and packs a punch that is hard to beat. The pipe is produced with the latest 3-D stamping technology and has an optimized shape. The silencer also features a reworked design that includes a new perforated inner tube and lighter wool. The new exhaust works perfectly with the new TPI engine, producing excellent enduro-specific performance with significantly better bottom end power than its carbureted predecessor. Last but not least the plastic mounting system of the muffler is replaced by 2 welded, aluminium brackets that help reduce the weight of the muffler by 60 g.
Engine
Thanks to state-of-the-art engineering, innovative 2-stroke design and revolutionary TPI fuel injection technology, the 150 cc 2-stroke powerplant is more refined than ever before, delivering class-leading power throughout the entire rev range. The benefit to this compact, lightweight 2-stroke, is reflected in the highly effective power delivery and easy rideability, making it a great option for those looking to delve into more extreme action
Airbox
The new airbox on the KTM 150 XC-W TPI has been completely reworked to suit the new throttle body for the TPI system. It also allows for better flow dynamics and together with new intake snorkels, assists in delivering optimal power and throttle response. Despite the obvious performance enhancements, the new design also offers maximum protection against soiling of the air filter. The large twin-air air filter is mounted on a cleverly designed stiff cage that minimizes incorrect installation. As found on previous models, filter maintenance is quick and easy and does not require tools – a standard, original feature from KTM.
Frame
All XC-W models feature new high-tech, lightweight chromoly steel frames. This includes hydro-formed elements produced by state-of-the-art robot welding. They retain their race-proven geometries, but by redesigning certain areas they now have a higher lateral, longitudinal and torsional stiffness, resulting in better feedback for the rider, playful handling and improved stability. The laterally attached engine head stays (the connection between cylinder, head and frame) are now made of aluminum, reducing vibration and further contributing to precise cornering. The bikes also feature newly designed lateral frame guards with a structured surface, improving grip, while also serving as a heat protector against the muffler on the right side. The subframe is made of extra-light and stable aluminum profiles, weighing less than 2 lbs (900 gr) and is 40 mm longer than before
Seat
The XC-W range features state-of-the-art seat technology with a newly shaped surface that provides improved ergonomics and much better seat comfort thanks to higher foam padding. The seat is conveniently fixed to the bike using one long, lateral screw, making it safe and easy to handle.
Handlebar
All KTM XC-W models are equipped with the same high-strength aluminum tapered handlebar, made by NEKEN. The handlebar allows for four different positions. The handlebars come standard with an ODI vulcanized grip on the right side and a comfortable ODI
2021 KTM 150 XC-W TPI – Totalmotorcycle.com International Specifications/Technical Details
US MSRP Price: $ 8999 USD
Canada MSRP Price: $ 9999 CDN
Europe/UK MSRP Price: £ NA (On The Road inc 20% Vat)
ENGINE
TRANSMISSION

6-speed

STARTER

Kick and electric starter

STROKE

54.5 mm

BORE

58 mm

CLUTCH

wet multi-disc clutch, Brembo hydraulics

DISPLACEMENT

143.99 cm³

EMS

Continental EMS

DESIGN

1-cylinder, 2-stroke engine
CHASSIS
WEIGHT (WITHOUT FUEL)

96.8 kg

TANK CAPACITY (APPROX.)

9 l

FRONT BRAKE DISC DIAMETER

260 mm

REAR BRAKE DISC DIAMETER

220 mm

FRONT BRAKE

Disc brake

REAR BRAKE

Disc brake

CHAIN

X-Ring 5/8 x 1/4″

FRAME DESIGN

Central double-cradle-type 25CrMo4 steel

FRONT SUSPENSION

WP XPLOR-USD, Ø 48 mm

GROUND CLEARANCE

370 mm

REAR SUSPENSION

WP Xplor PDS shock absorber

SEAT HEIGHT

950 mm

STEERING HEAD ANGLE

63.5 °

SUSPENSION TRAVEL (FRONT)

300 mm

SUSPENSION TRAVEL (REAR)

310 mm
Manufacturer Specifications and appearance are subject to change without prior notice on Total Motorcycle (TMW).