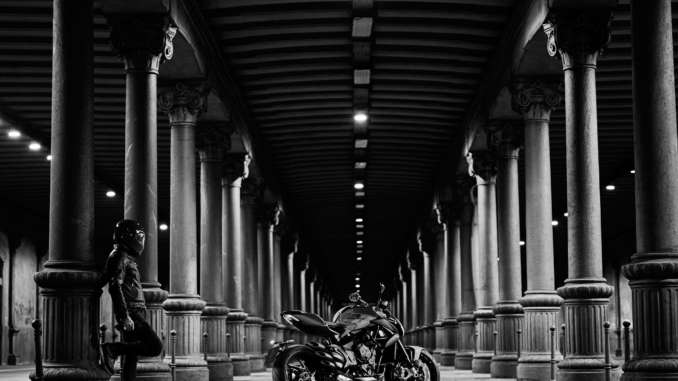 2021 MV Agusta Brutale 800RR SCS: DOMESTICATED LIGHTNING.
Introducing the 2021 MV Agusta Brutale 800RR SCS…
MV AGUSTA BRUTALE 800 RR SCS AND DRAGSTER 800 RR SCS.
The design and technical details of each MV Agusta are the result of the conceptual syn- thesis of a development process which emphasizes leadership without compromise. Style is a promise of unrivalled riding pleasure. The details only add to its exclusivity, reaffirming it year after year. This company philosophy is at the core of every model, designed and created in Italy.
Starting with the 2020 series, the Brutale 800 RR SCS, Dragster 800 RR SCS and Dragster 800 RC SCS feature the revolutionary Smart Clutch System, joining the Turismo Veloce 800 Lusso SCS and Turismo Veloce 800 RC SCS. This system, exclusively designed by MV Agusta, enhances the Brutale 800 RR's unique dynamic features, accentuating its already famous ease of use in relation to performance. The Dragster 800 RR SCS earns a point for even faster acceleration, with less effort to control, whether you are looking for maximum performance or riding in daily traffic, including at lower speeds.
2021 MV Agusta Brutale 800RR SCS Totalmotorcycle.com Key Features
Details – Continuous evolution
MV Agusta's technological excellence is reaffirmed by the new SCS 2.0 (Smart Clutch System) shift system. It is the only brand able to offer what is considered a true revolution in the motorcycling world.
Design – Perfection and balance
The design draws on tight lines and volumes that are perfectly integrated between the front and rear end. A design of extraordinary balance that's always been the hallmark of the Brutale. The engine is nested in MV's traditional steel lattice chassis with aluminium side plates.
Performance – Breaking new ground
Enjoying all the advantages of an advanced shift system without compromising on the sheer pleasure of riding and shifting gears is what every true motorcycle should offer. A challenge won by MV engineers, giving the rider freedom to stop and go without touching the clutch lever on the handlebar.
Technology – Light and efficient
Shifting is still done the traditional way through the foot lever, but is assisted by the two-way quick shift. The weight difference between the SCS 2.0 system and a traditional clutch is only 36g, in line with MV's philosophy of maximum efficiency and minimum weight.
Engine – Ever more performing
The in-line three-cylinder engine of the Brutale 800 RR SCS continues to stand out for its elasticity, its performance and its compact dimensions. With the Smart Clutch System, it now takes performance one step further and boasts an even more striking acceleration.
Electronics – Four bikes in one
Electronics play an important role both in managing the clutch through the Smart Clutch System and in handling the four riding modes (Sport, Race, Rain, Custom) which can be selected at the touch of a button.
Safety – Control is everything
Sheer power must not overshadow ease of use and confidence inspiring control: on the Brutale 800 RR SCS the most balanced combination comes from the Brembo four-piston radial calipers gripping two 320mm-diameter floating discs.
Warranty
MV Agusta offers a NEW 3 YEARS WARRANTY on the whole range, with a great service support for all customers. Customize your experience riding a model, discovering special kits and the vast range of readily available spare parts.
2021 MV Agusta Brutale 800RR SCS Totalmotorcycle.com Features and Benefits
SCS IS A NEW STEP ALONG A BOLD PATH TO INNOVATION
Enjoy the benefits of the latest-generation gear box and its unique functional features while relishing in the sheer, unadulterated joy of riding and the pleasure of the gear change that all motorcycles should offer. The ambitious SCS 2.0 Smart Clutch System, of- fered exclusively by MV Agusta, promises all this and more for street bikes, revolution- ising the very idea of motorcycle gear shifting.
Cogs, the gear lever, the clutch lever: with the SCS system, every- thing remains right where it is, enabling the rider to interact with the motorcycle just as they always have. In fact, the up and down- shifts are "traditional", using a foot control assisted by the two- directional EAS 2.1 quickshift system. The SCS 2.0 Smart Clutch System, developed by MV Agusta in collaboration with Rekluse, disengages automatically when the motorcycle is stopped. The Smart Clutch System eliminates the need to engage the clutch lever when coming to a stop or pulling away. With this system, riding becomes infinitely more fluid and intuitive. The system has been developed and refined to fully optimise the ideal interaction between the clutch plate and the output performance of the MV Agusta three-cylinder engine. The engineers identified the perfect bite point, enabling the rider to pull away with a smooth- ness that would be difficult to replicate with a manual clutch or other assisted gear systems. Furthermore, the SCS 2.0 system offers another key advantage. It doesn't involve the addition of any significant weight, given that the weight difference compared to a traditional clutch is a mere 36 grams, in line with MV Agusta's concept of maximum lightness and effectiveness. MV Agusta has also evaluated many very different automatic clutch systems, but only the SCS has the ideal combination of performance and ease of use, as well as having an undeniable strength with its very competitive weight. At only 30 grams more than the standard clutch, it is superior to other popular solutions, such as the Dual Clutch, which are functional but significantly heavier by 10 kg or more. The technical choice is the result of a thorough analysis comparing the pros and cons of various solutions.
OPTIONAL FEATURES
The Brutale 800 RR SCS and Dragster 800 RR SCS both feature the highly advanced te- chnical specifications of the standard versions. The 798 cc three-cylinder engine with counter-rotating crankshaft has a maximum power of 140 hp (103 kW) and maximum torque of 87 Nm (8.87 kg-m).
The electronic engine management system with MVICS 2.0 and Eldor engine control unit is particularly precise and effective, offering riders a selection of four riding modes – three pre-set and one Custom. The traction control system, continuously updated and refined to offer enhanced performance and safety features eight levels of adjustment and is easily configured in the intuitive dashboard menu. The extensive electronic control platform includes the Bosch 9 Plus twin channel ABS system mated to a state of the art Brembo braking system with twin 320 mm front disks and 2 four-piston radial brake calipers and a 220 mm diameter disk with a twin piston rear brake caliper. The ALS steel-tube trellis frame with cast aluminium side plates is complemented by the stylish single-sided rear swingarm, which on the Dragster holds the 200/50-17 tyre mounted on a spoked wheel with a 6.0 in rim (180/55-17 on the Brutale, with a 5.50 in spoked rim). The SCS 2.0 Smart Clutch System, with the Radius CX automatic clutch engagement system, and billet CNC-machined clutch hub and basket utilizing advanced low friction DLC (Diamond Like Carbon) coated drive pins and controlled by advanced ECU torque control strategies, is leading edge technology that's exclusive to MV Agusta.
STYLE AND TECHNOLOGY
As with most MV Agusta models, the Brutale/Dragster 800 RR SCS have also become instant classics, with their contemporary lines and technology, already a milestone in design and inspiring concepts.
Precisely due to its design, it has become evident that, starting with the 650 engine version, many of the style choices which are new with this model have clearly left their mark on the market, inspiring the competition's offerings and, above all, influencing taste and customer expectations. Furthermore, one of the most obvious signs of a project's validity is its longevity: To the benefit of the value of its products and the customer's investment, MV Agusta is consistent in its policies, which contain continual and innovative technical updates, as is the case with the SCS, along with a unique loyalty to the style of the original model. At the same time, the pursuit of exclusive technical solutions is part of MV Agusta's long-term strategy since the launch of the first F4 and the Brutale. The two models, with a 749 cc four- cylinder in-line engine, offered cutting-edge details, unique in its effectiveness and completely original. For the engine, we recall, for example, the combustion chamber with the radial arrangement of the four valves, the central position of the distribution chain, its extreme compactness and its high specific power. The chassis was even more innovative, if that's even possible. The frame had a steel pipe trellis structure with aluminium plates and there was the legendary swing arm, going through the oversized (by the standards of the time) but functional fork to gain effectiveness from the front axle which went down in motorcycle history.
2021 MV Agusta Brutale 800RR SCS – Totalmotorcycle.com Specifications/Technical Details
US MSRP Price: $ See Dealer for Pricing  USD
Canada MSRP Price: $ See Dealer for Pricing CDN
Europe/UK MSRP Price: € See Dealer for Pricing Euro
ENGINE
Type Three cylinder, 4 stroke, 12 valve
Timing system "D.O.H.C" with mechanical chain tensioner
Total displacement 798 cm3 (48.68 cu. in.)
Compression ratio 13.3:1
Starting Electric
Bore x stroke 79 mm x 54.3 mm (3.1 in. x 2.1 in.)
Max. power – r.p.m. (at the crankshaft) 103 kW (140 hp) at 12.300 r.p.m.
Max. torque – r.p.m. 87 Nm (8.87 kgm) at 10.100 r.p.m.
Cooling system Cooling with separeted liquid and oil
radiators.
Engine management system Integrated ignition – injection system MVICS 2.0
(Motor & Vehicle Integrated Control System)
with six injectors. Engine control unit
Eldor EM2.0, throttle body full ride by
wire Mikuni, pencil-coil with ion-sensing
technology, control of detonation and misfire.
Torque control with four maps, Traction
Control with eight levels of intervention
with lean angle sensor
Electronic quick-shift MV EAS 2.1 (Electronically Assisted Shift
up & down)
Clutch S.C.S. 2.0 (Smart Clutch System) Radius CX
automatic clutch with hydraulic clutch actuation, wet multi-disc
Transmission Cassette style; six speed, constant mesh
Primary drive 22/41
Gear ratio
First gear: 13/37
Second gear: 16/34
Third gear: 18/32
Fourth gear: 19/30
Fifth gear: 21/30
Sixth gear: 22/29
Final drive ratio 16/41
ELECTRICAL EQUIPMENT
Voltage 12 V
Alternator 350 W at 5000 r.p.m.
Battery 12 V – 8.5 Ah
DIMENSIONS AND WEIGHT
Wheelbase 1400 mm (55,12 in.)
Overall length 2045 mm (80,51 in.)
Overall width 875 mm (34,45 in.)
Saddle height 830 mm (32,68 in.)
Min. ground clearance 135 mm (5,31 in.)
Trail 103.5 mm mm (4.07 in.)
Dry weight 175 kg (385,80 lbs.)
Fuel tank capacity 16.5 l (4.36 U.S. gal.)
PERFORMANCE
Maximum speed* 244.0 km/h (151.6 mph)
FRAME
Type ALS Steel tubular trellis
Rear swing arm pivot plates material Aluminium alloy
FRONT SUSPENSION
Type Marzocchi "UPSIDE DOWN" aluminium
telescopic hydraulic fork with DLC treatment ,
with anodized fork legs and having
rebound-compression damping and spring
preload external and separate adjustment
Fork dia. 43 mm (1.69 in.)
Fork travel 125 mm (4.92 in.)
REAR SUSPENSION
Type Progressive Sachs, single shock
absorber with rebound and compression
damping and spring preload adjustment
Single sided swing arm material Aluminium alloy
Wheel travel 124 mm (4.88 in.)
BRAKES
Front brake Double floating disc with Ø 320 mm
(Ø 12.6 in.) diameter, with steel braking disc and flange
Front brake caliper Brembo radial-type, with 4 pistons
Ø 32 mm (Ø 1.26 in.)
Rear brake Single steel disc with Ø 220 mm (Ø 8.66 in.) dia.
Rear brake caliper Brembo with 2 pistons – Ø 34 mm (Ø 1.34 in.)
ABS System Bosch 9 Plus with RLM
(Rear wheel Lift-up Mitigation)
Parking brake Integrated in the rear hydraulic brake system
WHEELS
Front: Material/size Aluminium alloy 3.50 " x 17 "
Rear: Material/size Aluminium alloy 5.50 " x 17 "
TYRES
Front 120/70 – ZR 17 M/C (58 W)
Rear 180/55 – ZR 17 M/C (73 W)
FAIRING
Material Thermoplastic
CONTENTS
Steering damper Manually adjustable with 8 settings
Immobilizer
EMISSIONS
Environmental Standard Euro 4
Combined fuel consumption 6.7 l/100 km
CO2 Emissions 163 g/km
Manufacturer Specifications and appearance are subject to change without prior notice on Total Motorcycle (TMW).